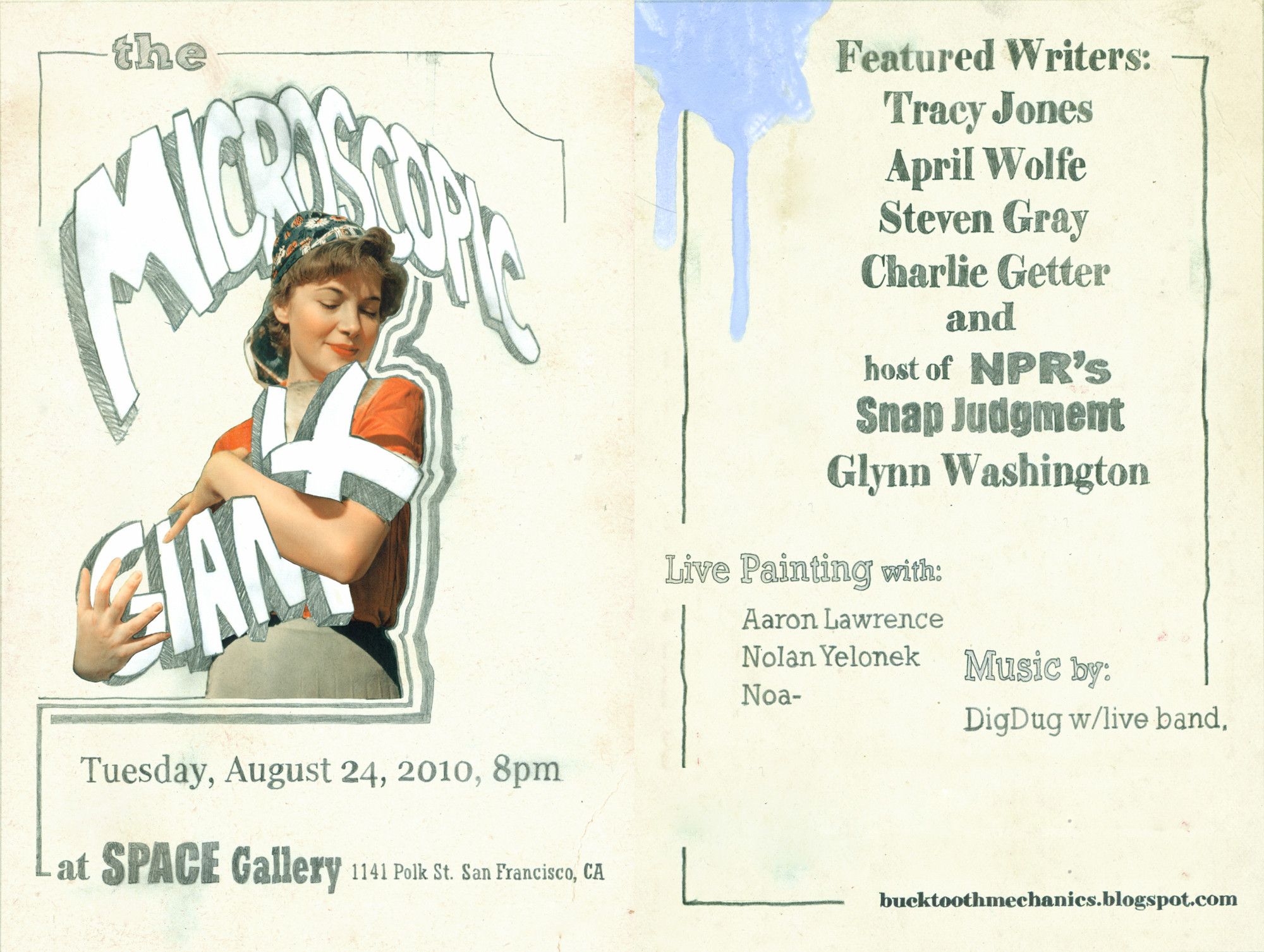 When I lived in San Francisco I had a short run project showcasing local writers performing and artists doing live painting. All shows were held at Space Gallery, shout out to Chris Shaher, the gallery's owner at the time.
This was the first flyer made by Sam Grant. -Noa, Nolan Yalonek and Aaron Lawrence tripled teamed a wood panel. Brett Amory just showed up and did a portrait on the side. If you've never seen April Wolfe perform, you're missing out on life. She's a ridiculous story teller, like off the doom, freestyle, Supernatural (yes, the emcee) type steez. All I remember was that she ended up hanging out with Sammy Hagar from Van Halen, no idea, but it was hilarious, and it involved volunteers from the audience. Poet and musician Steven Gray is someone I greatly admired from a far since I didn't know him. His poems are rubix cubes that he plays with in front of a mic. There's no ego just work. Charlie Getter, like Gray is a local legend in the Bay Area. He likes to play with cadence and timing, very concise, hella theatrical and animated, but pretty down to earth for someone so talented and funny. Glynn Washington made it official. His show Snap Judgment was still getting out there on the up swing. He was cool. Stephanie Foo (This American Life), one of his producers at the time recorded the whole show. I never requested a copy, but hopefully that audio will surface. Glynn told a new story ("Dancing While Black") he was working on, about getting arrested while practicing Salsa dancing.
I'll be posting all four flyers done by different artists from San Francisco on our tumblr page. I'll also post more flicks from the show later.  Thanks to Chris McCreary and Shaun Roberts for taking the time to shoot TMG in its embryonic stages.
There was no way I could've done what I did if it wasn't for Aaron Lawrence who helped me organize everything. Shout out to DigDug for playing some original production and DJing for the night. There was a whole platoon of heads that gave life to this. I'll mention them in other posts, but the experience totally reinforced my belief in community.