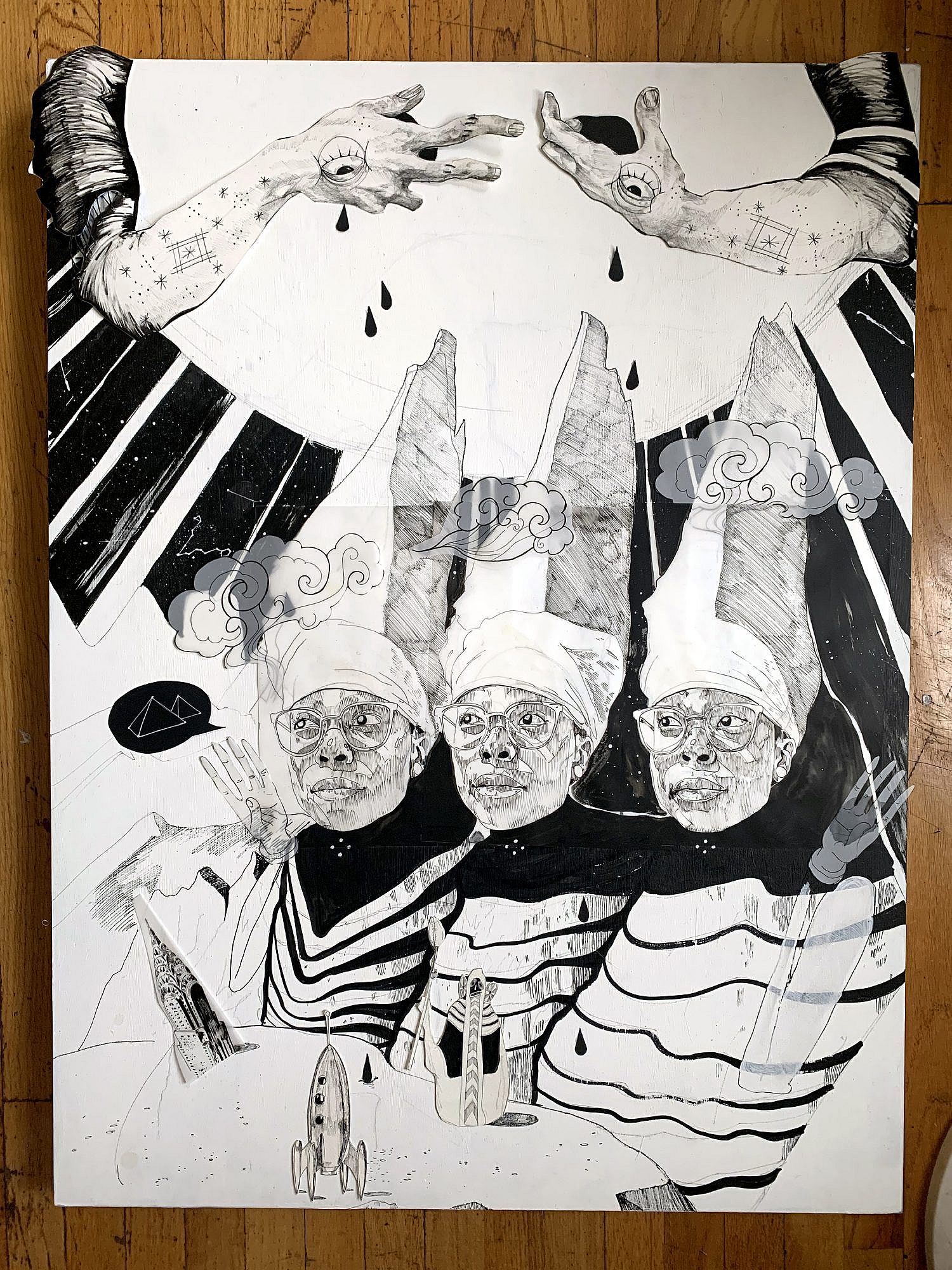 Komikka Patton's art reminded me of "Way in the Middle of the Air" from Ray Bradbury's Martian Chronicles.
"Did you hear about it?"
"About what?"
"The niggers, the niggers!"
"What about 'em?"
Blacks secretly built rocket ships. Astonished whites wondered if there were laws banning Blacks from building such things.
"Them leaving, pulling out, going away; did you hear?"
"What you mean, pulling out? How can they do that?"
"They can, they will, they are."
"Just a couple?"
"Every single one here in the South!"
"No."
All gathered, they lined up to make a grand exodus. On the side of the road, folded clothes, toys, Confederate money, scrubboards, hand mirrors and other Earthly memorabilia, -chains, were neatly abandoned as the Black southerners boarded their intergalactic railroad.
"Yes!"
"I got to see that. I don't believe it. Where they going — Africa?"
A silence.
"Mars."
"You mean the planet Mars?"
"That's right."
The contrast from Bradbury is that Patton isn't interested in the white anxiety over the loss of stolen labor. Beyond the story's end, Patton's collage drawings are like a continuation of those Black southerners' lives. They are rescued. Reborn. Arms stretch out from a shinning sun. The eyes fixed in the back of their hands look on, raining black tears to brainstorm. "Gatekeepers" are conversations. Plants, spaces, cowrie shells, pyramids, and portraits make up terminals posing as symbolic odes, friends of similar frequencies, members of Patton's soul tribe. They are the ley lines to a world that those Black pioneers built, not to declare war or alleviate the white man's guilt, but to thrive as if they never had to live through the eyes of others. In this world, it's as if the construct of whiteness and that which was used to activate it, never ever existed. Technology isn't the measure of an advanced civilization, empathy is.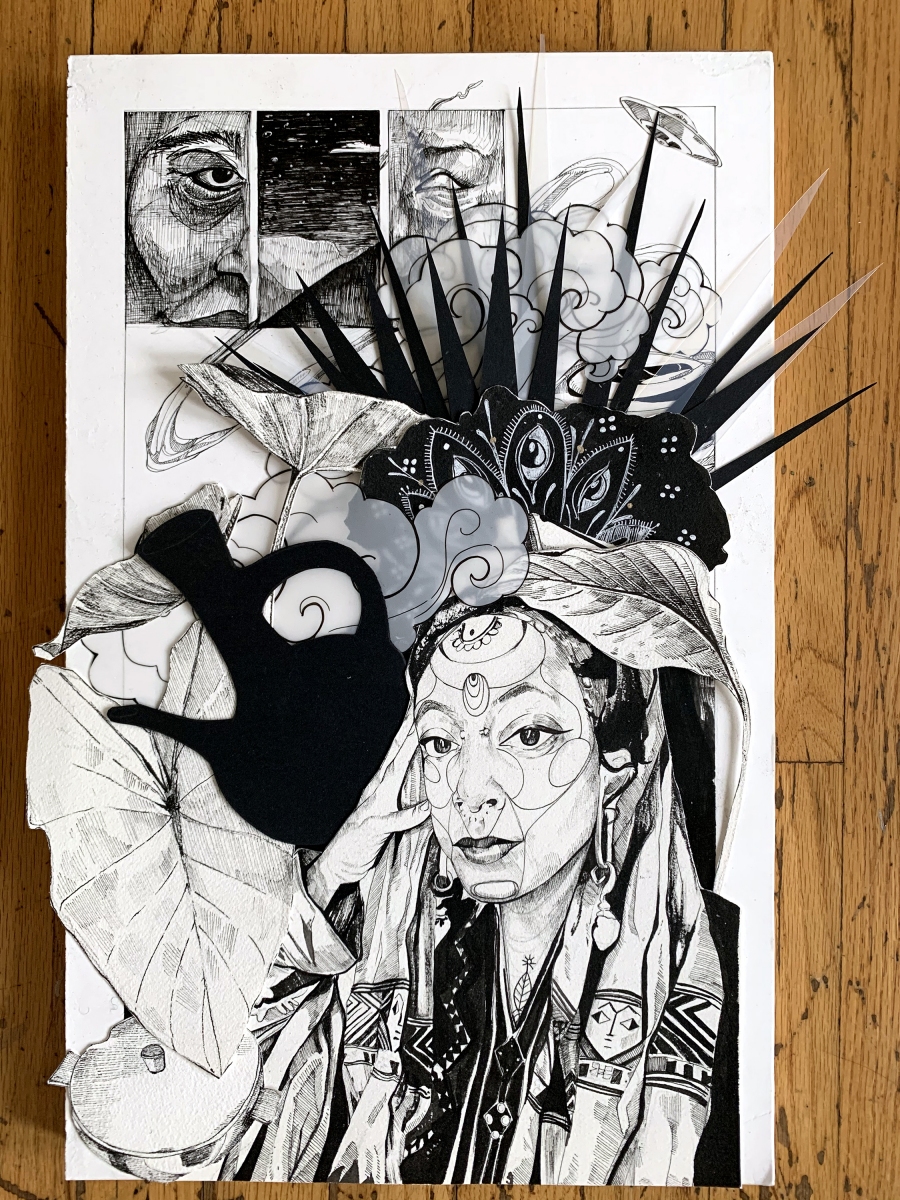 She's been compared to Kara Walker, but to me, she's a kin to rapper and artist Swamburger. Patton used to draw from a place of trauma, now it's gratitude. The seedling to the change was when she was attending graduate school at New York University. Famed artist Derrick Adams visited Patton's studio, took a look at her work and according Patton, he said, "We already know what happened. So many Black artists are already drawing what happened. And you have this ability to conjure up worlds. Why don't you draw what you want to happen? Why don't you draw the possibility of what a happy future may look like? Why are we always stemming from this place of pain?" Patton said that she draws dystopias too. Perhaps they are the inverse nightmares from an alternate reality where whiteness is still decentralized. Patton, a native North Carolinian, grew up in the predominantly Black area of North Charlotte, and the multi-cultural East Side, but she lives in New York City.
She's a literary artist that writes poetry through drawing. As a proud graduate of Charlotte's Northwest School of the Arts, Patton's been making work since the 6th grade. She uses pencil, ballpoint pen, paper, ink, and print making to complicate and redefine who we are as a means of erasing the terrorizing thought of capture or exile. Patton got her BFA from Columbus College of Art & Design and her MFA from NYU. She's the recipient of a Darryl Chappell Foundation Grant, the Tolesdet drawing prize, and the May and Samuel Rudin Foundation Scholarship. She's had shows at various galleries around the country, including MoCADA. Overseas, in Chiang Mai, Thailand, Patton had a solo show at The Ne'-Na Contemporary Art Space. Her whole name used to be Komikka "Martian" Patton and though Martian is still with her, she's evolved and matured. "I'm no longer in my solar-plexus, no longer needing to be so vibrant, to prove that I am something," said Patton over Zoom.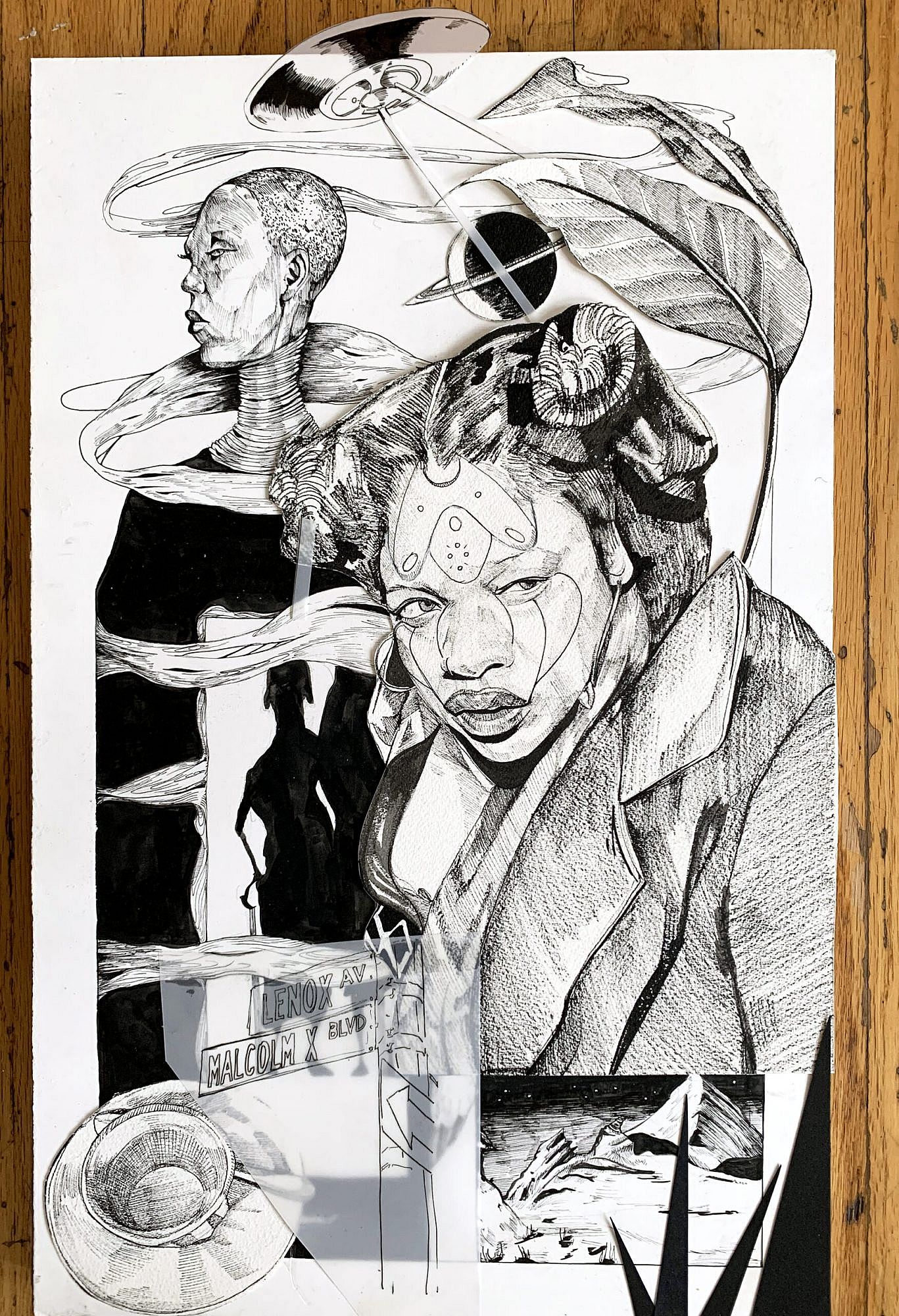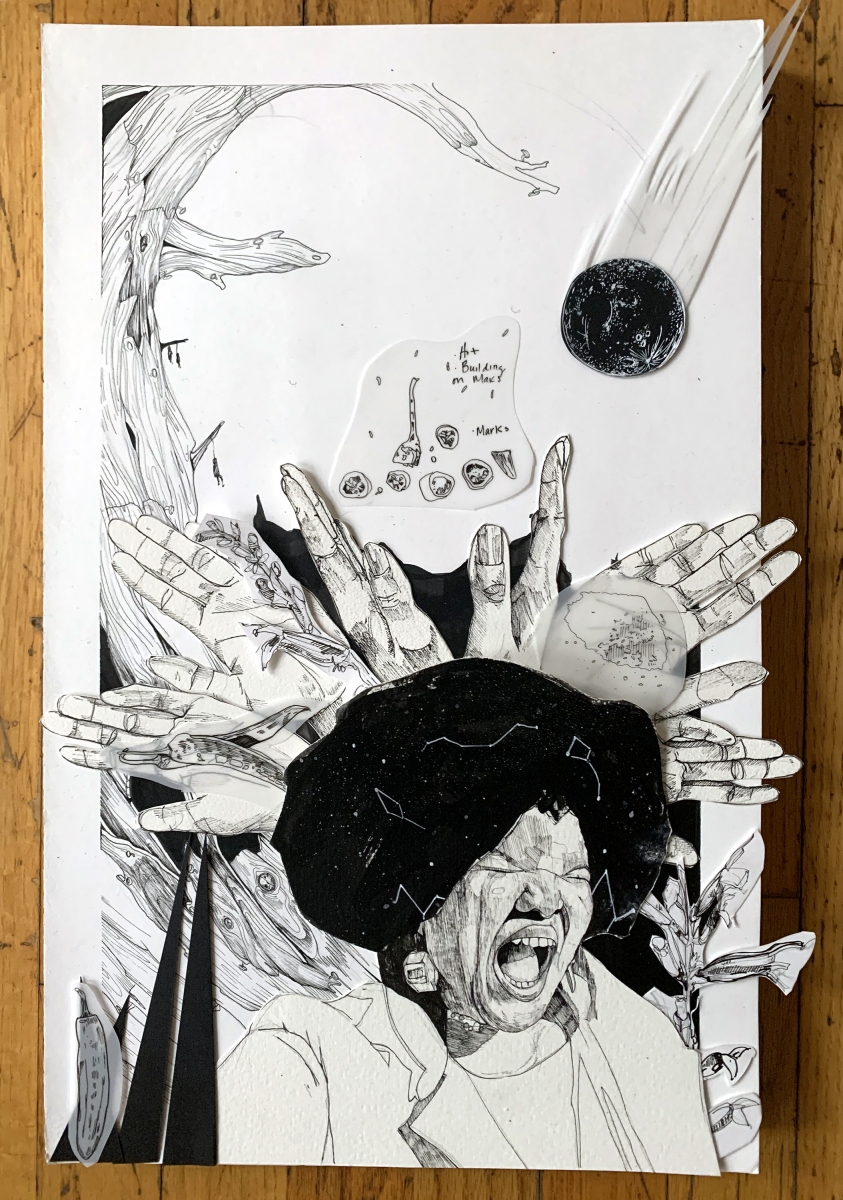 Sitting in front of an intricate painted door full of patterns made of brush strokes, Patton was in Puerto Rico. She was there painting murals and using her previous illustrations to design a children's coloring book. When asked about Martian, her response resembled that of a typical Black kid that was considered a weirdo. It was reminiscent of rapper Earl Sweatshirt's "Chum" when he spit "Too Black for the whites kids, and too white for the Blacks." Patton's grandmother called her Martian, which made Patton feel misunderstood and unseen. At the time, she said that her family "didn't get me." She got lost in books to protect herself. "I stayed in the school library. I stayed in the public library. I just loved it. Reading allowed me to see the possibilities of different futures," she said. Some of them had flying cars. The future had Black Jetsons, no Jetsons. The Williams 3000. Other futures had deserts and under water cities. "I see much in my mind's eye," she said.
At college and art shows, "Komikka The Martian" helped her occupy white spaces. Martian got her tagging New York City walls where she found other Martians who wrote the same name. She found community through alienation. Healing her familial relationships liberated her, but she also transformed her trauma into a tool to help her make things. She recognized her self-worth and charted her own personal narrative. Experiences of any kind became lessons, became downloads. "I know who I am and I know my worth so I'm ok," she said. Keeping herself from getting stuck in the retracing of her grandmother's history is a form of blasting off Earth, but to be human and not suffer from the experience of life is like swimming without touching the water. Your interpretation and reaction to suffering dictates your future. Patton finds balance through the imagining of removing oneself from toxic situations. "I'm drawing how I want to see myself and where I see myself growing," Patton said. Creating work made her a gardener instead of an overseer who policed her output. "I've always been an intuitive artist simply because I like to watch things grow. I would never say a piece was finished until I almost destroyed that piece to see how far I could take it. Also, I just don't like to follow rules. I don't like to draw inside the box," she said. Cutting her drawings out of rectangular sheets of paper is her way of destroying boxes.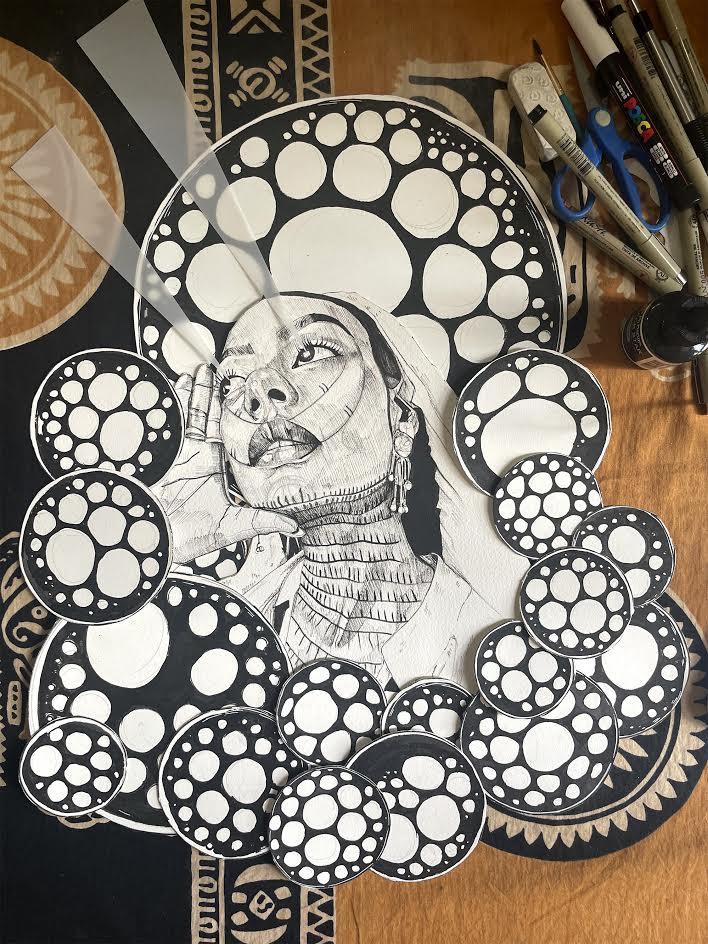 She reveals the unconscious and embraces imperfection. "I want you to see the layers. I want you to see the pencil marks. I want you to see the sketches. I don't want you to see the glue, but I want you to see a fingerprint, because it shows the act of trying to figure out something where words don't go. This shows the effort. It shows the confusion, the happiness, joy, bliss, pain. It shows that it's raw and I like that intuitiveness," she said. For Patton, the process of making things is improvisation. Planning is illustration "and that's what keeps me from the realm of illustration. Although I'm attracted to it, I like that my art comes with figuring out what I'm trying to say."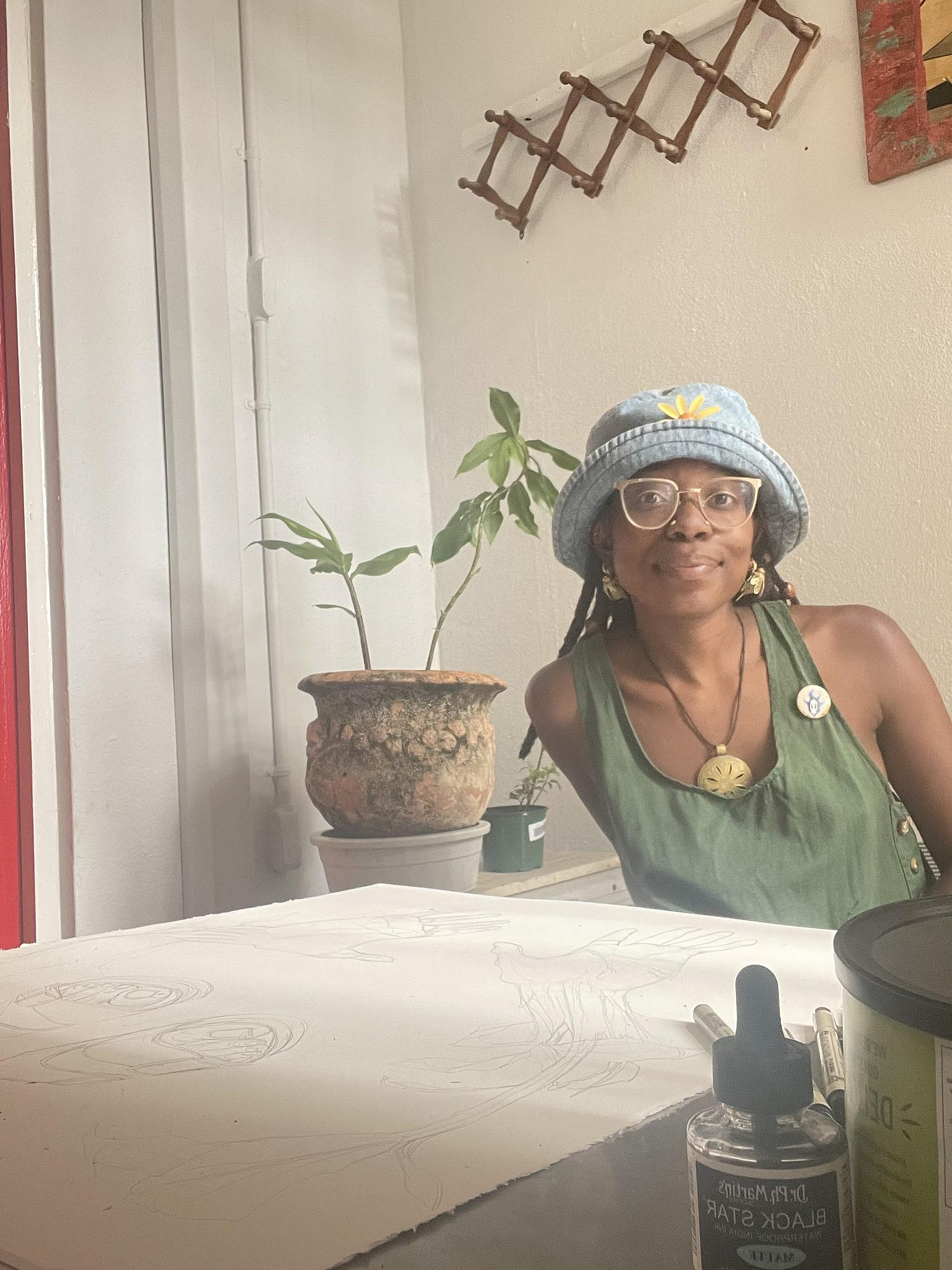 Visit Patton's website at KomikkaTheMartian