This past Saturday on December 6th, 2014 I had the opportunity to attend the local All Tribes San Francisco Chapter of the Universal Zulu Nation's community event "Meeting Of The Minds." It was a six hour session of sharing, learning, building with Hip-Hop heads, community organizers, activists talking about what's going on in the community here in San Francisco, and making connection to the national, global social-political-economic conditions going on right now.
When I came through the doors of the event to where the panels were being held (at the Mission Cultural Center in San Francisco's Mission district), Alex Neito's brother spoke about his brother's yet unresolved murder by the SFPD and informed the room about the current actions around bringing justice for him, his family and the community at large. United Playaz, a violence prevention and youth development organization was there and spoke about their work in the community and they had testimonials from the youth they've been working with. Things were moving along smoothly with one speaker or set of speakers after another. Then the main panel for the evening started with local Hip Hop radio DJ/personality and journalist Davey D (moderator), local radio DJ/personality Chuy Gomez, Kaila Love (graduate & educator at UC Berkley who runs a class on the works of Tupac Shakur), Ahki Zulu Delrokz (A DJ buddy who put me on to this event), local emcees/rappers: Big Rich, Hugh EMC, CMG of the Conscious Daughters, and Tajai of the Souls of Mischief.
The main panel touched on issues of Hip-Hop and community activism, gentrification, ownership in the community, technology, working in the system, spirituality, academia and Hip-Hop, and the future of Hip-Hop activism having the ability to affect real change in society. Some notable info the guest speakers spoke about at the event:
Hugh EMC talked about his past as a drug dealer and his run ins with the law, and how even with his checkered history he still embedded positive subjects and imagery in his music (Islamic symbol of the crescent moon & star, black panthers on his album art work, and dropping a bit of 5% science in his lyrics) along with his more gritty street tales (as a Bay Area native, due to the time period he grew up in, he was exposed to the Nation of Islam/Black Panthers being prominent in the Bay), and that he was caught up for a moment chasing the status quo of rap materialism and has since put that aside and refocused his music to being more positive (still keeping it street but embedding it with more positive messages, but not preachy about it). This once drug dealer also spoke of his work today with the city's drug addiction public clinic, helping out a population he may have once peddled drugs too.
CMG spoke about being a woman in Hip-Hop, the love she was getting from male east coast artists (like Method Man, Redman asking her to be on their tours) as opposed to her comrades in the Bay Area who gave her the cold shoulder, and the need for local artists to come together and collaborate and perform together. On the technology tip, CMG spoke about being an office worker at a place connected to tech company that made the hit video game Tetris here in the Bay Area in the early 80s, and how she's still involved in working with tech companies to this day.
Ahki Zulu Delrokz points out that Hip-Hop culture needs to move beyond just talking about itself and expand into community activism and real world situations.
Davey D & Kalia Love spoke to Hip-Hop in academia and how there is lack of proper Hip-Hop practitioners teaching classes who know how to connect the subjects they are teaching by bringing to life the nuances of the subjects and engaging the students on the deeper level of connecting to real world situations and experiences. They also spoke to the current excessive navel gazing and trivial obsession that they feel aren't doing Hip-Hop any justice.
Chuy Gomez spoke to the nature of radio and the media, and how they have an agenda they try to enforce on DJs, and how he's been able to support independent local artists, business, community events and actions on his music video show CMC: by sneaking in short little segments during a throw to commercial and other short transitions as opposed to doing long interview segments or monologues.
Big Rich spoke about his lineage as a SF rapper through JT The Bigga Figga and San Quinn, the independent music hustle, and his community work with Project Level.
Davey D also spoke to the importance of ownership in the community in regards to gentrification, and how to infiltrate the systems through Hip-Hop heads with various skills and occupations, in positions of power who are then able to contribute and effect policy changes for the community instead of them having corporate profit agendas being pushed.
Tajai spoke about his Islamic faith influenced by his upbringing in Oakland and the Black Muslim community there. He spoke about how Islam answered deep questions he had about life that was relevant and adequate for him but he's not pushing the religion on anyone and is still always learning more about it. Tajai says spirituality (which ever one you prescribe to) is very influential for him and his music. He also touched on technology and Hip-Hop, stressing the need for Hip-Hop heads to be skillful in other areas besides the music and arts, which he speaks from experience of his background and continued interest in learning computer science. He explained the longevity of his group Souls of Mischief and their Hieroglyphic crew attributing their adaptation to new technologies like the Internet and social media, as well as diversifying their business and always learning and applying new technologies to grow and maintain their fan base around the world.
The event ended with induction of new Zulus, recognition of individuals with outstanding community work for the year of 2014, and honorable recognition of the contributions of local legends in Hip-Hop culture like SF Bay Area's own Medea Sirkas (perviously Demons Of The Mind) dancing crew, who are pioneers and influential in the dance styles of the robot, strutin', pop 'n' lockin', synchronized dance styles that you see in today's popular media when it comes to modern dance.
Medea Sirkas Underground Dance Pioneers Documentary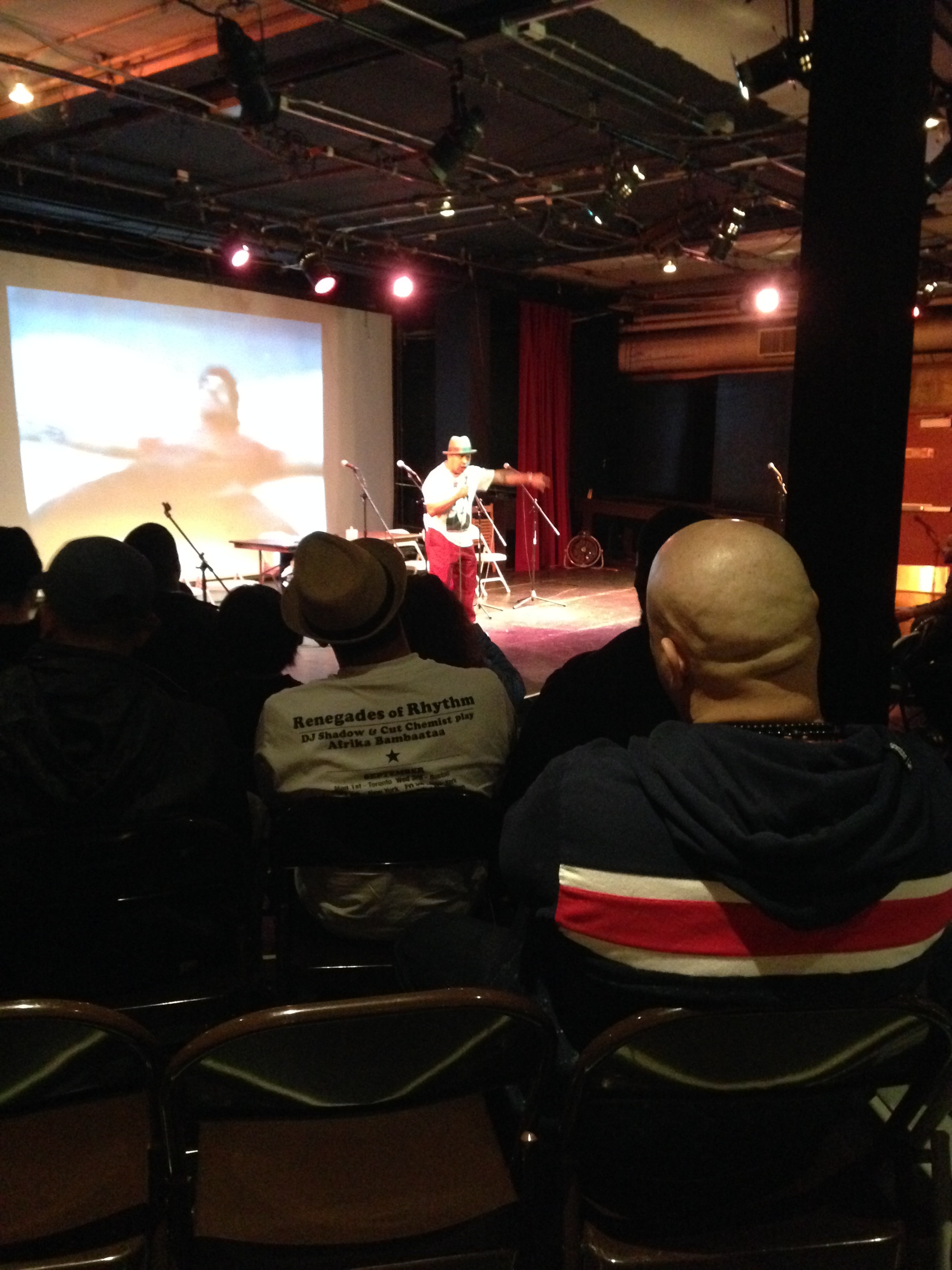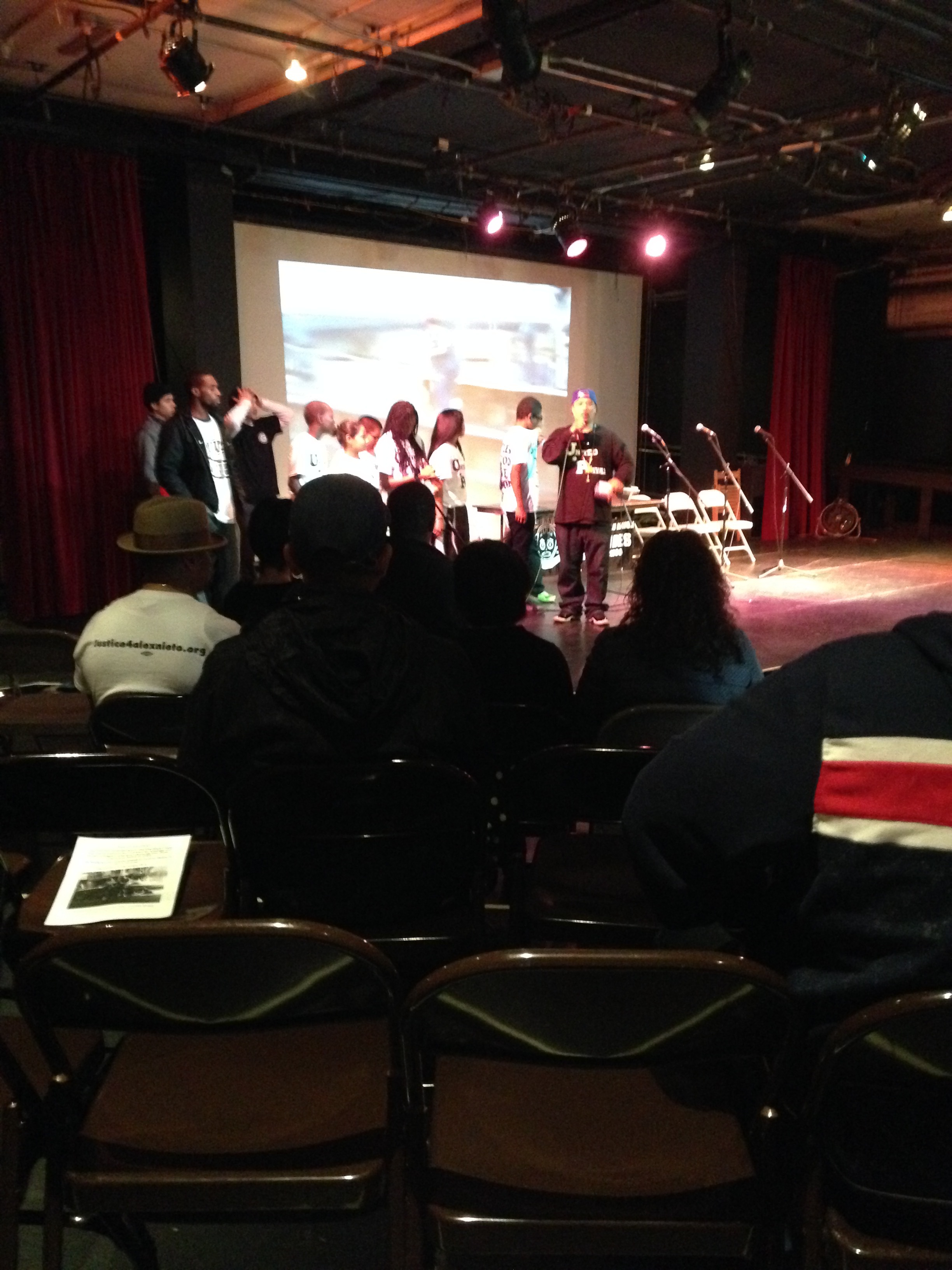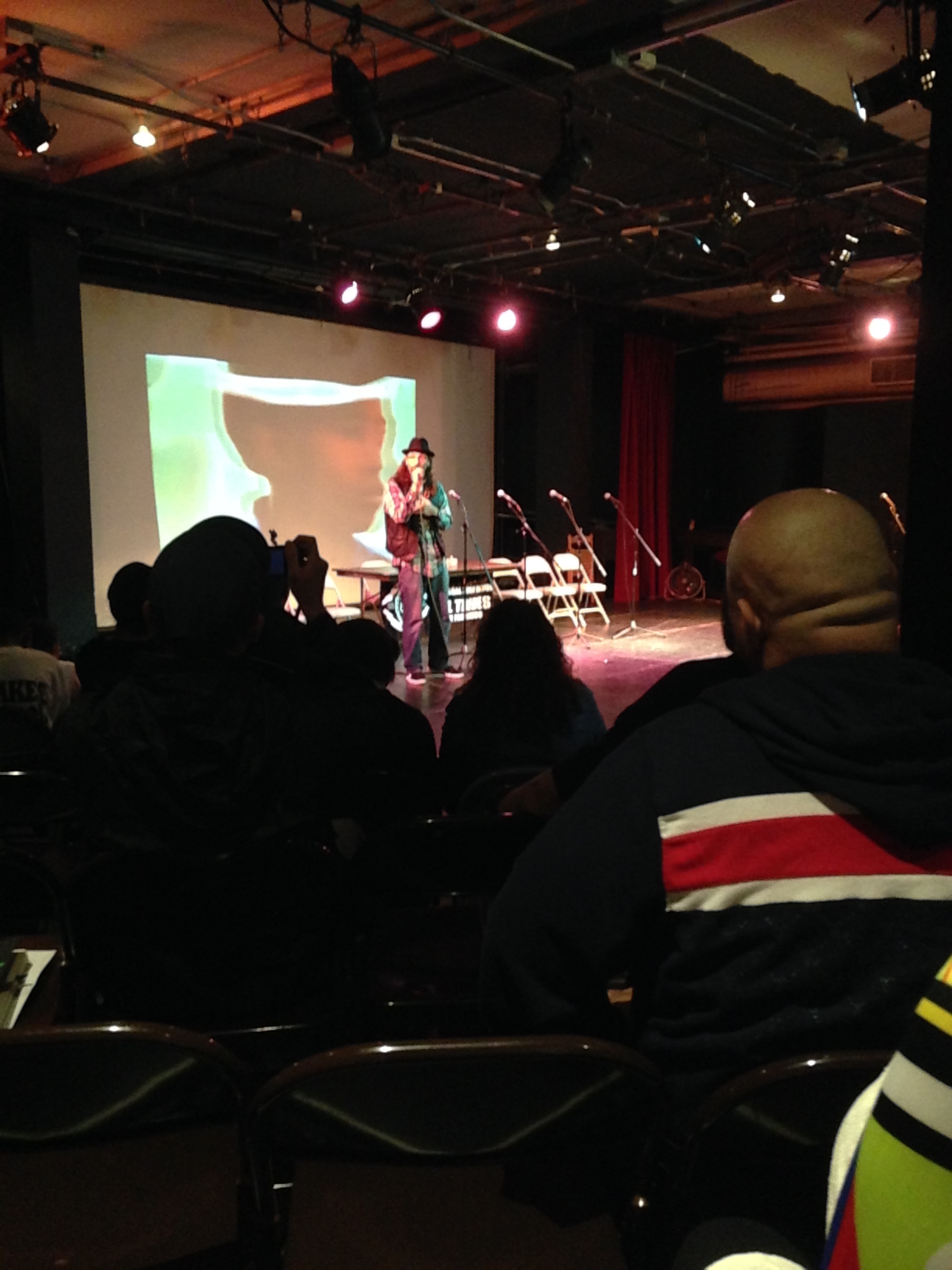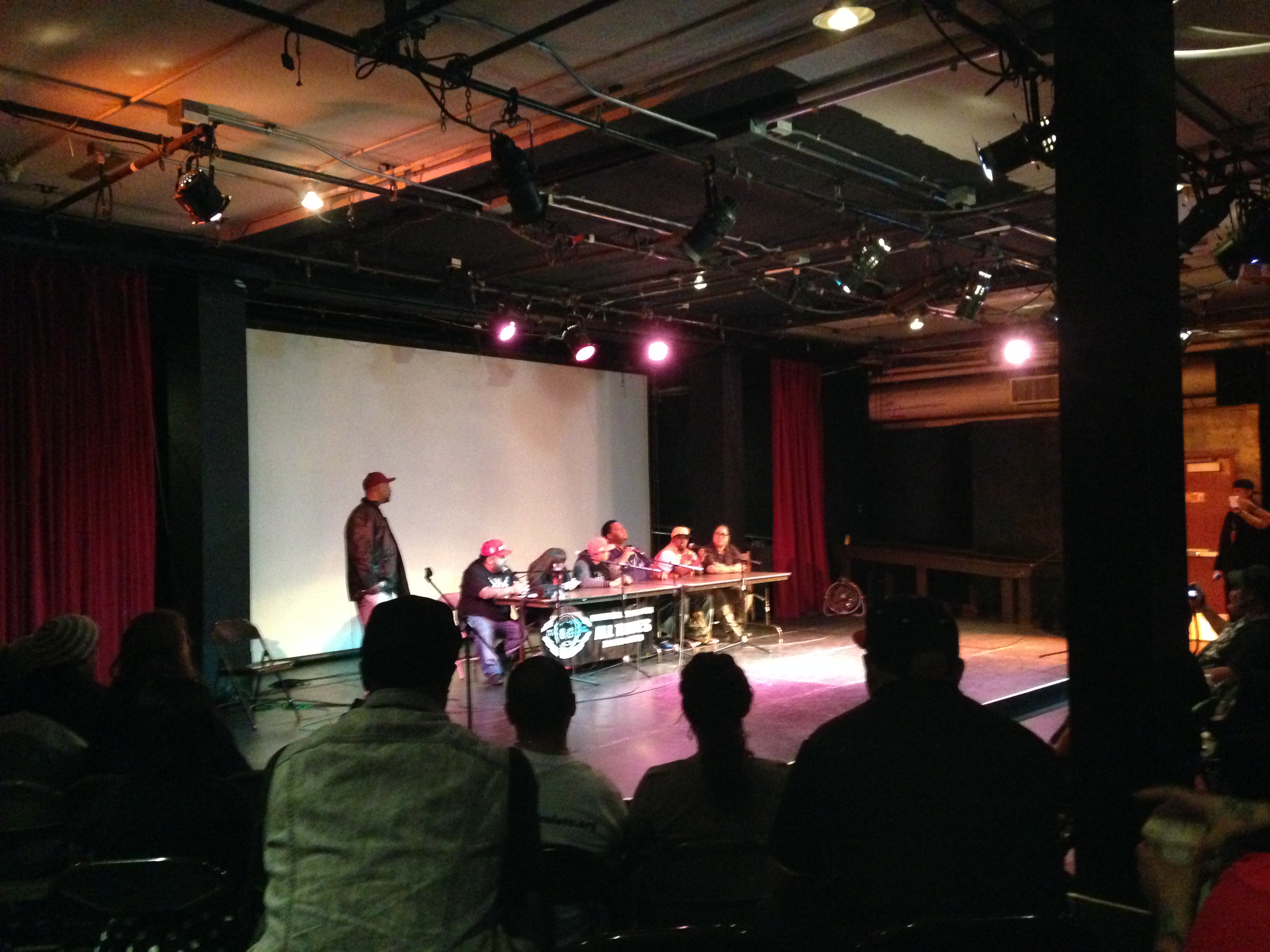 Introduction to All Tribes Zulu Nation San Francisco Chapter
Bonus: Q-Tip at a recent Universal Zulu Nation meeting on the induction of Nas, Big Boi, Joey Bada$$, Freddie Gibbs & Lil Wayne
Below are some people, actions, music and local business I came across at the event.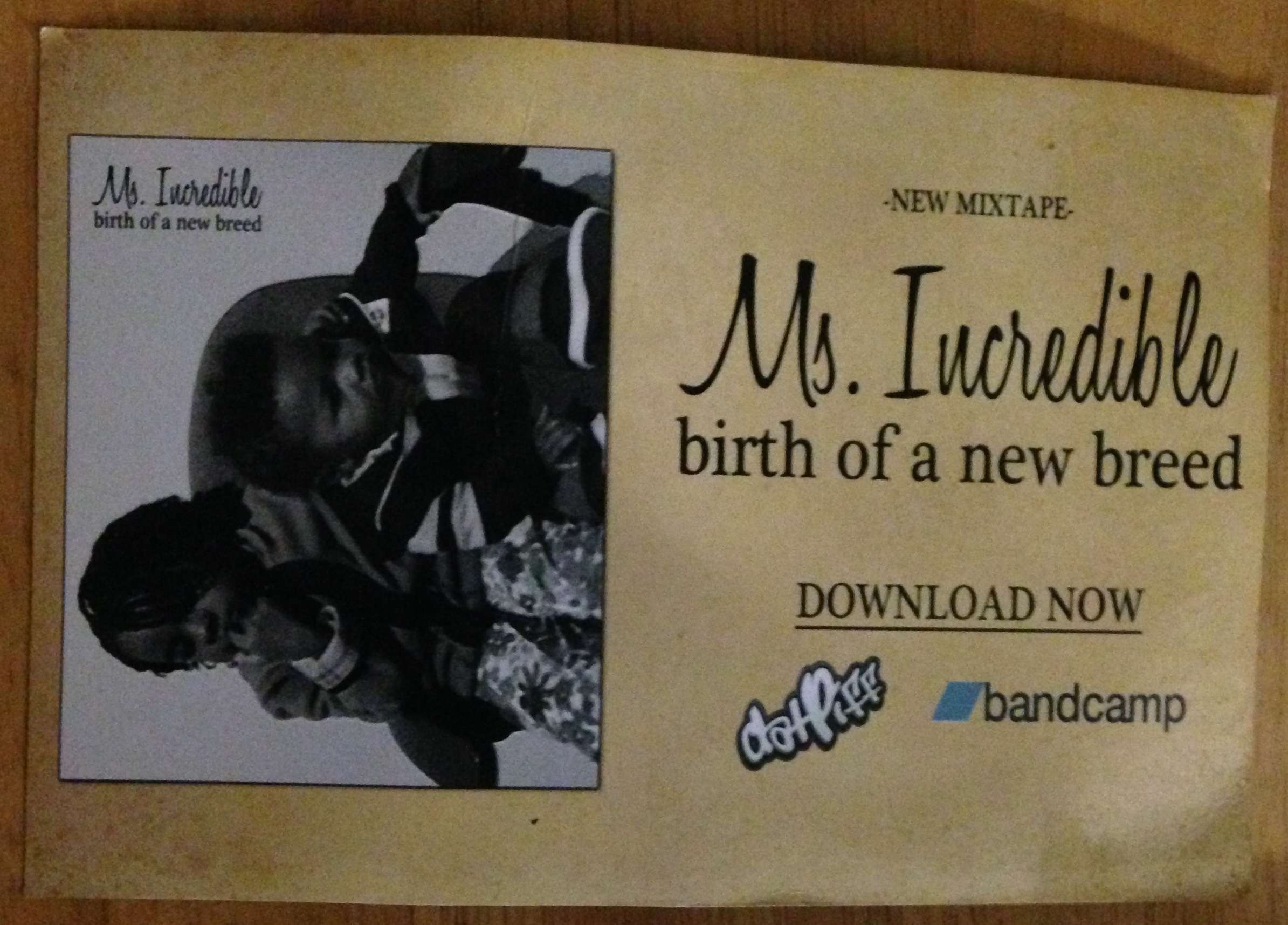 I meet a local emcee out of the Bayview district in San Francisco and she put me on to her latest project Birth Of A new Breed, as well as an upcoming open mic that she's a part of called "Conscious Minds At Work December Showcase & Open Mic" at Auntie April's on 4618 Third Street in the city which has an event this Saturday December 13.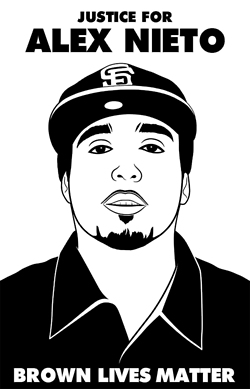 The Longest Night of the Year: A Winter Solstice Posada for 9 month anniversary of Alex's murder by yet unnamed SFPD officers (12/21, 4-7pm) @ Bernal Heights Hill. [justice4alexnieto.org]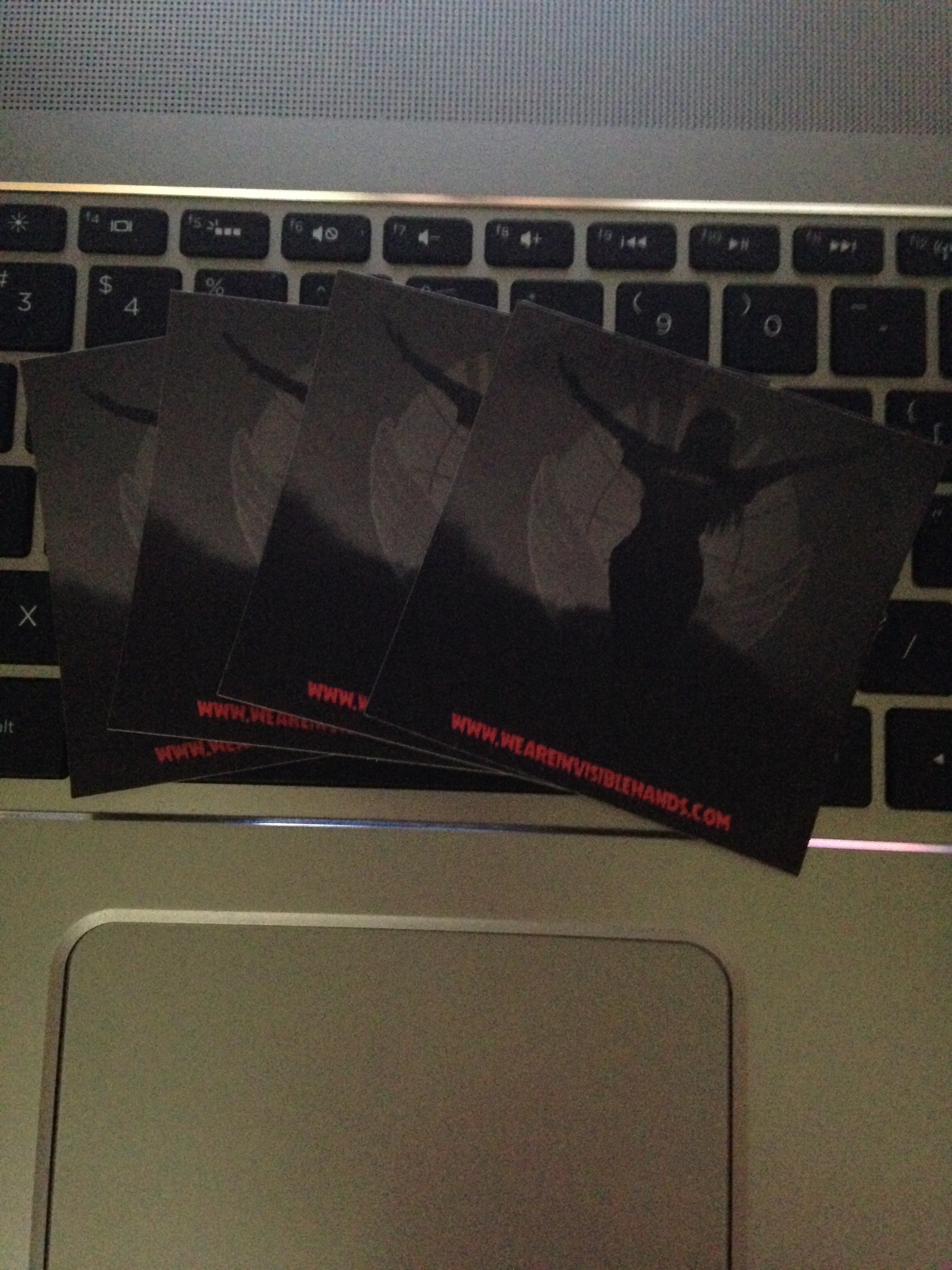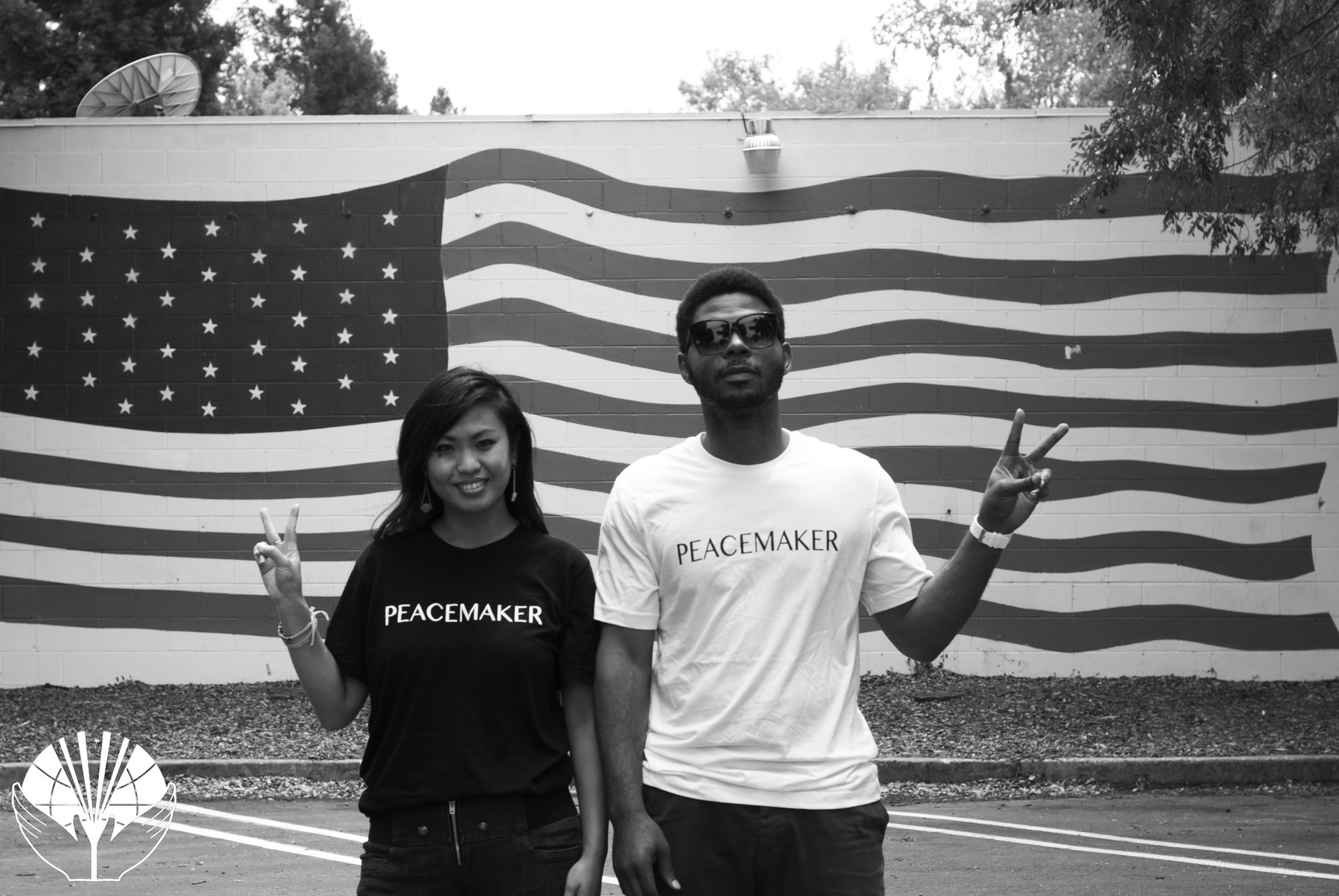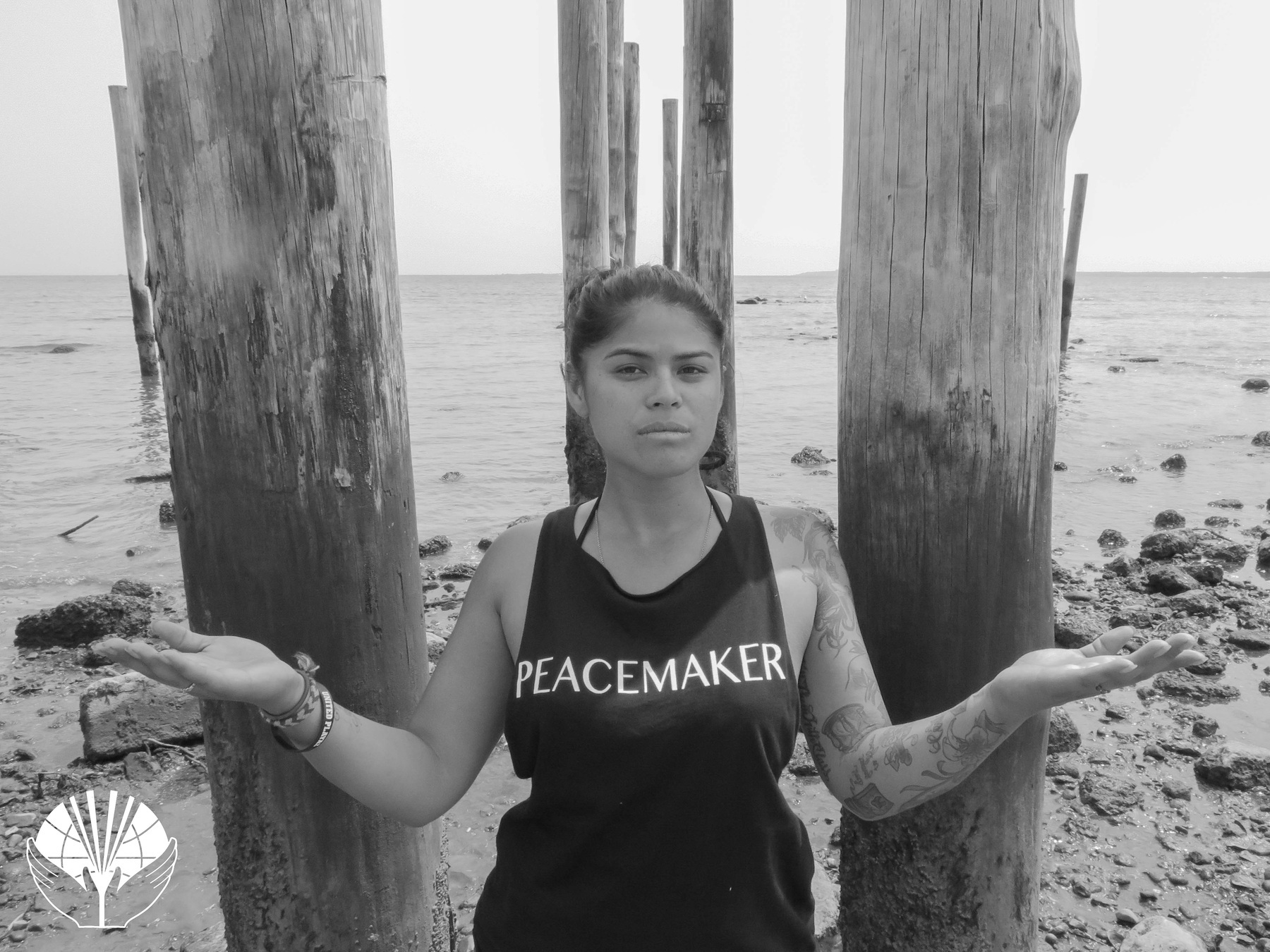 At this event I also meet Bousa Concepts & Nina Parks, founders of a new conscious street wear line called Invisible Hands (a play on Adam Smith's usage of the play but it means much more). Bousa explained to me the concept behind their current "Peacemakers" shirts and hats has to do with the term "Peacemaker" is synonymous with gun violence (if you search online the word "Peacemaker" you'll get gun related results) so she and her partner Nina are trying to subvert and change this from a violent meaning to a more peaceful one with their clothing line. Winning the hearts and minds, one shirt or hat at a time. For more info and purchase of their various products head over to the Invisible Hands website.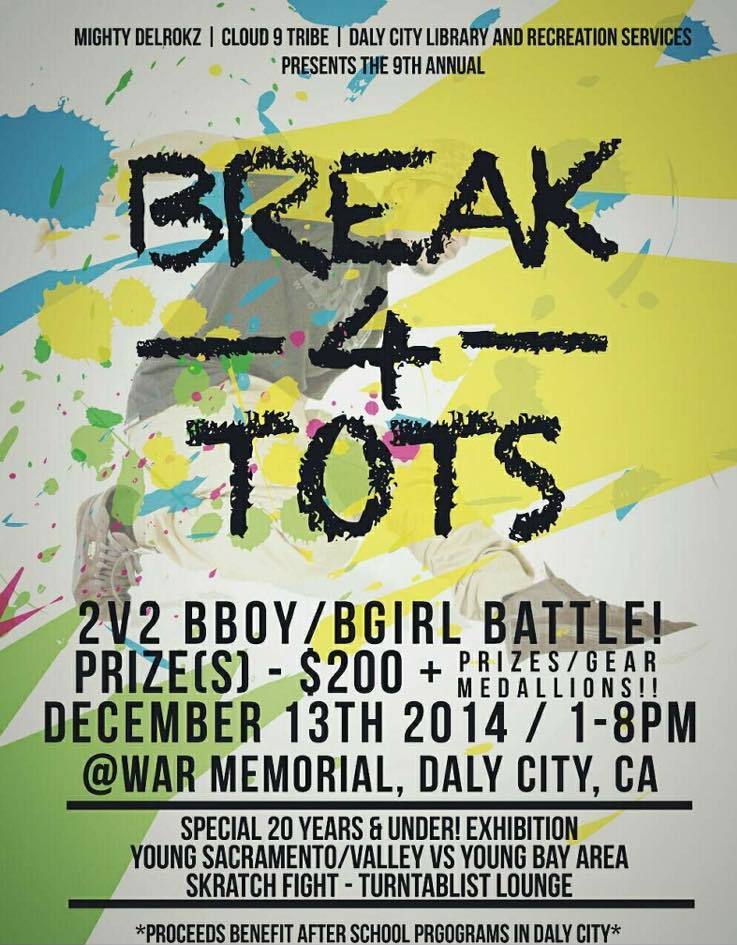 This Saturday December 13th is also the 9th annual Break 4 Tots B-Boy/B-Girl battle/benefit event with proceeds and donations going to after school programs in Daly City. There is also a turntablist, scratch DJ lounge with open tables for those that wanna speak with the 1s & 2s. For more info head on over to the Break 4 Tots FB page.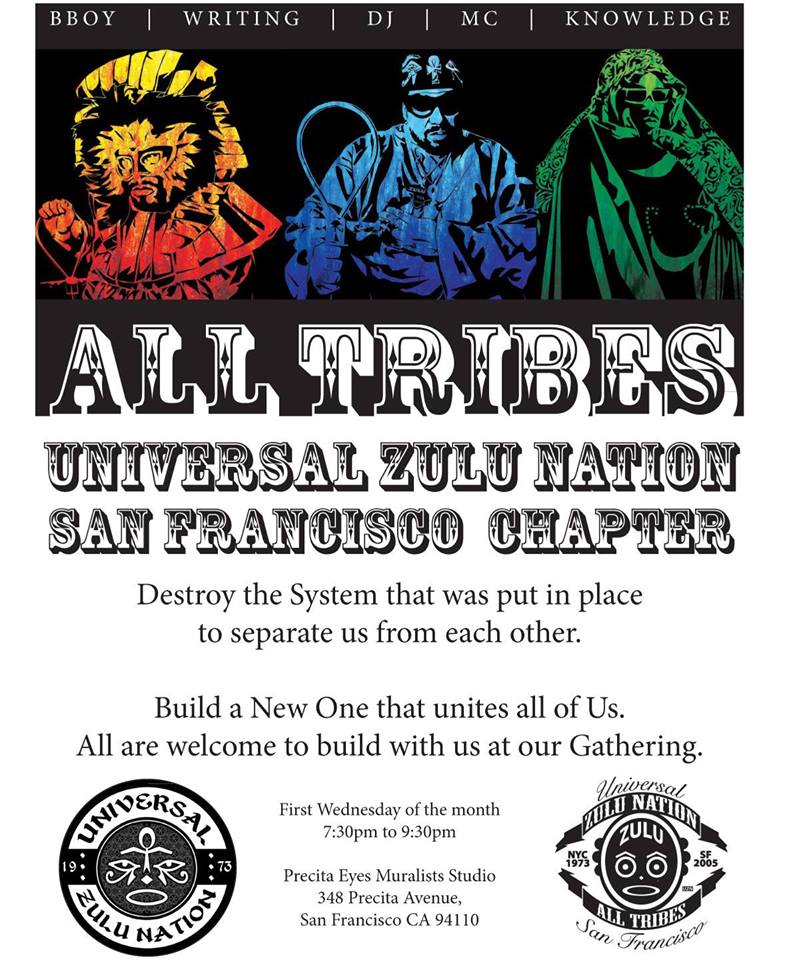 For those that want to learn more about the All Tribes SF Chapter of the Universal Zulu Nation organization and their work in the community here in SF Bay Area, checkout their month first Wednesday meetings at Percita Eyes Muralist Studios in the Mission district of San Francisco.