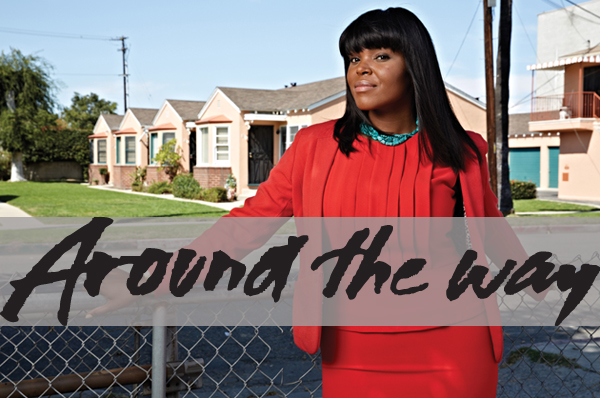 Aja Brown – Can this Millennial Mayor turn Compton into L.A.'s next hot neighborhood? [TakePart]
Gentrification of L.A.'s Skid Row, the homeless get shafted [Vice]
Rural homelessness – After months, a teen leaves the woods behind [NPR]
Mikki Kendall and her online beef with white feminists [Vice]
Asa Akira on TakePart Live 5-19-2014 – Can porn stars be feminists?
Time Magazine interviews Eddie Huang about Fresh Of The Boat sitcom [Time]
Anatomy Of A Dance Hit: Why We Love To Boogie With Pharrell [NPR]
How Miss Info became Hip-Hop's ultimate insider [Buzzfeed]
– Internet series Millennial Parents tackles the subject of inappropriate lullabies, a possible predicament for young parents who grew up listening to 90's Hip-Hop and R&B.
Monosodium Glutamate – Eddie and Elena Go to Hot 97's Summer Jam [link]
Fung Bros interview with MC Jin (talks about "Learn Chinese" and Eddie Huang)
– MC Jin's interview with Internet video stars The Fung Bros, touching on his track "Learn Chinese" and his thoughts on Eddie Huang. I just realized after watching this interview, Jin's "The Rest Is History" just past the 10-year mark (it was released in October 19th, 2004).
Wade-O Radio – MC Jin Explains why he's never collabed with Lecrae and No Malice (and his transition to Christian Rap/Hip-Hop) + Jin freestyles over some 90's Hip-Hop beats
Why being a Hip-Hop producer sucks – writer Paul Cantor critiques 50 Cent's new album and the speculative nature of the Hip-Hop producer game [Medium]
The backstory of the battle to save Marcus Books, the oldest black-owned bookstore in the U.S. that also has a sister location in Oakland [SF Bayview]
Parliament Funkadelic Mothership soon to be on display at Smithsonian [BoingBoing]
Blank on Blank animated lost interview with the late Philip Seymour Hoffman
Rapper/Singer Future, rapper Freddie Gibbs, & DJ/producer/rapper Mannie Fresh (Interview+DJ Set) on NPR's Microphone Check with A Tribe Called Quest's Ali Shaheed Muhammad & Frannie Kelley
The night NOLA Bounce & Vogue danced together (OKP TV + Feature) [Okay Player]
Beastie Boys win their lawsuit against Monster energy drink [Rolling Stones], and Mike D says no more music from the Beastie Boys [Pitchfork]
Jack White clarifies and apologizes for comments made in an interview in the May 22nd issue of Rolling Stone [Jack White III]
The Melvins recount their first tour
Van Gogh's missing ear "regrown" as art [BoingBoing]
Artist James Jean does mural for Pow! Wow! Taiwan [Arrested Motion]
Designing Home: Jews and Midcentury Modernism
– There is an exhibit on the Jewish influence on midcentury modernist American design (until October 6, 2014) at San Francisco's Contemporary Jewish Museum. 
Millions: The Series
– Millions is a web series that tells a story from the Asian American experience. The story does not necessarily apply to all Asian Americans, but it fits a good segment of Asian American young adults. Here's a summary form the Youtube channel:
MILLIONS The Series is the story of twenty-somethings, Brandon (the dreamer), Deron (the black sheep), Mary (the tomboy), Charlie (the cynic), Lia, (the girl next door), Jay (the playboy), and Eddie (the brain). They work mediocre 9 to 5 jobs, and waste away their nights bumming the streets aimlessly. The emptiness of their lives makes them apathetic, but not enough to do anything about it.

Until a tragedy hits the group that sparks Brandon on a quest.

In high school, the friends made a pact to become millionaires by the age of 30. It was a childish dream that faded with time. But after recent events, Brandon refuses to let it go any longer. He persuades his friends to join him in becoming the millionaires they once promised each other they'd be – and prove to each other that dreams aren't something so easily forgotten.
California Baptist church changes views on homosexuality after pastor's gay son comes out. The pastor's interpretation of Romans 1 (a part of The Bible often quoted as a stand against homosexuality) is one I haven't heard of before. [Huffington Post]
Leading Jamaican Newspaper Endorses Marriage Equality [Buzzfeed]
South Korea's not so subtle racist hiring practice against non-white English teachers [Vice]
In Thailand, a growing intolerance for dissent [New York Times]
Customized Lamborghinis of Japan's underworld, an evolution of bōsōzoku motorcycle gang culture [Verge]
Pinky Violence: Essential Trailers (1970-1977)
– A compilation (a little over an hour) of trailers from Japanese exploitation films called "Pinky Violence" from the 1970s. These Japanese "Pinky Violence" exploitation films usually have female characters in sexual and violent situations.
Tibetan filmmaker Dhondup Wangchen released by China after six years in jail for subversion [BoingBoing]
China to deport artist Guo Jian, detained for Tiananmen anniversary (June 4th) [Guardian]
This is the article on artist Guo Jian that is at the center of his arrest and deportation from China [Financial Times]
Subway strike causes chaos in Brazilian city ahead of World Cup [LA Times]
American juvenile incarceration: destroying a generation to feed the prison system [BoingBoing]