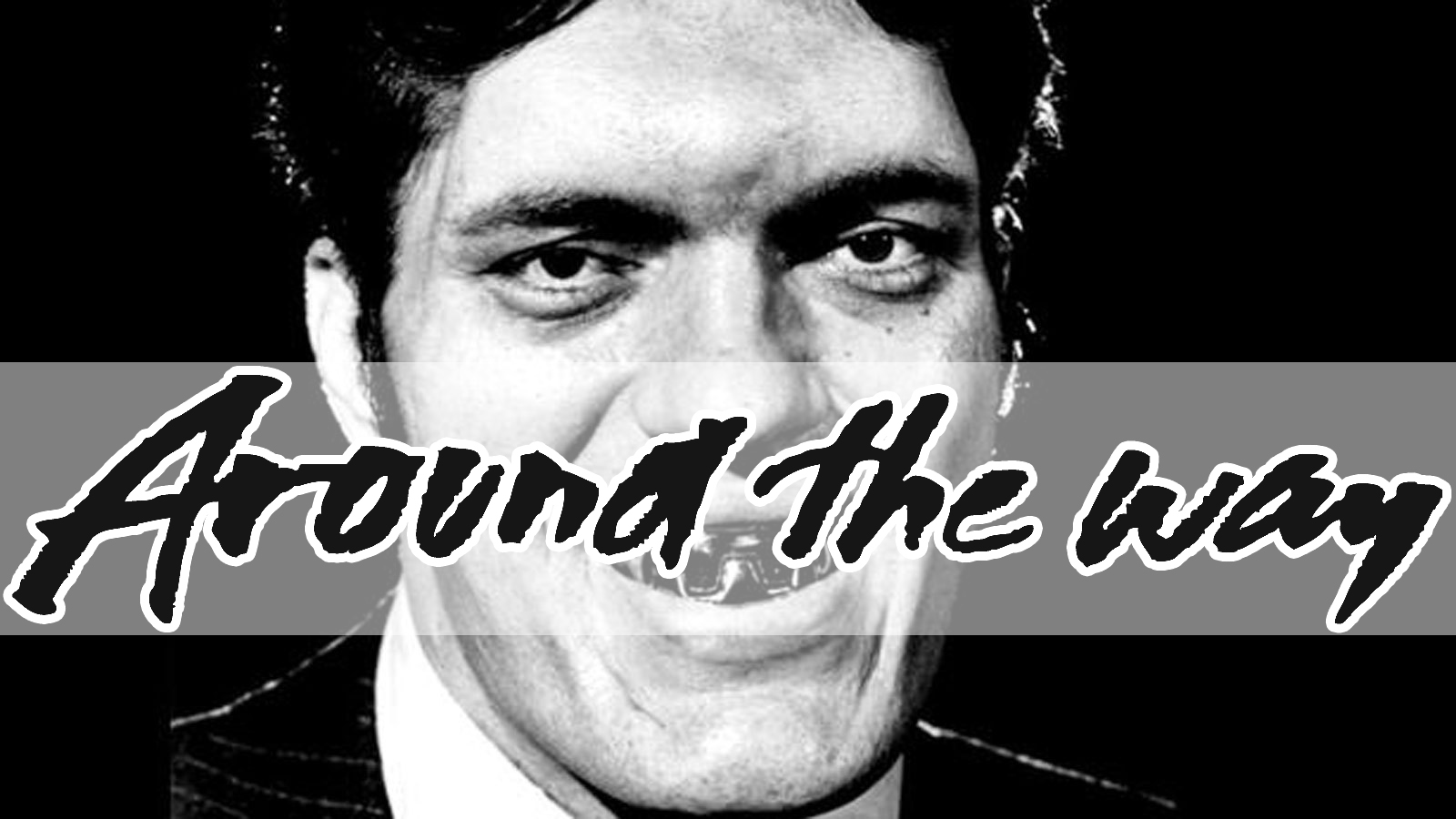 Richard Kiel dies at 74; played Jaws in Bond films. [NY Times]
Richard Kiel Interview – James Bond Jaws – Collectormania 2012
Democracy Now headlines 9-12-2014. [Democracy Now]
Obama ISIS Speech [FULL] 9/10/14: Outlining a Battle Plan – The New York Times
The Senate just rejected a constitutional amendment to overturn Citizens United. [Disinfo]
Meet the anti-Net Neutrality arms dealers who love network discrimination. [BoingBoing]
In Korea, adoptees fight to change culture that sent them overseas. [NPR]
The economist defends America's enslavement of Africans. [BoingBoing]
How Police Caught The Cop Who Allegedly Sexually Abused 8 Black Women – Prosecutors say Officer Daniel Holtzclaw made a mistake after a series of sexual assaults on black women in Oklahoma City — he profiled the wrong woman. His family says he's a victim of "solicited testimony" from women who have "personal motives" to lie. BuzzFeed News reports from the Oklahoma County courtroom where, Wednesday, prosecutors described a pattern of sexual harassment and assault. [Buzzfeed]
Why Asian Americans should care about Emma Sulkowicz's rape protest. [Audrey]
BBC Documentary (2014) – Scotland: For Richer or Poorer – About the current movement for Scottish independence.
Scotland independence referendum: the view from Catalonia – Catalans campaigning for their own independence vote are inspired by what they see in Scotland – no matter which way the vote goes on 19 September. [The Guardian]
5 reasons Catalonia should be on your radar. [Medium]
Ted Talks – Zak Ebrahim: "I am the son of a terrorist. Here's how I chose peace."
'Under Suspicion And Under Attack': New SAALT Report Documents Hate Violence And Xenophobic Rhetoric – Hate violence 'hot spots' include New York City, New Jersey, Chicago, Southern and Northern California. [Angry Asian Man]
Militarized cops pretend to fight terrorists in Oakland. [Vice]
Debunking 9/11 Debunking by Ryan Mackey – A interesting link on 9/11 that popped up in my feeds yesterday from the podcaster Out There Radio. [Ryan Mackey]
"Your guide to all the 9/11 conspiracy talking points that turned out to be completely wrong. How many of these have you parroted without knowing better? Don't worry, I'm just as guilty as you are."

via Out There Radio
How a Public Chinese Immersion School Is Desegregating St. Louis – The Chinese School brings together students from the suburbs and the inner city in one of America's most racially divided cities. [National Journal]
San Francisco's tech boom squeezing out Chinese American small businesses. [8asians]
Bandidos in SF's Castro neighborhood changes name to Hecho amid controversy. [sfist]
As tech transforms San Francisco, elderly Filipino man fights Eviction. [8asians]
Mos Def "Mathematics" (1999)
The Math Book: From Pythagoras to the 57th dimension, 250 milestones in the history of mathematics. [BoingBoing]
How a 19th century math genius taught us the best way to hold a pizza slice. [Wired]
Nasa: Asteroid 2014 RC flies past Earth. [BBC]
Brainwashed into the cult of busy – Beat the grind by learning to work smarter instead of harder and longer [The New Zealand Herald]
Why hierarchy creates a destructive force within the human psyche (by dr. Robert Sapolsky)
– via Stress, Portrait of a Killer – Full Documentary (2008).
3-year-old Maui boy receives 'Ironman'-like 3-D printed hand. [Khon2]
DJ Technics and DJ Ayres Discuss the Past and Future of Baltimore Club 
DJ Uniique and the rise of Jersey Club. [Thump]
Full-length documentary 'Jungle Fever' – Explore the movement that redefined British urban music: jungle. [Dazed]
Diggin' In The Carts: A six part documentary series about Japanese video game music. [RBMA]
3rd Bass interview on Sway in the Morning (2013) 
Sway in the Morning: Everlast Talks His Solo Career, House of Pain, His Heart Issues & If La Coka Nostra Will Reunite
NPR Microphone Check – The Underachievers: 'We're Still Young'
NPR Microphone Check – Souls Of Mischief: 'It's Like Catching Lightning In A Bottle'
– via NPR's Microphone Check
When it comes to comics, let's put literary criticism back on the shelf. [The Conversation]
Submit your info to the cartoonist of color database. [Nerds of Color]
The Unbearable Whiteness Of Late Night – Late night stays white because it's taken everything it needs from black pioneers like Arsenio Hall. Comedian W. Kamau Bell weighs in on why that matters. [Buzzfeed]
Indie Film 'Seoul Searching' Is A Melting Pot Of A Production – A movie about Korean Americans teens set in the 1980s. [Variety]
The Dark, Ironic Branding Drug Dealers Use to Sell Heroin – Design and typography of heroin bags. [Wired]
Apple debuted a brand-new custom typeface with its watch. [Gizmondo]
This Artist Turns Her 2-Year-Old's Doodles Into Gorgeous Paintings – The mommy-daughter duo work together to create stunning, surreal masterpieces. [Buzzfeed]
Genesis – photo book that acts like a time machine taking you back to the beginning of the planet. [BoingBoing]
The Islamic roots of science fiction. [i09]
Star Wars Minus Williams – Throne Room Scene Without Soundtrack Music
ABC's How To Get Away With Murder – Trailer
– How To Get Away With Murder is a new ABC show by Shonda Rhimes (Grey's Anatomy, Scandal) airing September 25th 10/9c in states, staring actress Viola Davis.
Viola Davis finally has the role she's worked decades for. [Buzzfeed]
For the connoisseur of bad movies, cult films, grind house movies, exploitation flicks check out the 160+ movies playlist from Worst Movies On Netflix.
Kei Nishikori's Coach, Michael Chang, Has Been There Before. [NY Times]
Ichiro Suzuki Uncensored, en Español – Between the lines, Japanese star is known as a first-class Spanish trash talker. [WSJ]
Fashion designer Alexander Wang, serving two masters. [NY Times]
What's inside fashion designer Jason Wu's Office? [NY Times]
Andrew Huang – 99 Red Balloons cover – played with red balloons
The Garden: A tour of cult filmmaker Derek Jarman's home, a living work of art. [Dangerous Minds]
An X-rated doodle from the notebooks of Leonardo Da Vinci. [Dangerous Minds]
Trapped between realms: The ghostly photos of Christopher McKenney. [Dangerous Minds]
Ella Fitzgearld's totally swingin' cover of Cream's "Sunshine Of Your Love". [Dangerous Minds]
MUNCHIES Guide to Scotland
Tatsuru Rai Opens MAD4
– Tatsuru Rai, chef and owner of the soba house Sobatei Rakuichi in Niseko, Hokkaido, demonstrating how he makes his soba at the MAD4 symposium in Copenhagen, Denmark. Tatsuru Rai makes his soba in near silence, with care and attention to detail; it's like watching a performance art piece in the form of food preparation.
NOLA: Life, Death, & Heavy Blues from the Bayou (Trailer) 
Noisey is proud to present NOLA: Life, Death and Heavy Blues from the Bayou, a seven-part series examining the people and the culture that helped foster bands like DOWN, Eyehategod, Crowbar, Goatwhore and many others. From the crawfish-littered tables of the secluded Anselmo compound to a fishing boat with Eyehategod in the swamps, we'll discuss the bands, Hurricane Katrina, drugs, suicide, murder, and records that helped shape the New Orleans sound known the world over.

via Noisey