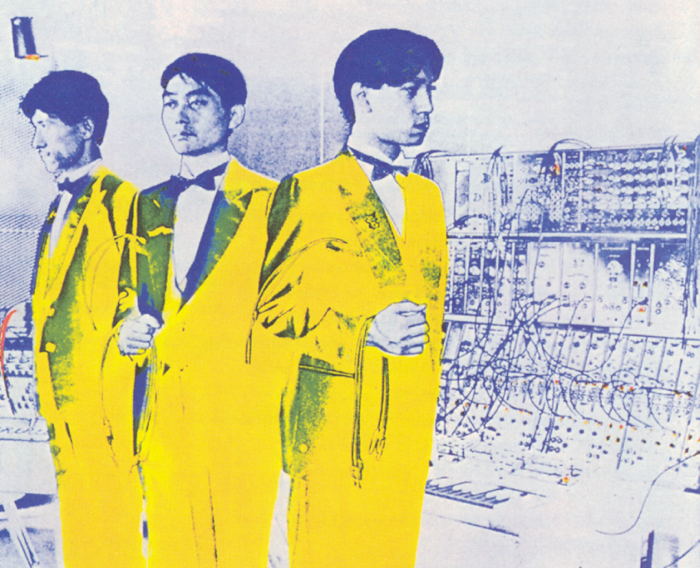 In the post World War II era, Germany and Japan had to go through major reconstruction while getting their economy back on it's feet. Life after WWII was the backdrop for the birth of amazing arts, and musical movements. Out of these movements we get a German band like Kraftwerk, and in Japan we get Yellow Magic Orchestra (YMO). In this particular piece we travel back in history, and then speed ahead into the future, to discover Yellow Magic Orchestra's legacy as pioneers in electronic music.
By exploring the experimental, and avant-garde arts (which were banned under Nazi Germany), German artists began reflecting the realities of the new German industrial environment. Out of this came Kraftwerk, whose cold and robotic sounds try to capture life in post WWII Germany. Kraftwerk was also a reaction to German folk pop, a sound promoted by the state and media during that time. Dissenters considered it too vapid and reminiscent of Nazi nationalist propaganda.
Meanwhile in Japan, you had artists who tried to capture life after becoming the only country in human history to experience the devastation of nuclear bombs. Japanese artists also explored experimental, and avant-garde arts, but they tried to fuse Japanese folk art with modern art. At this time emerging Japanese artists didn't want to replicate European styles of art, they looked to create art that was unique to Japan. You can see this in the dance form Butoh, which has elements of classical Japanese dance mixed with modern Japanese avant-garde styles. Butoh's visuals and movements, the white makeup, grotesque imagery, slow hyper-controlled motion, freedom of movement or non movement, can be interpreted as a reflection of the psychic trauma experienced during and after WWII. Out of this movement came the band Yellow Magic Orchestra. But unlike Kraftwerk, they didn't reject popular music, rather they set out to be unique by blending different styles of music (traditional Japanese, Western, and electronic music), and in the end influenced popular music. YMO popularized a style of live performance that incorporated more electronic equipment such as rhythm boxes, synthesizers, and samplers. Unlike Kraftwerk's more minimal and robotic style of music, YMO preferred a more melodic, joyous, and airy style.
YMO's influences reached far and wide, which included genres such as the New Romantics, synth-pop, Techno, Ambient House, Acid House, Hip-Hop, J-Pop, and video game music.
YMO influenced New Romantics artists from Duran Duran to the band Japan, whose drummer Steve Jansen was influenced by YMO's drummer Yukihiro Takahashi, and lead singer David Sylvian was influenced by YMO's Ryuichi Sakamoto (they eventually collaborated).
Many artists have covered YMO's "Kimi ni Mune Kyun", most notably on Human League's collaboration YMO Versus The Human League EP.
Techno pioneers Juan Atkins, Kevin Saunderson, and Derrick May have cited YMO as an important influence on their work alongside Kraftwerk.  YMO's "Technopolis" is said to have been an influence on Detroit Techno and Juan Atkins' band, Cybotron. YMO's "Computer Games" is said to have been an influence on Sheffield, England's style of Techno, heard on tracks like Sweet Exorcist's "Testone" (1990) which uses a "Computer Games" sample but mixed with film dialogue from Close Encounters of the Third Kind (1977).
Ambient House pioneers The Orb, 808 State, Ultramarine, and Orbital have also been influenced by YMO, releasing a tribute remix album Yellow Magic Orchestra: Hi-Tech/No Crime (1993).  YMO's first reunion in the early 90s produced the album Technodon (1993) which can be seen as influential to the sounds of Techno, Ambient House, and Acid House in the 90s.
YMO's usage of electronic instruments were influential in the 80s, this can be heard from 80s British synth-pop artists such as Ultravox, John Foxx, Gary Numan, Duran Duran, Depeche Mode  Camouflage, OMD, The Human League, Visage, and Art of Noise.
Early Hip-Hop artist were also inspired to sample YMO's electronic sounds. "Firecracker" was sampled by Afrika Bambaataa in Death Mix. Besides Kraftwerk, Afrika Bambaataa's "Planet Rock" also drew inspiration from YMO's music. Afrika Bambaataa once jokingly said to The Guardian that YMO "may have just invented Hip-Hop". "Computer Game" was another track that had an important influence on early Hip-Hop and Electro music. Ryuichi Sakamoto's "Riot in Lagos" has been cited by Kurtis Mantronik as being influential in the development of the Electro Hip-Hop group Mantronix. "Computer Game" and "Firecracker" were also sampled in 2 Live Crew's "Mega-Mixx II" (1987), De La Soul's "Funky Towel" (on the soundtrack to the 1996 film Joe's Apartment),  Jennifer Lopez's "I'm Real" (2001), and the original unreleased version of Mariah Carey's "Loverboy" (2001).
YMO were instrumental in the development of J-Pop, especially in the late 1970's and 1980's. YMO's Solid State Survivor and X∞Multiplies held the top two spots on the Oricon charts for seven consecutive weeks in 1980, making YMO the only band in Japanese music history to have achieved this accomplishment. During the late 1970's and 1980's, young fans of YMO became known as the "YMO Generation" (YMO Sedai). YMO introduced electronic instruments and the usage of computer technology into Japanese pop music during the 80's. YMO was part of the "New Music Movement" that paved the way for the development of J-Pop in the 80s. You can hear YMO's influences in Ambient House artists such as Tetsu Inoue, and classical music composers like Joe Hisaishi.
Video game music composers were also influenced by YMO's sounds, during the 8bit and 16bit video game era. Composers Shinji Hosoe and Nobuyoshi Sano formed a parody band called "Oriental Magnetic Yellow" (OMY) in 1994, producing parody cover versions of various YMO records.
YMO's music ended up in many anime film soundtracks, including a homage tribute to YMO on Dragon Ball Z: Bardock – The Father of Goku (1990) with the theme song "Solid State Scouter" (which samples a snippet of "Technopolis").
Yellow Magic Orchestra featured in an early 80's documentary Sukiyaki and Chips – The Japanese Sounds of Music
Tokyo melody: un film sur Ryuichi Sakamoto (1985), A French documentary on Yellow Magic Orchestra member Ryuichi Sakamoto  
http://www.youtube.com/watch?v=oP6So1JtmI0&list=PL2CBD3486E333BBED
Yellow Magic Orchestra "Computer Game/Firecracker" music video
http://www.youtube.com/watch?v=aWt46pcZ6Kc
Yellow Magic Orchestra performing "Firecracker" on Soul Train in 1980
Afrika Bambaataa "Death Mix" (Side 2) samples "Firecracker" @ 2:27
http://www.youtube.com/watch?v=4Q4MTPL_naI
Afrika Bambaataa and Soulsonic Force "Planet Rock"
Sweet Exorcist "Testone" samples sounds from "Computer Games"
2 Live Crew "Mega Mixx II" samples "Firecracker" 
De La Soul "Funky Towel" samples "Firecraker"
Jennifer Lopez "I'm Real" samples "Firecracker"
Mariah Carey's Glitter commercial (contains a snippet of the original version of  "Loverboy" with the "Firecracker" sample)
Duran Duran "Girls on Film"
Japan "Taking Islands In Africa" (Ryuichi Sakamoto/David Sylvian)
Ryuichi Sakamoto "Riot in Lagos"
http://www.youtube.com/watch?v=vv05S5yPeWw
Mantronix Feat. MC Tee "Fresh Is The Word"
Yellow Magic Orchestra "Kimi ni Mune Kyun" music video
http://www.youtube.com/watch?v=4HTyPPELmY0
YMO vs The Human League "Kimi ni Mune Kyun"
Oriental Magnetic Yellow (OMY) "Kimi Ni, Mune Kyuso"
Yellow Magic Orchestra "Technopolis"
http://www.youtube.com/watch?v=7OOLxGjb3dY
Cybotron (Juan Atkins) "Techno City"
http://www.youtube.com/watch?v=m3owC4lV6cE
Yellow Magic Orchestra "Be A Superman" from Technodon
http://www.youtube.com/watch?v=OE4mnVG3SYU
Yellow Magic Orchestra  "Behind the Mask (Orbital Remix)"
Yellow Magic Orchestra "Light In Darkness (The 808 State Remix)"
Yellow Magic Orchestra "Tong Poo (The Other Orb Remix II)"
http://www.youtube.com/watch?v=OC8J361JNyc
Ultramarine "British Summertime"
Tetssu Inoue "Ambiant Otaku"
Joe Hisaishi "One Summer Day" live performance (from the anime movie Spirited Away) 
Dragon Ball Z "Solid State Scouter" a homage to YMO that also contains sample of "Technopolis" 
A list of artists and songs that sampled YMO from whosampled.com (with audio examples)