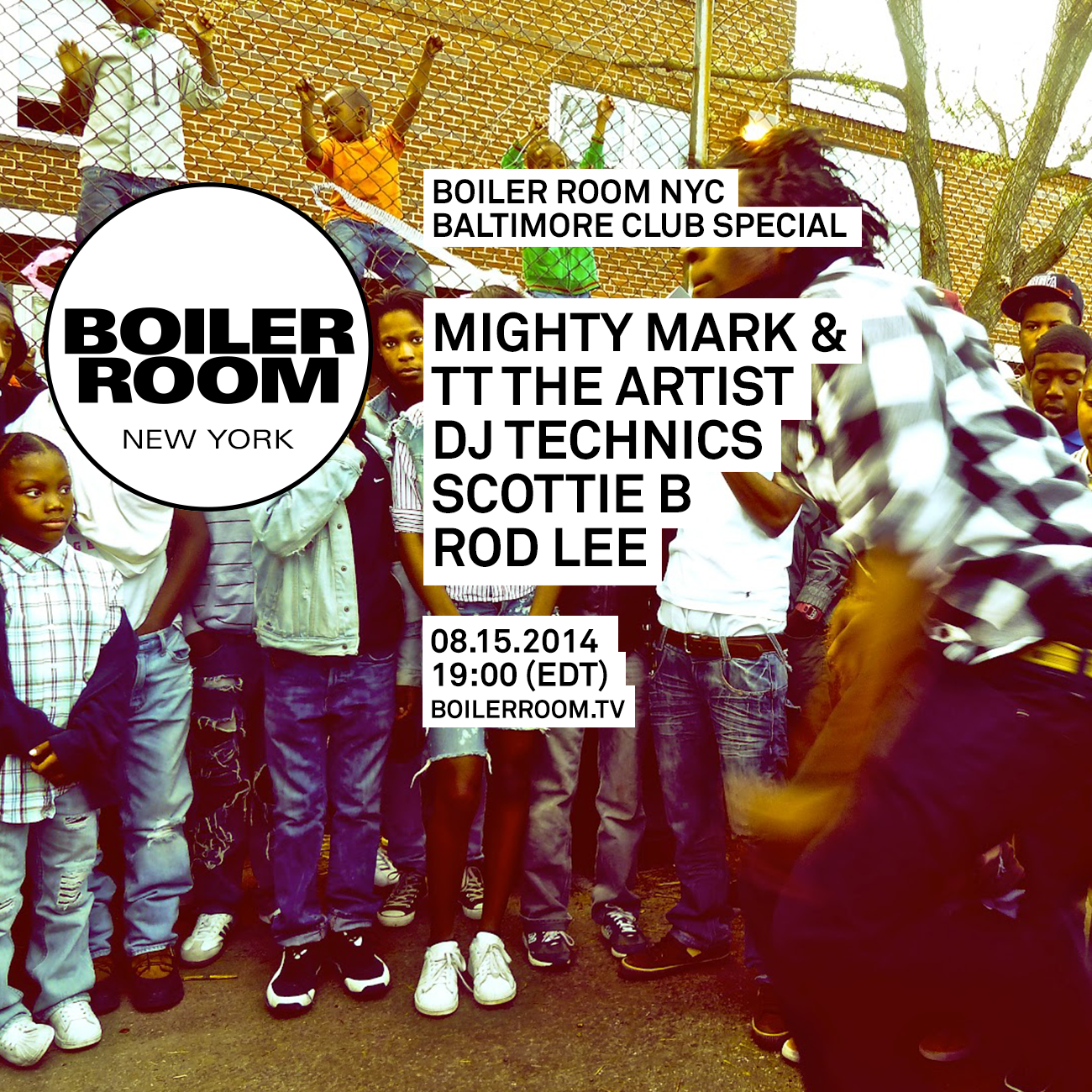 I'm surprised Boiler Room hasn't done a showcase on Baltimore club music before. This past August 15, 2014 Boiler Room NYC played host to a special Baltimore club music line up that includes some of Baltimore club music's pioneers and younger artists such as James Nasty, Mighty Mark & TT The Artist, Scottie B., DJ Technics, and Rod Lee. Baltimore club music is a style of dance music that incorporates sped up breakbeats (heavily uses Gaz "Sing Sing" and Lyn Collins "Think (About It) breakbeats), Chicago house, New Orleans bounce, disco, electronic music, rap and R&B vocals chopped up, and remixes (in this style) of popular club/street anthems. Along with the music there is a host of dance moves that go along with it such as the Spongebob dance. At parties where Baltimore club music is played, in the tradition of Hip-Hop and reggae/dancehall there would be an emcee/rapper/deejay who would hype the crowd and the tracks the DJs played with their chants and rhymes.
Breakout stars who've crossed over with some mainstream success from the Baltimore club scene include DJ Class, who had the 1999 local hit "Tear Da Club Up" and the 2009 club hit "I'm The Shit/Ish", and Rye Rye who blew up after her features on DJ Blaqstar 2007 "Shake It To The Ground" and on his remix of M.I.A.'s hit "Paper Planes".
Baltimore club has spawned many other local regional styles of dance music such as Jersey club aka Brick City club (the current trendy regional dance all the hip kids are up on – eye roll) and Philly club music or party music. Each of these city's (New Jersey, Philadelphia) variation of Baltimore club music puts their own spin on it by the way they chop up vocals, use samples, remix songs, and sounds they use for their tracks.
If you're looking for more info on Baltimore club music head to Baltimore-Club.com
B-more stand up! Enjoy the Baltimore club Boiler Room special videos below.
Boiler Room NYC – Baltimore club special – Videos ft. James Nasty, Mighty Mark & TT The Artist, Scottie B., DJ Technics, and Rod Lee
Bonus: Thump – DJ Technics and DJ Ayres Discuss the Past and Future of Baltimore Club
Bonus: Noisey – Made in Baltimore ft. Animal Collective, Dan Deacon, TT the Artist, Mighty Mark and Rye Rye
Rye Rye and TT the Artists guide to Baltimore. [Noisey]