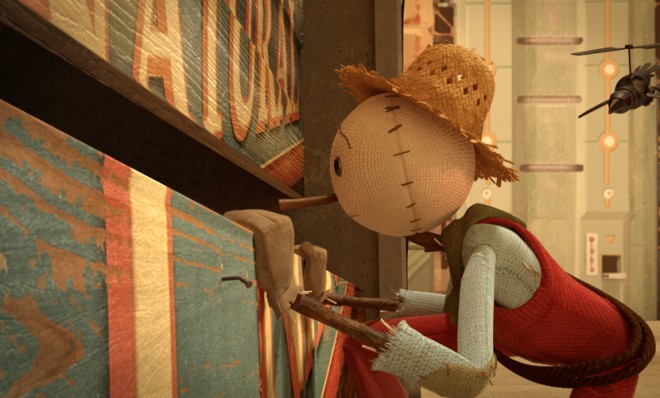 You seen this Chipotle ad right? The Scarecrow roams the city becoming increasingly uneasy, exposed to chickens getting stabbed by needles and eye popping cows trapped in cages sulking as they get milked to death. A mechanical red-eyed crow follows The Scarecrow for surveillance and irony.
On Chipotle's website they described the ad:
In a dystopian fantasy world, all food production is controlled by fictional industrial giant Crow Foods. Scarecrows have been displaced from their traditional role of protecting food, and are now servants to the crows and their evil plans to dominate the food system. Dreaming of something better, a lone scarecrow sets out to provide an alternative to the unsustainable processed food from the factory.
Chipotle Mexican Grill is hardly mentioned until the end, followed by Apple and The Scarecrow app. It's a video game where you too can be the Scarecrow trying to save the world one organic vegetarian taco at a time.
Moonbot Studios created the beautiful ad. Fiona Apple sings "Pure Imagination," originally from the 1971 film Willy Wonka and the Chocolate Factory. The ad is a poignant take on industrial food.
Formerly mostly owned by McDonald's, Chipotle is going all out to prove their street cred. If they're anti-factory farming, it's easy to assume that their supporting independent farmers right?
The original "Pure Imagination" sung by Gene Wilder in the unbeatable 1971 Willy Wonka and the Chocolate Factory.