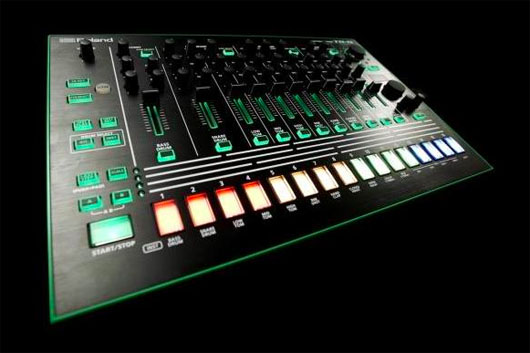 Japanese musical instrument manufacturer Roland recently revealed a teaser video for a new piece of equipment called the AIRA. Roland has not said much about AIRA, only hinting that it's the "next step." Recently leaked images thanks to Attack Magazine reveal the AIRA's layout to have a familiar layout to the iconic TR-808 drum machine, with a black and green chassis, green and orange lit up button controls. NAMM and other music trade shows are coming up, so we should expect to hear more detail from Roland about this new piece of gear. For those wanting to keep tabs on this development there is a Roland mailing list you can sign up for.
AIRA — The evolution of the Roland TR-808 Rhythm Machine
Some documentaries on the 808 and other popular Roland musical equipment.
The Shape Of Things That Hum – The 808 Documentary (Channel 4, 2000)
BBC Radio 1 Stories – Roland TR-808 TR-909 TB-303 Documentary (audio only)
TB-303 Documentary – Bassline Baseline (2005)