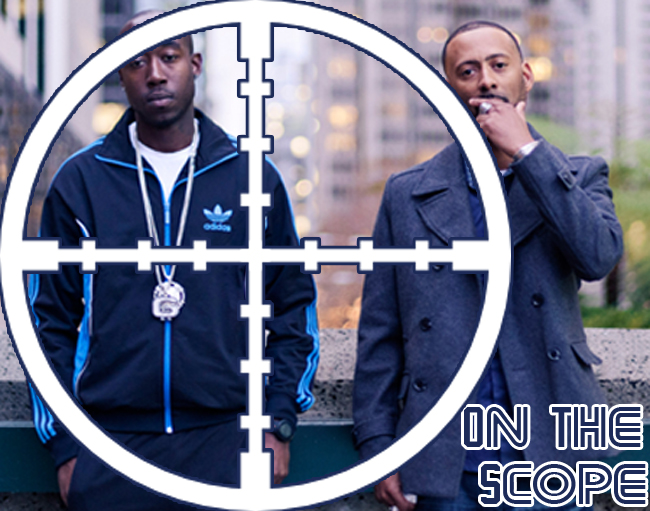 Freddie Gibbs & Madlib  Cocaine Piñata Spotify Stream
Music Videos from Cocaine Piñata
– Rapper Freddie Gibbs (Gray, Indiana/ L.A.) teams up with L.A. producer-rapper Madlib, creating that next level gangsta blaxploitation rap sound on the collaborative album Cocaine Piñata. Folks have mined blaxploitation soundtracks in Hip-Hop before (Dr Dre, Snoop, Ice Cube, Ice-T, Too $hort, and etc) but Madlib dug deep in his crates for this, putting the quirky Madlib touch to the style. Mix Madlib's beats with Freddie Gibbs' lyrics gives us the gritty ups and downs of life on the streets and living in failed cities, makes for an interesting audio experience.
In an interview on NPR's Hip-Hop show Microphone Check Freddie Gibbs talks about Cocaine Piñata and speaks on Madlib's production on the album, saying:
"I don't think he made nothing this gangsta before in his career."
Freddie Gibbs on the violence in his lyrics:
I'm not trying to glorify it. It is what it is, you know what I mean. I'll tell you about it, but I'm not like — it ain't cool to get in shoot-outs every weekend. So I kind of gotta give you both sides of the coin with that. But at the same time, I gotta give you both sides of the coin when it come to messing with certain females, when it come to dealing drugs. Yeah, it's pluses to all of that. But it's plenty of minuses. I feel like somebody gotta make note of that.

Pimp C said that before he died. He was like, "Yeah, it's cool to have fun and do all of this and ball on these records and all that. It's cool, but we gotta add some type of social commentary to the records." When he said that, that really stuck with me and, you know, ever since then, I just been on a mission for that.
Freddie Gibbs reflects on the uniqueness of Cocaine Piñata saying:
I think that I made a lot of rappers scratch they head with this record.

And I know that for a fact because they was calling my phone and telling me and texting me. A lot of them was asking me for Madlib number. And I'm like, "Nah, man. Get it out the yellow pages." I threw a monkey wrench in the game, I think.

But watch how many labels and these majors and things of that nature — watch how many of my techniques they try to steal. Watch how many of my techniques they try to incorporate with their artists. Really, whoever come out with an album sounding like this, they need to give me a check. Somebody's definitely gonna try to duplicate it.
Word! The full interview is available at NPR's Microphone Check.
J. Stalin's Shinning in Darkness (Duluxe Edition) Spotify Stream
Music Videos from J. Stalin's Shining in Darkness
BET interview with J. Stalin (05-28-2014)
Sway in the Morning: Oakland Rapper, J.Stalin, Speaks Selling Drugs, to Music & Hidden Talent in Oakland
– With 5-6 years in the game so far, Oakland rapper J. Stalin is grinding hard pushing his music. With the recent success of Bay Area artist such as Iamsu, Sage the Gemini, and the HBK Gang, along with explosion of "Ratchet" music (which evolved out of the Bay Area Hip-Hop scene), J.Stalin welcomes the success but knows no matter what happens he'll still push his music with or without the national recognition. He's doing ok for an indie artist with multiple revenue streams (legit ones). J. Stalin currently has an album out called Shinning in Darkness, the title being a commentary on how he's shining regardless of the negativity coming from the hood and the lack of recognition for his music, the darkness. The album is a gritty hustler's tale, kicking off with the gun totting "Stay Strapped" but followed by the remorseful "Anger Management." "Anotha Quelo (Remix)," a previously released funky 80's synth bass R&B sounding mob music track get's a remix here, giving it an even more retro sound with J. Stalin and friend kicking their D-boy talk. "Fuk That" featuring Too $hort is a bass heavy mob, trap, ratchet track. The album Shining in Darkness is available on iTunes.
XXL Freshmen 2014 Cyphers
– For more 2014 XXL Freshmen related videos head to XXL's YouTube Channel.
Sir-Mix-A-lot performs "Baby Got Back" with the Seattle Symphony
– Sir-Mix-A-Lot's classic Hip-Hop party track, the big booty anthem "Baby Got Back" get's a symphonic treatment, as he performs it with the Seattle Symphony. Special guests: a whole bunch of ladies with big booties shaking it. LOL
Jazmin Sister "You"
Jazmin Sisters 90s Baby EP
– New R&B group, the Chinese American foursome Jazmin Sisters. They've got a fresh R&B sound with throwback vibes to 90's R&B, a nod to groups like En Vouge, SWV, and TLC. They've got an EP out called 90s Baby and the music video for their single "You" which has a remix out with the Bay Area rapper Iamsu from the HBK Gang on it. Here is an in-depth profile on them from ZY. For more info on them head to their website.
E.R.A. The Breeze Card Chronicles
– Atlanta rapper E.R.A. recently dropped his second project The Breeze Card Chronicles on his bandcamp site; his first project is The Dream Act. The single "Coltrane" off The Breeze Card Chronicles was nominated in Hot97's Beat of Battle and made it to the final rounds. E.R.A is an Atlanta rapper whose in his own lane, not following the trends set by his towns big name stars (Young Jeezy, Gucci Mane, Future, etc), a southern cat who gives us the nuance, hungry, raw, and earnest rhymes about his life, artistry, and aspirations. E.R.A is versatile rapper who can rhyme over beautiful jazzy, soulful, funky beats reminiscent of A Tribe Called Quest & Little Brother, or jump on an indie pop beat like  "Felt This Way" (Samples The XX "Shelter"), but also throws down on the closest to a bass thumping southern beat on this project "F.U". Another standout track off The Breeze Card Chronicles is the aspirational "Our Turn." Producers Glenn Gretzkey and Fate provide the beats on this project. For more info on E.R.A. check out his website.
Mapei "Don't Wait" 
Mapei "Change" (Snippet)
– The official music video of the track "Don't Wait" by Swedish singer Mapei, along with a snippet of her next single "Change". For more info on Mapei visit her facebook.
TBT – Lighter Shade Of Brown "On A Sunday Afternoon" (1990)
2012 cover by Mali Nicole  "Sunday Afternoon"
– Both tracks above contain samples of The Young Rascals 1967 hit "Groovin'" and Tommy James and the Shondells' 1969 hit "Crystal Blue Persuasion" (some of the younger folks out there may recognize this tune from Breaking Bad's season 5 episode 8 "Gliding Over All").
TBT – The Young Rascals "Groovin'" (1967)
TBT- Tommy James and the Shondells' "Crystal Blue Persuasion" (1969)
Musician Tommy James on the meaning behind the hit song "Crystal Blue Persuasion"
Lil Wayne "D'usse"
– Lil Wayne back in full form? New tune "D'usse" is a mini commercial for Jay-Z's cognac drink by the same name. See Wayne back on his refocused braggadocio free association lyrics. Last year he decided to quit drinking lean (Codeine cough syrup) and apologized to fans for a lackluster year.
Noticed I wasn't nominated nor involved n da MTV VMA's nor da BET awards…I apologize to my fans and I promise 2 work harder if it kills me

— Lil Wayne WEEZY F (@LilTunechi) August 25, 2013
"D'usse," a Lee Majors produced soul sampled beat could just be another track on an upcoming mixtape, or possibly end up on the upcoming Tha Carter V, which OG Cash Money producer Mannie Fresh said he's gonna be on the project in a live interview on NPR's Microphone Check. 
Rick Ross featuring Lil Wayne "Thug Cry"
– Music video for a Rick Ross track featuring Lil Wayne "Thug Cry" from Ross' latest album Mastermind. The music video features actor Wood Harris, who you may remember from the hit show The Wire, playing drug kingpin Avon Barksdale. "Thug Cry" uses a familiar sample that was used on the now classic Hip-Hop track by Oakland's Souls of Mischief "93 Til Infinity," the sample came from Billy Cobham "Heather" at the 4:20 mark. Uncredited singer on the hook of "Thug Cry" is Betty idol: Twitter & Instagram.
TBT – Souls of Mischief "93 Til Infinity"
Billy Cobham "Heather"
6Blocc Footwork Marauders
– L.A.'s DJ/producer 6Blocc known for his dubstep & bass music related projects recently released a remix project called Footwork Marauders. It's a juke/footwork/house/bass remixes of tracks from A Tribe Called Quest's classic album Midnight Marauders (1993). You can find more of 6Blocc's music by visiting his bandcamp page.
DJ YRS Jerzy Ft. Chox-Mak & Bullet Brak – Don't Do It (Prod. By North Villah)
– Underground artists DJ YRS Jerzy, Chox-Mak and Bullet Brak from the DMV (DC, Maryland, Virginia) kick that aspirational rhymes on "Don't Do It" for those going through tough times, pursuing dreams, being an artist, and etc. The message of the track is to not give up so easily.
"Everyone has hard times when trying to reach success but you can't quit you have to work hard and keep pushing towards greatness."
The track was produce by Canadian producer North Villah. For more info these guys head to DJ YRS Jerzy's soundcloud, Chox-Mak's twitter, Bullet Brak's twitter, North Villah's twitter.
Amir Driver "Sneaks is Watching" music videos
Amir Driver "Sneak is Watching" Movie
– Norfolk, Virginia rapper Amir Driver has an interesting concept EP out called The Sneak Tape, which follows the life of a sneaker enthusiast in 24-hour span, giving insight into the world the sneaker enthusiast. The eight tracks EP is accompanied by an eight music video series, and half hour film titled Sneaks is Watching. This project speaks to sneaker aficionados and those intrigue by sneaker culture. Don't be hypebeast doe! The Sneak Tape EP is available on iTunes. For more info on Amir Driver hit up his website.
DJ Snake & Lil Jon – Turn Down For What – DJ Apollo PLO Remix – Clean
Tinashe ft. Schoolboy Q – 2 On – DJ Apollo PLO Remix
YG ft. Drake – Who Do You Love – DJ Apollo PLO Remix
Iggy Azalea ft. Charli XCX – Fancy – DJ Apollo PLO Remix
–  Remixes of some current party tracks done by the SF Bay Area's DJ Apollo of the legendary Invisibl Skratch Piklz & Triple Threat DJs.
Onra & Lexis "Throw' Em Up" 90's R&B mix series 1-3
– A dope 90's R&B mix series by French DJs/producers Onra & Lexis called "Throw' Em Up" has just released their third volume. You can tell from the tracks on the mixes that Orna and Lexis put a lot of thought and time into making this mix series. For the track lists and the free download links of these mixes: Part 1, Part 2, Part 3.