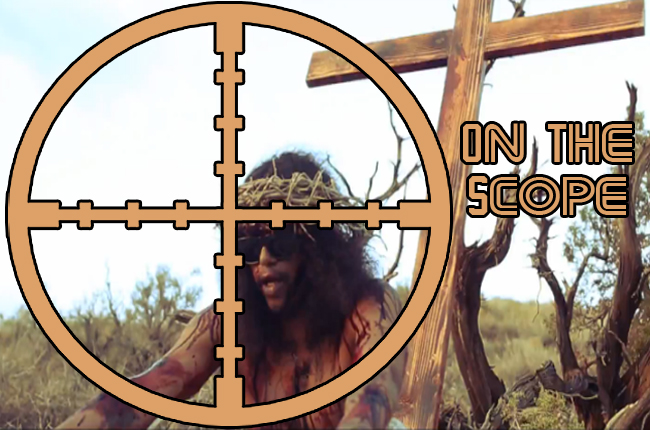 Ab-Soul These Days… album stream
Ab-Soul "Closure"
Ab-Soul "Stigmata"
– Ab-Soul of Black Hippy/TDE crew recent release These Days… is a balanced album. It has a good mixture of "turn up", electronica, Trip hop, downtempo, jazzy, reverb, blunted beats with off the cuff braggadocio tempered with introspective, psychedelic, and spoken word lyrics. Listening to the album from beginning to end it feels like rapper Ab-Soul is having a conversation and answering with a "These days…" and goes on to unleash his stories, thoughts, emotions to the listener. These Days… has guest appearances from fellow Black Hippy/TDE crew members Kendrick Lamar, Schoolboy Q, Jay Rock, singer SZA (TDE), singer Nikki Jean, singer RaVaughn, and singer/songwriter electronic music producer JMSN. Other notable appearances include Rick Ross, Lupe Fiasco, Action Bronson and Mac Miller (as Delusional Thomas). Production on These Days… was handled by Digi+Phonics' Dave Free, Sounwave and Tae Beast, along with contributors such as asRahki, Curtiss King, DJ Dahi, Like of Pac Div, Terrace Martin, Corin Roddick of Purity Ring, Mac Miller as Larry Fisherman and J. Cole. This is definitely a unique release for 2014 to listen to. To purchase the album These Days… head on over to iTunes (a possible deluxe version of the album with bonus tracks is set to come out soon).
Dilated Peoples "Good As Gone" (Official Video)
– New music from Dilated Peoples with this single "Good As Gone" which is produced by DJ Premier. Dilated Peoples is preparing a release of a new album Directors of Photography which is set for a release date of August 12th, 2014 on Rhymesayers Entertainment. Pre-orders: iTunes, Amazon, CD/Vinyl.
Got a Girl  "Did We Live Too Fast" (Official Video)
Got A Girl & MakerMusic teasers
– Actress/singer Mary Elizabeth Winstead teams up with producer Dan The Automator to form their new project: Got A Girl, a French pop, indie pop meets Hip-Hop beats with a retro feel. This project follows the trope of the sophisticated, humorous, Hip-Hop lounge music that Dan The Automator and Prince Paul made with their Handsome Boy Modeling School project. Got A Girl recently released their debut album I Love You But I Must Drive Off This Cliff Now. If you're a fan of Dan The Automator, Handsome Boy Modeling School project with Prince Paul, and retro French pop music, this is something you going to want check out. For more info on Got A Girl and where to get the album head to their website.
RKCB "Baptize"
RKCB "Comatose"
– A cool emotional electronic Soul/R&B tracks "Baptize" and "Comatose" from LA based singer/producer duo RKCB (Riley Knapp and Casey Barth).
Crystal Waters – Gypsy Woman (She's Homeless) [1991] music video
– The music video to 90's house anthem "Gypsy Woman (She's Homeless)" from Crystal Waters.
A Tribe Called Quest "Luck Of Lucien (Dub Mix)" [1992]
– A Hip house, Acid house dub mix of A Tribe Called Quest's "Luck of Lucien" from 1992.
Anderson Paak "Drugs"
– So Cal singer/rapper Anderson Paak's catchy ode to that surface, shallow, fake love; "Drugs".
King Addies vs Bodyguard, Dancehall/reggae at Biltmore Ballroom (1992)
– Old footage of Dancehall/reggae event featuring a sound clash between King Addies vs Bodyguard from 1992 at the Biltmore Ballroom in Brooklyn, NYC. For more Dancehall, reggae event footage and audio from the 80's and 90's (just shy of 1000 videos) check out the youtube channel of Don Sinclair.
TĀLĀ The Duchess EP
– Dope new London electronic music producer TĀLĀ with her The Duchess EP. A bio on TĀLĀ from a Buzzfeed article.
JUCE  "Call You Out" (Official Video)
– Debut track "Call You Out" from London girl group JUICE. "Call You Out" has a retro drum machine sound, 90's vocal styling with homage to TLC and 90's fashion.
TLC "Creep" music video
– TLC's 1994 hit "Creep" music video.
Stromae "Tous Les Mêmes"
– Belgian singer/songwriter Stromae's  "Tous Les Mêmes" (All The Same) is a retro swing jazz dance track with is a critique of stereotypic behavior of men and women of today. The music video depicts singer Stromae androgynously, dressed as half man and half women.
Yasmine Hamdan "Enta Fen, Again"
– Electro-pop Lebanese singer/songwriter, actress Yasmine Hamdan's Lana Del Ray-esque track "Enta Fen, Again".
Long Clothing & We Buy Gold Present: Trancework
– Trancework is a remix compilation of 90's Trance, progressive house, and dance music put together by DJs, producers and dancers (UK's footwork crew We Buy Gold) in partnership with London clothing line Long Clothing. The classic 90s rave/club tracks are given a juke, trap, dubstep, drum & bass face-lift, some current bass music productions on these remixes.
Radio Soulwax – This is Belgium Part Two: Cherry Moon On Valium
– Radio Soulwax hour long slowed down mix of 90's European Techno (115BPM) with video of dancers in their old school raver attire.