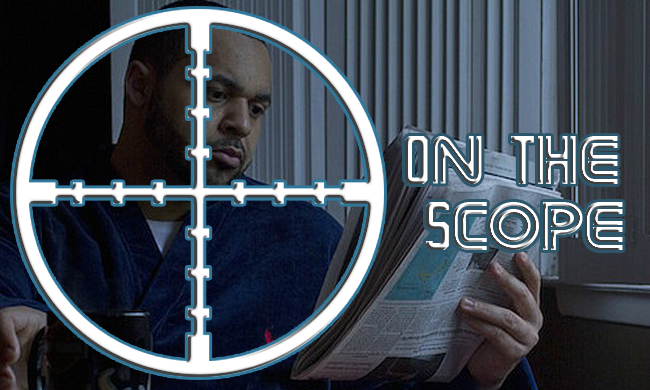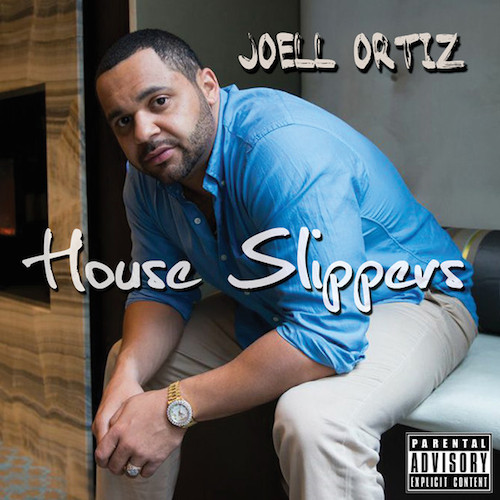 Joel Oritz House Slippers stream
Joell Ortiz House Slippers music videos
Joell Ortiz Talks "House Slippers" and How Slaughterhouse Records Differ From Solo Projects on Sway In The Morning
Joell Ortiz Interview at The Breakfast Club Power 105.1 (9/17/2014)
NPR Microphone Check – Joell Ortiz: 'I Refuse To Compromise Me'
– via NPR
– Brooklyn, NYC emcee, super group Slaughterhouse member Joell Ortiz has just released his third solo studio album House Slippers. Joel's recent lifestyle changes are reflected on this album, House Slippers sees Joell spitting lyrical heat we've come to enjoy but with the balance of personal and introspective rhymes as well. This verse from the title track "House Slippers" pretty much sums up Joell's ethos, and the projection of his emcee career:
Man, this ain't for radio play
This for the radio raheems who let their radio play
For the heads on the neck clicking, looking for the best writtens
Turning to their man like "you hear what he say?"
Y'all niggas tryna recreate back in the days
I'm just trying to rap my ass off
Hoping maybe I'll impress a few niggas from back in the day
Because I'm finishing these new niggas that's rapping today
You turn this up, but not too loud niggas
Feels like I finally found my House Slippers
Joell refers to house slippers as metaphor for the comfort he has found in his life and career. Producers on House include Frequency, Gnyus, The Heatmakerz, Illmind, Operator Emz, and Prafit. House is a solid album with a little something for everyone on it. Yaowa!
Cocoa Brovaz "Super Brooklyn" (2000)
Koji Kondo "Super Mario Bros. Underground Theme" (1985)
– When I heard this Cocoa Brovaz track on my local SF college radio station KUSF on the Hip-Hop show Beatsauce (hosted by DJs J-Boogie, Wisdom and Raw B) it blew my mind. How did they get the Super Mario Bro.'s underworld theme song on that track, latter figuring out that the then in vogue and popular MPC 2000xl drum/sampler/sequencer model had a zip drive and they must have either gotten a midi file of the track, or someone with a good ear replayed the tune on some 8 bit sounding synth keyboards. "Super Brooklyn" is a great proto-chiptune Hip-Hop track.
Wiz Khalifa "Never Been" (2010)
Yasunori Mitsuda "Schala's Theme" from Chrono Trigger (1995)
Wiz Khalifa ft. Amber Rose and Rick Ross "Never Been (Part II)" (2012)
Yasunori Mitsuda "Secret of the Forest" from Chrono Trigger (1995)
– "Never Been" and "Never Been (Part II)" are two Wiz Khalifa tracks that sample theme music from the 1995 video game Chrono Trigger.
Arcade Fire: 50 Rap Songs Based on Video Game Samples – Video games and hip-hop have been practically inseparable since their birth in the 1970s. Here are 50 songs spanning four decades, showcasing the fruits of this Atari teenage riot. [Spin]
neowavemusic – Roots Of Trance Anthology 1988-2000 All Chapters in one! (60 hours)
SEND AND RETURN – 1990-2010: Trance/Progressive Retrospective (14 hours)
– I stumbled upon these mega long trance mixes that include tracks from the late 80s, 90s, 2000s, and up to 2010. Bust out your glow sticks, moves, and journey through trance music history from the past few decades.
Tribe Of Issachar ft. Peter Bouncer "Junglist" (1995) 
– "Junglist" is a Jungle anthem from 1995 by one of Michael West aka Rebel MC/Congo Natty's alias featuring artist Peter Bouncer.
Dazed UKG Documentary – Coke & Brandy – Extended Version
– This is the extended version of a documentary on UKG as reported here on TMG.
Planet Chaser "If Only U"
Cassie "Me & U" (2006)
– "If Only U" is a Jersey Club edit/remix by Planet Chaser of the 2006 R&B/Club hit "Me & U" by singer Cassie.
The Knocks feat. Powers "Classic"
– Indie dance/Electropop/Nu Disco duo The Knocks pays homage to the early 2000s version of the video game The Sims, and cheesy late 90s pop videos in their video for their song "Classic" featuring singer Powers. The video was shot by Brooklyn, NYC creative media collective BANGS.
ZHU "Faded"
– "Faded" is a progressive vocal house tune off the EP The Nightday by the mysterious LA/SF electronic music producer/vocalist Zhu.
Tunji Ige – Day2Day Remix (ft. Michael Christmas & ILOVEMAKONNEN)
– "Day2Day" is track that is a braggadocios sonic escape from daily grind, courtesy of Pennsylvania rapper/producer Tungji Ige featuring Michael Christmas & ILOVEMAKONNEN. The beat moves from a minimal snyth Hip-Hop trap beat to a progressive house rhythm.
Fabiana Palladino "For You"
– "For You" is lovely electro-soul/R&B tune, a "declaration of love" song by UK singer Fabiana Palladino, produced by Sampha.
Jessie Ware "Say You Love Me"
– "Say You Love Me" is another single released from Jessie Ware's upcoming album Tough Love, which is out October 13 (UK) and October 21st (N. America).
YAKKI – HANDS UP Prod by TM88
– "Hands Up" is a track about the unlawful police shootings of Michael Brown, Trayvon Martin, and police brutality by young artists Yakki and TM88.
QT "Hey QT"
– "Hey QT" is a bubble gum pop, electro synth pop tune by QT (PC music artists Sophie & A.G. Cook) released on the renowned and cutting edge record label XL Recordings. This track reminds me of the 90s Euro-dance pop group Auqa's hit song Barbie Girl.
Aqua "Barbie Girl" (1997)
Vince Staples "Blue Suede" (Explicit)
– "Blue Suede" is a new single from up and coming LBC rapper Vince Staples; the track is off his upcoming Hell Can Wait EP.
Carl Perkins performs "Blue Suede Shoes" on the Perry Como Show in 1956
– "Blue Suede Shoes" is an early rock hit by Carl Perkins that was inspired by a story Johnny Cash told Perkins while they were on tour together in the south, about a black airman, C. V. White, who Cash had met when serving in the military in Germany, who had referred to his military regulation airmen shoes as "blue suede shoes." Elvis later covered the song.
Ingrid Michaelson "Girls Chase Boys"
– "Girls Chase Boys" is an uplifting break up song by indie pop singer/songwriter Ingrid Michaelson; this single is off her Lights Out album.  "Girls Chase Boys" music video is a gender reversal homage to Robert Palmer's 80s hit "Simply Irresistible" music video.
Robert Palmer "Simply Irresistible" (1988)
Travis Scott ft. Young Thug "Skyfall"
– "Skyfall" is a track by Houston rapper/producer and GOOD Music artist Travis Scott featuring Young Thug. It's a wailing tune, that sounds like a bad drug trip.
Mr Twin Sister "Blush"
– "Blush" is a chill dub tinged jazz, soul/R&B, downtempo tune from Long Island, NY band Mr Twin Sister.
VÉRITÉ "Weekend"
– "Weekend" is an indie pop rock tune, a tragic love song that has tinges of Lana Del Ray by NY artist VÉRITÉ.
Redinho feat. Brendan Reilly "Get You Off My Mind" 
– "Get You Off My Mind" is new electro funk tune from London producer Redinho featuring Brendan Reilly. This track is off Redinho's upcoming debut self-titled album (out September 22nd), pre orders at [iTunes] [Beep]. Below is an album sampler and a stream of Redinho's self-titled debut album.
Redinho (debut album sampler, download at Redinho.com)
Stream Redinho's spacey, funk-tinged debut album – Freak out to the Numbers artist's alien synth jams on his self-titled full-length. [Dazed]
Choosey "Fly Me To The Moon" Prod by Exile (Official Video)
– "Fly Me To The Moon" is a jazzy Hip-Hop single produced by Exile off the San Diego rapper Choosey's upcoming album Left Field dropping (out October 14th 2014).