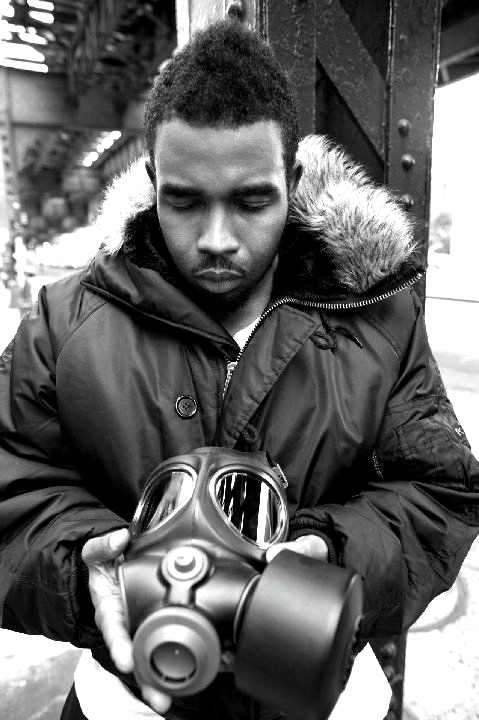 Finally it's official "official", on April 15, 2014 Pharoahe Monch is dropping P.T.S.D. (Post Traumatic Stress Disorder), a follow up to his acclaimed 2011 album W.A.R. (We Are Renegades). It was suppose to drop in late 2012 as an EP, but the tracklisting says otherwise. It's seventeen shots to the dome. Monch is the truth. This man been talking about global warming since the early 90's ("Releasing Hypnotical Gases"). As one half of the pioneering Queens duo Organized Konfusion, his playful cadences and innovative polyrhythmic patterns never miss the target. This is precision-cut yo face to pieces with a razor without you knowing it until you start profusely bleeding-type rap.
Did you hear the slug personifying "Damage (produced by Lee Stone)," the last installment from the Bullet trilogy? It's stupid, "You would be mortified if I would put on screen what I've seen/horrified holy bibles rifles vital organs /little bitty baby bodies bridal gowns coffins/morphine gang bang gangrene Slauson swap meet/meet greet pop I don't sleep I don't stop…." The first joint, "Stray Bullet" appeared on Organized Konfusion's 1994 album Stress: The Extinction Agenda, and the second "When The Gun Draws" off Desire, Monch's 2007 solo effort.
What's interesting is that Desire was about soul and light. When Konfusion was active, even on Monch's 1999 solo Rawkus Records debut Internal Affairs, he was about dark cinematic concepts. If Stanley Kubrick were reincarnated as a rapper, he'd be Monch, or Eminem who recently admitted that Pharoahe was a great influence on his music. Given "Damage (which will be on the LP)" and the recent surfacing of the single "Bad M.F." it looks like Monch might be going full circle. On "Bad M.F." he said "go tell ya favorite rapper to eat a bag of baby dicks." It's back to raping tracks while big brother tries to "apprehend a hologram."
Producer and long time collaborator Lee Stone is definitely on boards, but Monch is also handling production duties. Other producers in the circle include Quelle Chris, Stepkids, Marco Polo, and The Lion Share. Guest MC's include Talib Kweli, Black Thought, Denaun Porter, and not to mention pioneering guitarist and Living Colour rock band member Vernon Reid (BRC) will be in the building again.
After the P.T.S.D. tracklisting, listen to "Bad M.F." and "Damage" below and watch the short film slash music video "Clap (One Day)" off W.A.R. (2011).
1.) "The Recollection Facility" (produced by Pharoahe Monch)
2.) "Times2" (produced by Marco Polo)
3.) "Losing My Mind" f/ deNaUn (produced by Jesse West)
4.) "Heroin Addict" (produced by Pharoahe Monch)
5.) "Damage" (produced by Lee Stone)
6.) "Bad M.F." (produced by Lee Stone)
7.) "The Recollection Facility Pt.2" (produced by Pharoahe Monch)
8.) "Rapid Eye Movement" f/ Black Thought (produced by Marco Polo)
9.) "Scream" (produced by Quelle Chris)
10.) "SideFX"f/ Dr. Pete (produced by Pharoahe Monch)
11.) "The Jungle" (produced by Marco Polo)
12.) "Broken Again" (produced by The Lion Share Music Group)
13.) "Post Traumatic Stress Disorder"(produced by Boogie Blind & B.A.M.)
14.) "Dream" f/ Talib Kweli (produced by Lee Stone)
15.) "The Recollection Facility Pt.3" (produced by Pharoahe Monch)
16.) "Eht Dnarg Noisulli" f/ The Stepkids (produced by The Stepkids & Pharoahe Monch)
17.) "Stand Your Ground"f/ Vernon Reid (produced by Lee Stone) ****Bonus Track for Digital Purchases
Pharoahe Monch Talks Porn, "PTSD," & Performs "Bad MF" on Sway in the Morning