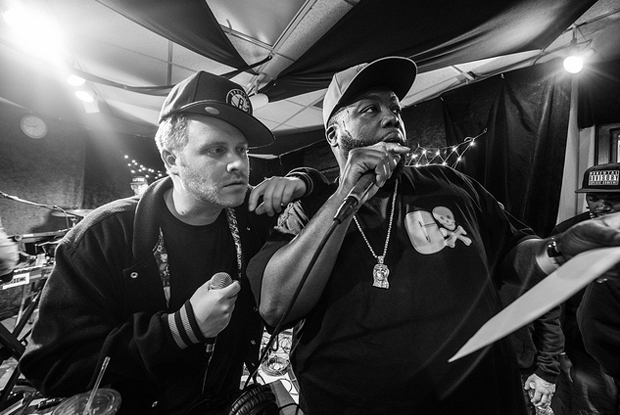 The super Hip-Hop duo Killer Mike & El-P as Run The Jewels  are a match made in Hip-Hop heaven. Both are skilled emcees, with El-P handling the dope production. But that's not all, they impart humor, socio-cultural analysis, and life advice as well. In the recent past we've seen things from big name artist like Jay-Z and R Kelly's Best of Both Worlds, and Kanye & Jay-Z's Watch The Throne.  Not to mention  lesser known duo's like KRS-One and Buck Shot as Survival Skills, or Kool G Rap and Necro as The Godfathers. Having two talented veteran emcees who are marginally known come together to form a duo, Run The Jewels are on to something that we'll see happen more in Hip-Hop, super groups or duos. It's good to see veterans and legendary Hip-Hop artists coming together to form super projects (not a one album thing too), as we recently seen with Q-Tip and Busta Rhymes: The Abstract and The Dragon. Here are some clips and interviews, where Killer Mike and El-P drop isms on you. Don't forget to check out Run The Jewels self-titled debut album, Killer Mike's R.A.P. Music (produced by El-P) and El-Producto's Cancer 4 Cure.
Killer Mike: Life Advice
Kill Mike: Things to Avoid
Killer Mike: How to Fish
Killer Mike: How to Write a Rap Song
Killer Mike: How to Piss Your Wife off
Killer Mike's Favorite Commercials
Noisey: Killer Mike and El-P on Hipsters and Sharkeisha – The People Vs. – Ep. 18
Nardwuar vs. Killer Mike
Nardwuar vs. El-P
http://www.youtube.com/watch?v=p8WdHVKMX7E
Killer Mike and EL-P freestyle on #SwayInTheMorning
Pitchfork: Over/Under – Killer Mike & El-P
Run The Jewels (El-P & Killer Mike) On Kendricks "Control" Verse
EL-P's lecture at Red Bull Academy NYC 2013
Breakfastclub 2013 Killer Mike's interview (speaks on possibly doing a reality show, reception of Run The Jewels, current state of Hip-Hop, current state of Atlanta rap scene, and gun rights). 
http://www.youtube.com/watch?v=NmHeioEAQIc