On his latest, Exotica, Tony secures his designs with a little more intention and carves a narrative born of graphic novels and film.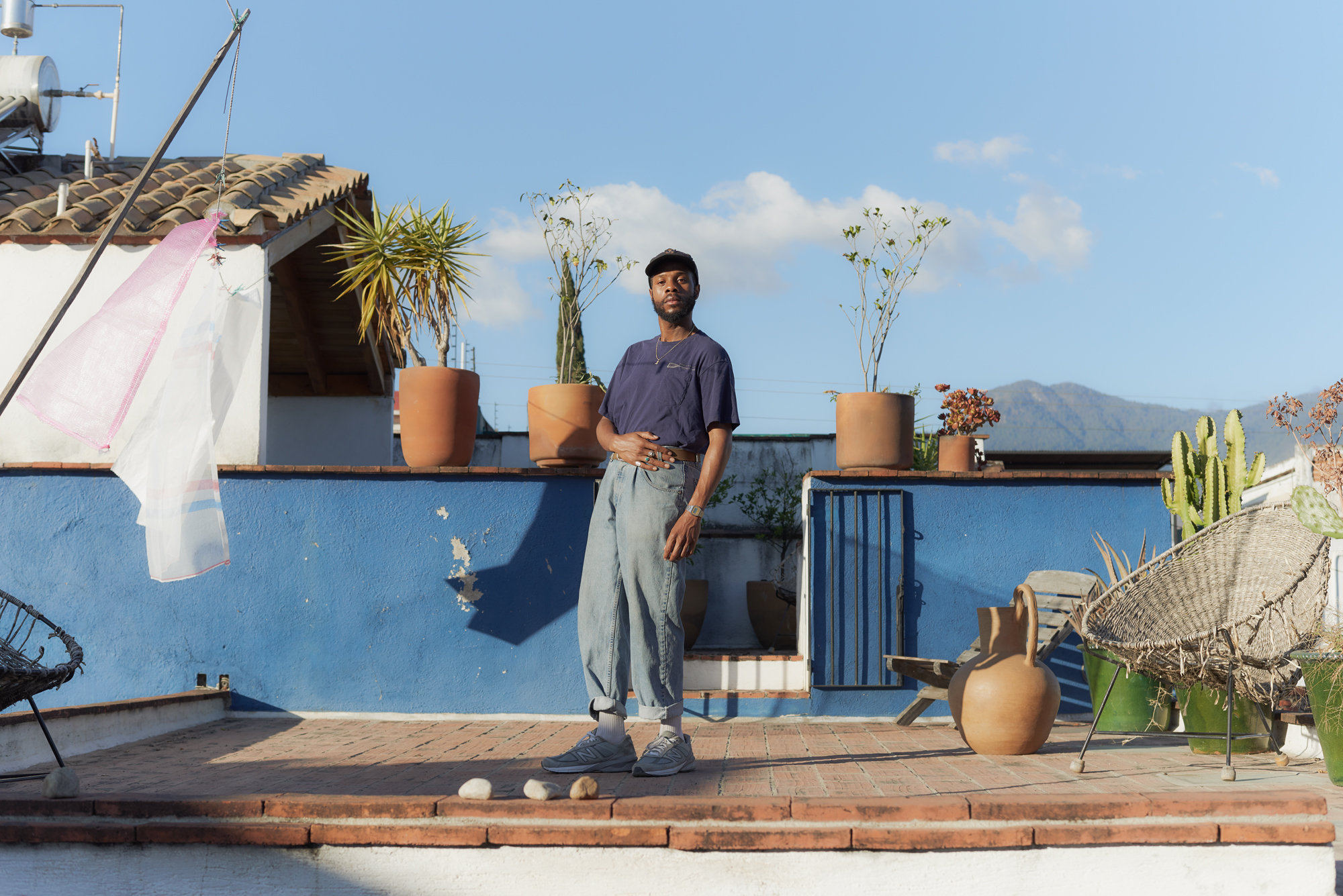 A self-made king of raffish-cool, Fat Tony has fashioned a career out of lacquering his quirky, off-the-cuff hip-hop with designer kitsch. Several albums in and the rapper has managed to dismantle the rigmaroles of musical convention. His currency of humor, in particular, presents a hip-hop that at once swaggers handsomely with puffed-chest bravura and twitches about with good-natured impudence. If only he were a name beyond his cultish appeal. But Houston, his native city, doesn't exactly boast the kind of hip-hop scene that has made Brooklyn and Oakland landmarks for the genre. Still, his Southern way of being and an impish sense of experiment have combined to produce works that have landed the rapper in a strange aperture of popular music occupied by the likes of M.I.A, Danny Brown and Open Mike Eagle.
Wake up, Fat Tony's previous album from early 2020 with producer Taydex, featured a rhythm-set full of blocky grooves and an arbitrary aesthetic that had the rapper reaching for any strand to weave into his brand of jumbled, neon hip-hop. Riffing off his natural charm and a boyishly prankish sense of humor, Tony made good use of the 22 minutes that filled Wake Up, adding yet another work into an oeuvre that included similar efforts of mish-mashed ideas and sounds. On his latest, Exotica, Tony secures his designs with a little more intention and carves a narrative born of graphic novels and film. Every bit a hip-hop album through and through, Exotica is stuffed to bursting with pop sensibilities.
Recorded and produced in Jamaica, Exotica reshapes the boxy rhythms of Wake Up for bouncier beats that take their cues from '80s Afro-pop experimentalists Zazou Bikaye and the reggae-tronics of dub-meister Scientist. A honed focus on pop music also places emphasis on hooks; Tony builds a vibrant world of hip-hop layered like Lego blocks that stack hummable melodies upon textured drum patterns. Here, amongst the day-glo shenanigans, booming basslines tag-team with clipped, minimal beats to provide a relentlessly driving backdrop of which Tony's rhymes are storied against. He's at his most explosive when he is mugging playfully with his raps, such as on "Gambling Man", a punchy banger that courts hip-hop with Casio-inspired key licks. The juicy tropico blast of "What Wake You Up" (featuring a rap by Bun B) waxes street philosophy over a hiccupping groove. And a hook, delivered as a military cadence, on "Intimate" tells the story of a ladykilling Lothario over a pumping heartbeat rhythm.
Fat Tony provides remarkable angles with which to express a jubilant dynamism; he can make a trip to the corner store sound like an impressive ordeal – and funky as hell. The current social pandemic climate means that his boisterously ramshackled live shows are mainly out; he prefers to perform from the arid comforts of his native Texan deserts, recorded and broadcast via YouTube for our convenience. As an alternative to the alternative, his music remains an acquired taste. And while it may not be catching as quickly as a propitious rapper would hope, wherever and however it does, it certainly sticks.
****
Can you describe the sound design on this particular album? How does it differ from the styles on Wake Up?
Exotica is a much different approach than Wake Up. For one, my longtime collaborator GLDNEYE (aka Tom Cruz) produced this album and we recorded it in Jamaica. The production on this album is meant to be musical, imaginative, and pull from a wide spectrum of our influences, from the French pop of Serge Gainsbourg to the Tejano music of Selena, and more. This album is an ode to the art of storytelling through music. On my last two albums, I often spoke from an autobiographical standpoint. There's much less of that on Exotica. In these songs I primarily speak of the character's point of view. I only explicitly speak from my perspective on the opening song, "What Wake You Up." You'll notice I even reference my last album Wake Up in that song.
I notice a very heavy emphasis on melody, pushing the numbers toward more traditional song structures. Did you play/write a lot of the hooks on the album – and did you start out writing the hooks first, or did they just evolve during the production?
I wanted a hummable moment on every song, whether you got it from the beat or my voice. GLDNEYE and I co-wrote the entire album, discussing the themes, storylines, moods, and details of each song intensely. Every lyric and sound were scrutinized. We'd start with the subject matter then map out what role each section of the song plays. What purpose does the first serve? Second verse? The chorus? We never just threw words out there and waited to see what fits. The songwriting had to be purposeful and the music had to be colorful.
I found that on your previous albums, the lyrics often followed a more abstract flow. There is a more direct approach here and you are discussing topics very matter-of-factly. Can you talk about the themes of these lyrics here?
This approach fits our style of storytelling. We respect the listeners and want to give them songs that they can grow with. There are easter eggs of meanings and sounds throughout the entire project from the songs to the artwork to the merch and the music videos. Instead of being too heavy-handed with a concept, we're giving you tales and allowing you to pull your own meanings from them. Exotica is something you can really sink your teeth into. We touch on desire, addiction, gratitude, vanity, romance and more through a heartfelt lens.
I'm taken by your ability to find the most minimalist ways to express your material but have them still sound incredibly heavy. Your basslines are mixed in very interesting ways. Can you explain this particular feature in your work?
Man, we needed this album to knock! Energetic, punchy, tastefully bass-heavy beats plus musicality your mind can recall with ease. Joe Lambert mastered the album and really brought the songs to life. It was refreshing to have a mastering engineer that engaged with us, asking about the album and our intentions. He went above and beyond what we asked for.
On almost every album, you have the obligatory off-the-wall track. On 10,000 Hours it was "Nike", on Exotica it's "Intimate", which lets loose the reins on the absurdist humor. How would you describe your sense of humor in your work?
Ha! "Nike" is definitely bugged out but I wouldn't describe "Intimate" as absurdist humor. The whole song is a mood. "Intimate" is all about a man at a club with his back against the wall while a woman dances a wine on him. Both of them lost in the moment, not giving a damn. He drops his bottle of beer but the dance never stops. When people tell me it's their favorite song on Exotica, I know they're a deviant.
Can you explain your choice in the album title Exotica?
The word "Exotica" represents the album's musical style and lyrical content. Before we even wrote the songs, we established that we wanted to create a colorful world with colorful characters. We were intentional from the onset instead of figuring it out as we go along. The musical style is vibrant, with endless diversity in the instruments chosen, and the songs are lyrically colorful with the stories and character choices.
With our world in such disarray, we could have done the obvious and reported our shared realities on this album, but sometimes art serves another purpose. We chose to examine the human condition through the lives of the characters we created. We're presenting a colorful world that feels exotic, a world unlike your own.
What do you have to say about the themes of relationships on the album? What stories on the album are being told, would you say, about men's attitudes toward sex and relationships?
Relationships are spoken of throughout the album, from the Bonnie & Clyde-style loyalty in "Special Girl" to half of a failed relationship seeking desire elsewhere in "Feeling Groovy." Also, there's the awestruck partner of a mother delivering a child in "Je Ne Sais Quoi", the lover treated as a possession in "New Beginnings," and the cheating spouse in "What Wake You Up." And the carnal fun moonlighting as intimacy in "Intimate." We also present one's relationship to ambition and success (or lack thereof) in "Jeremy Bixby" and "Back in the Saddle." Much like real people, each character is trying to cope and make sense of the situations they find themselves in or place themselves in.
There was no moral agenda when creating any of the songs, characters, or stories. I'm here to present their world to you. We had fun being creative, developing each character from the bottom up. We discussed each character's origin story, not to include those details in a song, but to make sure the characters resembled the complexities of a real person. We'd have these conversations for hours. We don't seek to tell you how to feel about these characters. We present their circumstances and leave it up to the listener's discretion as per my opening lyric on the album, "I don't wonder why / I just wake up, and I wipe the crust from my eye."
Listen to the record below.
Imran Khan is a writer from Canada. He has written for Inside Entertainment and the Toronto Quarterly. He studied in the Creative Writing continuing studies program at the University of Toronto and is a Contributing Editor for PopMatters.