By Imran Khan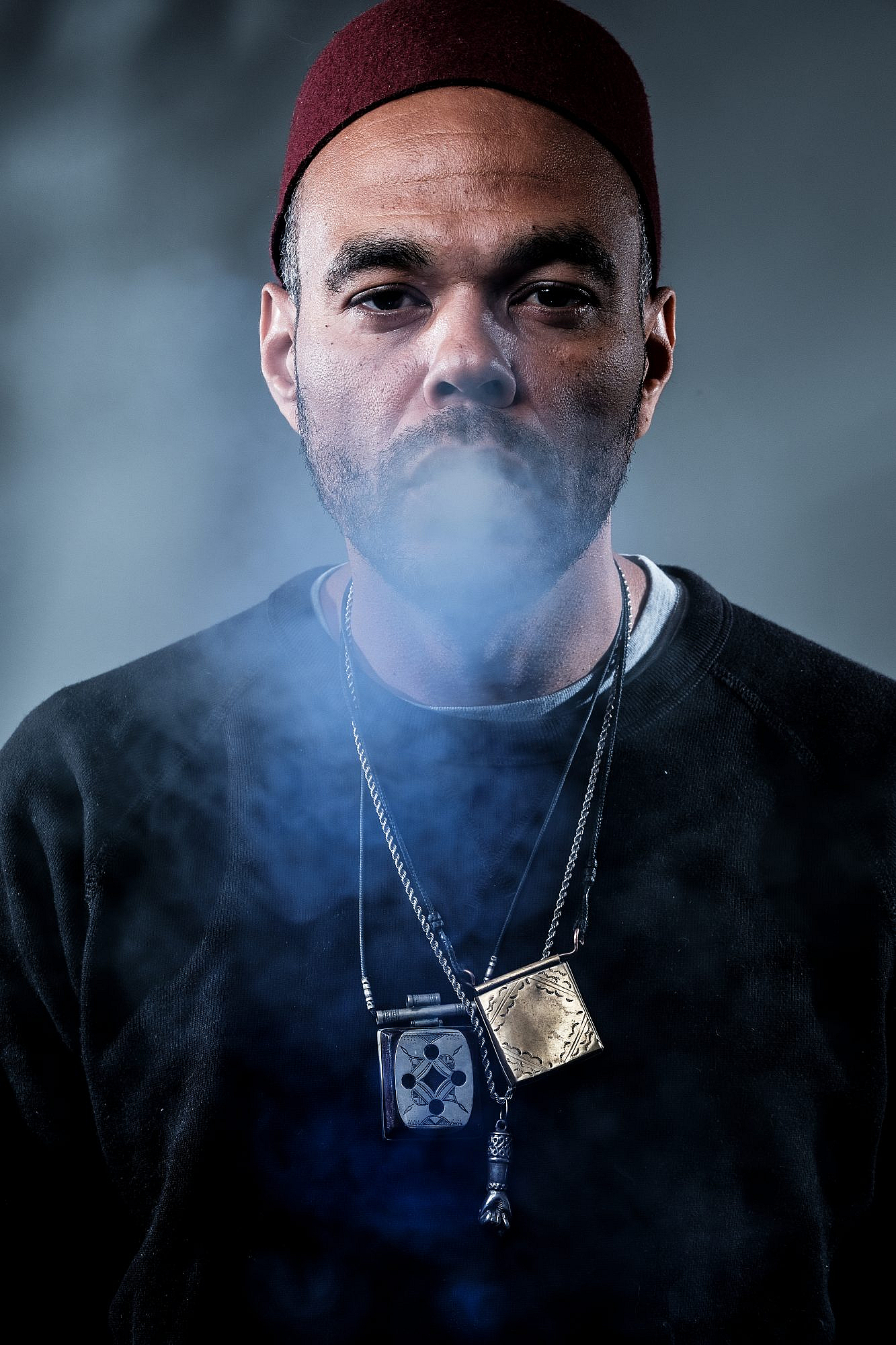 Speak No Evil is Rapper-Poet Azeem's first full-length album since his Broken Puppets project with the Ancient Astronauts in 2017 (his poetry album, 2018's Vision-Teller, notwithstanding). His latest effort reunites him with producer Fanatik, who helmed the MC/Poet's debut Garage Opera in 2000. Known for his conspiracy-probing and mystic verse, the Bay Area-by-way-of-Brooklyn native (now based in Singapore) has produced a body of work that has explored a vast range of styles. His most notable works, 2001's Craft Classic and his near-hit effort with DJ Zeph, Rise Up (2007), flirted with the margins of mainstream success, daring the charts, but always missing by a few salespoint marks. Not that that has ever bothered the rapper –Azeem has owned up to his self-sabotaging efforts on a few occasions and his lack of commercial success has, in the last twenty-something years, only deepened his mystique.
Azeem's albums are booming bassed-out opuses that align their heavy-set grooves with his truculent deliveries. Full of shameless swagger and bravado, they are also curiously flipped by elliptical rhymes that don't boast of street deals but, rather, the deals made in the otherworldly compounds of time and space. Take a listen to the mystic rushes of "The 27th Letter" and "Algebra Wind" off Garage Opera, for example, and discover an MC of considerable spiritual wealth – even when he roughnecks the listener with sharpshooting wordisms, he waxes numinously. Speak No Evil continues in that tradition.
The MC refers to his back catalogue for inspiration, as well as his usual thematic haunts of corporate media culture and sci-fi mysticism. Whereas his other works proffered rhymes of whiplashing acuity, Azeem treads the grounds of Evil with more measured steps. The assured itinerary jam of "Facts," where he counts off lines of personal politics against a backdrop of golden-age hip-hop rhythms, keeps the fury in check. "Innerstanding" offers an equally chilled assessment of the rapper's meditations, merging his everyday reality with his metaphysical musings to create a sparkling fog of rhyme and atmosphere: "In space mixing tobacco with the natural haze, looking back at the planet with a mathematical gaze." And on the bassy throb of "Shaykspears Tears," he drops a verse which slyly tips a hat to English poet Rudyard Kipling.
Relaxing in South East Asia now, Azeem continues his rhyming pursuits, frequently besting contestants at spoken-word open mics, while slowly putting ideas together for some more music material. Not one to wave the banners of past glories, the rapper is laying low until inspiration and opportunity meet at the miraculous junction where the spark of his work is always ignited. He spoke to The Micro Giant about his latest album and what he has most enjoyed as a poet of persuasion.
Can you tell me about the inspiration and meaning behind "Shaykspears Tears," "B-Boy in a Plastic Bubble," and "Speak Yeezy"?

It's hard to ascribe a specific inspiration to the words of "Shaykspears Tears."  The song is about the magic that takes place when writing lyrics. I leave a lot of lines unfinished. The listener has to fill in the puzzle pieces like- "Being savage seems to have its appeal till the baddest and law of averages are gathered.. (in jail)." It tells you how to "Best describe how he bless the beat? Farrakhan mixed with two hits of LSD." Because I'm half hippy, half revolutionary at heart.

"B-Boy in a Plastic Bubble"  -It really does rain diamonds on Saturn. That's a fact for anyone who reads this article. I wanted to put names and things in it that people would connect with. "I write to Tyson fights. Watching Killa Season" and "Going Wayne Brady on bitches" stuff like that. It's a fun beat so, I just let the pen go. "Speak Yeezy" – I don't know where that came from. But it's hella on time. 
What are your personal favorite songs on the album?
I like "I Got a Right to Be Hostile". I wrote that using fractals. The beginning of the verses mirrors each other. It's a style I just discovered. I knew I had a jewel with "Words Like Flowers" when the homie HPRIZM (of Anti-Pop Consortium) played it on his Saturday show- Rebel Broadcast on IG. My lady keeps "The Fire This Time" on in rotation. "Speak Yeezy" is powerful. "Mic Psychic" and "Shaykspears Tears" both demonstrate timeless poetics of the craft. Those five are special to me.
How do you think this album differs musically and lyrically from all your other ones?
My first album Garage Opera was produced by Fanatik. And now, this one was too.
There were five maybe six in between I don't even remember but each one is different musically yet they're all the same far as the poetry goes except for maybe Mayhem Mystics, which was a live band and Air Cartoons, which was recorded at a weird time in my life most of which is also hard to remember.
You have performed your work in two capacities: as a poet reading his work alone on stage, and as an MC rapping with a huge sound-system behind him. It's been some time since you've performed your music with a full set onstage (with a DJ, etc.). Can you describe the experience of performing your poetry alone onstage (without the accompaniment of a DJ/band), and can you describe the experience of performing your music onstage with a huge and loud sound-system behind you?
I remember one time in San Francisco at a small club where the crowd was super thugged out. I was unsure how they were going to react to the performance but they went crazy and showed massive love. Another time was being on tour with Hieroglyphics. We were somewhere in Canada and I guess my energy on stage got contagious. I just remember people screaming and jumping around like they never seen live hip-hop before. It's hard to explain having that much passion pushed back at the stage from an audience. You get high off it. Being on stage alone without music, it's another kind of high. Everybody gets quiet. I can feel them hanging on to the words. I don't want to sound conceited but It's like they're hypnotized. There's a magic and power in words. I'm just blessed sometimes to be able to tap in and use it.
What would you like to do next musically – what kind of an album would you like to record in the future?
If I knew that, I'd be busy doing it. I was at a super-top-three-most-famous producer's house over the summer. If I can convince him to do a spoken word album with some of the beats these super star rappers and singers don't take, I'll make a masterpiece with them. You never know. Until then, I'm checking life out here in South East Asia letting the inspiration build because so long as the fire burns, I'm cooking something and it ain't going out no time soon!
Imran Khan is a writer from Toronto, Canada. He has written for Inside Entertainment and the Toronto Quarterly. At the University of Toronto, he studied in the Creative Writing continuing studies program and he's a Contributing Editor for PopMatters.