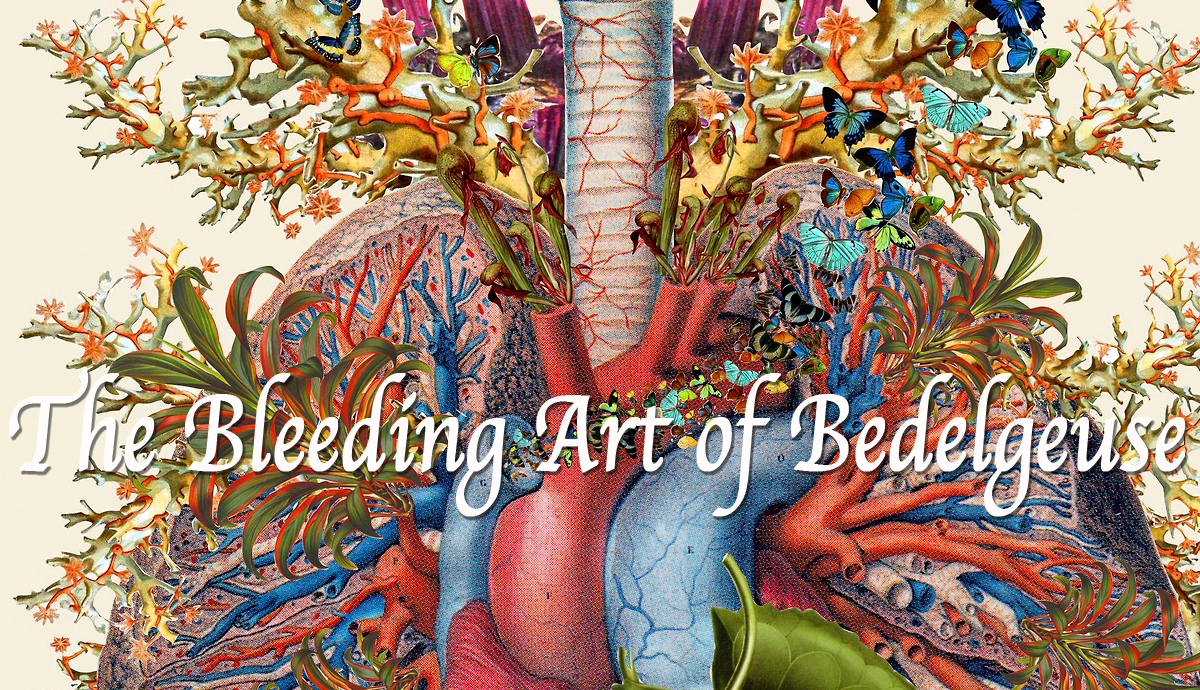 The mixed media collages of artist Bedelgeuse aka Travis Bedel illustrate the fragility of the human psyche and it's fleeting beauty. "Most of my work represents love, loss and letting go," said Bedelgeuse. While some modern artists focus on the evolution of mankind through technology, Bedelgeuse's compositions produce synergetic visuals that reintroduce humanity's inherent relationship to nature. A flower bouquet comes out of a penis. Moon phases circle around a hand exposing its bone and tendon. Butterflies perch in the stomach of a cut open chest. Although we are addicted to digital devices, and social media, our inner anatomical space still reflects the natural world.
Bedelgeuse has lived in Pheonix, Arizona for most of his life. He started making art after discovering old black and white diagrams of the human body. He attended art school, but dropped out after realizing that he had already honed his own style. "Everyone else around me was trying to discover themselves and just learning techniques," he said. "I know a piece is finished when I can just look at it and no longer want to tweak it."
Bedelgeuse's work ranges from cutout paper collage to all digital. He scans, resizes, prints, and cuts images to glue them together. "Sometimes cutouts are rescanned to use for digital work. When I'm strictly digital I take the images I'm using and remove the backgrounds. From there I can play around with sizing and copy and paste the elements I want to repeat," he said. There's a conventional belief that cutout paper collages always look better than digital, but in some ways Bedelgeuse's process attempts to erase the boundaries between digital and analogue. When asked about how his collages changed over time, he said, "I started with only black and white cut paper collages, and stayed with cut paper until I sourced some very high quality color illustrations from old book scans. I started to do more digital color collages recently. I am also working on 3D paper collages."
Can you talk about your interests in anatomy?
I find the body beautiful and mysterious. I am amazed at what people can do with their bodies and how if you take care of your own body, the rewards are much greater than imagined. I believe a lot of self-healing takes place mentally and physically when you eat clean and stay active.
What gave you the idea to combine nature and the human body?
It just happened. I saw the images separately and instantly knew they would look good together. Once I started doing it, the different organic elements together created synergy and gave off an energy that just was able to just take off with!
What has been your strongest memory to date as an Artist?
A strong memory of mine is getting some anonymous fan mail stating that I am "A splendid wonder glitter star spindling above the firmament." That was probably the nicest compliment I have ever received!
Describe a real-life situation that inspired you.
Recently, I've had to learn again to let go of someone I loved. I say again because I've had to do it before- but this time it was harder.
In the age of information overload and social media, how do you think interacting with images has changed?
Images nowadays are as disposable as toilet paper, but regardless, social media has been invaluable to get my work to a wider audience. I think a lot of people can scroll past hundreds of photos online on a given day, but will always still stop and look when something resonates.
I read on The Dancing Rest blog that you make bass music. Which medium are you most comfortable or familiar with, art or music?
I have formal training in audio production, but I have been spending more time on my visual art. I do have multiple music aliases I produce music under.
Who are your musical influences?
I have very diverse musical tastes but it leans heavily electronic. Some of my favorite more recent artists include Holy Other, Banks, and JMSN. Also anything from these labels: Tempa, 50weapons, Uprise Audio, Innamind, Dirtybird.
What's next for you?
Let's see I'm turning 30 years old in about a week, I have a gallery party upcoming for the longest running erotic themed art show in the states. A week later I'll be displaying my work at another local Arizona theatre. In the upcoming months I'll be showing at spots in Brooklyn and San Francisco. I'm going to be spending more time on my music and really focus on that, but I can change hats whenever I feel like!
For Bedelgeuse's DJ mixes check the links below:
soundcloud.com/bedelgeuse, mixcloud.com/bedelgeuse, mixcloud.com/akuben, mixcloud.com/obikanwenobi.
Originally published in March of 2014. Since this interview, Bedel has been doing quite well. Follow his gram here.