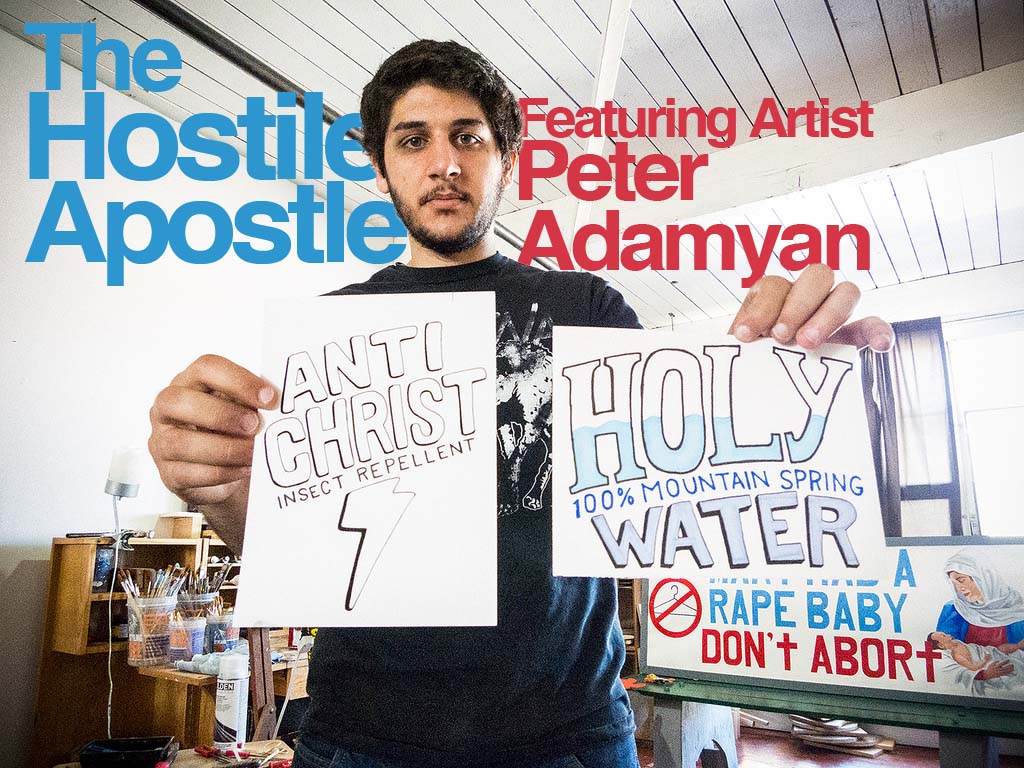 Welcome to Salvation Mini Mart, America's holiest of holies, where science is fear-mongering and shopping is worship. We got "AntiChrist" insect repellent, "Holy Water" for electrolytes and exclusive "Blood of Christ" wine imported from Bethlehem Valley. C'mon, "get drunk on Jesus." There's no forsaken sin that our assortment of immaculate merchandise won't sanctify. Freaking out about a Black Messiah? Try "White Jesus" skin bleach. A single spray washes historical facts away that contradict your Christian ways. After all, "A dark prophet is a bad prophet." Got an unarmed "hands-up-don't-shoot" black man that just won't go to jail, or be killed by black on black crime? Introducing the AK-47 "Infidel Eliminator," doesn't jam, rust or fuss. Just pull the trigger and no more… 'Bout to get all up in Mary's booty, but that expired rubber just won't cover? Thank God for "Chastity's" latex condom, "Don't let the holy spirit in without one," cause if "You don't wrap it, you don't tap it." Salvation Mini Mart, located next to Burkas+Male Oppression Superstore and Zionist Colonial Outlet. If this were an actual convenient store, the slogan could be, "Stay blessed, stuff your face, and get saved."
"Blackface Barbie Minstrel Show" by Peter Adamyan

"Sometimes Celibacy Isn't Enough"

"Blood of Christ" wine. Photo by Eddie Colla

"Preachers Gotta Preach"

"Walt Visits Sodom and Gomorrah"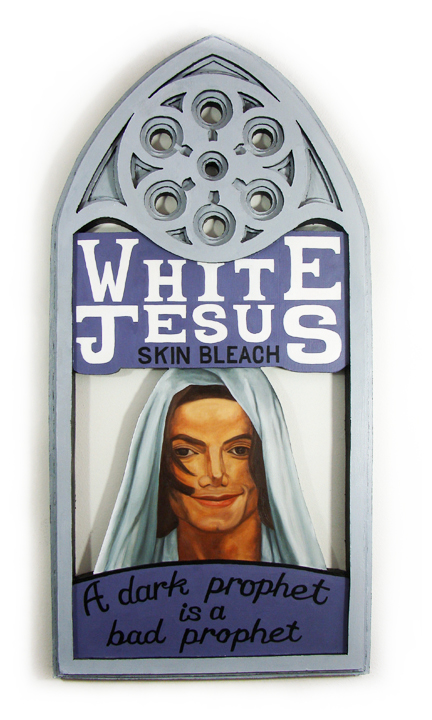 Painter and illustrator Peter Adamyan's "Salvation Mini Mart" is his latest body of work and fourth solo show. At the intersection of faith and greenbacks, the highly conceptual exhibit was a site-specific installation that turned a gallery (now LukyLo Art Gallery & Boutique) into a supply store stocked with sacrilegious products. When entering Mini Mart, customers are greeted by "CONSUME" painted on a red cross surrounded by boxes of candy. There's "Kosher Forsaken O's" cereal, "Miracle in a can, science can't explain" and an AK-47 "Heathen Hunter." For Adamyan, religion is a centuries-old marketing tool exploited by "politicians, dictators and religious leaders" to peddle "personal agendas." "Capitalism" and "mass consumption" is America's mistress- chained, shackled, ravaged, and praised. Adamyan states that "the right wing, which acts like they have a direct lineage to Jesus, ignore the fact that their free market ideals are in direct contrast to Jesus's teachings."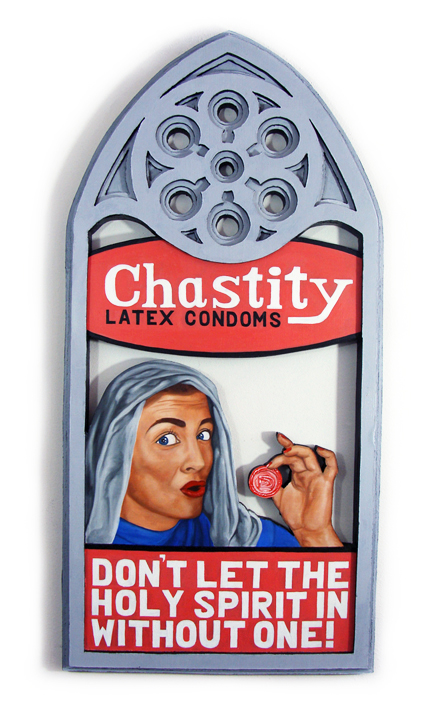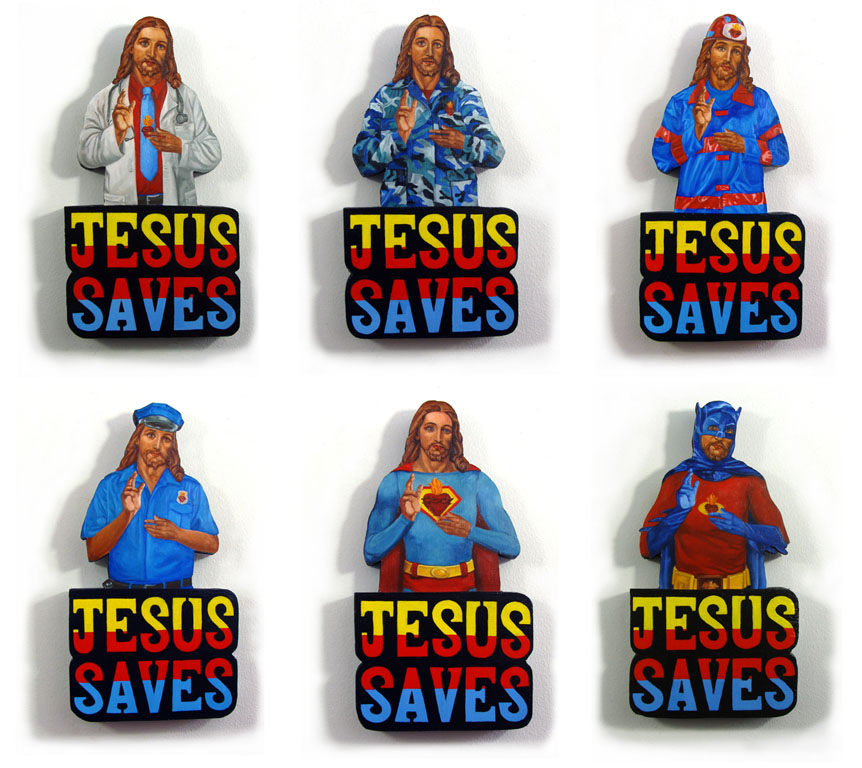 The twenty-seven-year-old Armenian-American is a self-taught painter who takes his craft, like his political views, rather seriously, "For me the best art meets at the height of concept and craftsmanship," he said. His atheist stance came from "thinking about all of the world's religions, from the biggest mega churches to the smallest tribal cultures that no one has even contacted yet, and I couldn't come up with a reason why one would be more legitimate than another." He grew up in Los Angeles suburbs in a single parent household watching and drawing cartoons with his brother. As a kid, his smartphone and laptop were a "pencil and paper." "My brother was my first big influence. He taught me how to make up my own cartoon characters by creating a chart of different features that I could mix and match," he said in a Creep Machine interview. He learned to draw value and perspective watching "Imagination Station with Mark Kistler on PBS." In high school he got a scholarship to go to the prestigious Ryman Program, a private organization that teaches classical drawing and painting. It was the first time Adamyan had drawn from a live model, but by then he was already getting exposure through group shows. "Brainwashed by the liberal media," his work has no country for what some deem sacred.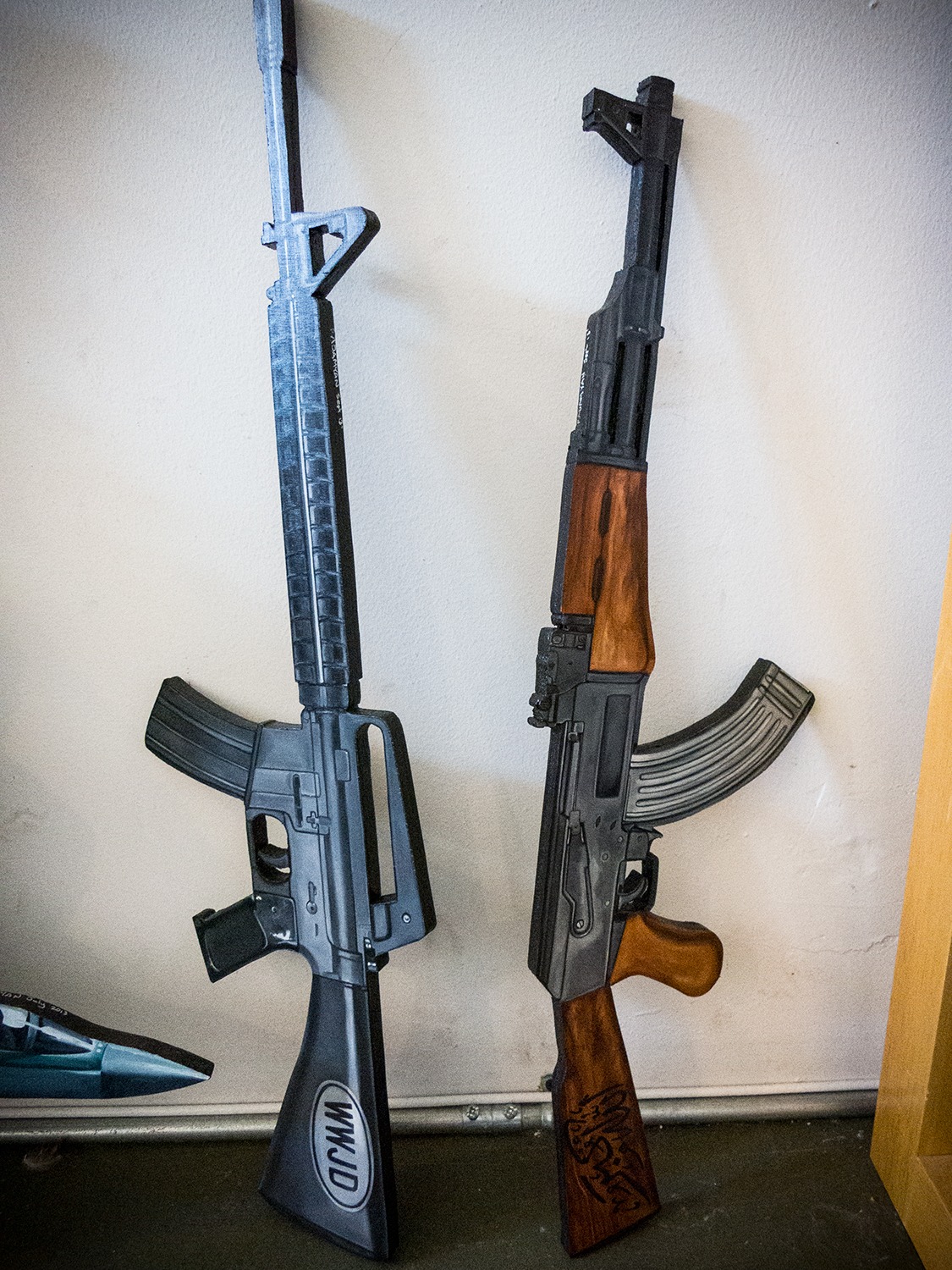 A vampire tampon attacks Hillary Clinton. Catherine The Great, who was a Russian Empress, gives oral sex to a horse, while Superman promotes a kryptonite condom against super sperm. Adamyan's multi-layered wood-relief oil paintings casts drop shadows, giving depth and real dimension to his parodied pop culture icons. It's a snarky gesture, but it superimposes the work's content, challenging the viewer to reconsider America's consecrated values. Influenced by lowbrow artists like Joe Coleman, Robert Williams and S. Clay Wilson, Adamyan's rendered characters reflect a child-like innocence reminiscent of classic cartoons. It's disarming at first, until the work's visceral and hilarious sarcasm cuts through like a chainsaw. His process starts with a concept. He gathers images and draws a small sketch to figure out the composition. He then produces a final larger sketch as a blue print, before rendering a rough color painting on wood panel, refining and adding detail as it progresses. He then cuts out each piece, using the top layer as a guide to glue the other pieces behind it. The individual shapes of his paintings emphasize detail and arrangement, escaping the confines of a familiar rectangular frame. They could almost be considered collage paintings except Adamyan recreates the sampled media images.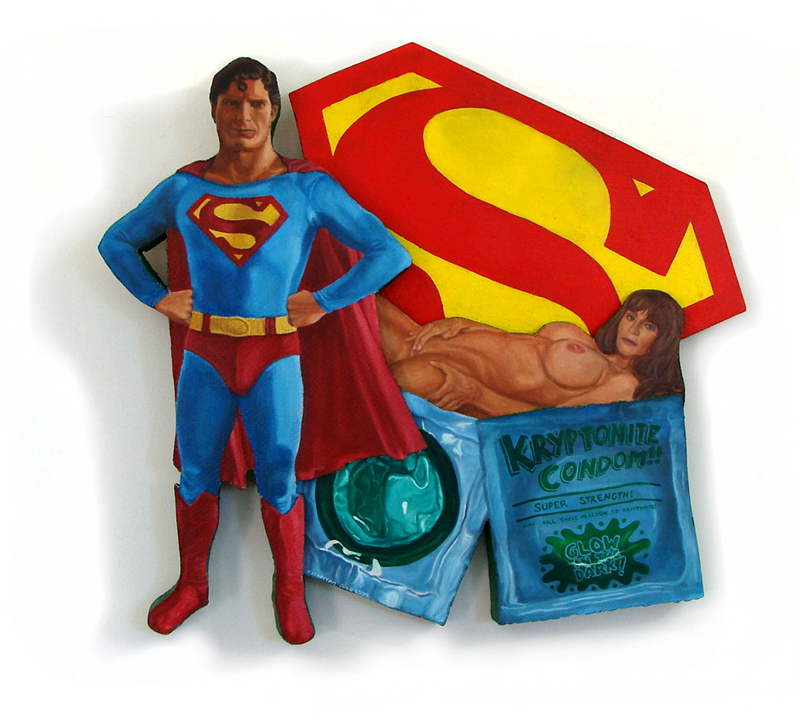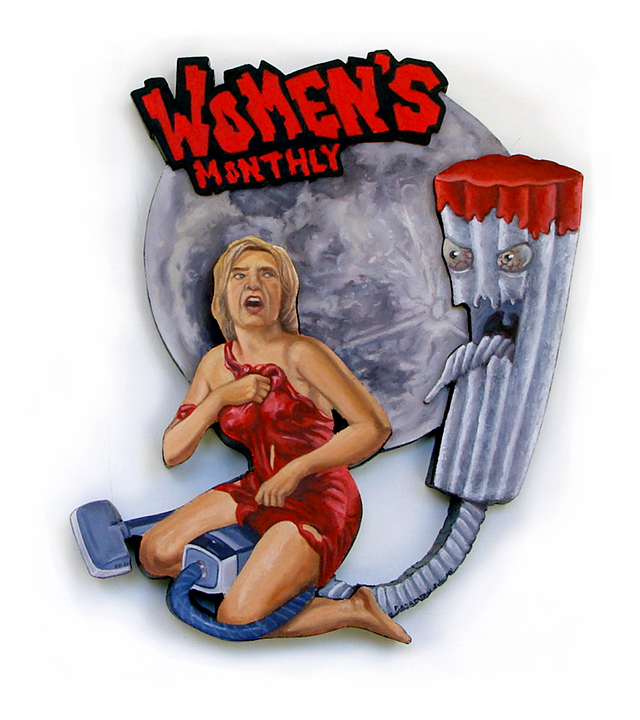 Punchline titles "Sometimes Celibacy Isn't Enough," "Popein' Ain't Easy" and "Blackface Barbie Minstrel Show" are supplements to his painted comedy bits. They add context and give viewers a way into the work, "I always want [the titles] to explain the piece a bit and also have a nice ring to them. I also have a pet peeve of people titling their work with the same word or phrase that is in the painting," said Adamyan. His goal is to "add more installation elements" and have a more "coherent theme throughout my solo shows." When asked what's next, he said, "I'm working on a toy store at the moment."
Since the publishing of this article, Adamyan has had numerous exhibitions and his work has evolved towards a study on brand worshipping. He wrote an essay about it here.
This piece was originally published in 2015.
As an appreciation for the article, Adamyan sent me "Blackface Barbie Minstrel Show." As an appreciation and reaction to his painting, I wrote a personal essay.