Did you memorize the first verse of Wu-Tang Clan's "Method Man" from reading The Source Magazine's "Hip-Hop Quotables?" Did you know what KRS-One's name stood for? Were you "independent as fuck?" For the early 90's rap kids and independent artist alike comes the documentary Adult Rappers, a rare look into the real lives of working-class rappers.
The film features a lot of notable underground artists like Open Mike Eagle, Blueprint, Breeze Brewin, J-Zone, Evidence, Masta Ace, Blockhead, Atoms Family members Alaska and Cryptic One, Despot, and others.
Most of them tour 200 days out of the year, but they're not money pillowcase-packing MC's spitting to sold-out stadiums. They got skills, but they also have car payments, mortgages, debt, and mouths to feed. They are adults and rap is their livelihood. Artists in the film like Murs and R.A. The Rugged Man could've left the rap game when they hit the aging fork in the road, but they pushed their careers straight through. The film examines what aging rappers' lives are like when they're not on stage with a mic in their hand. The thing you won't find watching this film are punch-line-swinging egos. The rappers interviewed are amazingly candid: "When your hobby becomes your job, it's time to get a new hobby," said author, DJ and former rapper J-Zone.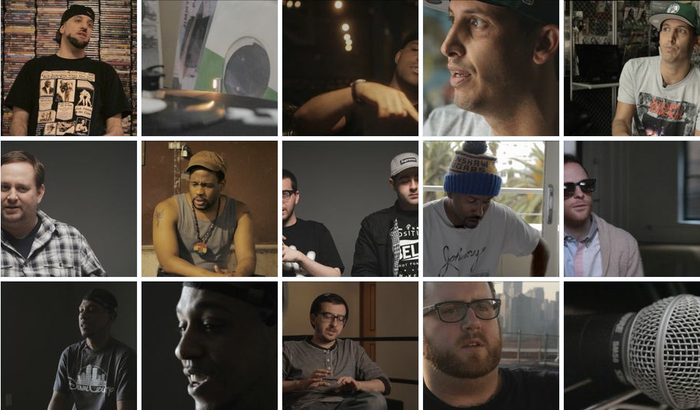 The film's director, Paul Iannacchino, used to be an MC, DJ, producer and member of the early 2000's trio Hanger 18. Known as DJ Pawl, Iannacchino was living every artist's dream. His crew was signed to El-P's record label, Definitive Jux. He had already recorded jams with underground heroes like Aesop Rock, Mr. Lif, C-Rayz Walz and Cage. Hanger 18 was nationally touring their freshmen effort, The Multi-Platinum Debut Album. "…being on that tour taught me fast and hard what it took to pursue music full time," said Iannacchino." He knew a rap career wasn't for him. He went headfirst into film: "From the moment I stepped on the smallest of sets with cameras and lights…I was hooked." Asked about making the transition from music to film, he said music and art always went "hand in hand…since…sitting in my room listening to Fear of a Black Planet [1990, Public Enemy] on cassette front to back and over again while I'd sketch…whether it was conscious or not I was on a parallel path towards filmmaking, even as I was hyper-focused on getting a 12" on the wall at Fat Beats."
Before the world got online, the brick and mortar record shop Fat Beats was to rap kids what the Internet is to everybody. The music was vinyl, CD's and tapes. Home studios didn't exist, radio play birthed rock stars and music making was magic. In the last decade the revolution got digitized, art got decoded and a new generation of rappers caught fame off YouTube. "Everything is immediate. You write something, produce it and introduce it to a huge audience in no time…for better or for worse. There's no filter. It means the new hot thing spreads like wildfire but also that fire burns more quickly than ever before," said Iannacchino.
Rap and hip-hop is a youth-driven multi-billion dollar industry. Youth is gold. The old should fold. Iannacchino contends that his film challenges this notion, since plenty of veteran rappers are still in the game. In an interview Iannacchino told XXL "…there are three buckets you could drop these guys into. There are people who are like, 'Fuck, I'm in too deep and I would gladly put this down, but what the fuck else can I do at this point?' Then are people who just love it and they'll always do it because that's their thing. Those people define themselves through their art, so they'll always find a way to make a living. And then there are guys who are in the top five percent of the second group, like Slug and Murs, who have their hands in a lot of shit and consistently do well." Rappers explores whether relevance is about writing rhymes from your perspective and life experience, or regardless of age, pushing a youth culture that some day will need Social Security.
The mainstream media used to label hip-hop the longest running fad. Iannacchino says it's still a young genre. Already having gone through its golden years, rap is either pulling a Benjamin Button or becoming—as Nas said on DJ Khaled's "Hip-Hop"—"a middle-aged cougar showing youngins the dream."
Watch the trailer below and rent the film here.
This article was originally published on Stark Life circa 2012.