I wrote Why Charlotte's East Side is known as the 'Salad Bowl Community' for The Charlotte Observer. The story is about what immigrants do with when white flight leaves areas impoverished and abandoned. There was a lot of other components that I wished I could've incorporated, like the gentrifying of the Black Belmont neighborhood, especially after some Black Charlotteans were displaced in the 60's and 70's because of the urban renewal program. The wealth discrepancy among whites and Blacks and the invasion of big money is on full display.
In the article you'll be introduced to Maxine Eaves. She's a long time community activist. Her latest project was to help get Eastway Regional Rec Center built. Eaves said that the facility is a rebuttal to "all of these baby parks they got around Charlotte." She's a Charlottean that moved to the East Side just years after the assassination of Dr. Martin Luther King in 1968. That same year, President Lyndon B. Johnson used King's murder to guilt trip a reluctant congress into passing the Fair Housing Act. It was a law that, coupled with the 1964 Civil Rights Act, was supposed to privide equal housing opportunity for all. By the 80's, Eaves said that her neighborhood was integrated, but white flight was underway. "It wasn't no reason for them to move, but they did and Black folk moved in so I guess it was a plus, but as time went on, we could see the disparities in the schools," she said. Some whites stayed. Since the 1930's, the Plaza-Midwood neighborhood was redlined for whites. At the direction of the Federal Housing Administration, banks gave loans to Plaza-Midwood home buyers, but not to the adjacent Belmont-Villa Heights, which was predominantly Black. The process of redlining further revealed the wealth discrepancy among white and black households. Richard Rothstein's The Color of Law points out that the Fair Housing Act cannot restore Blacks' constitutional rights by telling them that they "can now buy homes in the suburbs, if only they can afford it." Charlotte historian Tom Hanchett said that in general, the East Side is facing a lot of economic pressure, causing the rent of small businesses to go up. Big money has attached itself to the newly popular area.
In 2008, when immigrants started opening their own restaurants and businesses along Central Avenue, Charlottean, Nancy Plummer and Nini Battista, along with a team of volunteers, organized Taste of the World, a once-a-year event where they'd pack patrons into minibuses and take them on an eating tour of the area. The tour had a ten-year run and enjoyed popular success, but it got retired in 2018. When I asked Plummer what inspired the tour, she said that at the time, "Things were changing, really for the worst as far as people getting together." The sudden rapid intake of immigrants took some communal adjusting. According to Hanchett's essay Salad Bowl Suburbia, in 1990, Queen City's immigrant population was less than %1. Plummer, while attending a town hall meeting heard the then Republican mayor of Charlotte, Patrick L. McCrory encouraging people to stop complaining. He challenged his constituents to ask themselves, what can you do to make your neighborhood better? "And I looked around and we had all these ethnic restaurants and that's where the idea came from. We liked going to eat there so maybe other people would too," she said. At the end of the article, here's a quick guide of the ethnic restaurants per the recommendations of Hanchett.
Another aspect that I would've liked to have highlighted was the separation of immigrant families. Manuel "Manolo" Betancur of Manolo's Bakery talked about it in our interview. He said that the last four years of ICE and 45 have been difficult. "ICE is still our enemy and they terrify our community, but now with this new administration, we have a new beginning because ICE treated us very bad in East Charlotte. Even in my parking lot at my bakery, they came to scare my people, and my customers, and my employees. All over Central Avenue they destroyed families. When you go to the bakery we have a mural that represent all the children that lost their father or mother because of ICE action."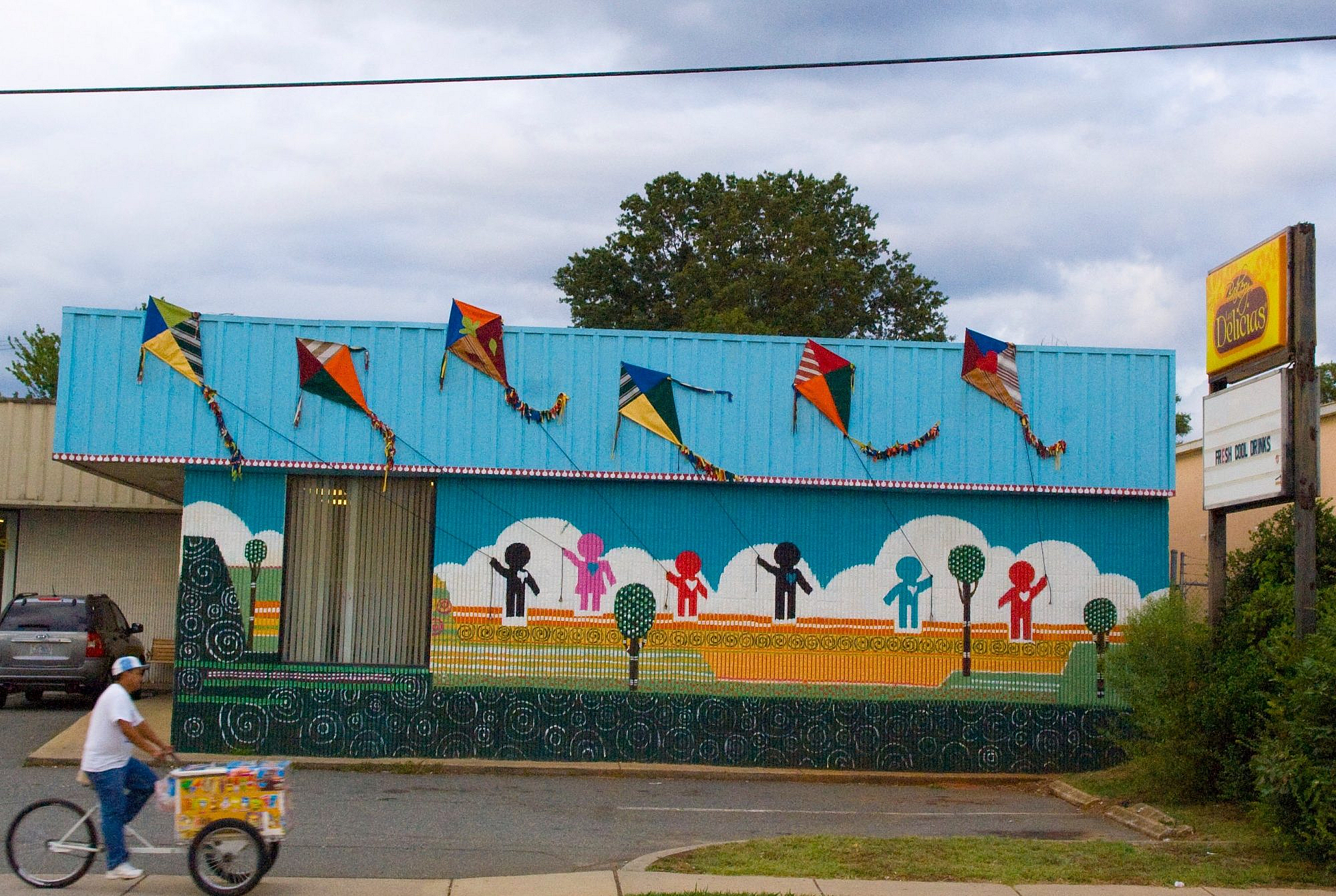 I was fortunate to talk to the amazing artist Rosalia Torres-Weiner who co-created the mural. About the project she said:
I redirected my commercial art to activism in 2012 after seeing families being torn apart by a national immigration policy that promotes the detention and deportations of undocumented immigrants, a practice that is tearing thousands of U.S children who are citizens away from their loved ones for indefinite periods.

The mural is based on an initiative "The Kite Project" I started in 2011 to provide a voice to the children, and to help them heal through the expression and the power of art. I facilitated art kite workshops in my studio, churches and at their homes. Those kites were exhibited at the Levine Museum of the New South and The McColl Center for Art+Innovation in 2014.

The purpose of this the Kite Project is to help the children affected by the deportation of one of their parents deal with the emotional trauma caused by the separation. My primary focus is providing a fun and comfortable environment where they can express those emotions through their individual creative skills (painting, drawing, and collage.). As a tribute to the deported relative, The kites incorporate a remnant of clothing that they left behind. The concept of the art installation is to simulate the kites in flight conveying that by attaching their emotions to the kites, they are released, and the children can begin to heal within a caring community. My hope is that the children and families effected by deportation are given a voice to express their stories. I also hope that through the Papalote (kite) Project, I can raise awareness in our community about the tragic impact that our immigration policies are having on people, and hopefully move the public to political action to resolve this crisis.
She also made this incredible film about the crisis.
In regards to the contested immigration debate, Manolo said that people need to be educated about what's going on. "The immigrant community needs to respect and appreciate the laws of this beautiful country, but then the American community needs to also appreciate and respect the immigrants that came here because we are leaving our countries and we are coming here to produce and to work and to pay taxes and making this country better and better," he said.
I love that I get to meet all kinds of phenomenal people. Some of the most unbelievable stories have never been told and new narratives get born and write themselves everyday. Read Why Charlotte's East Side is known as the 'Salad Bowl Community'.