The Notorious B.I.G.'s debut album Ready to Die turns 20 today (9-13-2014), it dropped on a Tuesday, September 13, 1994. Biggie's album had the now legendary producers working on it, such as Easy Mo Be (main producer), DJ Premier, Lord Finesse, Bluez Brothers (Digga was part of the production team for Masta Ace's "Inc"), Poke (Trackmasters), Darnell Scott, Chucky Thompson, and executive producer of course, Bad Boy Records head honcho Puff Daddy aka P. Diddy aka Diddy aka Sean Combs. The album's funk, jazz, soul and R&B samples combined with Biggie's street word play, street story telling, and infectious rhythmic raps helped it to become more of a commercial success than say the other classic Hip-Hop albums of 1994 like Nas' Illmatic. Ready to Die was recorded at a time in Biggie's life when he was the running the street and rolling with Puffy. Ready reached critical acclaim and commercial success, hitting quadruple platinum sales numbers. Solid, infectious beats and rhymes hold down Biggie's Ready as a Hip-Hop classic that is in a lot of people's music collections, playlists, and media players today. If you're not familiar with Biggie Smalls', "It's all good baby baaabay." Enjoy some music, interviews, articles and videos related to Ready below.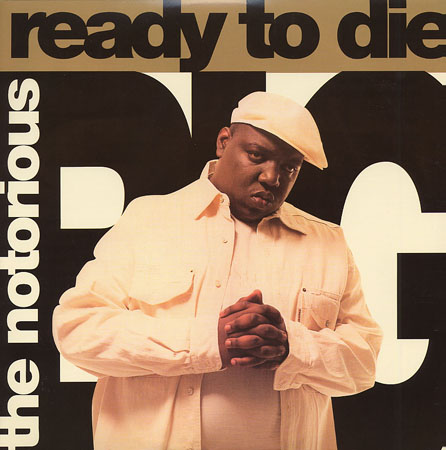 The Notorious B.I.G. Ready To Die music videos
Video Source interview with Biggie on the set of "The Warning" music video shoot 
Download the original version of Biggie's "Ready To Die" LP with unreleased songs. [Watch Loud]
Easy Mo Bee Stripes Interview (March 22nd, 2007)
"Aint Nothing Shine Brighter Than That Bad Boy" The Inside Story of Hip-Hop's Most Notorious Label – An oral history of how Puff Daddy, Biggie Smalls, an army of rappers, and an ocean of champagne changed hip-hop forever. [GQ]
Ready to Die at 20: How Christopher Wallace created hip-hop's definitive crime epic. [Wax Poetics]
Microphone Check: Remembering Biggie Smalls And 'Ready To Die' 20 Years Later. [NPR]
Exploring self-loathing in hip-hop via Notorious B.I.G's Ready to Die album. [The 405]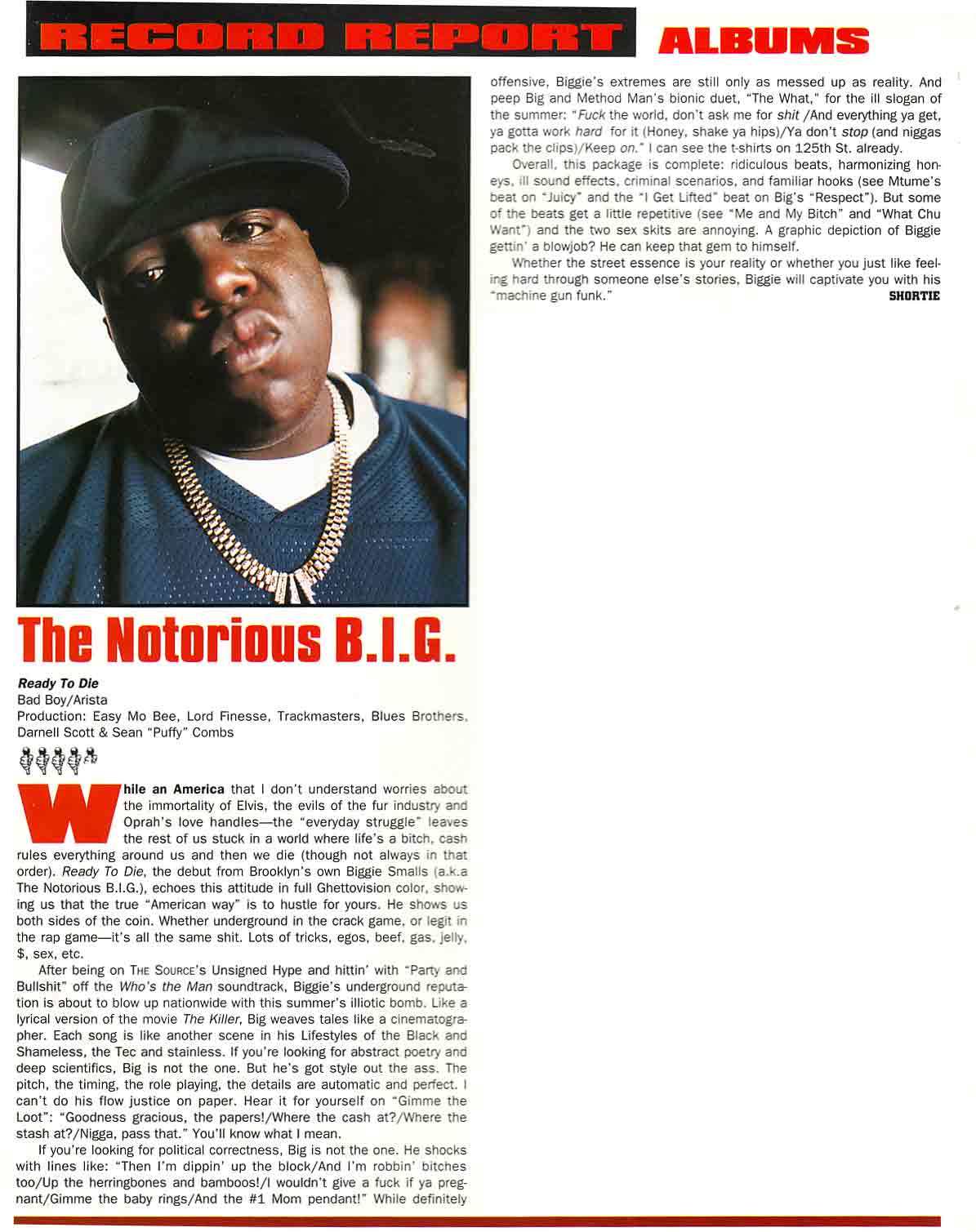 – The Source magazine's 1994 strong four and half mic review of Ready to Die by the nom de plume reviewer SHORTIE who we now know is Minya Oh aka Miss Info.
Fuse's Crate Diggers: Lord Finesse – Lord Finesse recalls being shocked that Biggie used his beat for "Suicidal Thoughts".
Combat Jack Show – Lord Finesse
Diggin' In The Crates co-founder Lord Finesse gives us a history lesson on his days as the Funky Technician, discovering the late great Big L, being a part of the Notorious B.I.G.'s classic 'Ready To Die' album, running with Puff, working closely to this day with Dr. Dre and his legal issues with Mac Miller. Of course there's more to this, so pull up a chair because rap class is in session so you can stop guessing. PLUS, a cameo comeback by Dallas Penn. #Str8Flourishments in effect b.
Notorious BIG 'Ready to Die' 20th Anniversary Mixtape mixed by Chris Read
– Via Wax Poetics
DJ Mister Cee & DJ Funk Flex 'Ready To Die 20th Anniversary' Mix [AUDIO/DOWNLOAD]
– Via Hot97
Mtume "Juicy Fruit" (1983) – "Juicy" sample
RBMA – beat:repeat NYC – Mtume – Juicy Fruit
Isley Brothers "Between The Sheets" (1983) – "Big Poppa" sample
Grover Washington Jr. "Hydra" (1975) – "One More Chance" LP version drum sample
Debarge "All This Love" (1982) – "One More Chance" LP version hook/riff sample
Jackson 5 "I Want You Back" (1969) – "One More Chance" LP version interpolated chorus hook
The Notorious B.I.G. ft. Total "One More Chance (Hip Hop Mix)" (1995) 
Lou Donaldson "Who's Making Love" (1969) – "One More Chance (Hip Hop Mix)" sample
Issac Hayes "Walk On By" (1969) – "Warning" sample
KC & The Sunshine Band "I Get Lifted" (1975) – "Respect" sample
Honey Drippers "Impeach The President" (1973) – "Unbelievable" drum sample
Quincy Jones "Kitten With A Bent Frame" (1971) – "Unbelievable" sound effects sample
R Kelly "Your Body's Callin" (1993) – "Unbelievable" vocal hook sample
The Notorious B.I.G. ft Method Man "The What" (1994) – "Unbelievable" vocal hook sample
Patrice Rushen "Remind Me" (1982) – "Unbelievable" chopped up piano chord sample
Brethren "Outside Love" (1970) – "Suicidal Thoughts" drum sample
Miles Davis "Lonely Fire" (1974) – "Suicidal Thoughts" sample
David Porter "I'm Afraid the Masqurade is Over" (1971) – "Who Shot Ya?" sample
DJ Clark Kent to curate NYC exhibit for 20th anniversary of Biggie's 'Ready To Die' LP. [Okayplayer]
2Pac and The Notorious B.I.G.: Rappers on Location. [RBMA]
DJ Premier shares his story on the making of Biggie's "Unbelievable":
"I almost didn't make the record. Big called me at the last minute, and said, 'Get me a track,' and I told him, 'I don't have time to make one.' I had other deadlines to meet at the time. He was on his way to blow up, and I loved him, and I wanted to help, but I really just didn't have the time. I used to see Big in the area all the time. Just to hang. Mister Cee put me on to Big, and we would go down to the store where we used to buy 40s. We'll see Big, and he'll be like, 'Yo, what do I got to do to get put on?' And I said, 'Well, you messing with Puff.' And he's like, 'Yeah, but he's taking too long.' And I would be like, 'Nah, stay with him. He's going to help you get rich.' He was just impatient like all artists, but it's a process.

"So he just kept pushing me like, 'Yo, Prim, please, please, I ain't got no more money in my budget. All I got is $5,000.' And I'm like, 'Dude, I cost way more than that, but I love you, and I'm going to go ahead and look out for you. Just get up here tonight.' And I did that beat. He was here. Standing right over there [points at the corner next to the turntable] while I was sampling the beat, and goes, 'I just want to watch [imitates Biggie's breathing].' [Laughs.] I don't like people watching me making my beats, but with Big I was just comfortable. He was actually the one who said, 'Yo, scratch R. Kelly's 'Your Body's Callin'.' You know where he goes, 'Unbelievable~'' And I was like, 'Yo, that sounds like it'll work.' Then he just went in there and spit it. No paper, no nothing. He actually just sits there for hours. And you'd think he's not doing anything, or even concentrating, and then when it's getting damn near three or four in the morning, you ask him, 'Dude, are we going to do this tonight? Or are we coming back tomorrow?' He'll be like, 'Nah, I'm ready.' And he just gets up, and goes in there. Bangs it. Done."

Via DJ Premier Blog
Complex TV – B.I.G. Test: How Well Do Current Bed-Stuy Residents Know Biggie's "Ready to Die"
– Via Complex
Notorious B.I.G. "One More Chance" Showtime At The Apollo Performance (1995)