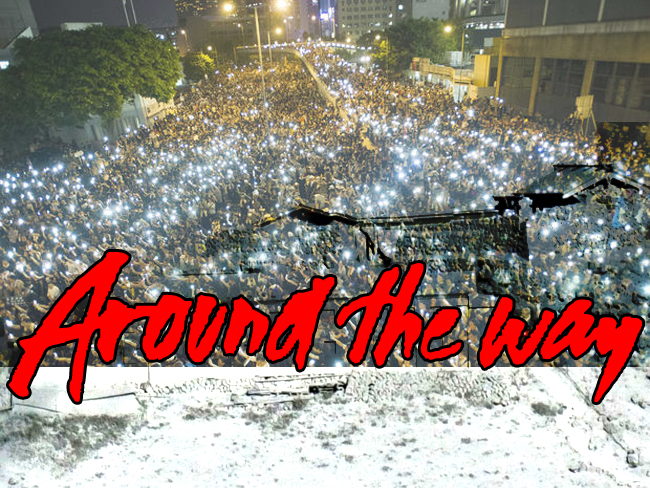 Democracy Now headlines – October 3rd, 2014. [Democracy Now]
Democracy Now – Umbrella Revolution: Hong Kong's Biggest Protests in Decades Challenge China on Political Freedom
Breaking The Set – The Roots of Hong Kong's 'Umbrella Revolution'
31 Intense And Stirring Photos From Inside The Hong Kong Protests – Tens of thousands in Hong Kong have taken to the streets to call for democratic elections. [Buzzfeed]
FireChat mobile app powers Hong Kong protests. [BoingBoing]
Why Hong Kong protesters are using Firechat for peer-to-peer communications on their mobiles. [Yahoo]
Year of the RAT: China's malware war on activists goes mobile – Is the Chinese government spying on Hong Kong protesters' phones? [Ars Technica]
At 17, Setting Off Protests That Roil Hong Kong. [NY Times]
Hong Kong leader's daughter creates controversy with Facebook post – The Marie Antoinette of HK Umbrella Revolution? Careful missy before the people bring out the guillotine. [The Times of India]
We Should Be Protesting, Too – Hong Kong and America: two systems, one corruption – By Larry Lessig. [Lessig]
An Anthem Of The Hong Kong 'Umbrella Revolution' – "Widen Your Mind 海闊天空" – Beyond
Protests in Pakistan: Curiously underreported by international news. [Disinfo]
Japan Police: Volcanic Rocks Killed Most Victims. [ABC]
Last Week Tonight with John Oliver: Drones
John Oliver hilariously rips Ayn Rand fans. [Dangerous Minds]
The complicity cost of racial inclusion – Expanding what it means to be white isn't good news; it only preserves structural privilege. [Aljazeera America]
Why Do Millennials Not Understand Racism? – They think if we ignore skin color, racism will somehow disappear. [Slate]
The Evolution of Flying Lotus. [Noisey]
Is the Fed Private or Public? – It's a decentralized central bank, inside the government and independent from it. [Slate]
In Defense Of Ms. Hill – It's finally time to stop letting folks from outside of our community tell us how to feel about Lauryn Hill. [Talib Kweli]
Incredible photographs of The Clash and the Beastie Boys by Josh Cheuse. [It's Nice That]
Cassetteboy – Cameron's Conference Rap
The Human Camera – Documentary
https://www.youtube.com/watch?v=xklinT2g6wU
What Goes Down in Ferguson is an Asian American Concern – In Fact, It's a 99% Issue. [Race Files]
Talk Therapy – Not Medication – Best for social anxiety disorder, large study finds. [Johns Hopkins]
California adopts 'yes means yes' sex-assault rule. [Yahoo]
Vietnam's internet cable ruptures, again.

[Thanh Nien]
This awesome interactive map details the undersea cables that wire the entire Internet. [BGR]
Why I Collect Racism – By Frank Wu. [Huffington Post]
How Eighth Avenue Became Chinese – Urbanist Tarry Hum's new book on Sunset Park looks at the economic, cultural and land use shifts in the waterfront Brooklyn neighborhood. [Open City Mag]
S.F. development boom swallows up historic family businesses. [SF Gate]
Why Empress of China's closure matters to San Francisco. [Inside Scoop SF]
I'm 25 and My Hair Is Falling Out – By Jackie Nguyen. [Huffington Post]
'Judging America' Photo Series Captures Nation's Stereotypes. [Huffington Post]
19 Mind-Blowing Facts About Life In Other Countries. [Buzzfeed]
KQED – The Art of the Skratch: DJs Celskiii + Deeandroid
– Skratchpad SF/La Femme Deadly Venom's DJ Celskiii & Deeandroid get's a featured interview with KQED.
RBMA Diggin' In The Carts: Episode 5 – The Role of Role Play
– Via RBMA.
Interview: Final Fantasy's Nobuo Uematsu – Nobuo Uematsu is the composer responsible for much of the Final Fantasy series. Inspired by his youth in Kōchi – a verdant island in the south of Japan – his work perfectly soundtracked the game's forests, rivers and castles. In this interview, taken from the sessions conducted for our Diggin' In The Carts video series, Uematsu talks at length about his beginnings as a composer and the series that made him famous. [RBMA]
Groundislava Video Game Mix
Wedidit crew member and LA beat maverick Groundislava picks his selection of soundtracks for inspirational gameplay and scoreboard heroics.

LA native Jasper Patterson aka Groundislava, grew up with video game sci-fi sounds and the general aesthetics of the 1980s flourishing around him. Jasper's father both animated and directed the classic Take On Me video by A-Ha and while Groundislava isn't merely the next evolutionary step of that era, he takes a similar creative freedom and emotion and injects it into a sound grounded in beats, video games, technology and self-proclaimed "nerdy shit". As part of the Wedidit Collective, helmed by his old schoolmate Shlohmo, Groundislava represents a group of youngsters; each with their own nonchalantly expert takes on forms of beat and electronic music. Deeply infatuated with house music and minimal techno, Groundislava takes old templates of 8 bit and chip-tune styles and turns them into worlds full of oozing, swirling melodies backed by driving drum beats, heavy bass drops and soaring vocal melodies.

-Via RBMA Radio.
Red Bull Music Academy Presents Diggin' In The Carts (Hidden Levels) – Just Blaze on The Revenge of Shinobi
Shinobi [Arcade Longplay]
TOKiMONSTA's Desiderium: Track-by-Track – The Red Bull Music Academy grad reveals the inspirations and influences behind her new release. [RBMA]
Red Bull Music Academy Tokyo 2014 event schedule, and website.
J-Pop: A Video Guide – Having covered the weird world of Japanese pop music for years in print and for anime-themed sites like Japanator, music journalist Zac Bentz highlights 12 essential groups for those ready to delve into the world of life-size Barbies, miniature robot poodles and holographic icons. [RBMA]
Interview: The Awesome 2 on LL Cool J, The Real Roxanne, and Hip Hop's Early Days – Rap radio royalty Special K and Teddy Ted reminisce about hip hop's earliest days. [RBMA]
Detroit to NYC: Underground Resistance at New Music Seminar – The story behind the pioneering crew's yearly pilgrimage to the influential New York City event. [RBMA]
Why Eric Prydz's EPIC 3.0 at Madison Square Garden was a middle finger aimed at lazy EDM. [Thump]
Malcolm Young's Family Confirms AC/DC Guitarist's Dementia – The illness has forced the guitarist to leave the band permanently. His nephew, Stevie Young, will fill in for him on the band's world tour in 2015. [Rolling Stone]
FKA twigs responds to online racist attacks from Twilight zealots. [Thump]
Dinos Chapman is the "David Lynch of the Dancefloor". [Thump]
Underworld was a stadium-filling dance act a generation before EDM. [Thump]
DJ Hype was present at the birth of rave, and has survived 21 years of partying. [Thump]
How rural raving made me the man I am today. [Thump]
Club 18-25: My Belated First Ibiza. [Thump]
"Rashad's Death Has Brought Everyone Together": A Rare Interview With Mike Paradinas. [Thump]
Lee "Scratch" Perry is the world's most badass 78-year-old. [Thump]
The top 10 underpriced Grime records. [Thump]
Saba's westside story is one worth listening to. [Noisey]
Introducing music to Fake Shore Driveby – Your new guide to Chicago Hip-Hop. [Noisey]
Even though Jersey Club is international, it's still most at home in Newark. [Noisey]
War Has Been Declared in the Jungle Scene! – Jungle/drum & bass producers throwing down in a virtual world clash with an ice bucket challenge viral component (no ice or water involved just "send for" and "call outs"). This is the only kind of war we approve of here at TMG. [Thump]
Noisey Jamaica II – The Reggae Revival feat. Chronixx and Protoje – Episode 2/6
Defining the Visual Style of Southern Hip Hop: Noisey Design (Teaser)
An ode to Pen & Pixel album covers. [Noisey]
The LOX "No Selfies"
– "No Selfies" is a new track by "The Lox" about taking pictures of your self or saying things online that's self-incriminating. The track uses a sample of "Rapper Delight" by Sugar Hill Gang. Warning – There's a lot fictional guns pulled out in this one. Ahhhaa!
OutKast Brings Out Erykah Badu During Final #ATLast Concert (VIDEO). [AllHipHop]
6 things you should know about Janelle Monáe. [Wired]
Don't call it a comeback: Return of The Lyricist Lounge. [Turnstyle]
Vice Japan – 密着24時!69歳のDJ – 69-Year-Old DJ
Latin wave in Asia. [Yam Magazine]
Latin Jazz in Tokyo. [Jazz In Japan]
Music and Globalization: The Impact of Latin American Music in Japan – By Maria del Carmen de la Peza. [url.edu]
Counter Cliché: The Asian and Latino bi-cultural experience. [KCET]
Why Denzel Washington may be the last pure movie star. [Variety]
The Forgotten Story Of Classic Hollywood's First Asian-American Star – Chinese-American actress Anna May Wong was a trailblazer despite the openly racist industry in which she worked.Remembering her story and contemplating how much things have changed. [Buzzfeed]
Literally Marginalized: Nonwhite people at the edges of TV cast photos. [Funny Or Die]
In 'Selfie', John Cho gets an unlikely shot as a romantic lead. [NPR]
The Unmarriables: Why Black Women and Asian Men Should Date – Associate Editor for Complex Lauertta Charlton and model/director/comedian Preston Chaunsumlit discuss AMBW relationships. [Complex]
Beau Sia: New writings and vintage tales. [Angry Asian Man]
Why our movements need #InternetFreedom. [Hyphen]
'Crouching Tiger' sequal to premiere exclusively on Netflix. [Angry Asian Man]
Q. & A. – Maya Lin on saving the planet through art. [Time Magazine]
Here's why millions of Americans are binge-watching Korean dramas. [Vox]
The dangerous seduction of the rich boyfriend – CNN's "This Is Life" with Lisa Ling. [CNN]
The Kartae Kid Turns 30 – Pat Morita remembered at reunion of cast, crew. [Rafu Shimpo]
Boys Puzzle Through Twists And Turns In 'Maze Runner' – NPR's Wade Goodwyn speaks with young Korean-American actor Ki Hong Lee, who appears in the new film, The Maze Runner, about how he broke into acting, and Asian-Americans in Hollywood. [NPR]
Play "99 Histories" shines a light on mental illness in Korean community. [SCPR]
Child prodigy cellist Justin Yu meets Ellen; He's brilliant and charming all at once. [Huffington Post]
Seattle officially declares Oct. 3 'Bruce Lee Day' – You know Bruce Lee was born at the Chinese Hospital in San Francisco's Chinatown and San Francisco's 'Bruce Lee Day' is on October 21, declared by then mayor Willie Brown in 2000. [Seattle Weekly]
Fung Bros – Asian Guys Talk About Rap
Def Jam Lie Ft. @Stotle & TheRealMfast
– On a recommendation by Fung Bros I checked out this video by the Lieguys in which they catfish self-promoting rappers who comment on youtube videos by posing as legit record label talent agents. Hilarious!
Fung Bros – Life Of A Sneakerhead 4 w/ A Girl
– Fung Bros share street wear & sneaker advice with Monica Lin aka Thundercup from Popular Demand.
Fung Bros – Asian Canadian vs. Asian American
Fung Bros – Asian Australian vs. Asian American
– Fung Bros explores the differences between Asian Americans and the diaspora in Canada and Australia. Warning – Some of the info is made up for comedy.
FUNG BROS FOOD: Boiling Crab (Vietnamese Cajun Seafood)
– Fung Bros introduces us to the Boiling Crab restaurant. What kind of cuisine do Vietnamese refugees of the war make when they land in Louisiana? The answer is the messy goodness that is Vietnamese Cajun seafood; so be prepared with wet naps to clean up after.
Margaret Cho & Shooter Jennings – Getting Doug with High
Kevin Smith & Brian Posehn – Getting Doug with High
Steve Byrne & Chris Porter – Getting Doug with High
The Death of Adulthood in American Culture [New York Times]
good kid, m.A.A.d. lilies: The French New Wave's Influence on Hip-Hop – Part 1&2 [Shadow and Act]
There is Now a Literal Map of Brooklyn's Gentrification [Brooklyn Magazine]