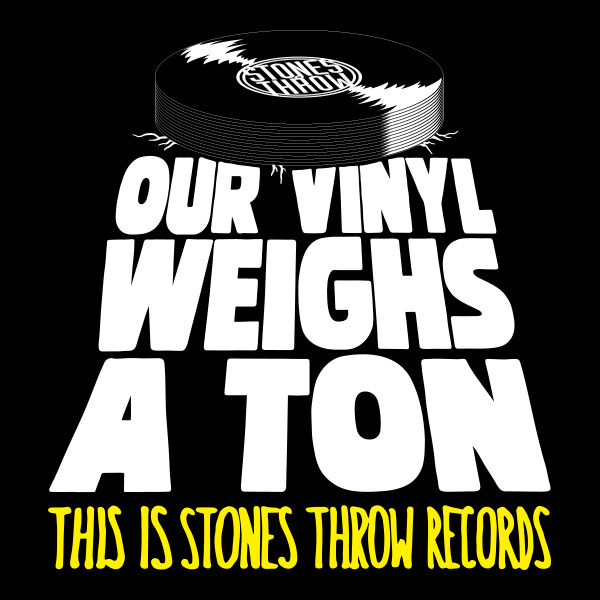 Been fiending to see this for a minute. Directed by Jeff Broadway, OUR VINYL WEIGHS A TON: This Is Stones Throw Records is a documentary that shines a well overdue light on Stones Throw Records, founded in 1996 by DJ and producer Peanut Butter Wolf (aka Chris Manak). Starting February 26th, the film will tour various cities, giving sneak previews and Q&A's by Wolf or Broadway. After the screening at another venue, see performances by Wolf  and other artists from the Stones Throw's roster. The tour will end at 2014's South by South West film festival where the documentary was chosen as the official selection.
Stones Throw has been a quiet force of nature that grew into a gentle giant, especially after releasing Madvillain's Madvillainy, a collaborative project between Madlib and Doom. At first, the label seemed to only be catering to music connoisseurs, crate diggers, Jazz enthusiasts and hip-hop kids. It was also a way for Wolf to put out a project done by him and his best friend, Charles Hicks aka Charizma, an undoubtedly talented rapper that was killed when he resisted during a robbery in 1993. Early in the label's conception, Wolf essentially created a safe space for rapper, jazz musician, DJ and producer Madlib to make whatever he wanted. For the longest Madlib (Otis Jackson) was considered a mysterious eccentric that cultivated brilliant compositions. From there, Wolf took his label to another level and brought a spaceship full of his homies with him. The official description is below, along with tour dates and the film trailer.
After the trailer there's a two part 2004 Dutch documentary featuring the label and a link to an interview with little insight into how Madlib started playing Jazz.
For the last 20 years, the groundbreaking label has earned its inspiring reputation of being one of the most original and influential labels in the world. OUR VINYL WEIGHS A TON weaves together rare concert footage, never-before-seen archival material, inner-circle home video and photographs and in-depth interviews with the artists who put Stones Throw Records on the map. OUR VINYL WEIGHS A TON gives an exclusive look into the label's left-of-center artists, history, culture and global following.

OUR VINYL WEIGHS A TON features original music by Madlib and exclusive interviews with Peanut Butter Wolf, Kanye West, Common, Mike D, ?uestlove, Talib Kweli, Tyler, The Creator, Earl Sweatshirt, Ariel Pink, Flying Lotus, Geoff Barrow, A-Trak, J Rocc, Dam-Funk, Mayer Hawthorne, and other members of the Stones Throw Family.

OUR VINYL WEIGHS A TON is produced and directed by Jeff Broadway, who also produced CURE FOR PAIN: THE MARK SANDMAN STORY, which tells the tragic tale of Morphine front man Mark Sandman.
North American Tour Dates:
(Date / City / Party / Screening)
Wed 2/26 – San Francisco – Noise Pop HQ
Fri 2/28 – Vancouver, BC – Fortune / The Vogue Theatre
Sun 3/2 – Brooklyn, NY – Music Hall of Williamsburg / Indie Screen
Mon 3/3 – Philadelphia, PA – Boot & Saddle / Performance only; no screening
Tue 3/4 – Boston, MA – Middle East Downstairs / The Brattle Theatre
Wed 3/5 – Montreal, QC – SAT / The Rialto Theatre
Thu 3/6 – Toronto, ON – Coda / The Bloor Hot Docs Cinema
Fri 3/7 – Detroit, MI – Magic Stick / Emagine Royal Oak Theatre
Sun 3/9 – Chicago, IL – Empty Bottle / The Logan Theatre
SXSW Film Festival Screenings
March 7 at 9:30pm SXSatellite: Alamo Village
March 13 at 9:30pm Vimeo Theater
March 15 at 4:00pm Stateside Theater
SXSW Stones Throw showcase
The North Door
502 Brushy St, Austin, TX 78702
8:00pm – 2:00am
Our Vinyl Weighs A Ton: Official Theatrical Trailer

Stones Throw Documentary Dutch TV 2004 (R.A.M. – VPRO) – Part 1

Stones Throw Documentary Dutch TV 2004 (R.A.M. – VPRO) – Part 2

Interview with: Stones Throw Records