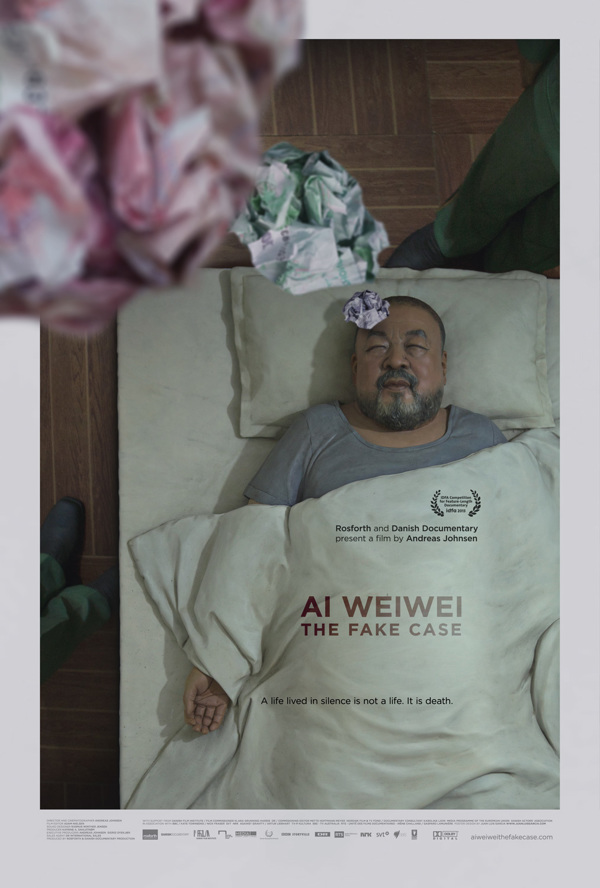 Directed by Andreas Johnsen, the film's title The Fake Case refers to the $2.5 million lawsuit the Chinese authorities have against artist Ai Weiwei and his art company, Fake. The film recently debuted at the Documentary Film Festival in Amsterdam, Netherlands. It documents Ai talking about the dark past with his mother, spending time with his son, while secretly creating art that reflects his time in detention.
Ai, son of the legendary poet Ai Qing, is a Chinese artist famous for speaking out against China's oppressive regime. In April 2011 he was arrested by the Chinese authorities and brought to an undisclosed location. He lived in a tiny room guarded by two sergeants standing less than 30 inches away from him at all times. Ai referred to it as an effective form of mental tortured.The Chinese authorities say they arrested him for tax evasion for his art business, but he was interrogated 50 time about his blog. Generally people China are not arrested for tax evasion, but if they are, it's handled by the tax police instead of military sergeants.  Ai signed a forced confession and was released 81 days after getting picked up at the airport while trying to board an international flight.
After his release he was put under house arrest and was not allowed to make public statements. The incident left him broken, restless and pulled in all directions. Journalists want answers. The art world wants art. His family wants him, and Chinese citizens randomly send him money to continue his fight against an oppressive government. Police agents follow his every move. 18 cameras monitor his home and studio and it's believed that his phone is tapped. The strict restrictions pressed upon him by the Chinese authorities would drive anyone mad, but to Ai, living in silence equals death.
Next September he'll take over Alcatraz Island for a site-specific art instillation. FOR-SITE Foundation, The National Park Service and Golden Gate National Parks Conservancy will organize the exhibit.