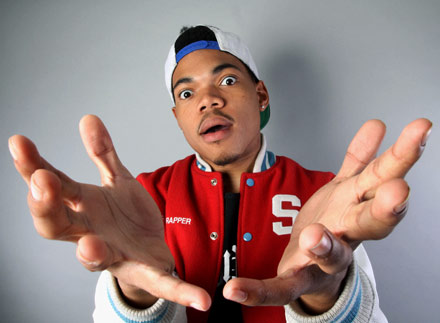 What kind of music does a kid make from Chicago, born in 1993, and the first CD purchased for him was Kanye West's The College Dropout (2004)? That kid would be Chance The Rapper, a 20 year old psychonaut navigating life in the inner-city of Chicago, self reflecting, making observations of his inner and outer environments. His style of rapping is a mixture of spoken word, stream of consciousness, soulful singing, jazzy scatting, choppy, and tongue twisting rap cadences.
With the release of two official mixtapes 10 Day (2012) and Acid Rap (2013) Chance The Rapper created enough buzz on the internet to generate many positive reviews from critics, bloggers, and music fans. This year Chance The Rapper has made the BBC Sound of 2014 list. He's also been on a few interesting collaboration tracks, James Blake's "Life Round Here", and Justin Bieber's "Confident".
Chance The Rapper is one of many new voices coming out Chicago, beside the Drill music a la Chief Keef, King Louie, Sasha Go Hard, Katie Got Bandz and the like. Maybe 2014 we'll see a full length studio album from Chance The Rapper. Until then checkout his mixtapes 10 Day and Acid Rap.
Chance The Rapper 10 Day mixtape free DL
Chance The Rapper Acid Rap mixtape free DL
Nardwaur vs Chance The Rapper
http://www.youtube.com/watch?v=Tr1oKA8v5aA
Chance The Rapper on Sway in the Morning 2013
Chance The Rapper "Juice"
Chance The Rapper "Everybody's Something"
Chance The Rapper Feat. Ab-Soul "Smoke Again"
Chance the Rapper x Nosaj Thing "Pusha Man/Paranoia" – Adidas Originals "Songs from Scratch" series
Chance The Rapper – So Good (Good Ass Intro)
Chance The Rapper Feat. Vic Mensa & Sulaiman "Family" 
Chance The Rapper "Hey Ma" 
Chance The Rapper "Brain Cells"
Chance The Rapper "22 Offs"
Chance The Rapper "Fuck You Tahm Bout"
Chance The Rapper "Nostalgia"
James Blake Feat. Chance The Rapper "Life Round Here"
Justin Bieber Feat. Chance The Rapper "Confident"