Painter and street artist Dan Witz is up in the Jonathan Levine Gallery. His solo exhibition opens April fifth at six PM in NYC. Witz was at first, just a punk kid going to art school at Cooper Union, hitting up punk shows at places like CBGB's, playing in garage bands and getting animalistic in mosh pits. Believe it or not, this Brooklyn-based artist started off wandering The Big Apple, painting meticulously detailed humming birds on public spaces. He wasn't into what was popping in commercial art, museums and galleries at that time. He descended from the trendy "ugly" aesthetic of Marcel Duchamp and retinal art and instead, got inspired by the painted trains zooming through out the boroughs in the late 70's and 80's, but Witz wasn't trying to catch fame. His beautiful humming birds practically went undetected and although he was painting them during the day, he never got busted. Punk and Hip-Hop have always been parallel, especially given their rebellious DIY culture. The shows description is quoted below along with a preview of his hyper realistic paintings.
With a career spanning over thirty years, Dan Witz is known for his tromp l'oeil street interventions and extensive studio practice. Applying old master painting techniques in the manner of Bosch or Brueghel to his works on canvas, the artist depicts hyper-realistic figurative imagery in portraits, landscapes, and still lifes.

NY Hardcore includes works from Witz's celebrated mosh pit series. His large-scale paintings portray throngs of punk youth while smaller works highlight cropped studies of single subjects within the crowd. Inspired by his experience in the early 80s, performing in post-punk noise bands during the downtown NY scene, the Mosh Pit series embodies Witz's desire for comparable intensity and rebelliousness in his painting.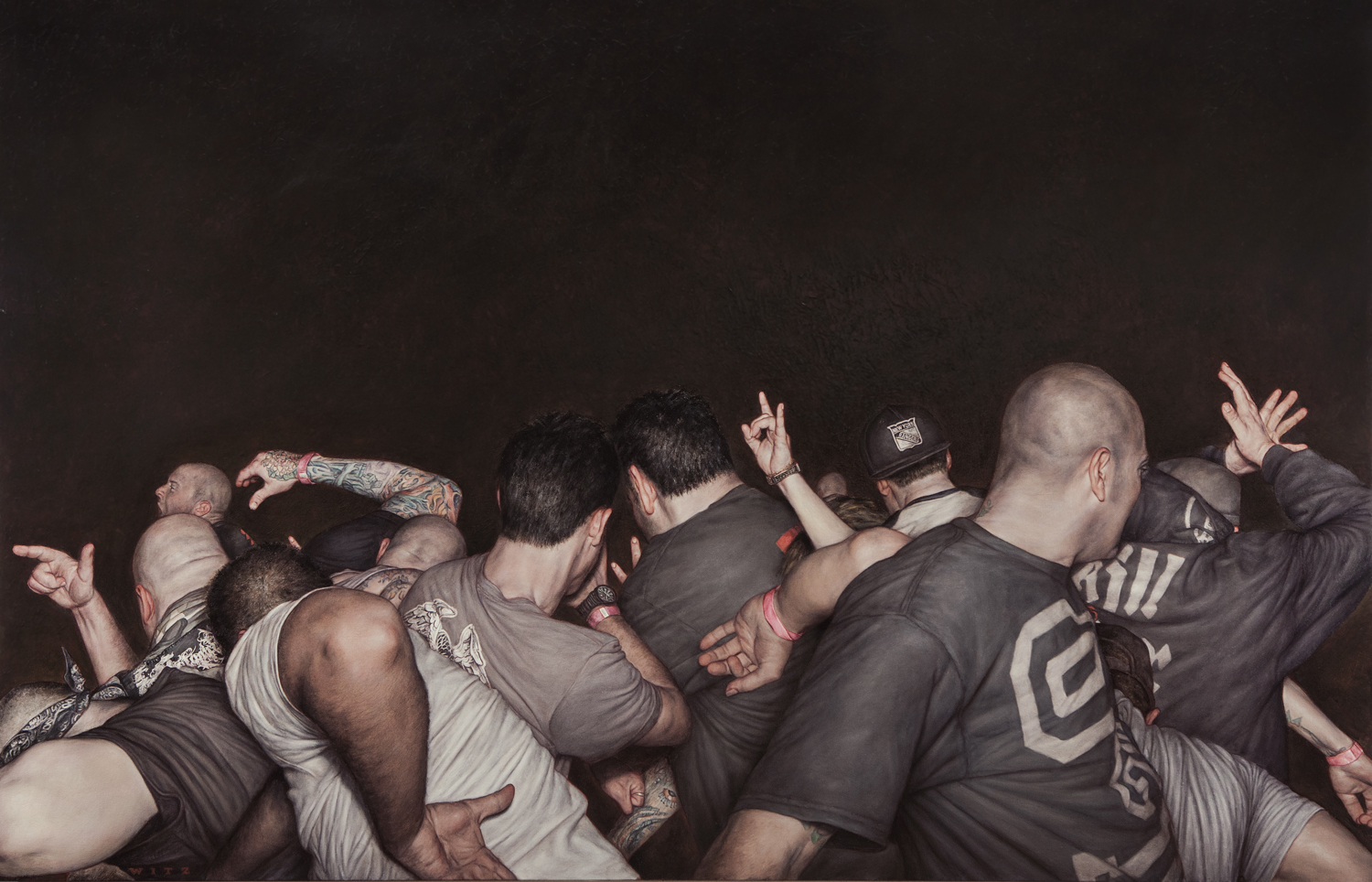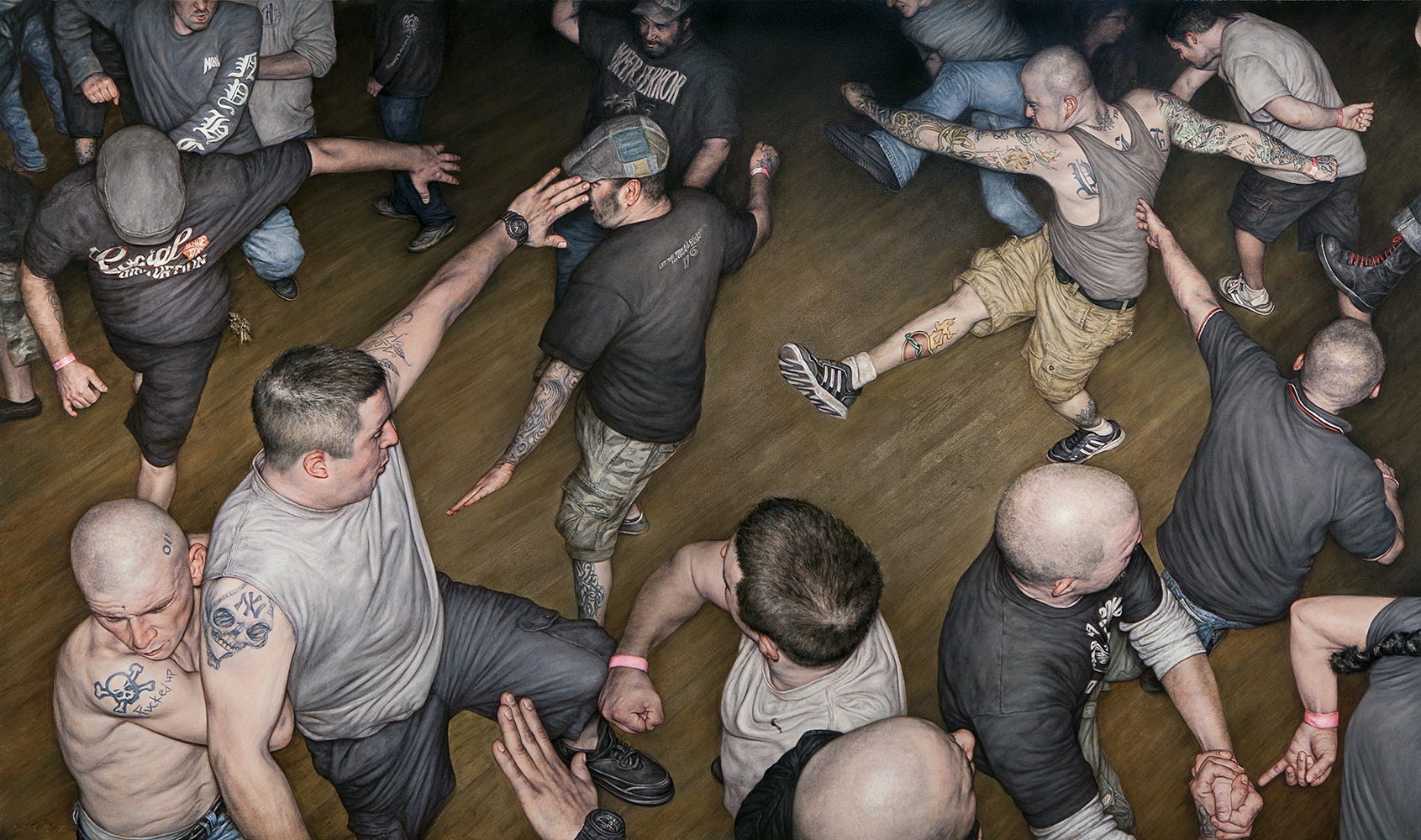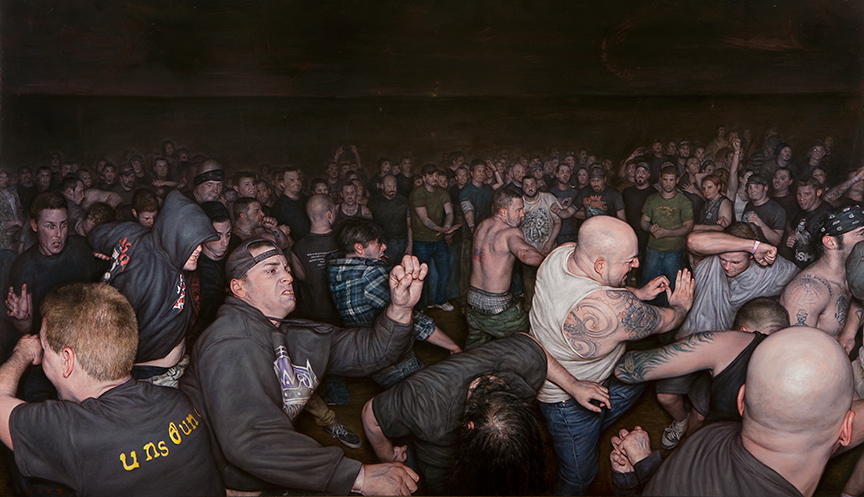 Check out the studio visit I did on him for Hi-Fructose, here.