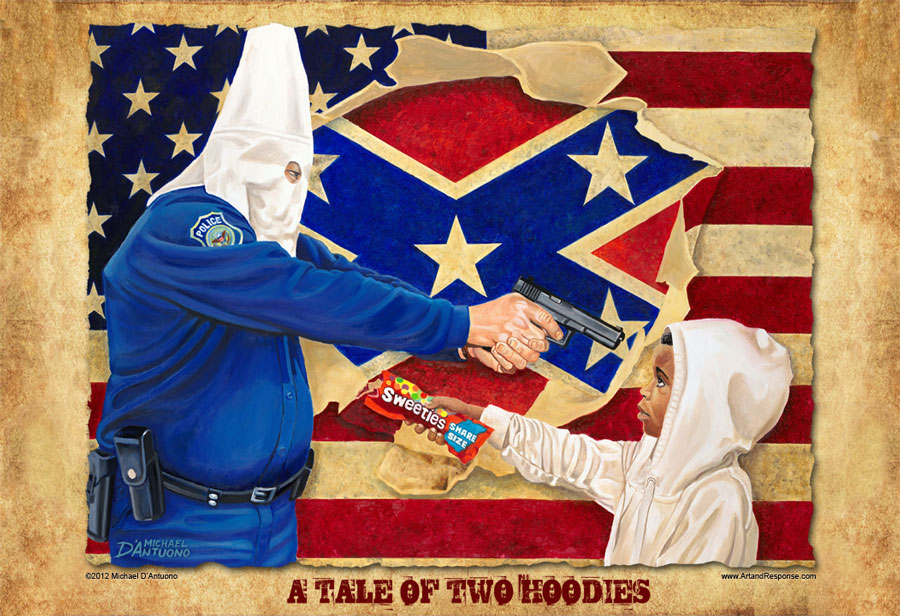 Apparently George Zimmerman is a painter. He sold a painting on eBay for $100,099.99. It was to help him raise funds to pay part of the $2.5 million he owes his legal team. On the same day eBay removed an anti-racist oil painting, "A Tale of Two Hoodies" by artist Michael D'Antuono. He painted it several days after the death of 17-year-old Trayvon Martin. 50% of the proceeds were going to The Trayvon Martin Foundation. The painting had a bid of $25,000. Five days before D'Antuono's auction was supposed to close, eBay took it down.
According to an eBay email that D'Antuono shared with Raw Story, his painting was "promoting or glorifying hatred, violence, or racial or religious intolerance" and they weren't digging the KKK imagery. D'Antuono was "outraged." On his blog, Art & Response, he wrote, "While Zimmerman was allowed to capitalize on his  ill-gotten notoriety, I was denied the opportunity to raise funds to help the very foundation named in honor of Zimmerman's victim… I feel ebay failed to see the forest from the trees on this one. In my opinion, any policy that allows a murderer to profit from his crime, but deems art that speaks out against racial injustice and benefits its victims 'hateful and discriminatory' needs to be reevaluated."
Four months after he was acquitted for the murder of Trayvon Martin, Zimmerman was arrested for allegedly choking and pointing a shotgun at his girlfriend. Last month he was released on a $9,000 bail. Another condition under his release was that he couldn't possess weapons.
D'Antuono is now privately auctioning off his "Two Hoodies" painting. Half the proceeds will go to The Trayvon Martin Foundation. Make a bid here.