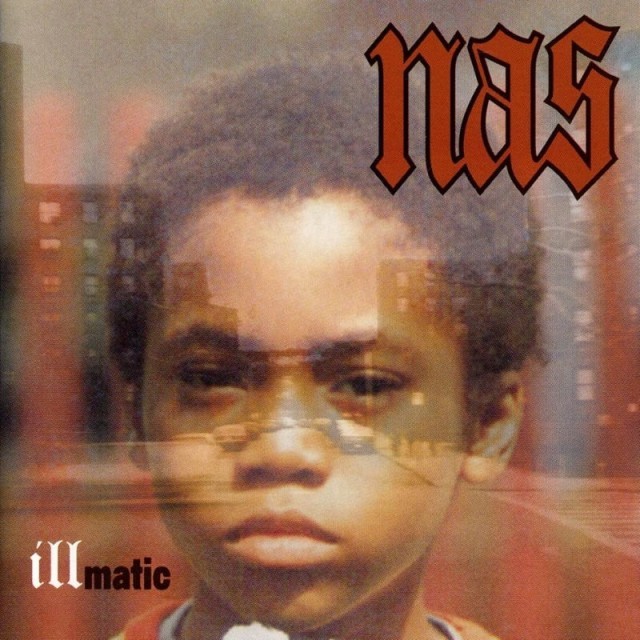 Twenty years ago on April 19th, 1994 a then 20 year old rapper from Queens NYC released the classic Hip-Hop debut album; Illmatic. Considered by some to be one of the best Hip-Hop albums of all time (if not the best), in terms of beat production, lyrical style, and content. No filler tracks. Illmatic is among one of the few 5 mic rated albums by the Source Magazine. Clocking in at ten tracks, a little under 45 minutes, Illmatic weaves a tale of inner city struggles, youthful exploits, bravado, and wisdom.
In terms of production Illmatic brings together the top Hip-Hop producers of the late 80s and 90s; DJ Premier, Large Professor, L.E.S., Pete Rock, Q-Tip, and executive producer MC Search (of the group 3rd Bass, who supposedly discovered Nas). The host of top producers, each with their own styles came together on Illmatic to produce a cohesive sound, a unique feat that has been imitated over years. Illmatic was the first to have multi producers. They drew from funk, soul, R&B, and jazz samples from Donald Byrd, Joe Chambers, Ahmad Jamal, Parliament, and Michael Jackson. The trumpet heard on "Life's A Bitch" is played by Nas' father musician Olu Dara.
Lyrically Nas paints the the perfect picture of inner city life in the late 80s and early 90s (still relevant to present day conditions), written out in text, Illmatic can is considered to be a great achievement of poetic literature in the late 20th century. Many rap quotables can be traced back to Illmatic:
"Straight out the fucking dungeons of rap,
Where fake niggas don't make it back."

"The smooth criminal on beat breaks,
Never put me in your box if your shit eats tapes."

"I'm an addict for sneakers,
20s of buddha and bitches with beepers."

"I never sleep, cause sleep is the cousin of death."

"The thief's theme – play me at night, they won't act right."

"I'm out for dead presidents to represent me."

"I'm a Nike-head, I wear chains that excite the Feds."
Every line of "It Ain't Hard to Tell" is a quotable, and many other quotable lines from the album. The track "Represent" speaks to street exploits, although written about NYC inner city life in 1994 , it's relatable to Chicago's "Chi-raq" Drill music (ala Cheef Keef and Drill comrades). "One Love" is a Hip-Hop bromance anthem were Nas captures a conversation with a homie locked up in jail, trading info on news back home, words of encouragement, and promises to "hold the fort down, represent to the fullest." From the beginning the Queens poet weaves a story full of trials and tribulation, ending in the emphatic and triumphant proclamation:
"It ain't hard to tell, I excel then prevail,
The mic is contacted, I attract clientele."
Illmatic cover artwork of a child picture of Nas taken by his father musician Olu Dara, superimposed with New York housing project building blocks in the background (possibly inspired by 1974 jazz album, Howard Hanger Trio's A Child Is Born according to Ego Trip), has been inspirational to Hip-Hop album cover art over the years with notable examples being Notorious B.I.G.'s Ready to Die (released that same year in 1994), Lil Wayne's The Carter III (2008), and a countless number of rap mixtape covers over the years.
Upon the 20th anniversary of Illmatic, Nas released a reissue Illmatic XX on April 15th, 2014 which features a 2nd disc with remixes and unreleased material.
DISC 2
01 I'm a Villain (previously unreleased)
02 The Stretch Armstrong and Bobbito Show on WKCR October 28, 1993 (previously unreleased freestyle)
03 Halftime (Butcher Remix)
04 It Ain't Hard to Tell (Remix) (promo single)
05 One Love (LG Main Mix)
06 Life's a Bitch (Arsenal Mix) (promo single)
07 One Love (One L Main Mix)
08 The World Is Yours (Tip Mix)
09 It Ain't Hard to Tell (The Stink Mix) (UK single)
10 It Ain't Hard to Tell (The Laidback Remix) (UK single)
Along with the Illmatic XX as reported in earlier TMG post, there is documentary Time is Illmatic. Other related TMG post: Dr. Angela Davis & Nas speaking on the Prison Industrial Complex – Video
Below we have an Illmatic XX album stream, music videos from the album, various interviews, and performance videos.
Illmatic XX stream
Music Videos from Illmatic
MC Serch featuring Nas, Chubb Rock & Red Hot Lover Tone "Back To The Grill" (1992) – Another early record featuring Nas
Video Music Box interview with Nas @The Fever (1994)
Nas' Illmatic album release press kit video (1994)
VladTV: DJ Premier Talks About Nas' Illmatic Album
Reebok & Rock The Bells presents: Nas talks making Illmatic
Fuse: Nas Looks Back at Illmatic
A Conversation with Nas and Michael Eric Dyson @ Georgetown University March 27, 2014 (Introduction by Producer 9th Wonder & Moderated by James Peterson)
Nas, Q-Tip & The Roots perform "One Love" on The Jimmy Fallon Show 4-7-2014