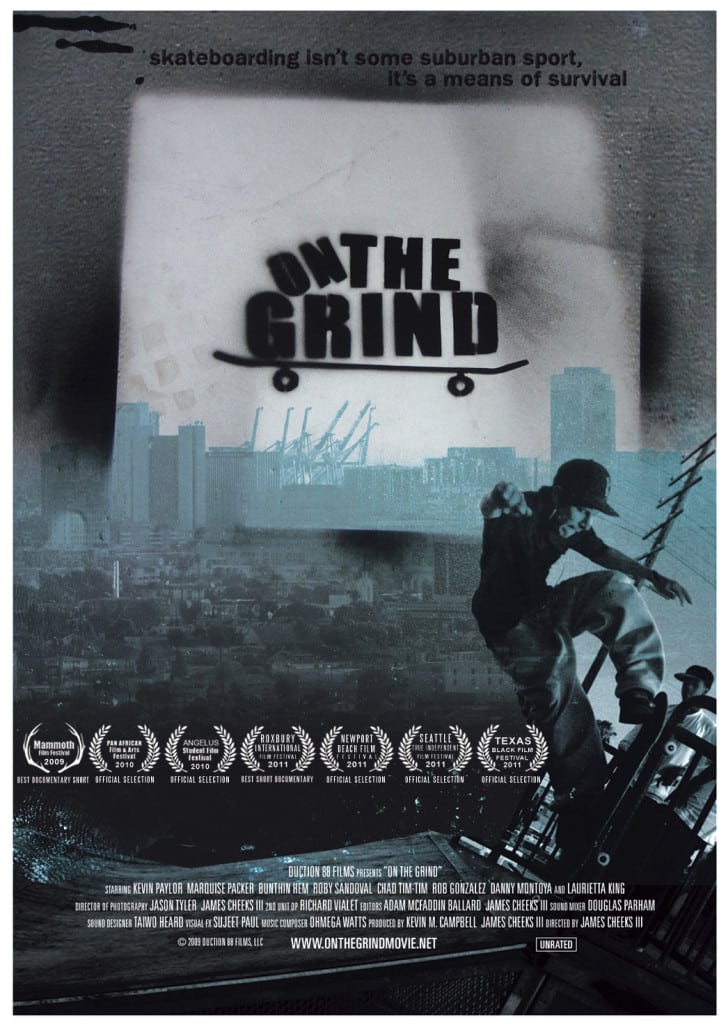 On The Grind is a short documentary about kids of color growing up in Long Beach, California who escape their harsh realities through skateboarding. The film was predominantly shot at 14th Street Skate Park, also known as Ghetto Park, a run down facility that local Long Beach skaters treated as a sanctuary. The film explores their lives in the aftermath of losing their close friend, Michael K Green; a talented skateboarder who was in transition to becoming a professional skateboarder. He was suppose to be on producer Pharrell William's skate crew, Ice Cream, but on April 9, 2005, while Michael was in front of a friend's house, a local gang, mistaking Green for a rival gang member, shot and killed the future pro skater. Director James Cheeks III, along with photographer, Kevin Campbell, follow Green's mother, Laurietta King as she testifies in court on her son's behalf for the conviction of his murderers. Though Michael's community is used to loss, his family and friends were inspired to rebuild Ghetto Park and name it Michael K Green Skate Park.
Below filmmaker James Cheeks III talks about guerrilla filmmaking, patience, and how growing up in Oklahoma, in a predominantly white environment, helped him relate to the subjects featured in his documentary.
What movies inspired you to actually pick up a camera?
Glory by Edward Zwick! It was one of those eye-opening movies that schooled me on an important and overlooked part of the Civil War – black soldiers and their participation in one of the most fascinating turning points in American history. It had a great cast, story and director. My 7th grade history teacher showed it to our class and I wanted to see more films like it. I wish more films like that would get promoted in the mainstream media because it offered so much. It's definitely the number one movie that inspired me to get into filmmaking.
According to The Long Beach Post, you grew up in Oklahoma and you were into punk music. What parallels have you drawn, if any, between this documentary and your own upbringing?
Yes, I was raised in Memphis, TN and finished high school in Oklahoma. I was always into punk and alternative music as well as hip-hop. I was often the only black kid that I knew who was into indie music and skateboarding. I didn't care to be boxed in by what society expected me to be so I can definitely see how that translates into what the guys are doing in On The Grind. In a neighborhood filled with gangs, and racially divided lines, this diverse group of skaters choose to pursue their dream of skateboarding, which is pretty rad and punk in my opinion. Also, one of my favorite bands in high school was from Long Beach and it's pretty unbelievable that I would be shooting a skate documentary there years later. Who would have thought?
What were the difficulties you faced shooting on location as well as following around your subjects?
I think the biggest difficulty was getting the skaters and cast to shoots and interviews since a lot of them didn't have transportation. Everyone didn't have cell phones or Internet so we would often spread the message about an upcoming shoot to one skater and hope that it reached the rest by the time we shot that weekend.
I would do most of these shoots on the weekend and whenever I had spare time. I was a grad student and money was tight so finding people to help crew on the shoots was really tough. I even taught friends how to hold the boom mic and do sound. It was quite and experience but we managed to get shoots done with a full crew or just two of us at times.
As a first time documentary filmmaker, what did you learn about making a documentary?
Patience. Patience. Patience. I also learned that's it's possible to make a movie with limited resources and I always share that fact with youth and students that I talk to at film screenings. If you're really passionate about something, keep at it and never give up on your dreams. The short version of On The Grind is currently airing on the Documentary Channel (Dish Network & DirecTV) and we didn't have the kind of financial backing that most people get to produce a film. I thank God everyday for the opportunity to work on this project.
Did you see a shift in how the skateboarders interacted when you had the camera pointed at them?
We had two different types of people. The skaters who weren't used to being filmed avoided the camera and the skaters who loved being on camera.

I don't like being filmed so I understand the hesitation to be filmed but that changed for most people once we got to know each other better and found that common ground in making a movie to tell an important story.

On the other hand, we had a couple skaters who would come and talk directly into the camera and say random funny things while I was trying to get candid footage. That's something that happens a lot in skateboarding videos so I had to try to be invisible for the sake of the documentary. Eventually, we figured out how to work with each other because we all wanted this project to turn out good.
You started filming this documentary after a young local skateboarder, Michael K Green, was shot and killed. What was his friends and family's response when you approached them about making a documentary focused on their lives and this seemingly rundown skate park?
I used to go to skate parks in Long Beach and ask questions as well as contacting Mike's friends and family via MySpace. I didn't get immediate cooperation and people were still grieving over the loss of Mike and trying to find answers as to why he was killed. Eventually, the family invited me to come film a birthday event for Mike on October 14, 2006 and we got to meet a lot of people in person who would later be critical in telling this story.

We had dinner with Laurietta King, Mike's mother, and the rest of the family, watched the footage and talked about the project. They informed me that the court trial for Mike's murderers was approaching and I wanted to capture the family's journey for justice. My main concern was telling an authentic story with integrity and the family agreed to let me follow them. Laurietta took me to Ghetto Park and introduced me to more skaters who knew Mike and I knew that this park and its skaters would set the stage for On The Grind.
What was it like getting to know Green through the eyes and words of people who personally knew him?
Truly special. I knew that Mike was a good guy, funny and talented from his family and friends. Everyone had great things to say about him and I could see those qualities in his family. There's so much love in his family and Laurietta refers to her kids as her teammates. When they lost Mike, they lost one of their teammates, but their love for each other grew and they really tightened up as a unit.
Has the skateboard community at large embraced your documentary? Have any professional skateboarders co-signed it?
Some of my favorite On The Grind screenings are at skate shops and skate parks because they see it as a tool to promote skateboarding and the importance of skate parks in their communities. We've been invited to screen the film over 35 times around the country and it's supported by the skateboarding community and film enthusiasts. That support means a lot and we have several pro-skaters who've supported the project and provided their voice for the cause, including Chad Tim Tim (Element) Danny Montoya & Rob Gonzalez (BLVD Skateboards). Having them share their experiences and stories about Mike was so helpful and I'm very thankful for that. Pro-skater, Ron Chatman, will also share his story in the feature-length version of On The Grind too. He was the first black pro-skater to emerge in Long beach and he also mentored Mike before he passed.
What was the reaction of the people in the film after they watched it?
Joy, and that was humbling to me. People who were once hesitant to participate in the project told me that I had their support and I really felt that at the premiere in Long Beach. People were stoked about how their community was represented in the film and it was an unforgettable moment. Outside the theater, the skaters picked up Ms. King and carried her on their shoulders. They really enjoyed the film and the celebration spilled into the streets. Everyone had fun and I had a good time too. Thank God!
Watch the full documentary below.
This story was originally published in late 2013. I recently talked to Cheeks and he gave me an update on the film's completion when its expected to hit film festivals. Look out for "On The Grind W/ Director, James Cheeks III Part 2." He gets into the bigger parts of the story and he talks about how Black Panther Director Ryan Coogler first worked on the project.