Last month Tokyo partygoers got laced by not one, but two Speakeasy TYO events. The first one on October 7th, at RIDE, featured one of the Godfathers of Hip-Hop, producer and DJ, Marley Marl. That night was an historical one and everybody, breakers, dancers, lovers, toddlers, and head boppers got turnt up. The second joint, on October 28 was Halloween on roller skates.
Held at Tokyo Dome Roller Skating Arena, DJ Daruma (PKCZ) & Jommy and Shioriybradshaw were the featured DJ's, spinning house and other treats. Not to mention Speakeasy DJ's Late (of The Mega Late Show), L Evate, and Brooklyn Terry were also holding it down.
Attendees wore their Halloween costumes and some people went all the way out while others made a lot out of little. One woman with colored contacts, dark lipstick, ice-sickled hair, and a white powdered face looked like a gothic cat or a cold witch. Where's Waldo and his son came through. A red hooded octopus was on skates. The Cookie Monster came as a pumpkin. Dracula sunk his teeth into four-on-the-floor and Pikachu Pokémon was in the building.
Terry had his little Iron Man out there rolling around. A few females in the middle of the ring were doing moves a kin to sensual dancing on wheels. Figure skater, Shingo Nishiki was pulling off 720 spins, aerials, and graceful poses. For someone who especially had never seen live figure skating, it was awesome.
Oren The Owl made an appearance. He was threading skaters, dancing with characters, and mixing on the 1's and 2's. With four people lying adjacent to each other, including myself, he jumped over us.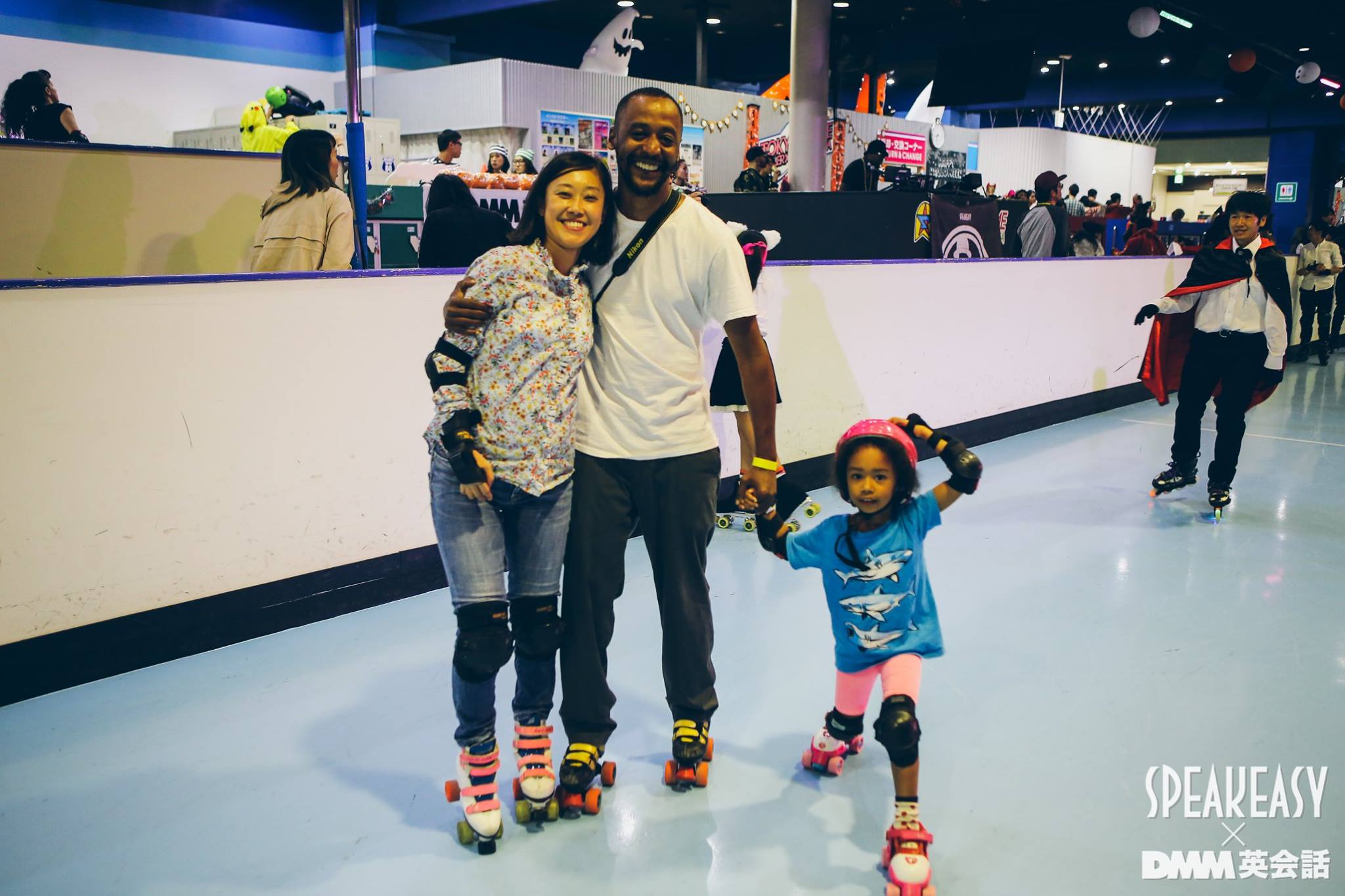 This was my daughter, Kantra's first time roller skating. She was on some training skates, wanting to hold daddy's hand and cruise around the ring. She had me amped up screaming, "Yeah, you're doing it." My wife was out there too. We hadn't roller skated since elementary school. Joy was hitting us like laughing gas. It was fun.
The next Speakeasy TYO is on December 2nd at Hotel KOE in Shibuya.
Below click on the date to view the full album of Speakeasy Roller Skate Halloween, 10-28-18.