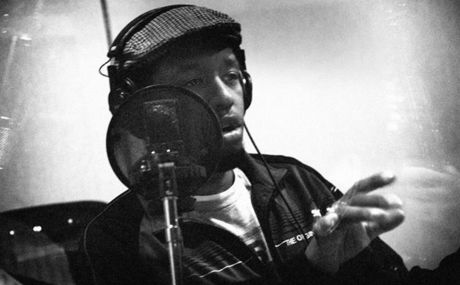 Brooklyn native, actor, writer, rapper, producer, all around b-boy and TMG contributor Mtume Gant is making a film called Spit.  The term "spit" refers to a rapper or MC/emcee rapping or reciting a rhyme.  In full disclosure I've known Mtume for a minute. For those that know him, or have had the pleasure of just talking to him, he's an intelligent, talented and thoughtful artist. Poet Charles Bukowski wrote, "It's not the known great, but the great who die unknown," that's what Spit is about, an ode to the "unsung artists of New York City." Here's the film's synopsis:
Spit is an attempt to unpack the experience that so many artists fall victim to. It follows Jeremiah "Monk-One" Sinclair, an underground NY Hip Hop artist, as he reaches the conclusion to let his vocation go simply because he feels it causes him more pain to practice and "starve" for his art than to persevere. But unlike normal films where we watch the lead character go through their trial like a silent intruder, Spit will take a different perspective. It will be a point-of-view film, totally from the eyes of Monk-One. Inspired by the works of Andrei Tarkovsky, his masterpiece "The Mirror" in particular, the film will focus less on narrative and will instead aim to be an experience of life through heartbeat and breath. Using the camera as his eyes and brain, we shall witness his viewpoint as he navigates faithlessness, race, gender roles, manhood, and American capitalism's stranglehold over artistic expression, all within the beast that is New York. It is an homage to all the artists who struggle in silence and all those who disappear in the struggle, leaving us to wonder where they've gone. 
Mtume started an Indiegogo campaign to raise loot for this project. Homie's goal is 5g's. He's getting there. He's $1,966, but my dude needs help. No money, no film, that's how it works. Any amount counts. I believe in Mtume. I don't post fundraising campaigns unless I have faith in the work. This is a film about Hip Hop, and it's getting made by someone within the Hip Hop community who was repping the culture back when people called it a fad. Now it's an institution. Whatever you can give, please donate here. He's got 30 days left, lets get it!
Read the TMG interview he did with former collaborator and rapper Homeboy Sandman, here. Below is a conceptual music video Mtume directed for vocalist Conchita Campos, for her ballad, "Ease My Mind."