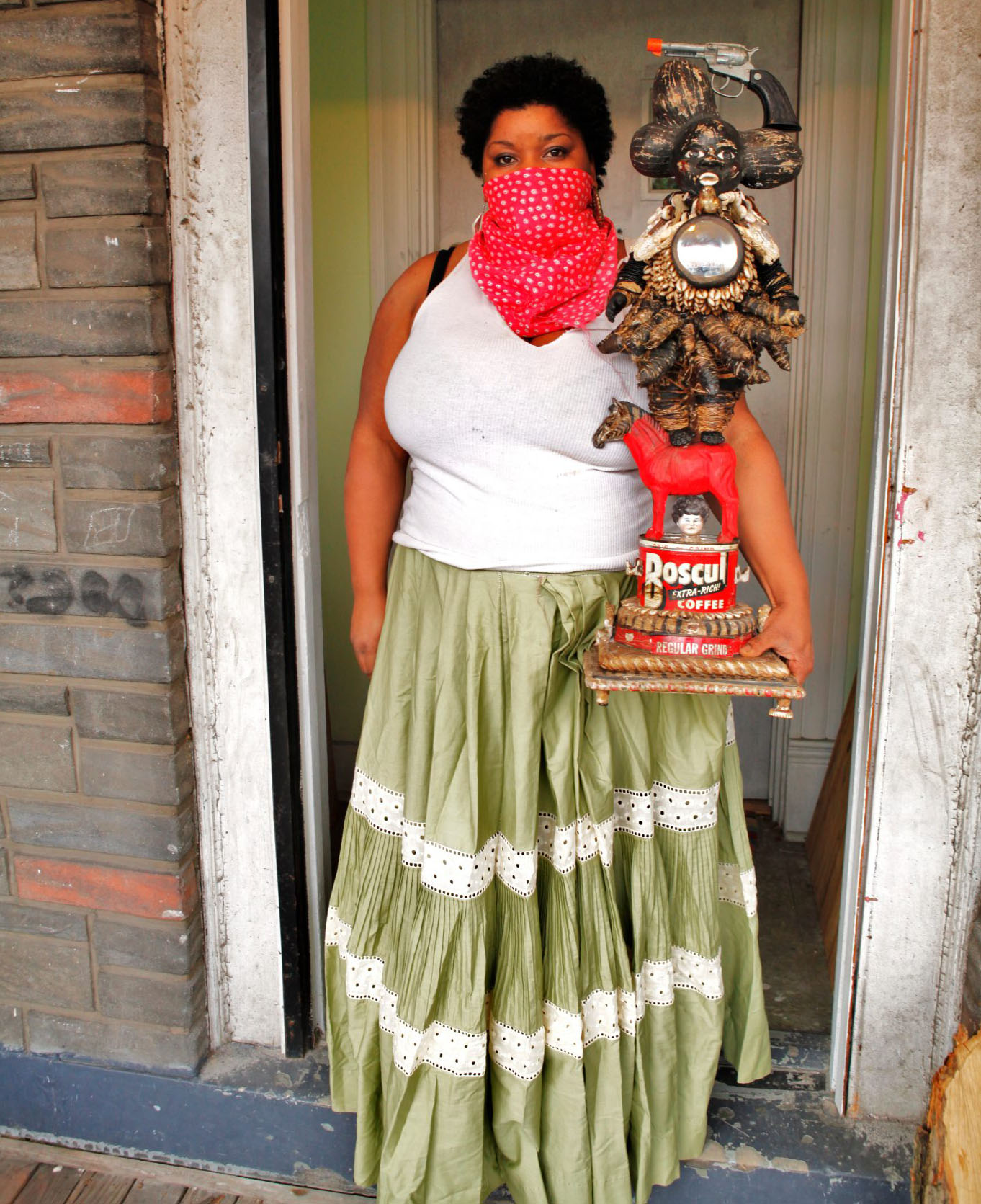 A tar-painted female figure shines forks for a halo. Her arms have eyes. She's holding a pair of old brown work boots as an offering. A second figure holds a banjo. She's skating on top of an alligator that's lying flat on a skateboard. A third wears electrical outlets for a dress. She's about to explode. Her chicken legs and tiny feet are seemingly too fragile to support her swollen body.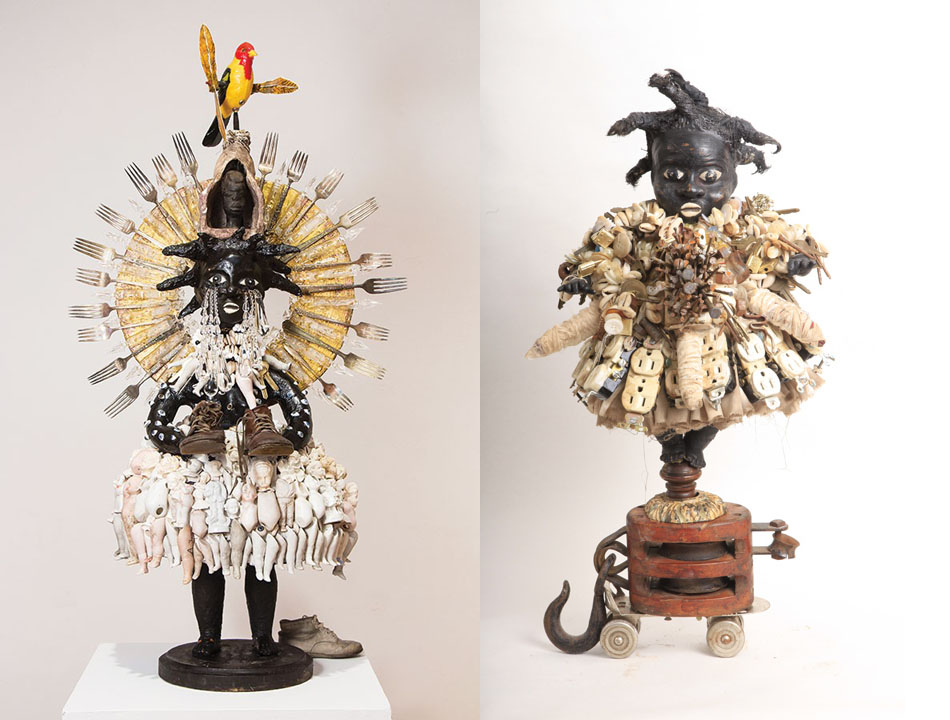 The lips of their cowrie shell mouths curl inward, speaking themselves into existence. Only when people see them, are their powers activated. Their big eyes stare into the awe of a viewer peering back at them. Perhaps these moonless-night-colored sisters rose out of the dead of things, of tar, of reverence, and reckoning. They are weapons of mass resistance, conduits to the unrepentant blackness of the universe.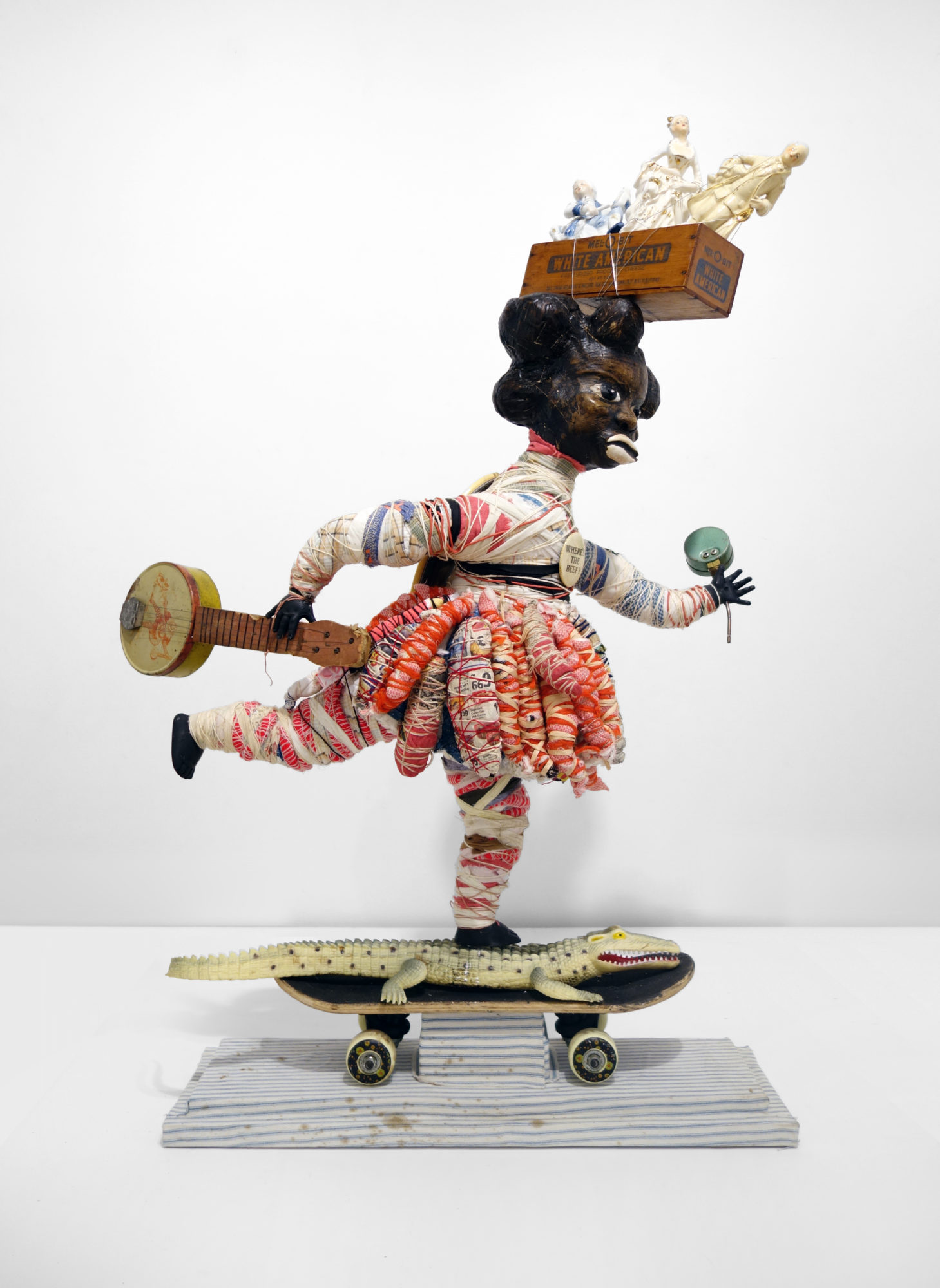 They're the offspring of self-taught artist, sculpture, poet, performer, photographer, and community activist, Vanessa German. She's well known in all circles of her many occupations. She grew up in Los Angeles before her family moved to Ohio and eventually settled in Pittsburgh. As one of five children in a family that didn't have a lot of money, German learned from her mother, herself an artist, how to make her own toys. "I was always making things," German said. Her latest installation, i come to do a violence to the lie, opened in July, at the Matrix 174 Gallery of Connecticut's Wadsworth Atheneum Museum.
The show includes an army of German's statuettes, 30 in all, inspired by the 1974 discovery of 7,000 terra cotta warriors buried in China, near the 2,000-year-old tomb of Chinese Emperor Qin Shi Huangdi. German's sculptures are a take on traditional "Nkisi" power figures from Central Africa, also known as Nkondi, or hunter. In the spirit of creating something from nothing, like South Bronx kids in the 70's that used their parents' turntables to invent Hip-Hop music, German uses tar, wood, nails, bottles, antique tins, beads, plastered cloth, kitchenware, and other found objects, to build black Madonnas. They refer to slavery, capitalism, the trauma of gun violence, and the nature of blackness. German's statuettes are alive, electrified, birthed through her "hands." 
"If my hands were anything other than hands/they would be two shooting stars/galloping light across the galaxy," German proclaimed, performing a poem at a Ted Talk conference. She said that her poem is about a poem that she wrote to cure a friend of cancer, "cause that's what all good poems do." Her performance was like an exorcism of doubt. Waving her arms that could've left trails of fire, she was trying to suspend the weight of gravity and sorrow, commanding the crowd to "rise." The black sides of her hands were backdrops to the light dance of the white side of her black hands. She was uninhibited, magnetized.
She wears her emotions the way she wears her own design-painted dresses and gowns, on the outside, bold, graceful, and unabashedly vulnerable, "I don't know any other way to be," she said, which could be considered reckless abandon, if it weren't audacious. Given the recent Orlando shooting, the numerous murders of unarmed black men, women and eight police officers, and the overseas terrorists' attacks, people's use of violence as a means to impose their version of societal change, has never been as acute as it is now. She admits that it's not "smart to be so vulnerable" but she's "not smart enough to lie to people." What kills the will of most aspiring artists is the thing that German creates without, fear. While her work has garnered national recognition and admiration, it's also attracted rhetorical hostility. German concedes that at this point in her career, she needs those she trust to help protect her, to make her feel like she's in a safe place. According to German, people have gotten more aggressive about "crashing boundaries" to confront her, especially white men, making her feel endangered. As a black lesbian woman thriving in a white male-dominated industry, her "rise" to some seems incomprehensible.
"I call it 'white disbelief' because only white men have this relentless questioning into…into…into, like they're trying to reveal that there's a machine inside of my chest that has a factory, that has hundreds of workers," she said. At the beginning of her recent exhibition, when the Wadsworth Museum was closing for the night, German did a last walk through to check on her installation, "I just wanted to bless the work one more time before I left," she said. Through the museum's staff, word got around to attendees that German, the woman adjusting the work among them, was the new resident artist. "What came out was, he basically didn't believe that I made the work," she said about a middle-aged white man that cornered her, probing about the actual artist behind her figures. "'It's impossible that you physically made all of these sculptures, that you wrote those poems, that you memorized them, that you took those photographs. You're a liar, you're stealing, you're cheating'," German said, impersonating attackers' allegations. "It just becomes this bizarre, aggressive attempt to disown the work from me." It's been a hell's winter for her to defend the fact that the work came from her "hands," but she doesn't combat them too long, before diagnosing their denial as a "sickness." "White people are not the center of my world," she said.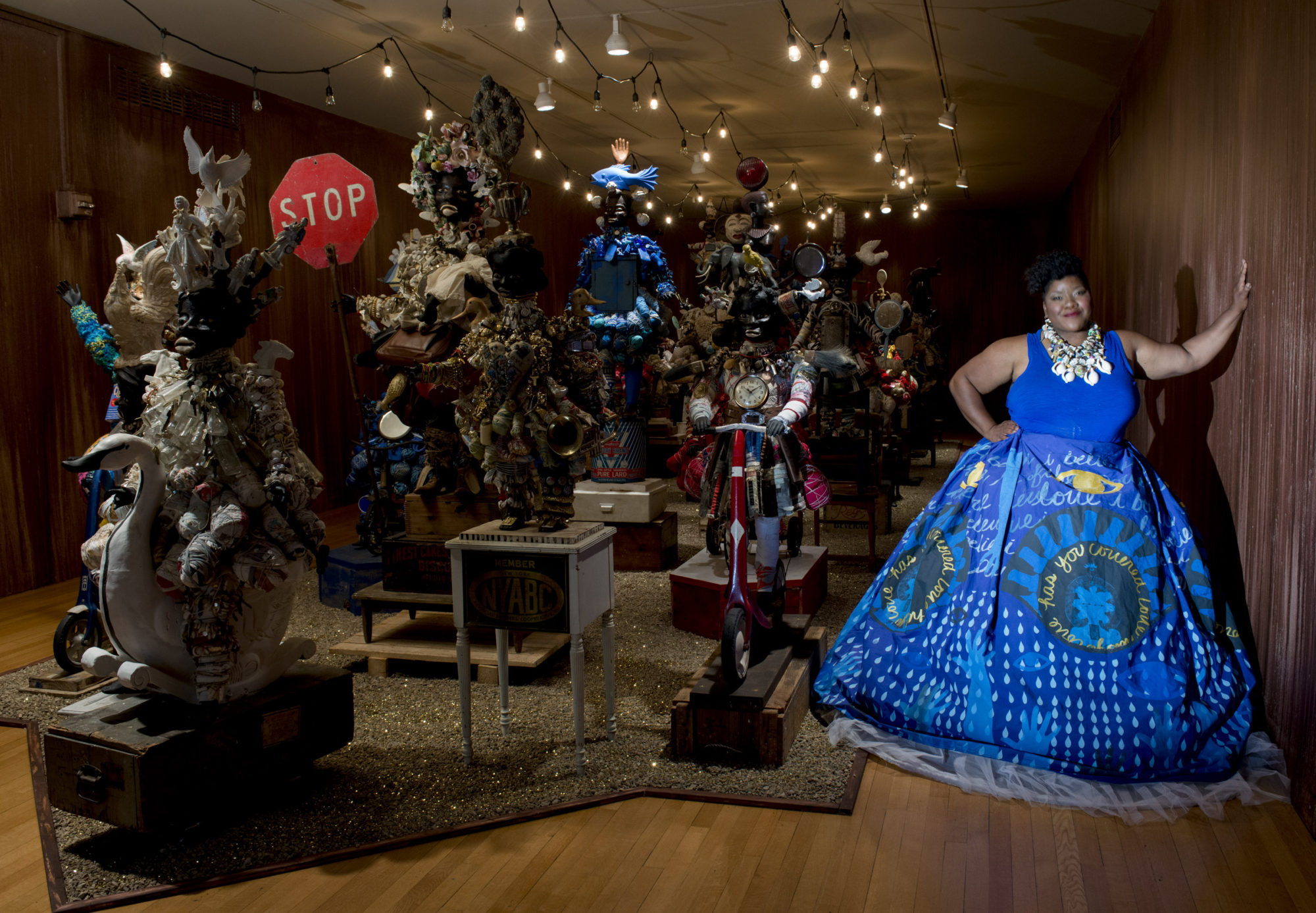 German said that people who encounter her work without knowing who made it, often ask, why are the figures so black? "If I were a white supremacist I would have great pain with that question. The truth for me is I actually work to make the most beautiful things that I feel," she said. When the National Endowment for the Arts posted her Huffington Post interview on their website, the "the amount of hate and vitriol that showed up in the comments section from black people was saying 'Another black artists who hates black people. Another black artist who hates herself?'" It gave German pause, "I'm a black female making images that represent black females…There is a twist inside of the logic that creating a black figure means hate of blackness and identity," she said. It's the flip side of the "sickness" that plagues white men of the art world.
"When somebody calls me black, I don't think horror, and I do not cringe on the inside, and I don't want to crumble and hide." She draws from a history of blackness that doesn't stop at "the colonization of America." It goes past recorded time and language. It's the "glistening substance of tar," the creator of creation, the bang, light, color, and sound. It's like dry wall hiding behind the painted layers of time and space. German said that it's a part of her "original DNA."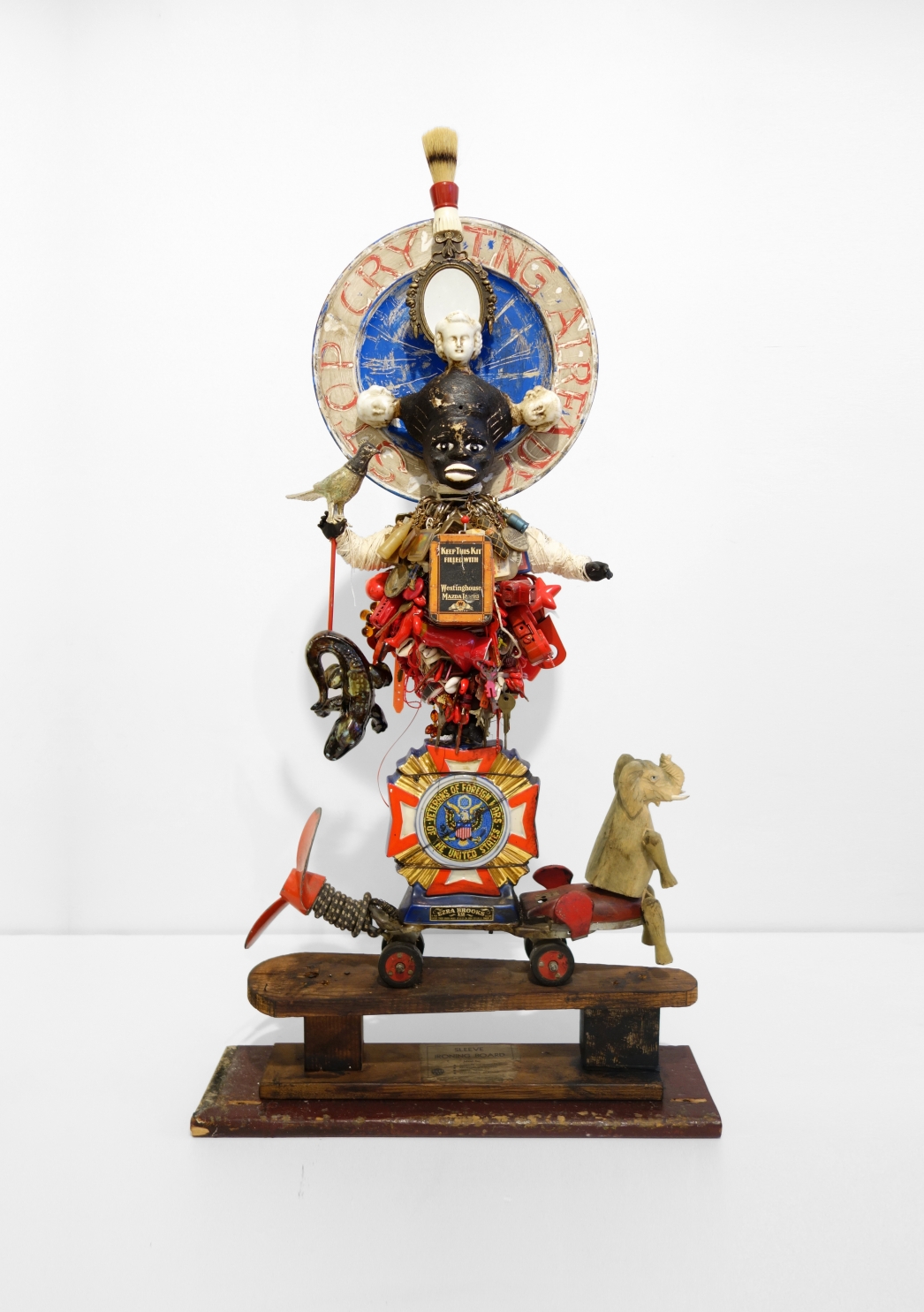 Two years ago at The University of Montana, which is a predominantly white school in an extremely white state, black students were angry that the school was featuring her work. On the day German was to present her figures, the black students occupied the school's art offices, and in the evening, before her talk started, they told her that they would publicly confront her. During German's talk they asked her why she made figures that resembled "the white gaze upon blackness," a reference to black face, minstrel shows, and the malicious images of black people.
"I said 'Well, let's talk about what we see.' Then there's this beautiful moment when we just look at the figure. And they say 'Ok, it's a black figure.' And I say, 'Well it looks black, but really it's this mix of everything, because it's tar," a substance produced through the distillation of organic matter, comprised of wood, coal, mud, and the decomposed flesh of wild life. "Then I say, 'So look at the eyes. Why would the eyes be big? What's wrong with big eyes? Well for me it's poetic. Big eyes have big sight…. They see into the past, the present, and the future, that's how big they are.'" She argued that comparing racist archetypes like Aunt Jemima and Uncle Moses to her figures, automatically presupposes black inferiority. "This has nothing to do with that. Now how do you look at their [the figures'] black skin and their big eyes and their big lips?'" She said that their cowrie shell mouths are from "a creature that makes it's home by secreting material from its own body. That's powerful…. So there's this beautiful moment when I say, where I am with it, and aggression seeps out of the room." One of the protesters was the daughter of a Black Panther. Wearing a black beret and military jacket, the girl admitted that she thought German was white since few, if any, black artists ever come to their school. The girl apparently left "totally different."
German lives in the Homewood section of Pittsburgh, which has the highest murder rate in the city. It's a neighborhood of colorful characters, deferred dreams, tomorrow's "black gold," and, low-income families. A third of its houses are blighted. Crime, drugs, and gun violence are the norm. The locals know German as the woman who works on her sculptures on her front porch. They honk and shout her out when passing while some stop to share news and updates. German knows everybody and everybody knows her. A couple years ago, in separate incidents, two people were shot and killed in front of her house. She found them both. The constant shooting eventually gave her high blood pressure. German's doctor told her that the reoccurring trauma has also caused her cortisol levels to rise, putting her at risk of other health problems. Hearing gunshots while sitting on her porch inspired German to make signs, "Stop shooting, we love you" and "You are so beautiful." She stuck them in front yards like campaign signs promoting politicians. Copies spread throughout the city.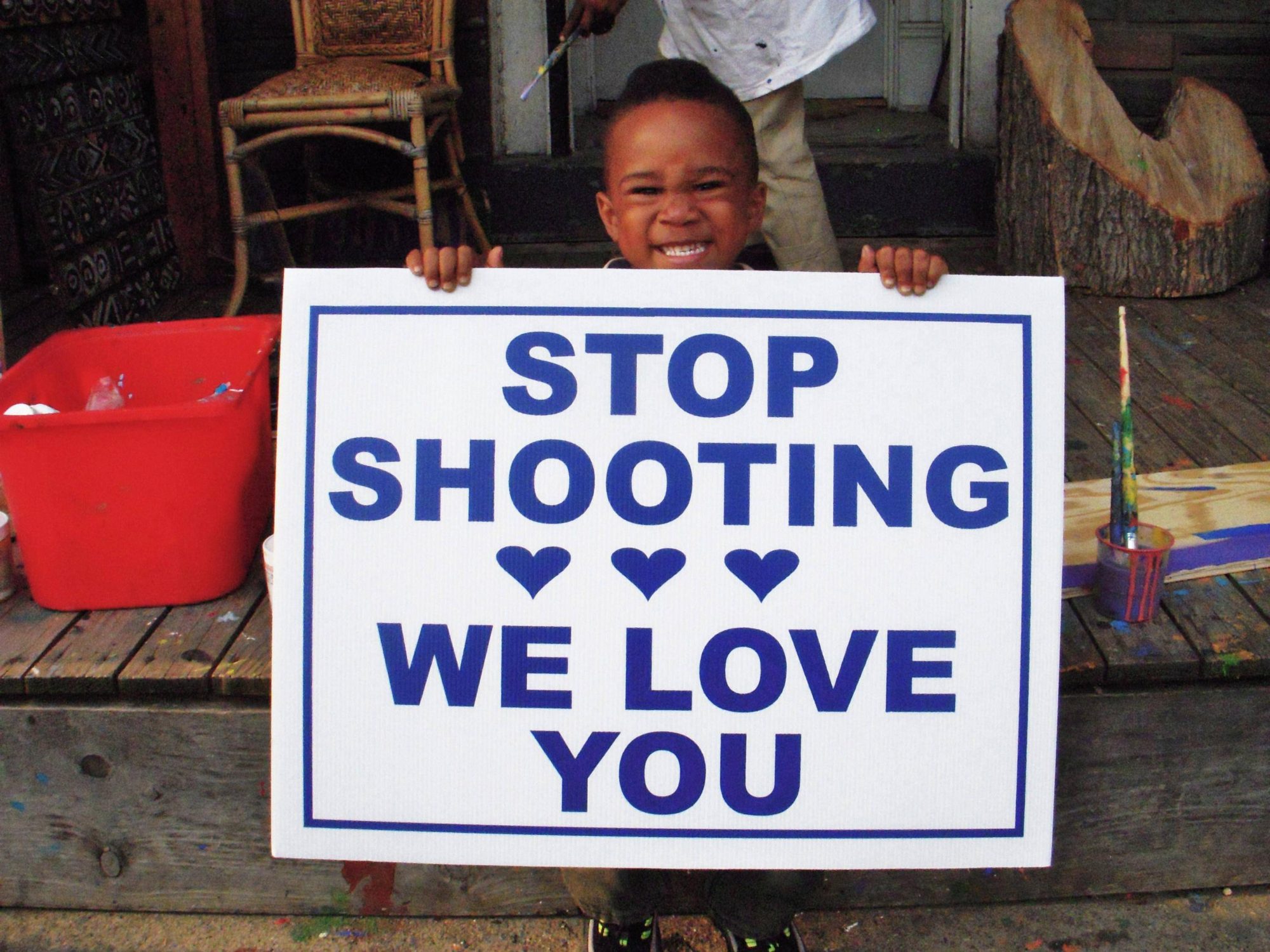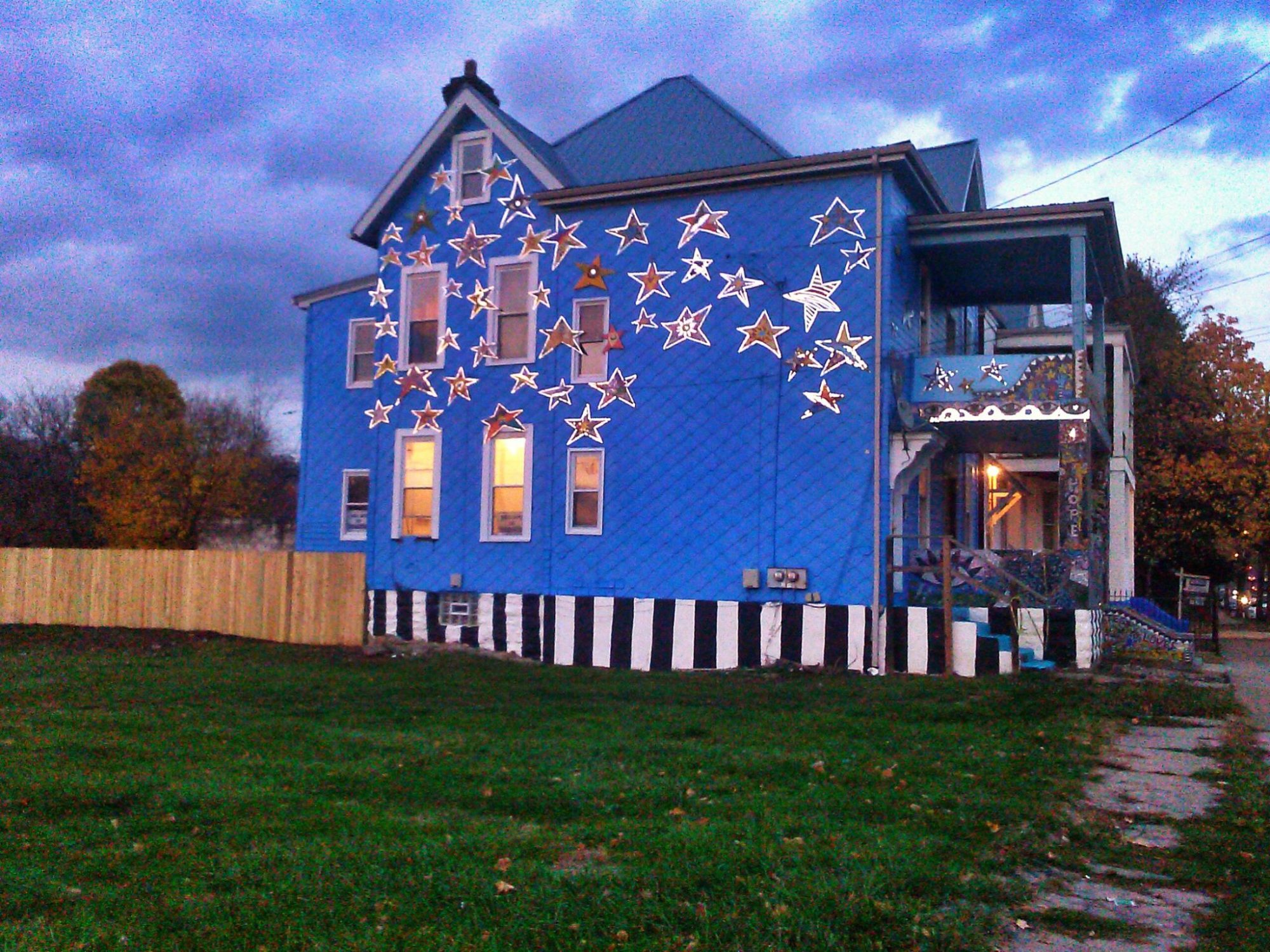 Soon, neighborhood kids started wandering onto her porch, wanting to make their own art. What was first called Love Front Porch turned into Arthouse, a communal art space that operated out of a house that German borrowed from Allegheny Housing Rehabilitation Corporation. Today, Arthouse has its own permanent sanctuary, another house that German and her friends bought through donations and German's art sales. Stars, mosaics, and murals decorate the two-story navy-blue painted house. On the second floor balcony it reads in broken tile, "We are all in this together."
German's accomplishments started with her making sculptures as a form of self-love because "It sucks to be sad all the time. Despair sucks," she said. "Looking out upon the world, and looking at faces that look at you like you ain't shit, sucks." Changing the self-defeating story that she would tell herself, gave her an alternative perspective that's embedded in the making of her figures, "When I'm juxtaposing different materials up against this sort of spectrum of infinite possibility…it's always breaking my mind, so my mind never gets a chance to get fixed on 'This is right. This is what the thing is.'"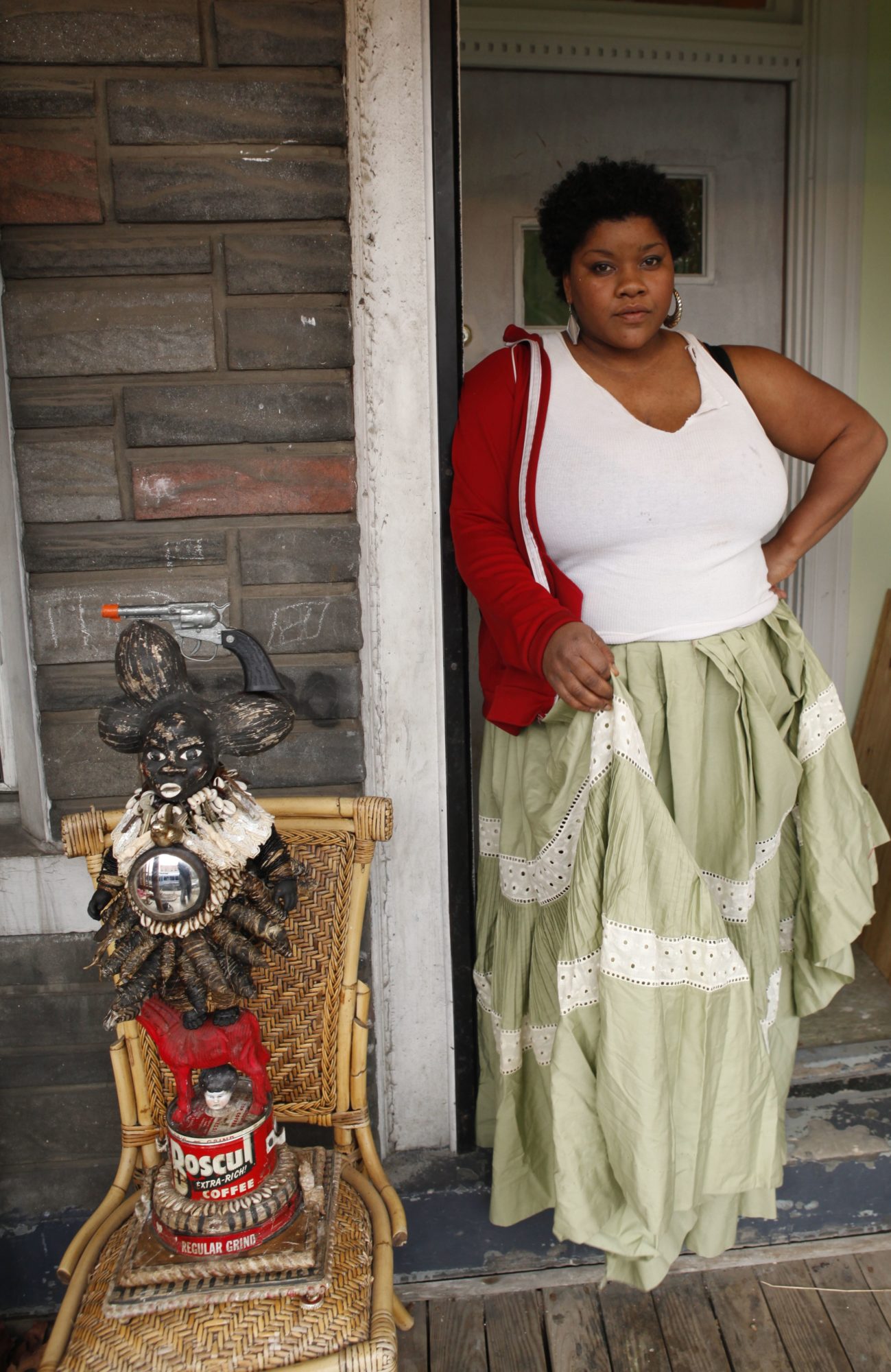 Her objective is to get as close as she can to materializing "the most innate and the most original parts of myself." She's also complicating the narrative to reclaim and reinterpret blackness. Like an earth-bound cluster of constellations that reflect the sky, her statuettes mirror the source, they are a violence to the opposite of the fact that black is indeed beautiful.

So far German's Matrix 174 installation at Wadsworth has inspired visitors to write to the gallery. For the oldest operating museum in the country, the volume of complimenting letters they're receiving has been unprecedented.


Originally published in August of 2016. Since this article was posted German has had numerous notable shows. At the moment she's gearing up to slay 2019.