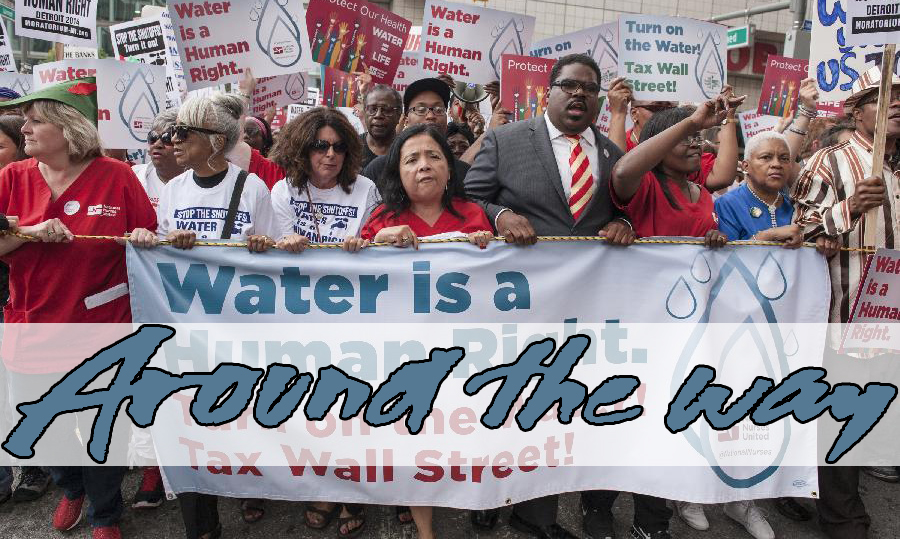 Detroit residents fight back over water shutoff: 'It's a life-or-death situation' – The beleaguered city says a water shutoff is essential to recoup $89m in overdue bills. But the decision has outraged thousands of Detroiters – who have taken matters into their own hands. [The Guardian]
15,000 Detroit homes had their water shut off. You can help where the government won't. [Huffington Post]
Democracy Now – Sharif Abdel Kouddous: Bombed in Their Homes and in the Streets, Where Can Gazans Flee?
Rula Jebreal criticizes MSNBC's Gaza coverage…on MSNBC. [Disinfo]
Democracy Now – Decrying "Brutal Operation Taking Place in Our Name," Israeli Military Reservists Refuse to Serve
'Professional scammers' refuse to leave Airbnb host's house. [CNN]
S.F. professor accused of peeping on young men. [SF Gate]
The Cornish beaches where Lego keeps washing up. [BBC News]
The FCC wants to let cities build their own broadband. House Republicans disagree. [Vox]
NY Times – No Credit? No Problem – The growing trend of predatory sub-prime auto loans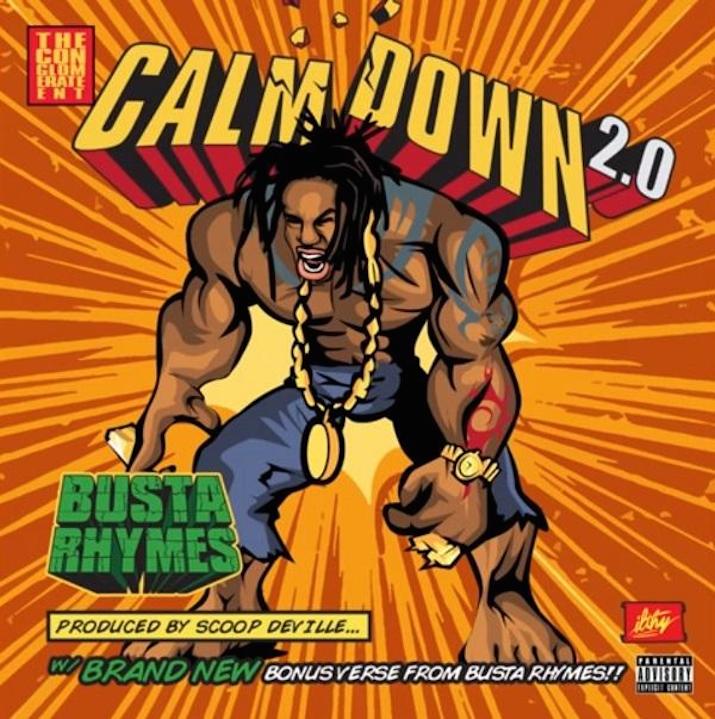 Busta Rhymes "Calm Down 2.0"
– As revealed in a recent interview on the Sway in the Morning show, there were multiple verses recorded by Busta Rhymes and Eminem for the track "Clam Down". Above is a version of the song with out Eminem's verse.
Busta Rhymes "Good Kisser (Remix)"
– Busta Rhymes' ill remix of Usher's "Good Kisser".
Iggy Azalea, "Shuffle Culture" And Why Genres Bend But Don't Break – Questlove explains the blurring lines of America's musical tastes. [Buzzfeed]
Vaporwave and the observer effect – Like many online microscenes, vaporwave turned into something else as soon as someone noticed it. [Chicago Reader]
Pattern Recognition Vol. 8.5: The year in Vaporwave (2013). [Electronic Beats]
Needle Drop review – Macintosh Plus Floral Shoppe (2011)
Did a Bollywood musician invent Acid House? [DJ Mag]
Wildstyle book and 7″/45  breakbeats set by Kenny Dope/Kay-Dee records. [Get On Down]
Mute Orange Is the New Black Character Was an '80s Pop Star – Annie Golden was in the Shirts and their video for "Hang Up the Phone" is the most '80s thing ever. [Spin]
Deltron 3030 – What's In My Bag?
– Dan the Automator and Del The Funky Homosapien (Deltron 3030) show off their eclectic tastes at an SF Amobea branch in the series What's In My Bag? We find out about Dan the Automator's off kilter movie selections (from Step Up to Cabin Boy – dang gotta revisit that one) and that Del The Funky Homospaien is a big Black Flag and Papoose fan.
10 songs you didn't know Raphael Saadiq wrote and produced. [Madame Noire]
Lil Jon commands you to #Bendova and explains the difference between "Turnt" and "Crunk". [Noisey]
The never-advertised, always coveted headphones built and sold in Brooklyn – Ars presents a mini-documentary on the low-profile, highly regarded Grado Labs. [Ars Technica]
Nardwuar vs. Yung Lean, Sad Boys, and Bladee (Gravity Boys)
"I F*cking Hate @RuPaul" – Filmmaker, writer, and trans activist Andrea James on the current state of post-disruption journalism and its unhealthy addiction to Twitter, and LGBT brain drain. [BoingBoing]
Black gay slang, explained to suburban white people. [Thought Catalog]
Internalized homophobia – LGBT folks who hate on other LGBT folks and themselves. [Revel & Riot]
Mannie Fresh on New Orleans bounce music and sissy bounce gay rappers
The rise of the VJ – "There are many unsung heroes in clubland, but non more so than Visual Jockeys (VJ's). These artists spend countless hours preparing visuals, which transfix; yet many are hidden away backstage and often receive zero credit from the public. Our coveted reporter Simon Murphy catches up with Melbourne based VJ "vdmo Kstati" and attempts to learn more about the artform." [Change]
Blink-182 has a new album in the works, Tom DeLonge confirms with awesome photo. [Huffington Post]
Les Claypool on creating his duo De Twang and recording the new Primus album. [SF Weekly]
Nardwuar vs. MØ
Unfinished documentary about unfinished Nicolas Cage Superman movie gets trailer. [Yahoo Movies]
Yellowface staging of Mikado has to end – Tradition is no excuse for the staging of yellowface Mikado production in Seattle. [CNN]
Model Minority Rage: Why the Hulk Should Be an Asian Guy – Captain America is black. Thor is a woman. The ideal Bruce Banner is a cuddly teddy bear, an adorkable loser, likable in a wussy kind of way. He's totally harmless—until he isn't – Arthur Chu. [The Daily Beast]
Munchies – The 10,000 Calorie Sumo Wrestler Diet
Star Trek's John Cho breaks barriers as romantic lead: 'I would call this revolutionary' – "Asians narratively in shows are insignificant," says John Cho, the romantic lead in the fall series Selfie. "So to be in this position . . . is a bit of a landmark." [The Star]
Jim Lee is giving away 50 sketches at this year's San Diego Comic Con. [Angry Asian Man]
Star Wars: Episode VII' casts Christina Chong. [Variety]
Walking Dead star Steven Yeun is writing and producing his own projects to create better roles for Asian actors. [The Wrap]
YouTube star Michelle Phan sued over copyright breach. [BBC]
Rapper Rekstizzy's Gumship Radio podcast interview with actress Annie Q. [Gumship]
Nerds of Color – Hard NOC Life Episode 020: The Nerds of Cosplay
5'7" Japanese PG Yuki Togashi Is taking over the NBA Summer League. [Bleacher Report]
Cavalier Move: LeBron James Returns to Cleveland – What LeBron's decision means for the NBA and the city of Cleveland. [Rolling Stone]
Asian Americans celebrate Jeremy Lin's trade to the L.A. Lakers. [Wall Street Journal] 
Jeremy Lin interview on June 10, 2014 with Marc Lamont Hill on HuffPost Live
A Supercut of Computer Hacking in Movies From the 1980s. [Laughing Squid]
What's original? Cloning games versus making games. [Raph Koster]
Japanese artist Makoto Azuma launches beautiful plants into stratosphere. [BoingBoing]
We spoke to Johnny Clayton, the guy who made Aphex Twin creep us out. [Thump]
Beyond Exotic: Asian American artists retell Ai Weiwei's story. [Huffington Post]
Vice – The Jim Norton Show – Mike Tyson and Dana White part 1 & 2
Magic Mushrooms inspired Frank Herbert's Dune. [Dangerous Minds]
Comic-Con vs. the Bechdel Test – Popular fiction has evolved, but big-time fails in female representation mean the challenge is still relevant. [San Diego City Beat]
De Stijl-styled wine bottles inspired by The Simpsons'. [Juxtapoz]
The gleefully twisted absurdist animations of Chirddof. [Dangerous Minds]
Idalis de Leon MTV VJ Segment, Part One – December 1996
– Remember that VJ Idalis on MTV back in the 90s? What ever happen to her?
Animated Sheet Music: "So What" by Miles Davis
Beastie Boys' album Paul's Boutique turns 25 today. [paulsboutiqueavc]
Get On Up (2014) – James Brown biopic – trailer
James Brown "Funky Drummer (DJ Day Cut Out the Lights Mix)"
Salsoul Records, the preeminent label of iconic disco, is being reissued by U.K.'s Big Break – Catch the Salsoul disco experience at NYC's Summerstage and win classic reissues! [Wax Poetics]
The Disco Scratch – DJ Woody
Stevie Wonder – BBC "Hotter Than July" – Documentary (1981) *Rare*