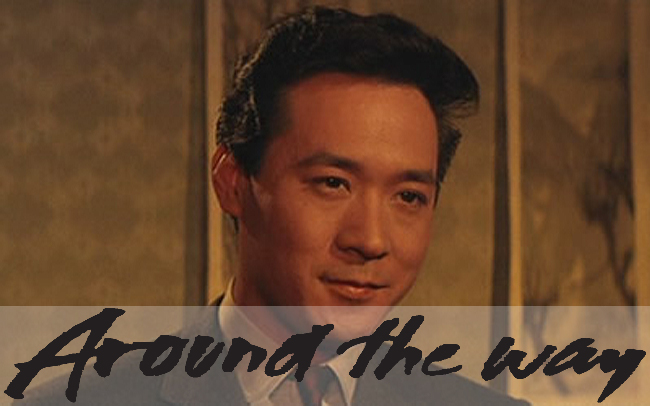 On Monday July 28th, 2014 pioneering Japanese American actor James Shigeta passed away at the age of 85. [Variety] [Hollywood Reporter] [Den Of Geek] [NY Times] [LA Times] James Shigeta was a pioneering Asian American actor who debuted in the 1959 film The Crimson Kimono, a Noir film about a murder case of a local entertainer investigated by two detectives (Korean war veterans) with an interracial love triangle in which James Shigeta's character Detective Joe Kojaku develops a romantic bond with the character Christine Downes (played by Victoria Shaw) to the dismay of Detective Sgt. Charlie Bancroft (played by Glenn Corbett). The Crimson Kimono though ahead of its time in terms of dealing with interracial relationships still suffered many problematics.
The Crimson Kimono (1959)
James Shigeta went on to act in many films and TV roles over the years, most notably in the predominantly Asian American cast Flower Drum Song (1958), Hawaii Five-O TV Series (1968), Mission: Impossible TV Series (1970, 1989), Kung Fu TV Series (1974-75), The Streets of San Francisco TV Series (1976), Magnum, P.I. TV Series (1983-86), Die Hard (1988), voice acted in Diseny's Mulan (1998), Brother (2000), voice acted in Avatar: The Last Airbender animated TV series (2005), and in the recent indie Asian American rom com film The People I've Slept With (2009).
Flower Drum Song (1961) trailer
James Shigeta Q&A – The Crimson Kimono – Dec. 6, 2007 – Meniscus Magazine
James Shigeta was a pioneer for Asian Americans in entertainment, TV and film. He's one of the giants on whose shoulders younger Asian American actors and entertainers like Steven Yuen, John Cho, Daniel Dae Kim, and others stand on. James Shigeta may your work continue to inspire creativity in future generations of actors and entertainers.
James Shigeta Tribute – San Francisco Asian American Film Festival 2006
Ex-Israeli soldier speaks out… what he says will change everything you think you know about Israel! [Digital Resistance]
Jewish and Arab people are posing together in inspiring photos saying "We refuse to be enemies". [Buzzfeed]
Brian Eno condemns Israeli action in Gaza as 'ethnic cleansing' – The producer took to David Byrne's website to write an open letter, characterizing Israel's military action against Palestine as a 'colonialist war' by a 'ragingly racist theocracy'. [The Guardian]
Democracy Now – As Gaza Ceasefire Collapses, Israel Kills Dozens Following Soldier's Capture in Rafah
No Christianity under the 'Islamic State'? – The Stream discusses the conditions for Iraqi Christians who've been forced out of the city of Mosul. [Aljazeera]
Video shows Islamic State blowing up Iraq's tomb of Jonah. [NPR]
Iraqis worldwide say #No2ISIS – Iraqis launch selfie campaign to reject sectarianism amid armed rebellion in the country.[Aljazeera]
"Buddhists Betray the Teachings" – Jack Kornfield on the anti-Muslim violence in Burma. [Shambhala SunSpace]
During one-day cease-fire in Ukraine, team reaches site of plane crash, collects DNA. [Washington Post]
Op piece – The hidden hands behind East-West tug of war in Ukraine. [Aljazeera]
The New Scramble For Africa – Caught between competing powers to the West and East, how can Africa emerge from the race for its riches? [Aljazeera]
W.H.O. says outbreak of Ebola virus is outpacing control efforts. [NY Times]
How Ebola Works. [BoingBoing]
The world tweets support for Ethiopia's bloggers today. [BoingBoing]
Democracy Now – Jeremy Scahill: Leaked U.S. Terrorist Watchlist Rulebook Reveals "Global Stop and Frisk Program"
Blacklisted – The secret government rule book for labeling you a terrorist. [First look]
Democracy Now – Mass U.S. Surveillance Targeting Journalists and Lawyers Seen as Threat to American Democracy
San Jose police department's secret drone purchase: Where's the accountability? [ACLU Northern California]
White House 'accidentally emailed' torture report talking points to AP reporter. [BoingBoing]
39 pieces of advice for journalists and writers of color. [Buzzfeed]
Why Poor Schools Can't Win at Standardized Testing – The companies that create the most important state and national exams also publish textbooks that contain many of the answers. Unfortunately, low-income school districts can't afford to buy them.  [The Atlantic]
Ruling: McDonald's is responsible worker pay and treatment. [Fortune]
How bad is California's drought? This Bad. [Gizmodo]
'Purple Rain' taught me how to be in a band. [NPR]
A retrospective of Los Angeles in the 80s. [LA Mag]
Psychedelic blues artist Noura Mint Seymali from Mauritania. [Noisey]
Kids (1995)
A Kids cast member is making a documentary about Kids. [Vice]
Film director, producer, and screenwriter Harmony Korine (Kids, Spring Breakers, Gummo, Julien Donkey-Boy and Mister Lonely) interviews experimental filmmaker Kenneth Anger. [Interview Magazine]
Harmony Korine working on screenplay to star Robert Pattinson. [Disinfo]
The Beastie Boys' Mike D on How the Biggie–Tupac Feud Changed Hip-Hop
Mike D Explains Why You Can't Wear Spandex at a Gas Station Anymore – Continuing his nostalgia tour of the 90s, the Beastie Boys founder remembers grunge fashion, pot culture, The Arsenio Hall Show, and hip-hop's "apex moment."
Mike D on the making of the Beastie Boys' "Sabotage" video
Beastie Boys' Ill Communication audio commentary
– This year marks the 20th anniversary of the Beastie Boys' classic Hip-Hop album Ill Communication, which was released on May 23, 1994. Here is an audio commentary from the Beastie Boys recorded Oscilloscope Laboratories, New York; March, 2009; as part of the deluxe re-issue.
Atlanta to Atlantis: An Outkast retrospective – 20 years ago on April 26, 1994 Outkast released their debut album Southernplayalisticadillacmuzik – This is a retrospective from Pitchfork of Outkast's career. [Pitchfork]
NPR's Microphone Check – Cormega: 'I Just Want To Be A Soldier For My Culture'
– via NPR's Microphone Check.
From Alt.Latino, Five Conversations With Latin Music's Finest. [NPR]
Scene Unseen – Episode 1: Dancehall in Japan
– A short documentary about Dancehall music scene in Japan. Via Pulse.
Rekstizzy "You Can't Be Serious"
– "You Can't Be Serious" a new single by rapper Rekstizzy get's a music video release. The track has an introspective, stream of consciousness styled lyrics over a dreamy, chillwave, glitchy, and tumblr friendly beat. 
Wax and Wane: The tough realities behind vinyl's comeback. [Pitchfork]
The Distortion of Sound 
– A documentary about the decline in sound quality and how the development of technology has changed the way we listen to music.
The Wire creator David Simon announces new drama, Show Me a Hero – Paul Haggis will direct Oscar Isaac and Catherine Keener in the six-hour HBO miniseries, which will explore racial friction in Yonkers, New York. [The Guardian]
Christian group blasts Adult Swim's Black Jesus, to surprise of no one: video. [Deadline]
Original art from the greatest private comic collection on earth. [BoingBoing]
Mike Tyson Mysteries – San Diego Comic Con 2014 Sneak Peek – Adult Swim
– As hinted on Vice's The Jim Norton Show by Mike Tyson himself, here is a sneak peek trailer of the Mike Tyson Mysteries Adult Swim action adventure cartoon were iron Mike's sidekick is a pigeon.
Women taking photobooth 'selfies' from the 1900s to the 1970s (and beyond). [Dangerous Minds]
U.S. social media asks: Who is that woman in black? [Reuters]
'The Negro Motorist Green Book': An eye-opening look at 'traveling while black' in postwar America. [Dangerous Minds]
Vice: The Jim Norton Show with guest the real Rick Ross