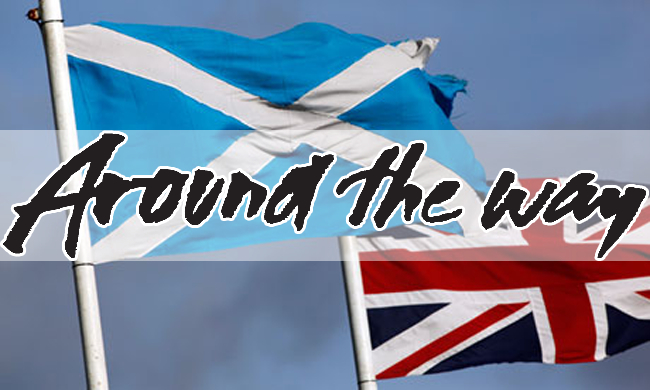 Scotland votes against independence, 55% no to independence vs 45% yes to independence. [Buzzfeed] [Buzzfeed]
Braveheart (3/9) Movie CLIP – They Will Never Take Our Freedom (1995) HD
Last Week Tonight with John Oliver: Scottish Independence
Noam Chomsky (2014) on "Scottish Independence"
What Scottish indie musicians think about independence. [Vice]
Scots musicians react as the country rejects independence – In Rustie's words: 'Scotland, u fukin shitebagss.' [Dazed]
Democracy Now – A People's Climate Movement: Indigenous, Labor, Faith Groups Prepare for Historic March
Democracy Now headlines 9-19-2014. [Democracy Now]
L.A. schools police will return grenade launchers but keep rifles, armored vehicle. [LA Times]
Florida schools open their doors to Satan. [BoingBoing]
The Duncan Trussell Family Hour – Episode 120 Lucien Greaves – Lucien Greaves from the Satanic Temple joins the DTFH to talk about Satan and the many good things the SATANIC TEMPLE is up to these days. [DTFH]
The Gabriel D. Roberts Podcast #2 – Punching Stagnant Ideology In The Face With Daniele Bolelli 
Mix and match religions? Kicking ass? Facing death? Finding enlightenment in the mean streets? All in a day's work for Daniele Bolelli! Podcast #2 is on fire with the power of the Drunken Taoist!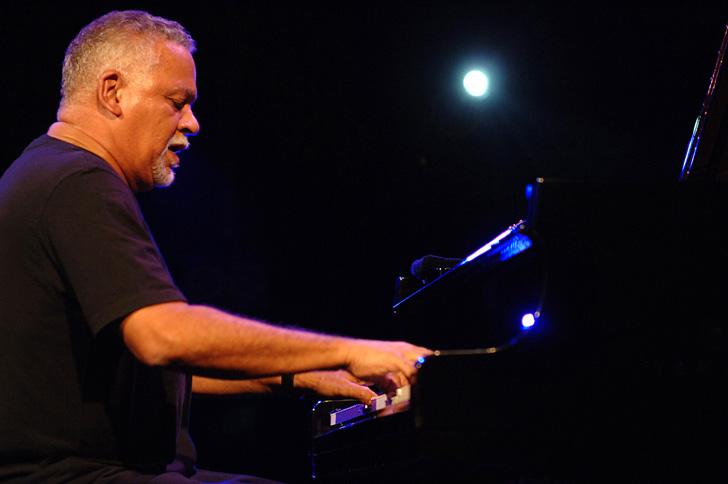 Joe Sample dies at 75 (last Friday 9-12-2014); jazz-funk keyboardist founded the Crusaders. [LA Times]
Keyboardist and Crusader Joe Sample left a major legacy of soul-jazz, R&B, and hip-hop. [Wax Poetics]
2Pac "Dear Mama" (1995) 
Joe Sample "In My Wildest Dreams" (1978)
– Here is a list of songs that have sampled or cover Joe Sample's music over the years.
Hot 97 – A-Trak in depth.. His DJ Battle roots, breaking barriers
Raptors Halftime Show – DJ Jazzy Jeff, Skratch Bastid, Hedspin & Four Color Zack
DJ Babu – "Rhythm Roulette" – Mass Appeal
Thump+Olmeca documentary series – Switched On: A Journey Through Electronic Music (1967 to the present). [olmecaswitchedon.com]
BEATZ – Divergences & Contradictions of Electronic Music SUBT EN
– BEATZ is a new documentary about the current state of DJ/dance music culture, touching on the never ending and contentious debate over analog vs. digital, sync vs. beat matching. This documentary feature a diverse cast of DJs such as Derrick May, Carl Craig, Boys Noize, Nicolas Jaar, and many more.
Eduardo De La Calle (72 min)

Filmed with practically no budget, minimal technical resources but a fervent desire to document an important piece of music history, "Beatz" is the result of three years of effort and the absolute dedication of Eduardo De La Calle, with help of Vincent Livolsi, Daniel Arasanz and Iban Ugalde. The film is shot in various cities including Berlin, Tokyo, Barcelona, New York, Amsterdam and Paris and functions as rapid subjective summary of today's dance music scene, from its origins to the professionalization of the genre and the paradigm shift that has come with the digital age. Pedro Pantaleon and Eduardo De La Calle ran the musical selection and the script was written by Daniel Arasanz.
Real Talk: DVS1 on respect, photography on the dancefloor, and the battle between art and entertainment. [XLR8R]
Bogota Hardcore. The New Sound of the Colombian Underground. [Thump]
The 20 best Acid House records ever made. [Fact]
10 Melbourne Bounce tracks to listen to. [EDM Sauce]
For more Melbourne Bounce check out [melbournebounce.com.au]
From charred death to deep filthstep: the 1,264 genres that make modern music – A 'data alchemist' has split music into over 1,000 bewildering microgenres. But what lies out there beyond witch house, and what on Earth does skweee sound like? [The Guardian]
TB-303 Documentary – Bassline Baseline (2005)
On Avicii, Adele, and the inevitability of burnout – The grueling toll on health for touring/performing artists. [Do Androids Dance]
Tiga's six golden rules for producers. [In The Mix]
Artist Tips: Addison Groove shares five of his production secrets. [XLR8R]
Noisey: NEHRUVIANDOOM (MF DOOM X Bishop Nehru) – "CASKETS". [Noisey]
Easy Mo Bee traces Ice Cube & Big Daddy Kane's influence on Biggie's "Ready To Die". [HipHopDX]
This is how Freeway and The Jacka pulled off 'Highway Robbery' without a major label. [MTV]
Be With Records reissues vinyl copies of Leon Ware's 1982 self-titled LP, the Streets' A Grand Don't Come for Free, and Ned Doheny's Hard Candy. [Wax Poetics]
Day 50 of 100 Days of Vinyl series by preferredclassics.com, where vinyl enthusiasts share their personal story about a connection they have to piece vinyl recording. The record chosen for Day 50 is Modern English "Dawn Chorus". [preferredclassics.com]
DJ Sureshot compiles 27 boogie tracks for Ubiquity's new Sheridan House box set. [Wax Poetics]
The Rolling Stones' studio receipt for recording 'Wild Horses' and 'Brown Sugar'. [Dangerous Minds]
PC Music: Are they really the worst thing ever to happen to dance music? [Vice]
On Death and iPods: A Requiem. [Wired]
'Man of 10,000 Sound Effects' Michael Winslow sing Led Zeppelin's "Whole Lotta Love'
World's finest soundtrack reissue labels merge (and 2001's lost score!). [BoingBoing]
CD-loving Japan resists move to online music. [Yahoo]
Exploring Japan's secluded Grime scene. [Vice]
Japanese DJs defy "no dancing" laws with a killer club music compilation. [Thump]
Cambodian surf rockers were awesome, but the Khmer Rouge killed them. [Vice]
5th grade girl discovers Dead Kennedy CD at school library; writes diary entry about it. [Dangerous Minds]
George Mason University Green Machine plays Rage Against The Machine "Killing In The Name"
The Soul of the Censor – Censorship at work. [NY Books]
The Hijacking of Philosophy. [Things That Should Still Exist]
'What Every Child Needs To Know About Punk Rock' is a real children's book that actually exists. [Dangerous Minds]
My Rules: Gorgeous book of punk, Hip-Hop, skate photography by Glen E. Friedman. [BoingBoing]
Watch Martin Scorsese's bloody 1967 anti-Vietnam war short, 'The Big Shave'. [Dangerous Minds]
Most feminist moments in sci-fi history. [NY Mag]
For Posteriors' Sake – An NY Times article about "Butts". [NY Times]
'Fresh Off The Boat' 2015 Premiere: 7 Reasons To Watch ABC's New 'Modern Family' [VIDEO] [IBT]
Toke N' Tusk: Kevin Smith's new horror comedy aimed at stoners. [Dangerous Minds]
The online legacy of a suicide cult and the webmasters who stayed behind. [Gizmondo]
Heaven's Gate still open for business. [kottke]
Violent bigots tracked down with Twitter and Facebook. [BoingBoing]
The Moped Gangs of London: UK Bikelife
Out with the Outcasts: Meet the biker gang from 'Alan Partridge' country. [Dangerous Minds]
Vice – Fringes – Black Bike Week
Angel City: A Los Angeles time-lapse video
"I Left My Heart" SF Timelapse Project