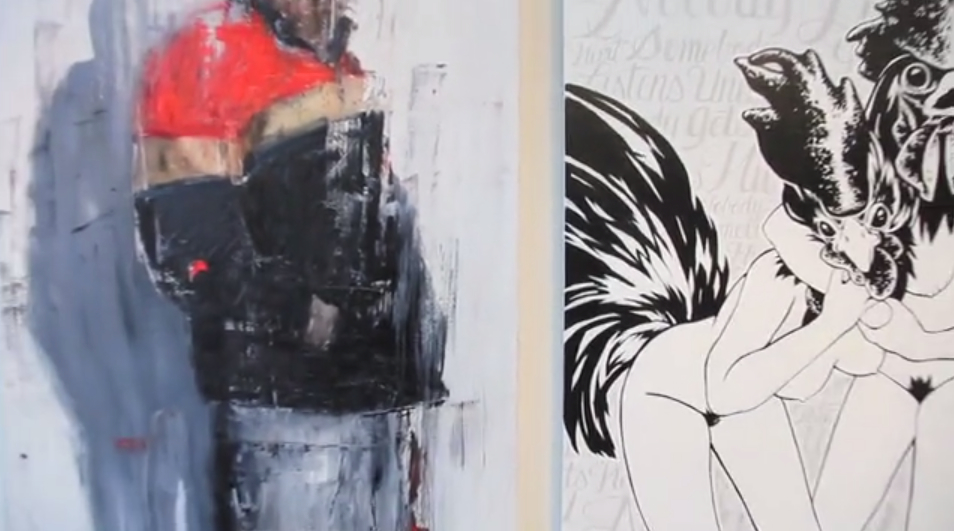 Oakland, California's Loakal Gallery was recently a mad house. As part of the second annual Carpe Diem event, 19 artists raided the spot and painted a piece over the course of one day. The reception showcasing their finished paintings is in a couple days, Friday, April 4, 6-10pm. Some of the artists will be present, but if you miss the opening, the work will be up at Loakal through April 29. A lot of well known or favorable names were in the line-up. Below read the list of artists involved and the gallery press release written by artist and curator Eddie Colla.
The second annual Carpe Diem took place this past Saturday. This year was about twice as big and about twice as dope. 19 artists working together in one space for one very long day. Inspiring, totally fun and exhausting. The work produced was simply incredible. It's amazing what can happen in just one day. A total transformation. It's my favorite event to curate and my favorite event to participate in.

Line-up: Brett Amory, Zoltron, Skinner, Jessica Hess, John Casey, Marcos LaFarga, Jet Martinez, Cannon Dill, Lauren YS, Max Kauffman, John Wentz, Eddie Colla, Ian Ross, Hueman, Nite Owl, Lisa Pisa, Chris Granillo, Reggie Warlock, Daryll Peirce and Cameron Thompson.
Sam Grant filmed the chaos as the day took shape.