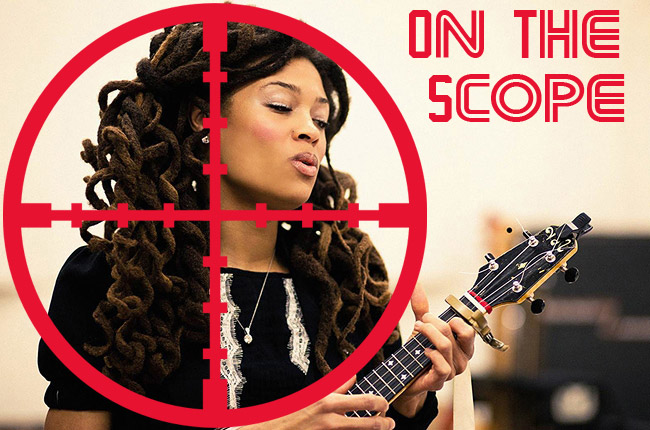 "On The Scope" is a new TMG post series that shines light on ill new, old, forgotten, and overlooked tracks, artists and music must reads. Here's a sampling of what we've discovered on our travels through the "series of tubes."
Part II of Questlove's "Mo' Money, Mo' Problems: How Hip-Hop Failed Black America" here.
MNEK "Every Little Word"
– Up and coming 19-year-old UK South London singer, producer, song writer MNEK's newest track "Every Little Word" is a funky modern electro boogie R&B banger. He's got a bunch of singles, remixes, and production for other artists out there, and right now he's working on a debut album, look out for that.
Popcaan "Everything Nice"
Remix featuring Mavado
– New dancehall banger from Popcaan (coming out of Vybz Kartel's camp) called "Everything Nice" with a remix featuring Movado. This tune will have the dance floor wine for sure! Producer Double Dutch (from Austin, TX by way of Brooklyn, NYC) is on the beat. Fiyah!
Locksmith – "Hardest Song Ever" (feat. Leah Tysse)
– SF Bay Area's own rapper Locksmith gets deep with this track "Hardest Song Ever" featuring singer Leah Tysee. This is the first single off Locksmith's upcoming album A Thousand Cuts.
D.O. feat Joell Ortiz and Saukrates – Capture the Moonlight [Produced by Classified]
D.O. (Defy the Odds) – Intro : Still In It [Produced by Classified]
– D.O. (Defy the Odds) is a rapper from Toronto, Canada with a new album Down Home coming out soon. Here are two singles released from Down Home, "Capture The Moonlight" (featuring Slaughterhouse's Joel Ortiz, Saukrates) and "Still In It," both produced by fellow Canadian rapper, producer Classified.
Jetta "Crescendo" [Produced by Pharrell]
– New tune from UK pop rocker Jetta "Crescendo," produced by Pharrell. This is a single off an upcoming EP, look out for that.
Priscilla Ahn – Dream (Official Video)
– Korean American indie folk singer, songwriter Priscilla Ahn's "Dream" from her album A Good Day (Blue Note, 2008). If your into indie folk, dream pop, this is up your alley.
Valerie June: NPR Music Tiny Desk Concert 2013
– Valerie June's performance on NPR's "Tiny Desk Concert" series. Valerie June is a singer, songwriter, and multi-instrumentalist, whose style is a mixture of folk, blues, gospel, soul, country, Appalachian and bluegrass. Soulful, and charming tunes.
Studio A: Meet Malaysian Pop Singer Yuna
StudioA: Meet Malaysian pop singer Yuna
– A performance by Malaysian singer Yuna for USA Today's "Studio A" performance series. Yuna's musical style is described as folk rock, R&B, indie pop. Soul touching music.
Spoek Mathambo "Control"
– South African artist, producer, singer-songwriter, rapper Spoek Mathambo 2011 cover of Joy Division's "She's Lost Control".
Mr. Carmack & Ta-ku's "Miss You Most (At Night)"

– Hawaii-based producer Mr. Carmack and Japanese DJ and producer Ta-Ku came together, joking around and came up with this experimental, electrified, soul, R&B jam "Miss You Most (At Night)".
Tinashe – Vulnerable (Pomo Remix)

– Montreal, Canada based producer Pomo (HW&W) remixes one of R&B singer Tinashe's track "Vulnerable". Pomo gives the track a more funky, sexy synthy, smooth sound.
Broods – Bridges (L D R U Remix)

– Sydney based LDRU remixes New Zealand indie pop duo Broods' hit single "Bridges" of their self titled EP. LDRU gives the track a trap sound, "teach me how to dougie" like drums, bugged out synths, overall a smooth hollowed out dance floor ready tune.
Fatima "Do Better" (Prod. Floating Points)
– Swedish soul singer Fatima's new track "Do Better" is off an upcoming debut album Yellow Memories. The track is produced by Sam Shepherd aka Floating Points, who is known for dubstep, future garage, and other electronic styled productions. Yellow Memories is set for release on May 12th with collaborations with Dam Funk and SA-RA's Shafiq Husayn.
Fatnice "Peace Love Unity and Havin' Fun" (Windy City Mix)
– Chicago rapper Fatnice gives this feel good Hip-Hop track, with a throwback late 80s, 90s sound (dig the Do The Right Thing homage cover art). A track that speaks to Hip-Hop's original positive motto "Peace, love, unity and having fun!" There is a limited 7″ for this single, click buy and jump to Fatnice's Bandcamp for more info.
Pharrell "Smile" (Bonus Japan track)

– "Smile" is a Japan only bonus single off Pharrell's 2014 Girl album. A catchy, feel good, sing along tune, equal to the hugely successful "Happy". Pharrell performs his falsetto style with a tinge of Stevie Wonder thrown in the mix.