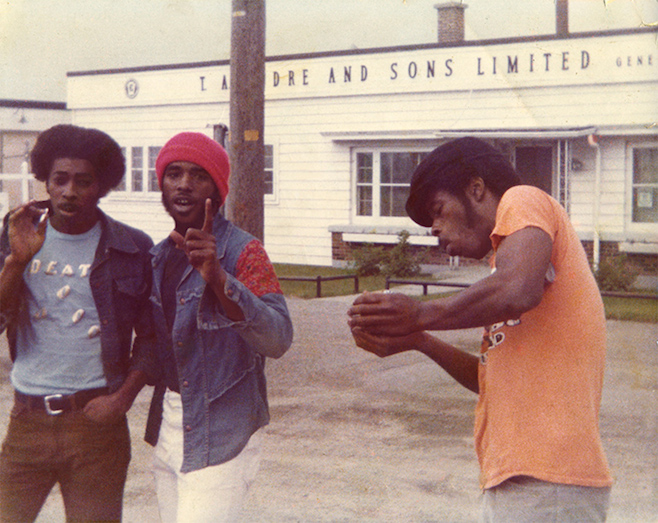 It was black, punk and from Detroit, Michigan. It was Death. Three brothers, Bobby, David, and Dannis Hackney formed a garage band and created music that predated when punk was supposedly invented. It was the early 70's, and while people were sweating it out in discos and Motown was dominating the charts, these three brothers were pioneering punk. The first time I heard of them was when I saw the trailer for the documentary, A Band Called Death (Drafthouse Films). It was literally, "What the fuck? I have to see this."
Directed by Jeff Howlett and Mark Covino, produced by Matthew Perniciaro, Scott Mosier, Kevin Mann, and Jerry Ferrara, the film travels back in time to crystalize the genesis of a protopunk band light years ahead of Bad Brains, the Sext Pistols, and The Ramones. The film tells the band's story with interwoven commentary about a tight-knit family, futuristic music and an artist's unwavering vision. You hear from two of the brothers, Bobby and Dannis who still harbor some of the same charisma and energy from their formal years. They're good story tellers and are emotionally open to express themselves. David, the guitarist and the soul of the band came up with the name Death after their father, a preacher, was killed by a drunk driver. David's intention behind the band's name was to embrace death as a part of life, and not run away from it. He was steadfast in his convictions.
His brothers supported him even when they walked away from a lucrative record deal from Clive Davis, all because David didn't want to change their name. He wouldn't compromise his artistic integrity. After the band drifted apart, the two brothers went on to form the reggae outfit Lamb's Bread. David's health started declining, but before he passed away from lung cancer in 2000, he brought the Death master tapes to Bobby's house and told him to keep them safe in case someone comes looking for them. Through a 2007 leak on the internet of two of their songs, one being "Politicians In My Eyes," avid record collectors and internet chatter, Death saw the light of day. In 2009 Drag City Records started releasing collections of their music, …For the Whole World to See (2009) and Spiritual, Mental, Physical (2011). Recently it was announced that they'll release Death III. The collection of tracks were recorded in 1975, 1976, 1980, and 1992 and of course they all feature David. Not surprisingly the music is hard the band is tight.
What I dug about the film was that it manages to give you a rare portrait of 1970 black teenage angst in middle class America, yet it's relatable to anyone. Alienated kids tormenting their neighbors with their loud music. Nearly forty years later, Death's music gracefully transcends and transforms for another generation. Death's resurrection inks an invisible chapter in music history and it's a test to a band of brothers and their dedication to an artist's prophetic vision.
For A Band Called Death online viewing, purchase of A Band Called Death DVD/Blu-Ray/digital copy, and other Death related memorabilia head over to the official A Band Called Death website.