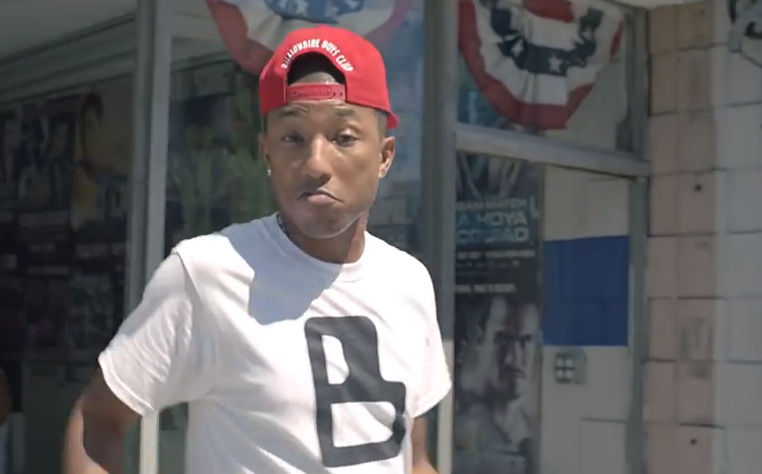 Pharrell William's single "Happy" first appeared on this year's Despicable Me 2 soundtrack. Homie's been cranking out bangers like Robin Thicke's disco delight "Blurred Lines" and his collaborative effort with Daft Punk "Get Lucky." About the jams, in a GQ profile he said, "There's a lot of fucked-up travesty in the world. Sometimes you just need a Hallmark card."
His "Happy" video is literally 24 hours long. It's the same song looped over ill choreographed dance scenes, celebrity appearances and the man himself treating the camera like a fellow party goer. "Clap a long if you feel like a room without a roof/because I'm happy," Pharrell sings in the hook. The video has been called the world's first 24 hour pop music video. I haven't watched the whole monstrosity of a music video, but according to someone who has (on mute), cameo appearances include Magic Johnson dancing in his trophy room, Jamie Fox victoriously walking with his daughters, and Odd Future's Earl Sweatshirt, Tyler The Creator and Jasper walk and wave hi to nobody.  Jimmy Kimmel's up in there too. Happy was directed by Pharrell and Yoann Lemoine aka Woodkid.
Woodkid is a multi talented spacey kinda dude: singer, songwriter, graphic designer and director according to Booooooom.
The video is chopped up in six four hour segments below. 24 hours of happy is also highly recommended since it's interactive.