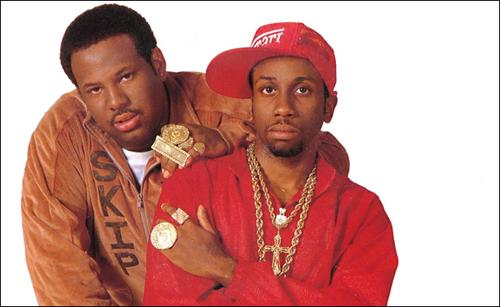 There is more sad music news today. DJ E-Z Rock of the Harlem NYC, Hip-Hop duo Rob Base & DJ E-Z Rock, has reportedly passed away today Sunday April 27, 2014. The news broke out on social media via Rob Base's status update on his Facebook page [HipHopDX News] and twitter posting.
R.I.P Skip (DJ E-Z Rock) my friend. My brother. http://t.co/SDYn1QasCF

— Rob Base (@Robbasemusic) April 28, 2014
A spokesperson for Rob Base confirmed the death of DJ E-Z Rock with Rolling Stones Magazine. DJ E-Z Rock was 46 Years old.
DJ E-Z Rock and his rapper partner Rob Base are known for their classic late 80's Hip-Hop party anthems such as "It Takes Two", "Get On The Dance Floor", "Joy and Pain". Hip-Hop artists took to twitter expressing their shock and condolences.
R.I.P. TO EZ ROCK FROM ROB BASE AND EZ ROCK YOU WILL TRULY BE MISSED. . — BIZ MARKIE (@BizMarkie) April 27, 2014
Rest In Peace DJ EZ Rock. http://t.co/EtovEBlBNX — Turntable Whisperer (@DJScratch) April 27, 2014
this is sad. ROB BASE just posted this on his page. Apparently DJ EZ ROCK passed away. pic.twitter.com/VDlpTRzn47 — R.A. the Rugged Man (@RAtheRuggedMan) April 27, 2014
Just heard RIP DJ EZ Rock be strong @Robbasemusic — Kool Keith (@UltraMan7000) April 27, 2014
We Have Lost Our Very Own From Harlem NYC & The Hip-Hop Culture Our Brother DJ E-Z Rock. Rest In Peace… http://t.co/qyEhZhzcnH

— DJ Red Alert (@KoolDJRedAlert) April 27, 2014
R.I.P Dj Ez Rock http://t.co/tg3MEAgeRc

— Funk Flex !!!!! (@funkflex) April 27, 2014
R.I.P. DJ EZ Rock "Cause Rob is in the front, EZ Rock is on the back-up We're not soft, so you better just… http://t.co/DX8M0R4GJf

— COLOSSUS (@DJROBSWIFT) April 27, 2014
R.I.P. DJ EZ Rock (of Rob Base fame). Rock Rock on….. pic.twitter.com/WaGylAObdA

— Daddy-O (@professordaddyo) April 27, 2014
Rest In Power To The Homie Rodney Bryce aka Skip aka DJ EZ Rock. #HipHopLegend pic.twitter.com/DxtvE1Unkp

— DJ CLARK KENT (@DJClarkKent) April 27, 2014
Rob Base & DJ E-Z Rock "It Takes Two"
Rob Base & DJ E-Z Rock "Get On The Dance Floor" 
Rob Base & DJ E-Z Rock "Joy and Pain"