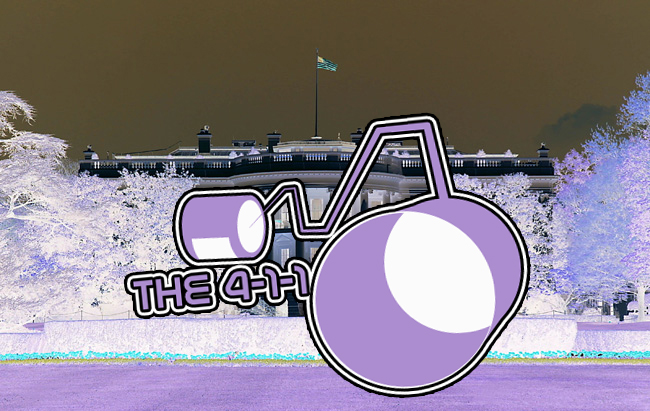 After a year of doing the weekly posts "On The Scope" and "Around The Way" I noticed how the music, art, culture, film, politics and news in our TMG posts was starting to overlap each other, 2014 was a wacky year. I had a talk with editor Tracy Jones and we decided to revamp our weekly post to reflect the intersections of seemingly different worlds we've been observing, to juxtapose and highlight overlaps in music, art, culture, film, politics and news we come across. We've been on a hiatus for the first half of year but now we're back and we present to you "The 4-1-1" our new weekly blog post collecting the interesting, the overlooked, the things on our scope that we've been seeing from around the way.
– DJ Zobe
Kendrick Lamar To Pimp A Butterfly stream
Anthony Fantano – The Needle Drop: To Pimp A Butterfly Review 
Hot97 – Kendrick forgives his haters + says his album is not a classic YET!
To Pimp A Butterfly Music Videos
Californian Senate honors Kendrick Lamar as a 'generational icon' [Rich McCormick]
Joey Badass B4.DA.$$ stream
B4.DA.$$ Music Videos
Action Bronson Mr Wonderful stream
Mr Wonderful Music Videos
Action Bronson – 'Mr. Wonderful – The Documentary'
Action Bronson pairs his music from Mr Wonderful with various fine cuisine 
I Don't Like Shit, I Don't Go Outside: An Album by Earl Sweatshirt stream
Earl Sweatshirt "Grief"
Kehlani You Should Be Here stream
Kehlani  "You Should Be Here"
Kehlani CLOUD 19 stream
Kehlani "FWU"
Complex – Who Is Kehlani? The Oakland Singer Talks "America's Got Talent" & How Nick Cannon Saved Her Life
Dumbfounded "Mellow Yellow"
Suboi "Run"
– For more music from Subhoi check her Youtube and Facebook page.
Richie Le – Viet Entertainment Talk ft Viet rapper Suboi & Youtube personality Linda D. 
Janet Jackson Announces New Album, Tour [Billboard]
B.B. King, Blues Legend, Dead at 89 – Brilliant bluesman who inspired a generation of guitarists and singers dies after decades-long battle with diabetes. [Patrick Doyle]
BBC Sound of 2015 Artist List – A list I check for cause they've been on the money listing great new artist from the underground, cutting edge, and spotting the up and comers year after year since 2003. [BBC]
The 10 best-ever movies about club culture [Kris Swales]
5 G-House Artists You Need to Know [Ian Traas]
Wheel It Up: History of the Rewind – When the DJ stops the music and spins the song back, energy shoots through the crowd and Jamaican sound echoes across genres. [Laurent Fintoni]
Open Mic – UK Grime Documentary
– Trip back to the birth of grime as Dizzee Rascal, Scratchy and Kano spit bars in Ewen Spencer's highly anticipated new film. Via Dazed.
Skepta (RBMA UK Tour Manchester 2015 Lecture)
– From Meridian, to Roll Deep, to Boy Better Know, Joseph Junior Adenuga has been blazing a trail in the UK underground for over a decade. And Skepta's name is hotter than ever. Having undeniably smashed his way to the surface now, there was plenty to discuss – grime's resurgence, Red Bull Culture Clash, and flying the flag with international collaborations. This conversation provided an insight into the mind of an artist whose career has had unparalleled momentum both inside and outside of his field.
Skepta tunes
A$AP Rocky (RBMA UK Tour London 2015 Lecture)
– In 2011, Harlem's A$AP Rocky emerged at the forefront of a resurgent New York rap underground. Connecting the dots between a wide spectrum of '90s rap and the fashion-savvy hip hop vanguard, Rocky quickly ascended to global stardom. In this public lecture at London's majestic St. Pancras Renaissance Hotel, as part of the 2015 RBMA UK Tour, the rapper gave a rare insight into his state of mind. Sitting down with journalist Hattie Collins on the Red Bull Studios London couch where he wrote much of At.Long.Last.A$AP, Lord Flacko seemed delighted to hold court. This extensive interview also features a special appearance by Yasiin Bey and the first play of album cut "M'$."
Upcoming At. Long. Last. ASAP Music Videos
Danny Brown (RBMA UK Tour Glasgow 2015 Lecture)
– In an era of industry-obsessed MCs, interchangeable hashtag raps, and "viral" everything, it has become increasingly difficult to find a true original in the rap game. Fortunately, at the start of the decade, along came Danny Brown. In 2011 the Detroit MC teamed up with Fool's Gold Records and released XXX, a tour-de-force concept record about hedonism, growing up, and his hometown, which took listeners on a profane and psychedelic journey through his own uncensored ID. After a year of universal critical acclaim, Danny divided his time recording his debut full length LP, OLD, and appearing on tracks by the likes of A$AP Rocky, Ab-Soul, A-Trak and Purity Ring. OLD challenged XXX's achievements, and Brown's paradigm shredding path hasn't hit a block since.
Lonnie Liston Smith & Gilles Peterson (RBMA UK Tour Bristol 2015 Lecture)
– Lonnie Liston Smith learned his trade in the late '60s and early '70s playing with jazz giants such as Rahsaan Roland Kirk, Pharoah Sanders, Argentinean saxophonist Gato Barbieri, and the master himself Miles Davis (on Big Fun and On The Corner albums). However, it was as the leader of his Cosmic Echoes band from 1973 onwards that Lonnie really made his name with his trademark Fender Rhodes keyboard sound, and classic fusion compositions such as Astral Travelling, Cosmic Funk, A Chance For Peace, and the all-time dancefloor classic Expansions. In this lecture from the RBMA UK Tour stop in Bristol, Lonnie speaks about the album alongside longtime supporter Gilles Peterson.
Genesis P-Orridge Is Preaching the Gospel of Voodoo [Nadja Sayej]
Coversation With Genesis Breyer P-Orridge [Michael Nirenberg]
Mtume (RBMA Tokyo 2014 Lecture)
– James Mtume's discography is as peerless as it gets. From crafting iconic LPs with Miles Davis, to sought-after spiritual jazz, Mtume's jazz chops are undeniable. But it was Mtume's transition from jazz pioneer to R&B master in his own group Mtume, that really set him apart from his peers. It seems remarkable that the same man could drop spiritual jazz LPs like Alkebu-Lan and Rebirth Cycle, before crafting a hip hop blueprint a few years later with his stripped-back R&B and synth-laden p-funk, on tracks like "Love Lock," "You, Me and He," "Hips," and of course "Juicy Fruit."
Mtume straddled these two worlds with ease, putting some consciousness into the club, and turning the sex appeal sanctified. Teaming up with Reggie Lucas, the duo were an unstoppable force through the '80s, penning such hits as Stephanie Mills' Grammy-winning "Never Knew Love Like This Before" and Roberta Flack's "The Closer I Get to You." There's a reason Mtume the band has been sampled countless times: Mtume has consistently lit the way for future generations, on how to do it legit.
Revolutions On Air: The Golden Era of New York Radio 1980 – 1988 (Red Bull Music Academy Presents)
Bonus Clip: Marley Marl from Revolutions On Air: The Golden Era of New York Radio 1980 – 1988
Revolutions On Air: Radio in the Modern Age (Red Bull Music Academy Presents)
IMS Engage 2015: Seth Troxler In Conversation With Chuck D – 
Outspoken techno DJ/producer Seth Troxler and Public Enemy hip-hop icon Chuck D joined together for a lively and honest conversation last week at IMS Engage in LA.
"I'm envious of the organization and the way that you guys stick together in a sort of loose union." – Chuck D to Seth Troxler on electronic music vs. hip hop
"Underground electronic music is ART. Culture, dance, and real music. If you look at 'EDM' how many of those points exist?" – Seth Troxler 
[IMS Chuck D & Seth Troxler Video]
Vice – Blood Debt: Feudal Familial Law in the Balkans
– In some parts of the Balkans, families still live by a centuries-old law called "the Canon," which recognizes the right to vengeance—if a man from one family kills another, the family of the victim must respond in kind. This "debt" is usually executed by the eldest male member of the family. It is his duty to avenge his loved one—if he refuses, he declared a coward and renounced by his family.
VICE Serbia recently traveled from East Montenegro—where some families have experienced four cycles of vengeance—to the north of Albania, where some children never leave their homes in fear of being killed. Along the way they spoke with families of murder victims who, disappointed by the corruption of the official justice system, have taken judgment and punishment into their own hands.
Vice – The War to Live in London: Regeneration Game
– In the run up to the 2015 general election, a war is going on for the right to live in London. Rapid gentrification – praised as "regeneration" by local councils and property developers, derided as "social cleansing" by critics – is breaking up established communities. In some cases, families who've lived in London for generations are left homeless; in others, they are forced to move across the city or out of it completely. Meanwhile, the real estate opportunities are making lots of people – many of whom do not actually live in London – very rich.
Vice – Shy Bairns Get Nowt: Food Poverty in the UK
– VICE heads to Newcastle to go inside one of the busiest food banks in Britain, where food is being distributed for free to more than 1,000 people a week. We meet the dedicated volunteers and the locals for whom poverty has become a part of everyday life after decades of industrial decline and years of austerity cuts. Inevitably, in such a situation, the system will occasionally falter.
San Francisco families facing eviction describe health problems, stress – Three multigenerational families are taking legal action after being given eviction notices with three days of notice. [Kyveli Diener]
Think People On Food Stamps Are Eating More Lobster Than You? Think Again [Arthur Delaney, Alissa Scheller]
Actress Tippi Hedren and the Vietnamese Nail Salon Businesses – Original title of article is misleading, the vietnamese ladies put in the work to get the nail salon business going. Tippi Hedren merely introduced the business to them as possible way to earn a living here in the states. [Juliet Bennett Rylah]
The Price of Nice Nails – Manicurists are routinely underpaid and exploited, and endure ethnic bias and other abuse, The New York Times has found. [Sarah Maslin Nir]
Perfect Nails, Poisoned Workers – Some ingredients used in nail products have been tied to cancer, miscarriages, lung diseases and other ailments. The industry has long fought regulations. [Sarah Maslin Nir]
Vice – From Sex Worker to Seamstress: The High Cost of Cheap Clothes
– Cambodia's aggressive anti-trafficking campaign is designed to rescue and rehabilitate sex workers. But many women say authorities in Cambodia are actually forcing them into a trade where conditions and pay are even worse: making clothing for Western brands.
VICE founder Suroosh Alvi traveled to Phnom Penh to speak with former and current sex workers, officials, and labor organizers to investigate what is happening to those swept up in the country's trafficking crackdown.
Vice – The Worst Internship Ever: Japan's Labor Pains
– Japan is facing a serious labor shortage, a problem that can be traced back to an aging population and a prevailing fear that immigrants will dilute the country's pure gene pool. In order to keep the world's third-largest economy afloat, the Japanese government offers an internship program that attracts foreign workers from China, Vietnam, and the Philippines. The program, which allows workers to stay for three years, is advertised as providing laborers with transferrable new skills for when they return home.
VICE News recently traveled to Japan to investigate the internship program. We found that many interns are underpaid, saddled with insurmountable debt, and forced into a form of indentured servitude. Many are illegally placed as oyster shuckers, construction workers, and other unskilled positions. And, despite international condemnation, Japan plans to use thousands of new foreign interns to build the infrastructure for the 2020 Olympics in Tokyo.
Not Japanese enough? I BOW when I answer the phone! Miss Universe Japan who faced abuse for being mixed-race hits back at critics. [Maybelle Morgan]
Vice – The New Wave of Ultra-Violent Ugandan DIY Action Cinema: Wakaliwood
– In the Ugandan slum of Wakaliga, a thriving action film industry called Wakaliwood has emerged. Mixing elements of Western action films and Chinese Kung Fu movies with Ugandan culture, Wakaliwood's films have garnered a cult following not just in in Uganda, but all over the world. We spend a day on the set of the next Wakaliwood hit.
John Legend on Daily Show talking about his documentary Southern Rites – about segregated proms in the U.S. South
How Alabama taught its children to be racists [Mark Frauenfelder]
A Slow Death for Mumia Abu-Jamal and Thousands of Prisoners in America [Heidi Boghosian, Johanna Fernandez]
Teacher vows to fight her dismissal over student letters to Mumia Abu-Jamal [Bill Wichert]
Why Baltimore Rebelled – The most salient thing in Baltimore isn't the damage caused by protestors, but the grinding poverty and neglect wrought by capital. [Shawn Gude]
What is Systemic Racism? – Rinku Sen President of Race Forward & Publisher of Colorlines introduces the "What Is Systemic Racism?" video series featuring our very own Jay Smooth. [Raceforward]
When Blacks and Asians Clash – The media's sensational, racists narrative of protests/riots. [Scot Nakagawa]
Black-Asian tensions: Not the cause of Baltimore [Jeff Yang]
The hideous white hypocrisy behind the Baltimore "Hero Mom" hype: How clueless media applause excuses police brutality – Praising a mom for beating her son suggests only violence can discipline black kids. And she doesn't feel heroic. [Joan Walsh]
Why We Don't Make Demands – From Occupy to Ferguson, whenever a new grassroots movement arises, pundits charge that it lacks clear demands. Why won't protesters summarize their goals as a coherent program? Why aren't there representatives who can negotiate with the authorities to advance a concrete agenda through institutional channels? Why can't these movements express themselves in familiar language, with proper etiquette? [Crimethinc]
Women in the Zapatista Movement
Anarchist Panther – Ashanti Alston Interview – Ferguson: Chronicle of an insurrection – 2014
Police Brutality and Black Sellout Organizations – Anarchist Panther Lorenzo Kom'boa Ervin
AAPIs stand up for equal opportunity in higher education [Phil Yu]
An oral history of Baltimore club [Nat Thomson]
'The Game Done Changed': Reconsidering 'The Wire' Amidst the Baltimore Uprising [Dave Zirin]
Four black parole officers file civil suit against white police officers [Laura Dolan and Jason Carroll]
Unprotected by Assimilation: Lessons from the Case of Duy Ngo [Bao Phi]
Killer Mike Drops Hip Hop Knowledge On 'Real Time With Bill Maher' [Robo]
The real way to become a successful musician: advice from Andrew W.K. [Chris Robley]
The Long Game of Creativity: If You Haven't Created a Masterpiece at 30, You're Not a Failure [openculture]
DJCity TV – How to Avoid Redlining During Sets
– It's common knowledge to some DJs, but not everyone knows why you should and how to keep your audio levels out of the red. Here are three tips from DJcityTV's Mojaxx.
Meet Bina48, the robot who can tell jokes, recall memories, and mimic humans [Tara McGinley]
Motherboard – The Dawn of Killer Robots
– In INHUMAN KIND, Motherboard gains exclusive access to a small fleet of US Army bomb disposal robots—the same platforms the military has weaponized—and to a pair of DARPA's six-foot-tall bipedal humanoid robots. We also meet Nobel Peace Prize winner Jody Williams, renowned physicist Max Tegmark, and others who grapple with the specter of artificial intelligence, killer robots, and a technological precedent forged in the atomic age. It's a story about the evolving relationship between humans and robots, and what AI in machines bodes for the future of war and the human race.
24 mindblowing psychedelic sexy melty gifs by kyttenjanae [Xeni Jardin]
The amazing psychedelic GIF art of Bill Tavis [Xeni Jardin]
An Interview with the Artist Behind the Covers for Goosebumps [Julian Morgans]
Defining the Visual Style of Southern Hip Hop – Noisey Design (Episode 1)
– Pen & Pixel churned out thousands of covers in the 90s and early 00s for dirty South artists such as Master P, Ghetto Boys & Lil Wayne, defining the visual style of southern hip hop with its over the top, diamond encrusted covers. They were the ones to invent the term "bling bling". Noisey follows Shawn Brauch, the founder & head designer, from their rise to success, trailblazing digital desktop publication before anyone, and it's fall from dirty south fame.
Designing the Album Art for Jay Z and No Age – Noisey Design (Episode 2)
– Brian Roettinger is a grammy-nominated designer & Rolling Stone's Album Designer of the Year (2009), whose unconventional approach to album art has garnered recent attention. He's worked with modern musicians like Jay Z & Beach House.
The Lo-Fi Art of Seattle Grunge – Noisey Design – Episode 3
– In the late 80's and early 90's, Art Chantry pioneered the visual style of grunge — designing posters and art for bands that defined the Seattle sound. The lo-fi and deconstructed nature of photo set type, xeroxed old imagery and collage can be seen throughout his work and career. With over 500 LP covers, 400 45's and 2000 posters made to date for artists as various as the Sonics, Soundgarden, Hole and the Flaming Lips, Chantry is prolific in his contribution to the worlds of design and music.
Kurt Cobain: Montage of Heck – Official Trailer
Frances Bean Cobain on Life After Kurt's Death: An Exclusive Q&A – Cobain's daughter speaks publicly for the first time about her father, her complex relationship with Courtney Love and 'Montage of Heck'. [David Fricke]
Noisey – Under The Influence: New York Hardcore
– In the first episode of our series Under the Influence, we go from the streets of the Lower East Side all the way to South Korea to examine one of the most distinctive genres to sprout from the concrete of New York City: hardcore. Along the way, we'll meet with everyone from tattoo shop owners to chefs to government workers—all of whom have been inspired by the teachings at musical meccas like CBGB's and A7 and found ways to apply the lessons learned from the scene to their own lives. Join us—as well as members of Agnostic Front, Title Fight, Youth of Today, Incendiary, and more—as we explore a world living under the influence of New York Hardcore.
Noisey – There Will Be Quiet: The Story of Judge
– In 1991, at the height of its popularity, the New York hardcore band Judge broke up, leaving a long and storied career of incredible music and hyper-violent gigs for the history books. In the decades that followed, Judge's meager output became hardcore punk 101 for much of the growing scene who built upon their metal-tinged riffs and attitude. While the legend grew, lead singer Mike Ferraro virtually disappeared, only to reemerge in 2013 at Webster Hall to headline one of the most respected hardcore punk festivals in the country, Black N' Blue Bowl. Noisey caught up with the revered frontman during, before and after his triumphant return to the stage.
Noisey – Under The Influence: 2 Tone Ska
– In the second episode of our series Under the Influence, we examine the late-70s ska revival in the UK, a movement built upon the fusion of punk rock and traditional ska. Led by the Specials, we look at how the cultural climate of the time period in the UK inspired the founding of 2 Tone Records and how that led to the ska movement in the 80s and 90s.
Noisey Atlanta
– From the makers of Noisey Chiraq, a new 10-part series documenting unprecedented access into the Atlanta rap scene.
Nardwuar SXSW 2015 interviews  w/Kali Uchis, Father / Awful Records, ILoveMakonnen, Rae Sremmurd, Migos, Mike WiLL Made-It, Wale, Mick Jenkins, Chuck D, Juce, and Sleater-Kinney
'Daredevil' and the fantasy of an easy fight against gentrification [Alyssa Rosenberg]
Black Mask, Yellow Peril: Anti-Asianism in Netflix's otherwise brilliant 'Daredevil' [Takeo Rivera]
Hard NOC Life Episode 033: Giving Daredevil its Due
Watch 11 documentaries on public TV for AAPI Heritage Month [Phil Yu]
Trailer for Wong Fu Production's feature film 'Everything Before Us' – June 3rd Vimeo release
Ktown Cowboys – OFFICIAL TRAILER (2015)
– Ktown Cowboys web series gets a feature film release and is executive directed by Ken Jeong.
Trailer for ABC's 'Dr. Ken'  starring comedic actor Ken Jeong – Pilot slated for Fall 2015 airing
https://www.youtube.com/watch?v=mTqGbbzxI-I
Twin Peaks Revival Back On for 'More Than' 9 Episodes as David Lynch, Showtime Resolve Stalemate [Michael Ausiello]
True Detective Season 2: Trailer (HBO)
Fresh Of The Show – Unofficial Fresh Off The Boat S01 post show
'Fresh Off the Boat' writer Eddie Huang slams ABC comedy hit [Scott Collins]
Eddie Huang and Jeezy On Racism, America and Bossing Up [James Rickman]
Eddie Huang on Real Time With Bill Maher 
There Can Be No Room in this Movement for Misogyny – Eddie Huang vs Black Feminist twitter battle [Jenn]
When Asian Emasculation Meets Misogyny: On Eddie Huang's Black Feminist Problem [Mark Tseng Putterman]
Eddie Huang self-destructs: Why the "Fresh Off the Boat" author's descent into misogyny is so depressing – I've compared him to Richard Pryor. But after his latest Twitter meltdown, even I have to say "you're on your own" [Arthur Chu]
Here's my two cent over this Eddie Huang vs. Black Feminist twitter drama – Not to defend or speak for anyone involved but both side were looking for the other to concede and the argument blew out of proportion. Eddie Huang not wanting to play the quiet Asian stereotype by backing down kept escalating and the Black Feminists on twitter match fiyah for fiyah. Eddie's comment on Bill Maher's program about Black women and Asian men (based on an OKcupid stat and anecdotal observations of interracial dating/marriage trends) could have been worded better but with a limited amount of time and in front of a live TV audience he shot from the hip and some people got his edgy, bawdy sense of humor and others read more into it "feeling some type of way". Eddie's TV comment about Black women and Asian men being the two identity groups who are least listed as suitable romantic mates has been said before by the edgy comedic edutainment magazine/blog site Egotrip in their brief VH1 special Race-O-Rama (In Race We Lust episode circa 2005) – in which the show suggests jokingly that two groups should link up over their similar struggle.
The Black Feminist on twitter were expressing their frustration over yet another stereotyped characterization of Black women as unwanted romantic partners, and Eddie Huang (albeit worded badly) just wanted to relate the plight of Asian male sexuality and Black female sexuality as being a similar struggle in that they both are marginalized by greater society. Somewhere in the twitter exchange this was lost and both parties kept trading barbs at each other and things got out of control.
Somewhat related to this drama – For a future post I'll be exploring some recent trends I've been observing (online and IRL) on AMBW (Asian Male Black Female) relationships. Stay tuned.
– DJ Zobe
EgoTrip+Vh1 "In Race We Lust"
Reform of the Nerds, Starring Arthur Chu – How a game-show champion became the embattled conscience of American male geekdom. [Peter C Baker]
Forgotten ties – First Nations people and Chinese immigrants have enjoyed a symbiotic relationship since before B.C. joined Confederation. Now, archeologists are chronicling this chapter of history by documenting sites where the two communities lived together. [Justine Hunter]
What Is A 'Good Muslim' Anyway? A Podcast Disrupts The Narrative [NPR]
32 Essential Asian-American Writers You Need To Be Reading [Jarry Lee]
FUNG BROS FOOD: Din Tai Fung (Famous for their Soup Dumplings) ft. Dannie Riel
FUNG BROS FOOD: Chiu Chow Food (Teochew, Chaozhou)
FUNG BROS – CHIU CHOW IDENTITY TALK (Teochew, Chaozhou)
My pops drop this identity bomb on me senior year of High School before I went back to visit the motherland (Vietnam in the summer of 2001) – That we're actually part Teochew part Viet. My Teochew great grandfather emigrated from China due to economic hardship and my grandfather was born in Vietnam and later married my full Vietnamese grandmother. Our family doesn't speak Teochew because my grandfather never spoke it to pops and his siblings. Teochew = Chinese Gypsies ??? LOL
I was brought up with Vietnamese culture so I identify more with being Viet, but Teochew is still a part of my identity even though I know very little about the place and it's culture.
– DJ Zobe
A new Little Saigon emerges as food, cultural scene evolves [Leslie Berestein Rojas]
Questlove Talks to the Chefs Behind the Revolutionary Fast-food Concept Loco'l [Questlove]
Beth Stelling, Roy Choi & Horatio Sanz – Getting Doug with High
John Oliver Last Week Tonight – Fashion/Standardize Testing/Paid Family Leave