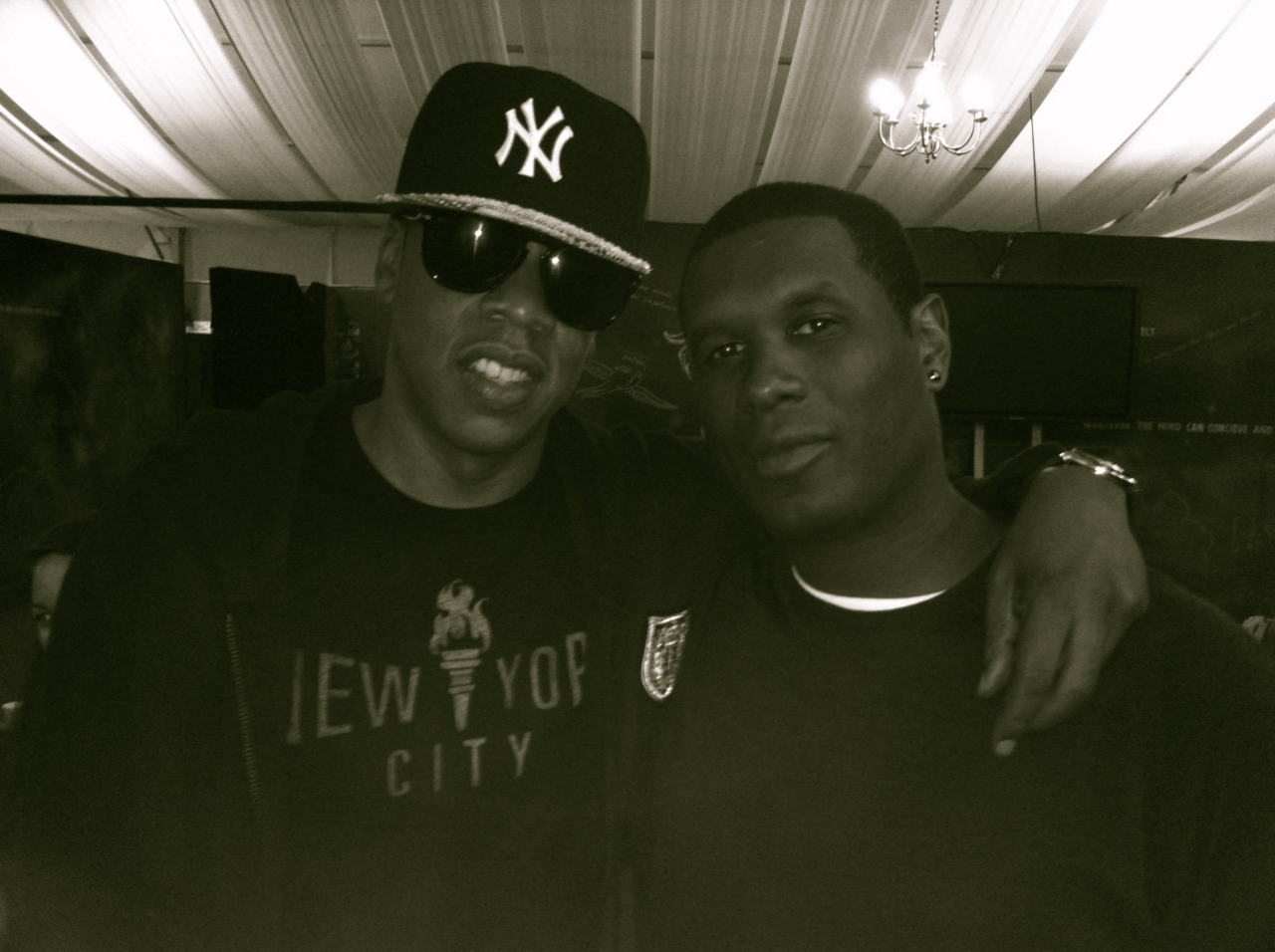 Elusive poet and traveling man Jay Electronica has been surfing the sound waves lately. Besides Jay getting spotted roaming around SXSW, yesterday the song "We Made It" featuring his Roc Nation label boss Jay Z started floating around, but not before "Better In Tune With the Infinite" featuring LaTonya Givens popped up a week earlier. The thing that's always guaranteed when listening to a Jay Electricity track is the brother's uncanny ability to spit bars that almost sound like he's casting a spell, or summoning the ghost of caution's past, as a warning to the future. "Better" opens with words from the Nation of Islam leader Elijah Muhammad and The Wizard of Oz (sounds like Dorothy is going back to Kansas). Jay steps out of the darkness, "It's frustrating when you just can't express yourself/and it's hard to trust enough to undress yourself." The skeleton production includes a looped piano accompanied by a violin, reminiscent of his "Eternal Sunshine of the Spotless Mind" joint, "No drums, no hook just new shit." On the other hand, similar to "Eternal," some of the sampled Elijah Muhammad dialogue could've been clipped. At first listen it was jarring, when is homie going to come in? Jay don't start his verse till a minute thirty five, but by the time he does it's like on some bursting-through-the-clouds type steez. Givens' vocals at the end weren't necessary since the beat's contemplative soundscape provided room for meditating on Jay's verse. Her voice is cool, but the soulful crooning is over played.
"We Made It" is a remix of a Drake and Soulja Boy joint. The verses mirror each other's flow patterns, but line for line, it's stupid. Out of the many, Jay Elect said, "Live from the cotton field, straight to the spaceship." Jay Z's got some classic rap references and he has a lot of "whoa" moments, but one of the ones that made me through my hands up was "I'm melatonin and I can black out at any given moment." It's hard to call it, but may be Jay Z got'em, just barely by a photo finish. Part of it is related to Jay Z responding to Drake's recent comments. In a February Rolling Stone interview Drake talked about Jay always referencing art in his bars, saying it was getting "corny."  In Jay's verse, he said,"Sorry Mr. Drizzy for so much art talk/ Silly me, rappin' about shit that I really bought/ While these rappers rap about guns, they ain't shot/ And a bunch of other silly shit that' ain't got." The fuck outta here. Still, the coldest killer changes with each listen.
Like KRS-ONE, Jay Elect was homeless, but like some kind of mythical creature rising in the music industry ranks, Jay leaked tracks on the web that shocked "stuck in the 90's n-s" and left dusty finger tips scratching heads till they drew blood. He's got peers that ground his work in Golden Era aesthetics retro fitted for a modern audience. Other cats see him as the second coming if not a bubble of clear air dancing in a murky mainstream. He signed to Roc Nation in 2010, released a tracklist for his album debut, Act II: Patents of Nobility (The Turn) in 2012.  It's 2014, still no album. This reclusive dude's life story is already legendary, but an album would be the cherry on top.
Listen to the tracks below and watch the video of Jay Elect talking about why he decided to release "Better In Tune With the Infinite."
https://www.youtube.com/watch?v=FdMJf-gm-us