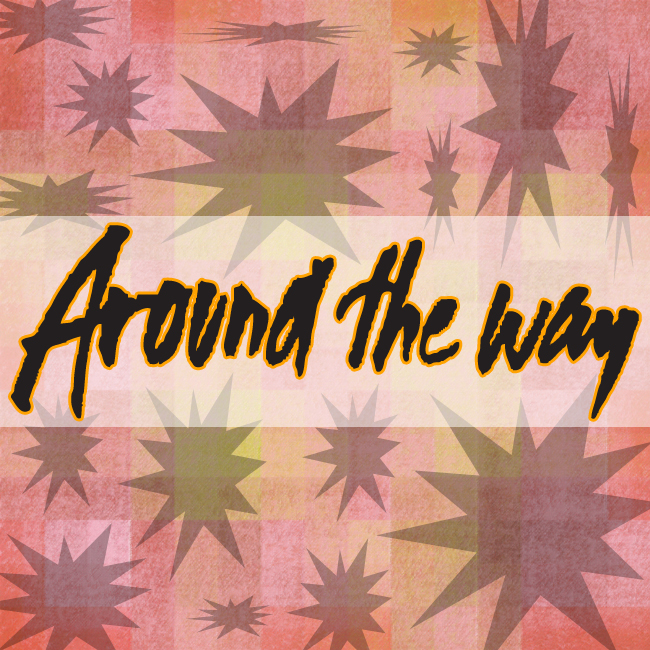 Democracy Now headlines 10-24-2014. [Democracy Now]
"If we run and they kill us so be it but we have to run now." Six months ago, 276 Nigerian schoolgirls were kidnapped by Boko Haram. The handful who escaped that night have never told the full story of their ordeal — until now. [Matter]
The Worth of Black Men, From Slavery to Ferguson [NY Times]
Ferguson, Asian America, & Performative Solidarity: Showing Up, Staying Shown – By PaKou Her. Cross-posted from 18 Million Rising. [Angry Asian Man]
HuffPost Live – Pennsylvania's 'Mumia Bill' Silences Prisoners
Pennsylvania Gov. Tom Corbett signed into law a bill barring prisoners and former offenders from public addresses that may cause "mental anguish" to their alleged victims. Does the bill reinforce victims' rights or infringe on free speech?
Democracy Now: Extended Interview with Mumia Abu-Jamal on New Pennsylvania Law Restricting Prisoners' Speech
Democracy Now: Noam Chomsky at United Nations – It Would Be Nice if the United States Lived up to International Law
Next Time Someone Says 'White Privilege Isn't Real,' Show Them This. [Huffington Post]
If you're lucky enough to earn a living from your art, you're probably white [The Washington Post]
What John Coltrane on the Billboard Charts Tells Us About Music Sales in 2014 [Forbes]
Down Into Nothing by Jake Fried 2013
-"Hand-drawn animation with ink, gouache, white-out and coffee."
The End of Illustration? [Illustrators' Partnership]
Between Two Ferns with Zach Galifianakis: Brad Pitt 
Q&A Kara Walker on the bit of sugar sphinx she saved, video she's making [LA Times]
The San Francisco Bay Guardian and the Decline of the Alt-Weekly [The New Yorker]
The Most Racist Guide In San Francisco – Disgruntled guide tells tourists "F*ck Chinatown" on her apparent last day on the job.
Tour guide shouts racist (or bigoted if you subscribe to a sociological analysis of racism and prejudice between communities of color) rant from a tour bus driving through SF's Chinatown – A disturbing thing that appears in the video is that none of the tourists told her to shut up, a few even clapped. On top of all the racist/bigoted things she sayed in her rant, she had the nerve to compare and suggest that LA's Chinatown (She claims she's from LA) is better than SF Chinatown. GTFOH, There is no comparing the tiny square block of LA's Chinatown to SF's Chinatown blocks upon blocks of business and residences. SF's Chinatown is the oldest Chinatown in the states dating back to the "Gold Rush" days and is considered the largest in term of size. The honor of the most populated Chinatown in the U.S. goes to the one in NYC.  [Angery Asian Man]
Toward Land's End – An opinion piece about native born San Franciscans still left in the city – by Lincoln Mitchell. [Roads & Kingdoms]
Giant gold nugget to be sold in San Francisco. [LA Times]
Skate or DIY w/ Sid Enck Jr. [Alchemy Creative]
Grimes Writes Essay on Making Music and Being A Boss [Pitchfork]
I Don't Care About David Byrne Anymore? [Hyperallergic]
Sleater-Kinney – Bury Our Friends (feat. Miranda July)
Marvel's "Avengers: Age of Ultron" – Teaser Trailer (OFFICIAL)
-This time it's dark and full of explosions. James Spader of The Blacklist TV show plays a convincingly creepy Ultron. There's a voice over of him talking about Avengers protecting the world while refusing to let it change. With scenes of Iron Man and The Hulk going at it, I'm guessing alliances within Avengers is going south. The movie is in theaters May 1, 2015; a hell of a long time to wait. Here's the official synopsis for Avengers: Age of Ultron:
Marvel Studios presents "Avengers: Age of Ultron," the epic follow-up to the biggest Super Hero movie of all time. When Tony Stark tries to jumpstart a dormant peacekeeping program, things go awry and Earth's Mightiest Heroes, including Iron Man, Captain America, Thor, The Incredible Hulk, Black Widow and Hawkeye, are put to the ultimate test as the fate of the planet hangs in the balance. As the villainous Ultron emerges, it is up to The Avengers to stop him from enacting his terrible plans, and soon uneasy alliances and unexpected action pave the way for an epic and unique global adventure.

Marvel's "Avengers: Age of Ultron" stars Robert Downey Jr., who returns as Iron Man, along with Chris Evans as Captain America, Chris Hemsworth as Thor and Mark Ruffalo as The Hulk. Together with Scarlett Johansson as Black Widow and Jeremy Renner as Hawkeye, and with the additional support of Samuel L. Jackson as Nick Fury and Cobie Smulders as Agent Maria Hill, the team must reassemble to defeat James Spader as Ultron, a terrifying technological villain hell-bent on human extinction. Along the way, they confront two mysterious and powerful newcomers, Wanda Maximoff, played by Elizabeth Olsen, and Pietro Maximoff, played by Aaron Taylor-Johnson, and meet an old friend in a new form when Paul Bettany becomes Vision. Written and directed by Joss Whedon and produced by Kevin Feige, Marvel's "Avengers: Age of Ultron" is based on the ever-popular Marvel comic book series "The Avengers," first published in 1963. Get set for an action-packed thrill ride when The Avengers return in Marvel's "Avengers: Age of Ultron" on May 1, 2015.
Inside Hollywood's Shocking Blackface Problem – A civil rights fight that was thought to have been eradicated years ago is nevertheless taking place in the entertainment industry. So why is Hollywood still "painting down" stunt people? [Buzzfeed]
Noisey – Action Bronson Responds To Comments About "Easy Rider"
Robert Anton Wilson's Cosmic Trigger, and the psychedelic interstellar future we need – In 1977, Robert Anton Wilson's Cosmic Trigger predicted a utopian, space-faring, enlightened future. 37 years later, writes Jason Louv, it's finally starting to show up. [BoingBoing]
GeekGirlCon is an oasis of acceptance – Copywriter Nicole Dieker on how a convention creates a welcoming space with language. [BoingBoing]
Budget Cuts aboard Air Force One – Dan Lewis explores the deep, dark world… of presidential barbering. [BoingBoing]
The Hoverboard Is Real. We've Got Video to Prove It. [Yahoo]
Body Atlas Reveals Where We Feel Happiness and Shame. [Discover]
Fox Hit With $250M 'Simpsons' Lawsuit By 'Goodfellas' Actor. [Yahoo]
King Tut Had A Club Foot And Other Deformities, New 'Autopsy' Shows. [Huffington Post]
The One Thing Americans Fear the Most. [Yahoo]
Herbie Hancock: My Battle With Crack. [Vulture]
Vice News – Monkey Meat and the Ebola Outbreak in Liberia
VICE Reports: Dining on Dogs in Yulin
– In the west and other developed nations, we look at these videos and sit in judgment at how people can consume such meats (never mind the Vegans and Peta). We forget in making our judgments that these areas have a history of famine, drought and other natural disasters that have cut people off from steady sources of protein. So eating wild, exotic thing like dogs or monkeys was at one point a survival thing that later became a delicacy, a part of what locals consider their venison. Though in the case of disease outbreaks people should heed the warnings and abstain from such meats. But passing judgment is the wrong way to encourage disease management and preventing epidemics from spiraling out of control.
Dear White People – How to Fake that You Watched Scandal
Dear White People – Racism Insurance: Coverage for White Privilege
Comic Sans Typewriter Is Here to Ruin Typewriters for Everyone. [Popular Mechanics]
Street artist revisits ghosts of Ellis Island hospital. [Yahoo]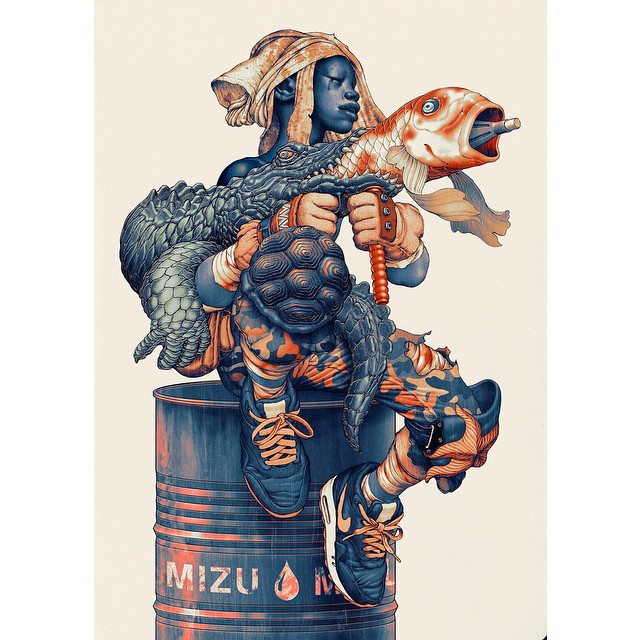 Mizu. Ink and Digital, 9 x 12″, 2014. #mizu #airmax #childwarrior #liquidgold

By James Jean – via his IG: @jamesjeanart
Fung Bros – The Asian Barbershop (Hairstyles for Asian Men) PT1
Richie Le & Fung Bros – Asian Barbershop – Different Hairsytles Pt2
– "These videos above are tempting me to cut my long locks. It's be 4+ years since I had a short hairstyle." – DJ Zobe
Fung Bros – Types Of Asian Guys At The Club
– "A lot of these characterization aren't specific to just the Asian American club scenes, like the "Creeper" for example. These characterizations do hit home for your typical Asian American club scene." – DJ Zobe
The Rise of MF Doom – An interactive animated online comic about the rapper MF Doom. [RBMA]
Interview: Denki Groove's Takkyu Ishino – An in-depth interview with a Japanese techno legend. [RBMA]
Derrick May Interviews ele-king's Tsutomu Noda. [RBMA]
Top 10: 90s Japanese Techno Classics. [RBMA]
DJ Nobu: Japan's Tireless Techno DJ – Mike Sunda profiles one of the country's most talented – and busiest – jocks. [RBMA]
Top 10: Rising Japanese Electronic Music Producers. [RBMA]
Off Site: Improvised Music From Japan – At the turn of the millennium, improvised music from Japan became incredibly quiet. Clive Bell explains why previously noisy artists turned down the volume. [RBMA]
Premiere: Dave Smith RBMA Tokyo 2014 Lecture – Synth Prophesies. [RBMA]