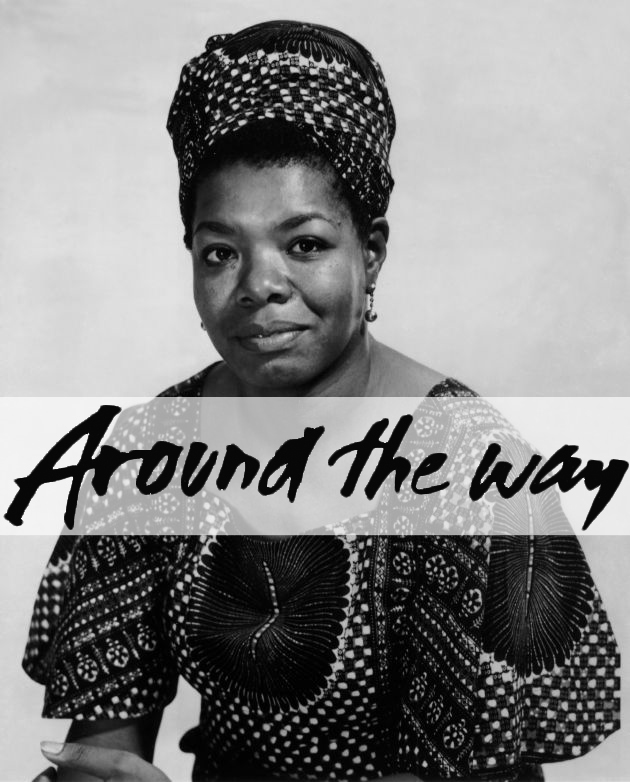 Maya Angelou's Poem "On the Pulse of Morning"
Maya Angelou's San Francisco connections (RIP) [SF Gate]
Maya Angelou and Dave Chappelle, "Iconoclasts"
-Maya Angelou and Dave Chappelle talk about their writing process, why Dave left his show and Maya's homies, MLK and Malcolm X.
The erasure of Maya Angelou's sex work history [Tits and Sass]
Storme DeLarverie, early leader in the Gay Rights Movement, dies at 93 [NY Times]
Dave Chappelle recruits the Roots, Janelle Monae, DJ Premier, Busta Rhymes and Erykah Badu to perform during three-night stint for Radio City shows in June (a Block Party part two? ) [Rolling Stones]
Rediscoverd: Wong Ar Chong – An eloquent voice against the Chinese Exclusion Act of 1882 [Smithsonian APA Center]
Maggie Q and Mekhi Phifer talk about racial typecasting in Hollywood [CAAM]
The only Chinese-born parliamentarian in the UK, Anna Lo to quit politics over racist abuse [The Guardian]
How the Syrian conflict affects the spice trade [National Geographic] 
– Phil Collins performs "In The Air Tonight"  with son's middle school band in Miami, Florida.
Online album covers gallery of Japanese pop psychedelic rock bands from the 1960's [messynessychic]
San Francisco art landmark (6th and Howard street), artwork "Defenestration" by artist Brian Goggin on Hugo Hotel to be sold. [SF Gate]
Google discloses workforce diversity data, and it isn't pretty [BoingBoing]
Extreme Street View: Google Employee Maps Deserted Island – Gunkanjima, Japan (aka Hashima) [Web Urbanist]
– He's Japanese and American. But when tragedy struck Japan, the 2011 Tōhoku earthquake and tsunami, his mom didn't think he'd understand. Spoken word artist G Yamazawa piece at Brave New Voices 2011 Western Quarterfinals Bout 11.
The Atlantic's Ta-Nehisi Coates makes The Case For Reparations. [The Atlantic]
Jeopardy contestant Arthur Chu, "It's because other people's bodies and other people's love are not something that can be taken nor even something that can be earned—they can be given freely, by choice, or not. We need to get that. Really, really grok that, if our half of the species ever going to be worth a damn." Finally something not fixed on mental illness. [The Daily Beast]
Arthur Chu clarifies his Daily Beast article on NPR's Around the Nation [NPR]
The House passes a vote to end DEA raids on legal medical marijuana operations [Buzzfeed]
'X-Men' rewatch: A serious attempt to find meaning in the strangest superhero franchise. [Entertainment Weekly]
A Shot by Shot Breakdown of the Bloodiest Scene from Brian De Palma's 'The Untouchables'
-V Renée gives some simple tips on what you can learn from breaking down a scene. [No Film School]
It's all about the light. Insider Advice: Essential Lighting Tips for Indie Filmmakers [Indiewire]

-"They are the art of our time. The art of the 21st century. The art of the Bush Era and the Global War on Terror that made him famous. And for many who care deeply about art, that is very depressing. And damning." Greg Allen just about sums up George W. Bush's new hobby. [greg.org]
Suspended-animation trials to begin on humans
-This shit is buggy. [CNET]