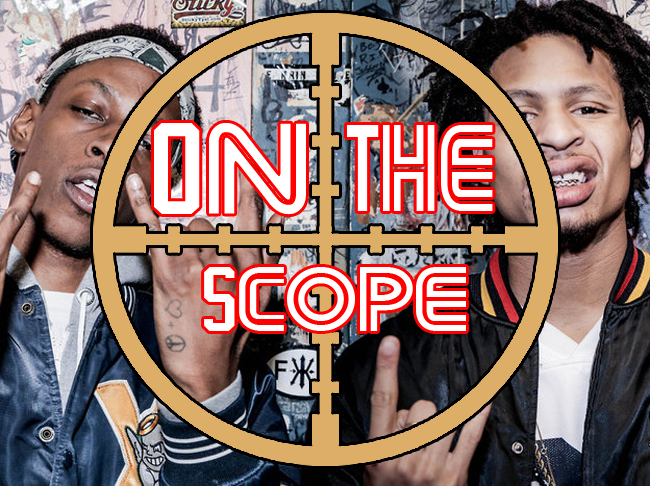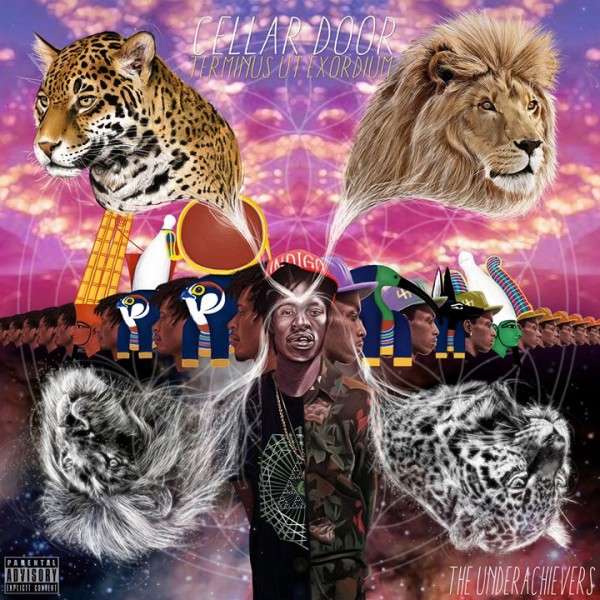 The Underachievers Cellar Door: Terminus Ut Exordium stream
The Underachievers Cellar Door: Terminus Ut Exordium music videos
The Flatbush, Brooklyn, NYC Hip-Hop duo: The Underachievers (AK and Issa Gold) recently released their debut studio album called Cellar Door: Terminus Ut Exordium, a heady album with psychedelic, conscious, subconscious, braggadocios, third eye opening raps. The beats on Cellar Door: Terminus Ut Exordium are hard hitting, emotive, atmospheric, experimental, and psychedelic, what one would expect for Flying Lotus/Brainfeeder label to put out. Some notable producers on the album include Statik Selektah, Ryan Hemsworth, Brandun DeShay, Nick Leon, The Ruby Suns, and Portugal. The Man. The album cover reminds me of old Earth Wind & Fire album covers mixed with Jimi Hendrix's Axis: Bold As Love with the Flower of Life, a sacred geometric pattern (the oldest example of this pattern is found in Abydos, Egypt at the temple of Osiris) in the background.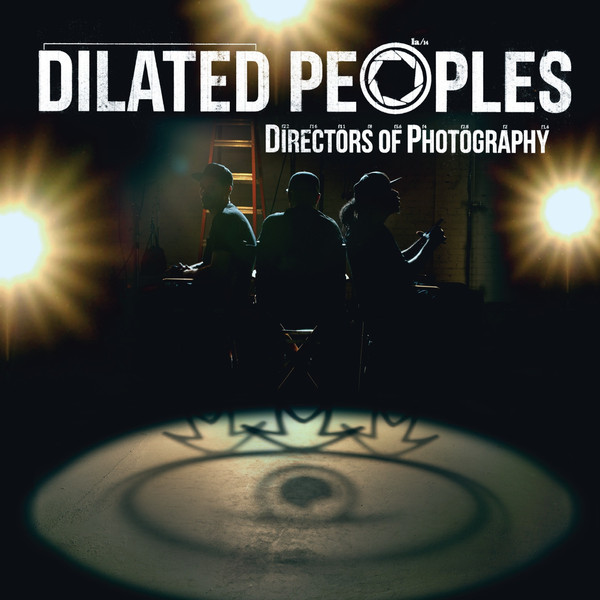 Dilated Peoples Directors of Photography stream
Dilated Peoples Talk Being Independent, Calling Out Wack Rappers/Biting & TDE on Sway in the Morning
Dilated Peoples "Good As Gone" (Official Video)
– West Coast Indie Hip-Hop veterans Dilated Peoples have just released their fifth studio album Directors of Photography (eight years since their last album 20/20). The album features appearances from artists like Vince Staples, Aloe Blacc, Catero, Gangrene, Sick Jacken, Krondon, Fashawn, Rapsody, Domo Genesis, Vinnie Paz and Action Bronson. Producers on this album include 9th Wonder, The Alchemist, Bravo, Diamond D, DJ Premier, DJ Babu, Evidence, Jake One, Oh No, and Twiz The Beat Pro. Dilated Peoples have managed to give us the boom bap Hip-Hop we know them well for with minor sonic experimentations (inspired from their individual solo projects over the past eight years) to keep us on our toes. Hardcore Hip-Hop heads will be satisfied with this release.
Dilated Peoples "Work The Angles" (1998)
Twista aka Tung Twista "Mr Tung Twista" (1991)
– Twista aka Tung Twista's 1st single "Mr. Tung Twista" circa 1991, from his first album Runnin' Off at da Mouth. 
Twista Dark Horse stream
Twista Dark Horse music videos
– Chicago veteran Twista is back with his 9th studio release Dark Horse. This album sees a mixture rap/R&B tunes Twista is known for since his hit 2004 album Kamikaze with edgier tracks reminiscent of "Kill Us All." Dark Horse is a strong release from Twista with features from the likes of Tyme, Dra Day, Tia London, Tech N9ne, Wiz Khalifa, Berner, DJ Victoriouz, Gritz, R. Kelly, Chief Keef and Stunt Taylor. Producers on Dark Horse include The Legendary Traxster, DJ Tight Mike, Young Chop, Oddz N Endz, Jonathan Whynock, and Lo-Key.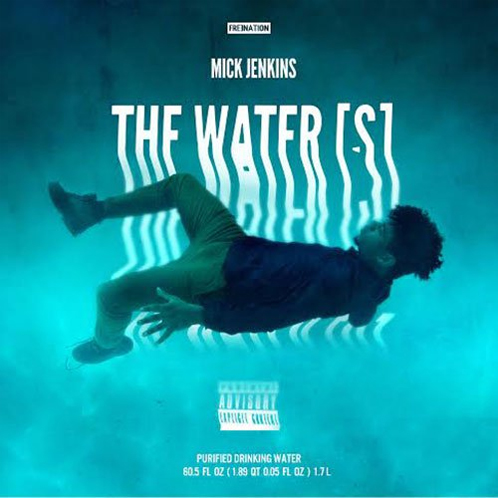 Mick Jenkins Water[s] stream and free dl
Mick Jenkins  "Jazz" (Official Music Video)
Mick Jenkins – Martyrs (Official Video)
– Water[s] is the 2nd mixtape from Chicago rapper Mick Jenkins, a follow up to his debut mixtape Trees & Truth. On Water[s] Mick Jenkins continues his brand of raw, braggadocios, conscious, introspective, observational, subversive rhymes over infectious, moody, frenetic, jazzy, atmospheric, downtempo, ambient beats. Pro Era's Joey Bada$$ makes an appearance on the track "Jerome".
TOKiMONSTA ft. Anderson Paak "Realla"
– "Realla" featuring singer/songwriter/drummer/producer Anderson Paak is the first single off TOKiMONSTA's upcoming album Desiderium.
Remy Ma interview: life, prison, music, motherhood & favorite new rappers on Sway in the Morning 
French Montana ft. Remy Ma, Jadakiss & Swizz Beatz "Megadeath"
– Sway's interview with Remy Ma who is fresh out of jail, and a leaked track she did with French Montana, Jadakiss and Swizz Beatz called "Megadeath." Remy Ma flexes her skills with a verse on "Megadeath," showing us she still got it after 6 years being away in jail.
Onyx "Slam" (1993)
Onyx Talks Jam Master Jay, Tupac In the Tunnel, Acting, Battle Rapping & Fans Head Butting Them on Sway in the Morning
Onyx Wakedafucup stream
Onyx  WakeDaFucUp music videos
– Onyx's "Slam" music video, a 90s Hip-Hop anthem (from 1993's Bacdafucup album) sure to get a party hyped up, usually dudes moshing about. Hey "let the boys be boys" right? We also have a recent interview from Onyx on the Sway in the Morning show, promoting their recently released 6th studio album called Wakedafucup (album stream above). Our favorite loud talking rappers, horrorcore pioneers are back, Onyx in full effect ya'll!
"Old English" ft. Young Thug, Freddie Gibbs & A$AP Ferg (prod. by Salva & Nick Hook)
– "Old English" is a single off Mass Appeal's upcoming volume 1 compilation that features the pairing of Freddie Gibbs, Young Thug, and A$AP Ferg.
E-40 ft. T-Pain, Kid Ink & B.O.B. "Red Cup"
– "Red Cup" is a new single, an ode to a ladies' posterior from the Bay ambassador E-40 off his upcoming Sharp On All 4 Corners album series featuring T-Pain, Kid Ink, and B.O.B.
2 Live Crew "Face Down Ass Up" (1990)
– One of the pioneers of dirty lyrics in Hip-Hop and in pop culture (the other honor goes to Oakland's Too $hort) Miami's 2 Live Crew performs "Face Down Ass Up" on the Phil Donahue show in this clip from 1990. The reaction from the crowd is priceless. Note: The original audio is censored and someone edited this clip to have the uncensored version of the song. Another honorable mention goes to Bowfly, who inspired the dirty lyrics of rappers who came up in the 80s and 90s.
Nardwuar vs. Blowfly
Charlotte OC "Strange"
– "Strange" is a beautifully haunting song by UK singer Charlotte OC. [BBC Interview] She has an EP out titled Colour My Heart.
Elle Varner ft. A$AP Ferg "Don't Wanna Dance" 
– "Don't Really Wanna Dance" is a retro sounding new R&B track from singer Elle Varner featuring rapper A$AP Ferg. This track samples Jimmy Castor's "I Just Wanna Stop," a tune that's been sampled by Kanye West for his song "We Don't Care."
Jimmy Castor "I Just Wanna Stop" (1979)
Kanye West "We Don't Care" (2004)
 Flying Lotus You're Dead! trailer
– Above is the trailer for Flying Lotus upcoming album You're Dead! (October 6th, 2014). This Flying Lotus project will be featuring such artists as Herbie Hancock, Kendrick Lamar, Captain Murphy, Snoop Dogg, Angel Deradoorian, Thundercat, Niki Randa and more.
Warp Records describes You're Dead! as
"A shamanic pilgrimage into the psychedelic unknown of the infinite afterlife."
Flying Lotus says
"The album isn't about the end, it's really the beginning…"
Vic Mensa "Wimme Nah" (Prod. By Kaytranada)
– Chicago rapper Vic Mensa teams up with Canadian DJ/producer Kaytranada on the new single "Wimme Nah".
Rustie ft. Danny Brown "Attak" music video
– Music video for "Attak" by UK producer Rustie and Detroit rapper Danny Brown.
Rinse FM Podcast – Hessle Audio w/ Tessela – 7th August 2014
– A recent Rinse FM DJ set from UK electronic musician/DJ/producer Tessela.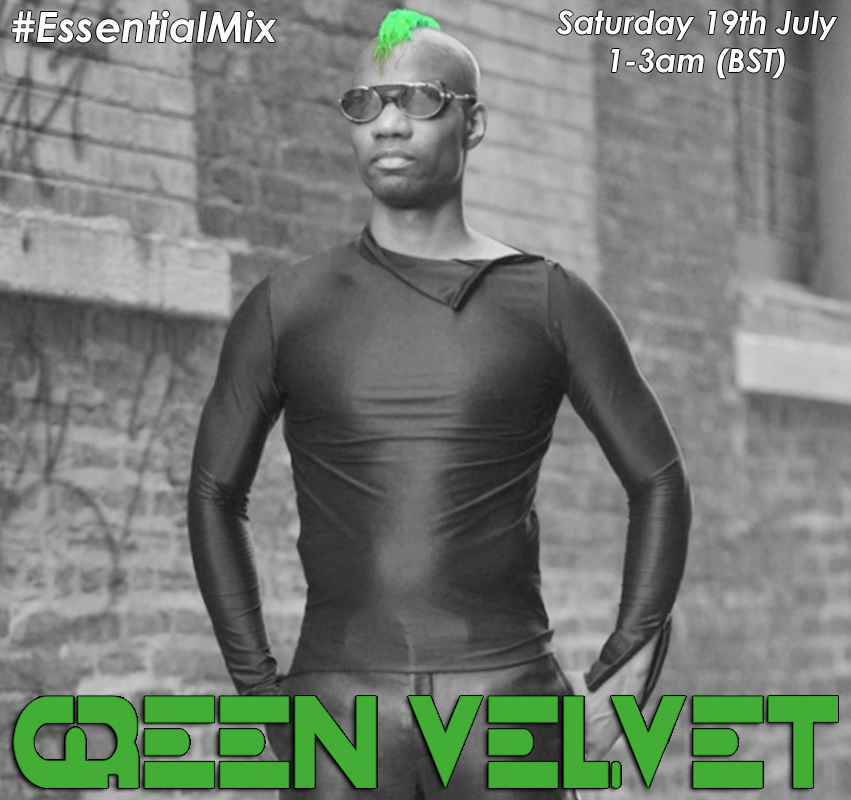 BBC Radio 1 Essential Mix July 19, 2014 – Green Velvet
– Veteran Chicago House DJ/producer/singer/electronic musician Green Velvet aka Curtis Jones (aka Cajmere, Geo Vogt, Half Pint, Curan Stone, and Gino Vittori) did an essential mix recently on BBC Radio 1.
Cajmere "Percolator" (1992)
– Green Velvet's 1992 underground hit "Percolator" was released under the alias Cajmere. This track is also labeled "Coffee Pot (It's Time for the Percolator)" on certain recordings.
Evolution of Electronic Sound – Dubstep: Hatcha School (2002-2004)
– New retrospective mix from the youtube channel Evolution of Electronic Sound of Dubstep: Hatcha School 2002-2004.
With influence from breakstep garage, dubstep garage, and the burgeoning grime movement, Skream & Benga pioneered a style many consider to have transcended its UK Garage roots. The energetic, darker, more minimal sound was pushed primarily by DJ Hatcha and found home at Croydon's Big Apple Records.

By 2004, Hatcha also had Loefah and Digital Mystikz (Mala+Coki) under his wing, pushing a deeper, more melodic sound. Their contributions pushed the genre even further from UK Garage, giving it a higher level of artistic credence, and ultimately paving the way for a worldwide explosion.