On his latest effort, Seattle native Porter Ray turns up a deeper, darker sensuality of emotional violence.
Emerging from the tutelage of Ishmael Butler (Digable Planets, Shabazz Palaces), Porter Ray secured his own niche in the ever-evolving folds of hip-hop. His smoky, opium-shrouded brand of hip-hop finds an unusual, though comfortable, counterpoint between softly sensual grooves and a bitter evincing of a hard-lived life. Ray's 2017 Sub Pop debut, Watercolor (following his true debut, 2016's Nightfall, on indie label Intratecque) introduced the rapper as a somber, misty-eyed poet of considerable depth. His faculty for expressing stories of personal strife in susurrated tones set him apart from the swag-tagging MCs who've cornered a market on boastful tales of street violence.
Rather than do an about-turn on the sound that defined his two albums, Ray further plumbed the constituents of his style on his 2018 release Eye of the Beholder. An album that reaped atmospheres even heavier than his previous work (think the velvety airs of Cocteau Twins' dourer material), Eye of the Beholder stretched his rhyme-schemes wider as he meditated on the life outside his own, such as worldwide political struggles and bloodshed in war-torn lands.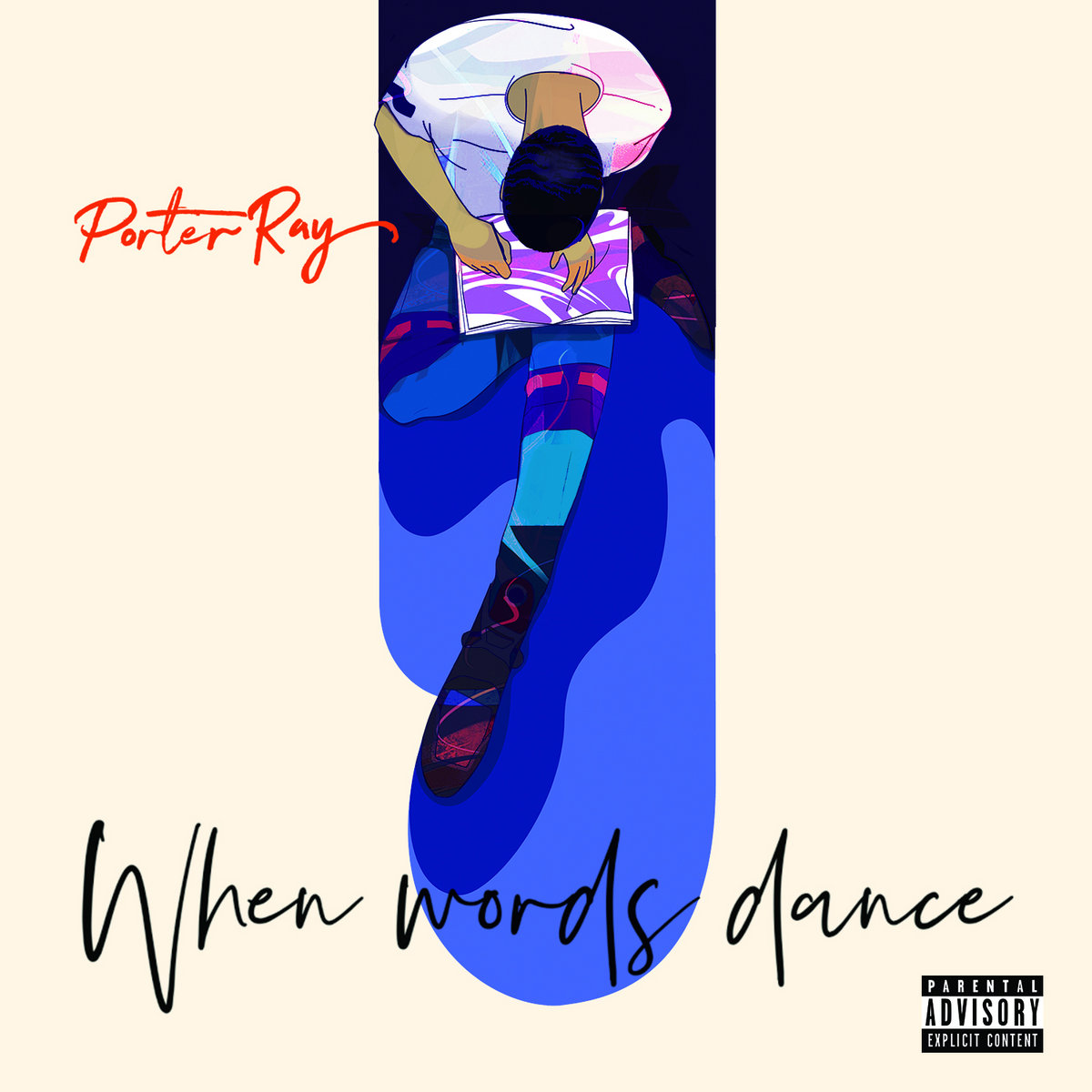 Returning to more personal matters, Ray locates an even lusher (and at times more discomfiting) center on When Words Dance (2020). The element de rigueur here, though implemented in complete and aboveboard sincerity, is jazz; with it, Ray turns up a deeper, darker sensuality of emotional violence. A crisper percussive edge rounds out these nine numbers, Ray's rhymes skimming their chilled rhythms with garrulous finesse. On opener "Touchstone", a skewwhiff horn does time with a staggering boom-bap beat. The jazz lines are then piloted into the piano riffs on "Daydreamer (When Words Dance)" before the atmospheres float languidly across "Daily News", "Starchild (93mil)" and "Time Travel (PlanetShine)". Everywhere Ray lays his head, drowsy with life's griefs, the dreams pour copiously and thick.
The Seattle native discusses the designs behind his latest effort and where his work will take him next.
****
This album was slated for a 2017 release, but label hold-ups meant it was shelved. What had happened that put the album on hold?
I wouldn't say that it was label hold-ups. The album was created in 2016-2017 after I finished Watercolor. We were very focused on promoting Watercolor at the time and When Words Dance contained a lot of samples in every song so I didn't want to give the music to the label, to avoid all the sample clearances. I have a lot of unreleased music that doesn't come out, but it's because the timing isn't always right. The project also needed additional mixing and some extra production before it was ready.
What, if any, changes or alterations did you make to the album when you freed it from the shelf?
The music felt very light and airy at first, so we had [producer] Vitamin D add more bottom to most of the tracks. He also put keys over "Daily News" and chopped and screwed the hook for "Starchild". Each track has had little additions, whether it was extra ad libs, audio snippets, or extra production from Vitamin D.
You describe this album as your jazz album. Can you talk about the jazz element on this album and how you used it here?
In my mind most of my albums are jazz albums, but all of the music on this project felt like it contained those elements, with all of the keys and horns, etc… So, I wanted to try and approach it like an experimental jazz album, where my voice is my instrument and there are no boundaries or rules: just me and my instrument creating and having fun.
You continue to have many ups and downs in your life and career. The whole Covid pandemic put a lot of artists in a difficult position. Can you describe the difficulties of recording and releasing music during a time when you cannot tour your albums – especially as an independent artist?
As an artist, especially as an independent artist, touring and performing is everything. That's where all of the money is for me. It's been difficult figuring out mixing/mastering costs and coming up with the capital to produce merch or shoot videos. Bandcamp has helped, but it will be a process trying to figure out how to continue to create income as an artist.
What are some of the themes you touch upon lyrically on When Words Dance?
With this project, I touch on themes such as parenthood, life, death, police brutality, breaking away from the monotony of society and growing up as a Black man in this country. Like most of my work, it's about searching and trying to find peace within.
Do you have another album you had been making while When Words Dance was put on hold? If so, how has the upcoming album developed musical and stylistically?
I have a couple of projects that I'm working on currently. We'll just have to see where the songs land. There will be a lot more instrumentation on this upcoming project, such as guitar and keys, and more vocals. I feel like I've proved myself as an emcee, you know… proved that I can rhyme. So, with this next one I'm trying to get more creative with my voice and do things that are a bit unexpected vocally and steer my sound in a new direction.
Imran Khan is a writer from Canada. He has written for Inside Entertainment and the Toronto Quarterly. He studied in the Creative Writing continuing studies program at the University of Toronto and is a Contributing Editor for PopMatters.