To give some perspective on rapper and producer Uncommon Nasa, here's an interview with him back in 2013. Shout out to Nasa for spinning 45's and putting together this exclusive TMG mix, Four/Five. Since this article was published, Nasa has continued to make music and release a growing catalogue of albums over the years. Just recently, he produced The Last Sons' Chekov's Gun (Uncommon Records), a disquieted record full of wasteland sentiments. Nasa has also become a published author with his debut collection of poetry and short stories, Withering (Ryme Press, 2018).
If you listened to any early 2000's Definitive Jux releases like Fantastic Damage, Cold Vein, Daylight, or I Phantom, chances are you were hearing Uncommon Nasa's mix. Nasa first entered the music industry as an intern and mixing engineer. One of his first recording sessions was with the New York rap group Company Flow. They were recording "Patriotism" for Soundbombing II, released by the famously defunct Rawkus Records. But before the label collapsed, Co Flow left them. Rapper, producer and Co Flow member El-P (Run The Jewels) along with Amaechi Uzoigwe founded Definitive Jux Records. Nasa became their head engineer. On El-P's solo single "Deep Space 9mm(2002)," now under his own label, El-P spit, "Sign to Rawkus? I'd rather be mouth fucked by Nazis unconscious." Nasa was watching legendary rap history materialize right before his eyes. In the same year Def Jux released a slew of classic material including "Woke," a single by Nasa's group The Presence. Since then, he's collaborated with various rappers and producers like Masai Bey, Agartha Audio, Acid Reign and most recently Prince Po of the enigmatic Organized Konfusion. In 2004 Nasa founded Uncommon Records. Over the last ten years Uncommon Records has had numerous releases including Humancloud Abandonment EP (2008) by this article's author. Earlier this month Nasa released his album Land of the Way It Is. He took time to talk to TMG about a host of issues: his new solo album, making beats, New York rap, growing up in Shaolin, and unicorns.
When did you first discover rap?
The first rap album I ever owned was "Tougher than Leather" from Run-DMC. I can remember sitting in the back seat of my folks' car coming home from the store listening to it in my Walkman. It was weird, when I was a real little kid, like 6 years old, I can remember seeing the Fat Boys, Run DMC and what I later realized was Whodini and UTFO on a local music video channel called U68. Outside of Tears for Fears not much appealed to me like that. I was drawn to it from the earliest age. But I think when I heard the older kids outside of my parents apartment pumping "Mary, Mary" from Run-DMC, that was the moment that I was hooked forever.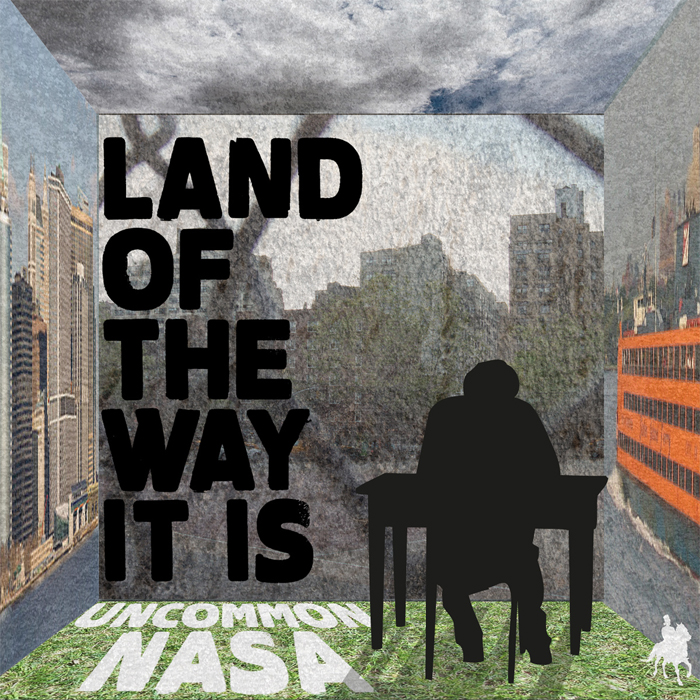 What makes The Land of the Way It Is different from your previous solo efforts?
This album is autobiographical. It's become more of my style to write that way as I've grown into a solo artist. I write about things that effect me every day. Every day there is something new, some new experience to write about. This album really sums up my experience as an artist that just plain isn't given the needed time to create due to having to work for someone else. Having a full time gig and being an artist is changing the art, changing the whole industry. It changes the bar and lowers it overall. It's a sad time when a lot of the audience is still under the impression that artists are "lazy" when they are actually working twice as hard. This record tells the story from that perspective, it's saying, "Hey, I'm just like you, but I'm also struggling to dedicate time to my true passion." In a way, I guess everyone can associate with that on some level, whether an artist or not. I also included songs like "Pasta w/Butter" and "Background Check" to add some context to all of that and show how I got to where I am in the first place.


The jam "Background Check" sounds almost like a declaration. The sincerity in your voice is obvious and the lyrics are written in such a way that the jam's concept sneaks up on the listener. It's one of those 'wait, let me hear that again' tracks? I wonder if that track could've been written during the early 90's. It's easy to imagine that this track has been in the making for a long time, not literarily, but subconsciously, til it boiled over into your creative process. What was it like making it?
I think that's a good way to describe it because when I put my pen to paper to write to that beat, shout out to Lyle Horowitz, I had no clue this would be the direction it'd end up. It evolved for me as a story, just like it does for the listener. So I guess it was within me until it boiled over. I never intended to write much about race, ever, not just for this record. But I feel like I tackled it correctly. The song is very much about "race" and not about "racism". All I'm doing is pointing out the duality in the fact that all of us grow up in a system where we're told overtly or subconsciously to "stick with our own". The fact that we live in almost completely segregated societies in 2013 really bothers me. How do we still not trust each other? Then you turn on the television and you see these stigmatized images of what white people are supposed to act and look like and what black people are supposed to act and look like. That sort of propaganda, intended or not, adds to our segregation and cultural distrust. I've met so many people, both black and white, that have no idea what to make of me as a human. Because I've experienced the things I have and the perspective I've gained, it's disconnected me from a lot of people that think everyone needs to fit some sort of mold.


What was it like recording "Frequent Flyers [produce by Willie Green]" with Prince Po? Did you ever imagine that you'd be doing a track with ½ of the legendary Organized Konfusion?
Absolutely not. Organized Konfusion were super hero status to me as a kid growing up. The Equinox is one of the most underrated LPs of all time. It was an honor to do a track with Prince Po. I felt like I had a concept that he'd be able to nail and a beat I could easily hear him on. He was down so we collaborated. I hope I'll have another project that fits that parameter at some point again, would love to follow it up.    

On "Left Coaster (ft. Subtitle, Megabusive, BeOnd, Open Mike Eagle & Gajah)" the beat is knocking, but deceptive since it's a loop. You never get sick of it, especially given the way cats are flipping flows over your production. How did this jam come about?
That's what I'm trying to do with my beats.  See, that beat is actually me playing everything live [on an MPC] all the way through. I overdubbed the other parts that come in and out obviously, but each "take" was live. So that's why you sort of never get tired of the "loop" because it's altering every time through depending on how I played it that time around. I'm glad you found that effect, because that's what I'm trying to do. That beat actually started as a remix for something else, didn't totally work, but I wanted to destroy it myself. I knew it'd be a posse cut kind of joint and wanted a song with all my west coast homies on it for the record.  I came up with the lose concept of me "finally making it to Cali", which I still haven't done yet.  I reached out to all those guys and they obliged and made one of the best posse cuts of the year with me, straight up.  Love that track.

You grew up on Staten Island, New York. What was it like growing up in Shaolin and how is it compared to the rest of the boroughs?
Staten Island in a lot of ways is like me.  It does what the fuck it wants to do regardless of trends.  Just the other day I heard "Mystery of Chessboxin" [by Wu-Tang Clan] pumping out of a car down the street from my crib.  Cats still rock Wallabees and Wu Wear out here.  The barbershop I go to still has the Wu emblem all over the walls.  Growing up out here and being in High School when 36 [Chambers] dropped was like nothing else.  We were the shunned borough and all of the sudden emcees from here were killing everyone.  I'll never forget being in a car with some heads back when Liquid Swords dropped, just driving around in circles with that shit blasting on loop for like an hour.   

Can you name some new school rappers that you're feeling?
I'm gonna assume that by new school you mean cats that are younger in age, but also kind of rap in the current style that's bigger within the youth.  I have a few.  I'd give props to Quelle Chris and to Cavalier as well.  Their LP [Niggas Is Men] together this year is one of the years best.  I like some of the stuff I heard from The Underachievers, I think L.A. has a lot of potential and I like a group from out west called The Jealous Guys.  I could name lots of folks in the "underground scene" that I'm in, but I don't think that's what you're looking for.

How would you describe today's New York rap scene? What's missing and what's there too much of?
What's missing is fans that are only fans and what there is too much of is rappers that go to rap shows in hopes to rap.  It's cliché at this point, but everybody is a rapper or a producer at some level, and if you are an aspiring artist I think it changes the context of shows.  I can tell you from experience, when we get word that a true fan has travelled out from here or there to see one of us he ends up being treated like a unicorn.  That dude is the fucking man, usually he gets mad pics and beers.  Dead ass.  We all get support, the shows by no means are empty, but who's there?  People that go home and listen to your shit and approach it from that level or people that want to be where you are at some point.  I guess there is a balance where you can be both, I certainly was.  But not everyone is humble or dedicated enough to pull off fandom and artistry.