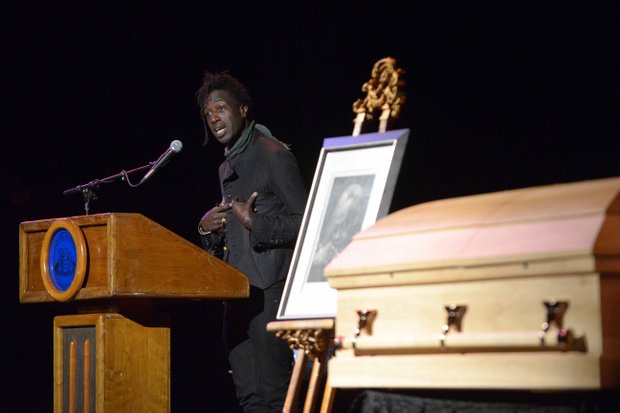 Okayplayer just posted, "Rottweiler Choir" a poem by the great poet Saul Williams, written for Amiri Baraka's funeral. Williams performed it at the funeral in honor of a soldier that remains unbreakable, not passed, but transformed…in a perpetual state of forever. Read below.
This NGH died for something.i
I don't go for old age.
I don't go for disease.
I say murder.
Which poets die of natural causes?
Which poems kill?
I saw the rifles pointed.
Jesse Jackson with that blood on his shirt.
"BarakaBarakaBarakaBaraka!"
Pitbull orchestra.
Rottweiler choir.
Monk on an "expression-scriber."
Sometimes, pianos make better sense
of trees than the trees themselves.
Charlie Parker, what you say?
"A typewriter is corny!"ii
This is a stick up.
Amiri get out of the coffin.
I saw you dancing on Langston's ashes.
They raised the bounty
on Assata Shakur's head
and called it "inflation.'
Elvis ain't even
left the building.
(To be fair, he's patrolling outside
w/Lauryn Hill under house arrest.)
Lying-in-state of New Jersey.
Washington uncross the Delaware.
Tell the governor to stop up the bridge.
We can't let this poets' spirit get out of here.
Dearly beloved,
We are gathered here today
to get thru this thing called life.
Elctrc wrd: Life. It means Forever.
And I mean to tell you, there's nothing else.
Even death is a part of life.
Either this is a funeral
or this is the senate floor.
We all knew the politicians would show up.
We gon Lo-ku' the twitterverse.
God as a prostitute
male-model caught in
the World Trade bathroom.
Neither God could have made this up.
Neither God.
Neither God.
Somebody said Jesus
got caught at the border.
I say, if you let Lazarus fly
Amiri get up and walk.
Can't go out like that.
American culture is televisional.
Time to conceptualize a series.
The good news is
half of America was
waiting for u to die
in order to read u.
I saw an eagle flying over Harlem.
NGH I'm not even makin' this up.
Riverside Drive.
Brown-tipped.
Leaning on a light post.
The New York Times
ain't exactly caught up.
Shot him down in a polarizing vortex.
Amiri Baraka
was no centrist
unless u count
right between
the eyes.